RECAP – Georgia Tech 66, Louisville 31
By Matt Winkeljohn | The Good Word
Shortly after living up to promise of their coach and perhaps surpassing theirs, Georgia Tech's offensive players found themselves in fabulous moods Friday night even though things weren't perfect in a 66-31 pasting of Louisville.
They'd just unleashed an avalanche of numbers again, rushing for 542 yards, and for second game in a row, the Jackets racked up eight rushing touchdowns. Quarterbacks TaQuon Marshall (175 yards) and Tobias Oliver (103) each scored twice for the second-straight week and, in the process, became the first QB tandem in program history to both run for 100 yards in the same game.
So, Marshall looked forward to the team's flight back to Atlanta, and for reasons that went beyond Tech becoming just the fourth team in ACC history to stack up back-to-back performances of 60 or more points (Florida State, 1992; Georgia Tech, 2015; Louisville, 2016).
The Jackets (3-3, 1-2 ACC) snapped a seven-game losing streak away from home, and you'd better believe they were sick of talking about that before beating the Cardinals (2-4, 0-3).
"It's huge. I've been telling the guys we haven't won a road game since UGA, 2016. That was my sophomore year . . . " Marshall said. "I think us getting this win shows everyone, including ourselves, that it can be done.
"Just being able to get back on the plane going home knowing there won't be sad faces . . . you'll be cracking jokes with [head] coach [Paul] Johnson, cracking jokes with your teammates."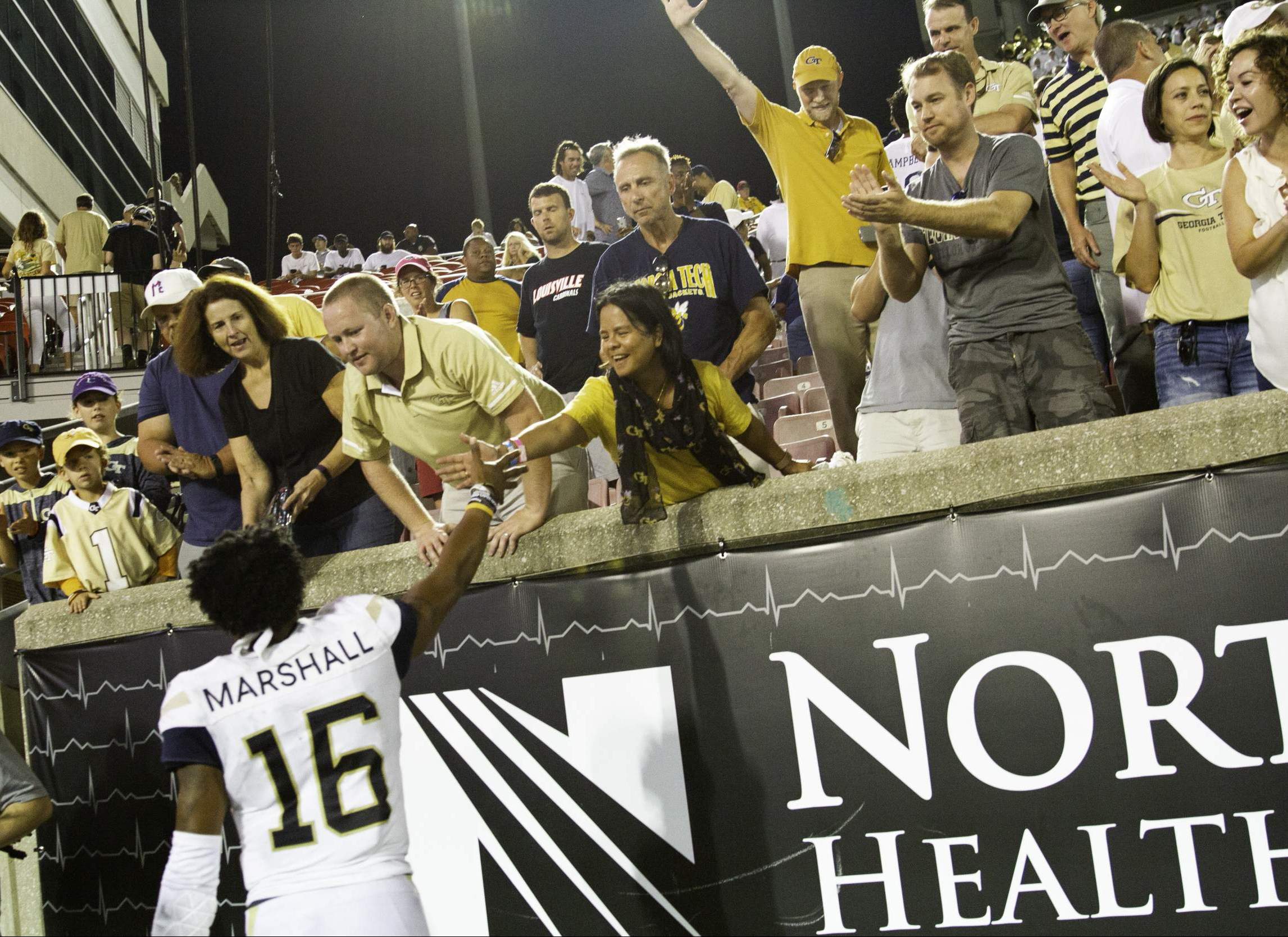 TaQuon Marshall thanks a large contingent of gold-clad Tech fans following Friday's 66-31 romp at Louisville's Cardinal Stadium.
Tech flew through Cardinals, scoring on every possession until taking a knee to run out the clock at the end of the game.
Senior A-back Qua Searcy scored twice, too, yet didn't seem to be as caught up in the delirium. After charging to a 21-0 first-quarter lead, the Jackets, after all, had to settle for a 40-yard field goal by freshman Wesley Wells in the second quarter.
So, dang, there was a touchdown left on the table. And the Jackets converted just 6-of-7 third downs, so there's that.
"I think it could be even better, actually," Searcy said after scoring on runs of two yards and one. "There's a lot of things we can correct. Just watch the film and flush this game and get ready for Duke."
If he were in the room at the time, even Johnson might've laughed at Searcy's joke, if that was a joke. Searcy seemed serious.
Notorious for his serious quest for perfection, the coach was quite pleased with his team's follow-through.
Just 13 days ago, Tech fumbled eight times in a lopsided loss to No. 2 Clemson, and Johnson said, "I promise" the offense will get better, vowing to become more directly involved in practice working with quarterbacks and running backs on handoffs, pitches and ball-handling.
And since . . .
The Jackets muffed one snap a week ago while pounding Bowling Green, 63-17, and recovered that. On Friday night, Marshall dropped the ball once, and recovered it.
For the second straight game, Tech did not turn the ball over, and Marshall was masterful in changing play calls based on the way the Louisville defense lined up.
"When we're executing pretty good, our quarterback is playing well and he was doing a nice job getting us in the right plays against the right fronts, and the kids played hard and executed," the Jackets' head coach explained. "That's probably the best [scoring] string I've seen in 40 years of coaching."
Up front, left tackle Zach Quinney, left guard Parker Braun, centers Jahaziel Lee and Kenny Cooper, right guard Connor Hansen and right tackle Andrew Marshall opened holes fit for trucks and played as if wired together by string.
"No doubt. This is by far the best we've played as a unit this year," Braun said. "I think some things have changed without a doubt since the first [four] weeks . . . One of the improvements we've made is being on the same page as an offense, so we're not separated by position groups. I think we're all sort of thinking as one, all 11 of us, and that's really been a big help."
Marshall typically doesn't call many audibles in a game, but for this one, Johnson said, "we had certain plays for certain fronts, and he did a great job identifying them."
The quarterback wasn't alone in reading, nor in communicating, changes.
"As long as we're on the same page, everything will go fine. PB [Braun] does a good job giving me the calls, and the tackles do a good job of making everything vocal, so I think that's one of the main reasons we're all on the same page," Marshall said.
"I'm having a good time, man. I've had two good games back-to-back; I think it's the best I've played all season, so it's good to be back. It's good to have fun when you're playing."
The offense is humming, but Friday started with a clunker which for Marshall was no fun.
He threw an incomplete pass – the Jackets later completed the only other pass among their 67 offensive plays – that went nowhere near a Tech player.
Marshall was flustered that the Jackets ran the right play, but out of the wrong formation, and Johnson sensed angst.
Later in the drive, he pulled the quarterback aside to clear his mind.
"I said, 'Dude, we made a first down, just relax. Just play . . .' " Johnson recalled.
Boy, did the Jackets play from there.
Their 542 rushing yards were third-most in school history. In addition to Friday being the first time Tech ever had two quarterbacks rush for 100 or more yards in the same game, young B-backs Jordan Mason and Jerry Howard each scored once, and combined for 136 rushing yards on 21 carries. But get this — Mason's and Howard's 6.5-yard average actually dragged Tech's rushing average (8.2) down.
Good thing Marshall cleared his head quickly.
"When he gets in that groove, he's a really good player," Johnson said. "He's hard to tackle. So is Tobias."
Sure enough, when Marshall left Friday's rout with very minor a lower-body injury in the third quarter, Oliver (above) picked up where he left off. Johnson said Marshall could have returned, but after the redshirt freshman scored on a one-yard dart for a 45-17 lead, the coach left him in the game to gain more experience.
"I think everybody's having fun. We did a tremendous job playing super hard from the beginning. I thought Tobias got in there and just lit it up. I'm super excited for him," Marshall said. "The guys up front blocked very well. The guys on the perimeter did a great job for each other . . .  It was different today, for sure. Don't you think, PB?
"Just coming from the hotel, I could tell how focused everybody was."
Yeah, Braun agreed.
"For sure," the left guard said. "There was a lot of energy out there."