Georgia Tech at Miami – Saturday at noon (ACC Network)
Click HERE for game preview
By Jon Cooper | The Good Word
Georgia Tech fans probably couldn't help but smile last Sunday when they looked at the college football top-25 polls.
Sure, some — okay, maybe a lot of them — smiled in anticipation of seeing how far down the previous week's No. 3 had fallen.
Those not dealing in schadenfreude, but with an eye on Georgia Tech's future, had a bigger reason to smile by viewing the polls. Their smiles came via the ascension of Baylor, which had moved up to No. 18 in both the coaches' and Associated Press polls, and Temple, which entered the coaches' poll at No. 25.
It was obvious which camp Georgia Tech head coach Geoff Collins was in.
Always positive, Collins was positively thrilled about the up-and-comers. Not coincidentally, those teams have his fingerprints all over them and have followed his blueprint in building a powerhouse. Collins came to Tech from Temple, after two years as the Owls' head coach, while Baylor is coached by Matt Rhule, a good friend and longtime colleague.
"When we got [to Temple] the first year, they had graduated a bunch of guys that had won a bunch of games and went on to the NFL, [and inherited] the youngest roster in college football," he recalled. "Three years of us now developing them, building the mindset, teaching them the process of how we do things, and then recruiting at a very high level, they're now in the top 25. I said this when I first got here and then as we were getting ready to play them, that's an 11-win roster. The way we developed them, the way we recruited them, coached them, I'm obviously very proud of them."
Collins spoke as glowingly of Rhule, with whom he first teamed in 1998 at Albright College (D-III) in Reading, Pa. (Collins was defensive coordinator and Rhule coached linebackers) then at Western Carolina from 2002-05 (Collins, again, was D.C., Rhule, again, coached LBs), and from whom he inherited the Owls' head coach position in 2017.
"Matt and I are really, really close," Collins said of Rhule, who observed one of Tech's spring practices as Collins' guest back in April. "A lot of the things that we believe in are the things that we do here are the things that he's doing at Baylor. The big thing with him is, even though they struggled the first year, the things they were doing to build the foundation of that culture were the right things. Just stick to the process, stick to your beliefs, teach those to the players that you're blessed to coach and good things are going to happen. That's what we're doing."
Rhule has stuck with his principles, overcoming a 2-10 first season at Temple by getting to .500 the following season then putting together a pair of 10-win seasons before leaving for Baylor. In his first season in Waco, with the program still reeling, Rhule dealt with a 1-11 season — albeit with one-possession losses to No. 3 Oklahoma (49-41) and No. 23 West Virginia (38-36). The next season the Bears went 7-6 and this season they're off to a 6-0 start.
That brings us back to Georgia Tech, where the Yellow Jackets have similarly struggled with the solid foundation that they're laying as a program translating to the scoreboard in Collins' first year at the helm.
Undeterred, Collins continues to drive home his message, a big part of which is patience. The Jackets are young like his inaugural Temple team, as their eight active seniors are second-fewest in the nation, while its 55 freshmen are 12th-most.  He also insists that while, of course, the record is not what he wants it to be, in the bigger picture, the program is getting to where he wants it to be.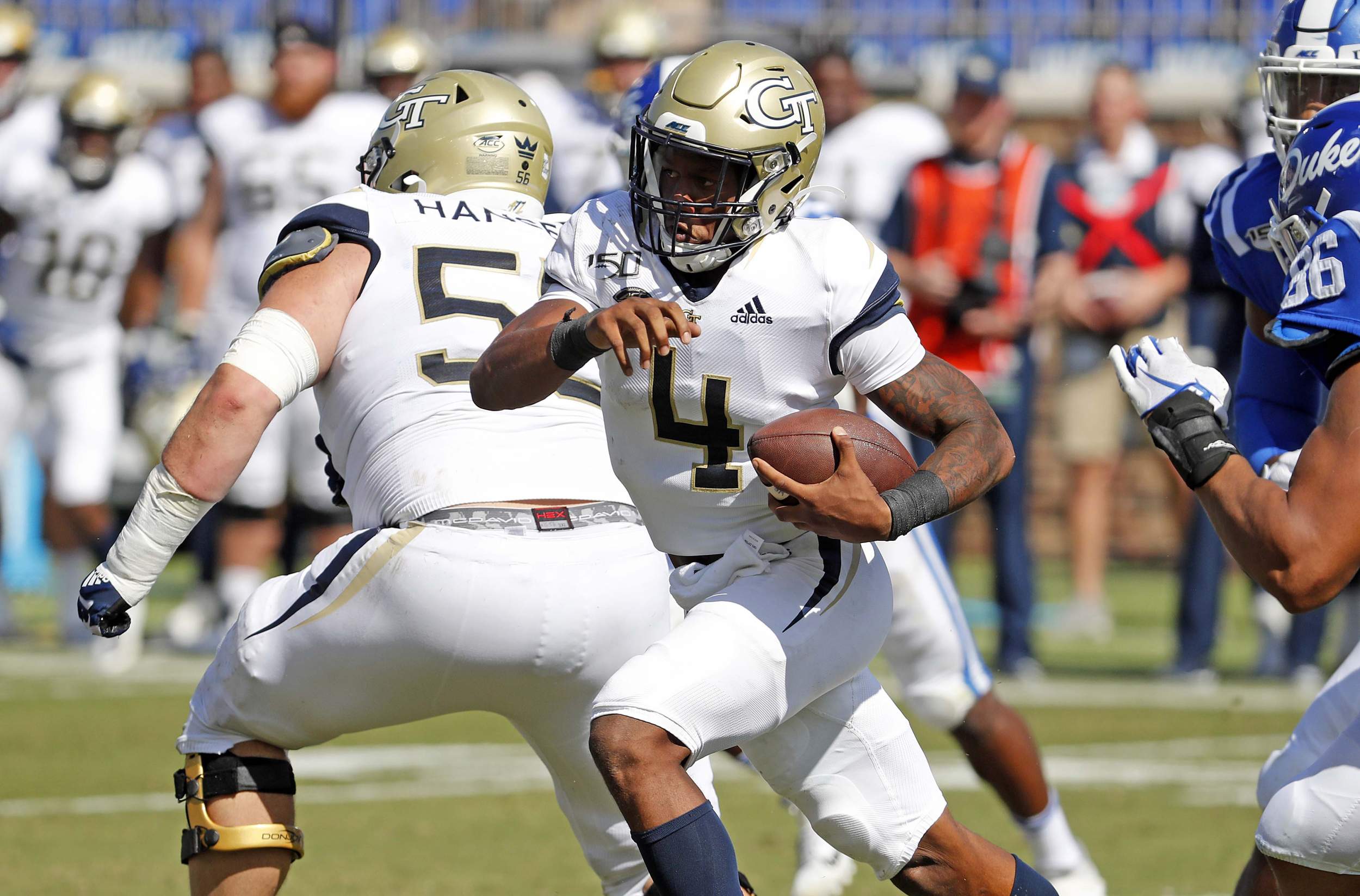 Headlined by a redshirt quarterback in James Graham, Geoff Collins and his staff are developing one of the nation's youngest rosters at Georgia Tech.
"I hate the scoreboard doesn't show it, I hate the results don't show it but you never can discount the effort that these guys are putting forward. We've gotten better in every single phase," he said. "To these kids' credit, we talk about the buy-in factor. I don't think anything signifies it as much as the way they've come out every game in the second half and competed and battled regardless of the circumstances, and continue week-in and week-out to improve."
Handling first-year adversity and bouncing back from it is something Collins most notably experienced first-hand at Alabama in 2007, where, in its first season under head coach Nick Saban, the Crimson Tide went 7-6, including falling to Louisiana-Monroe, 21-14, in Tuscaloosa, as part of a four-game, regular-season-ending losing streak.
Collins likes the way the Jackets are handling adversity and hopes to see a second half of the season where the scoreboard is more reflective of what he's seeing on the field and in practice. Regardless, he's not going to alter his approach.
"We talk about how we play — attention to detail, the level of effort, the level of care, the level of competitiveness that we're going to play with, the standard of this college football program. We're going to play to that level," Collins said. "Every single week, we are going to expect to play to that level. We don't worry about the scoreboard. We just worry about every single play matters. Find a way, just each individual play, to make a difference and that's how we try to approach every single game. Every single play matters, every practice that we do matters, every walk-through that we do matters and eventually, when you have that mindset, it's going to pay off.
"It's the same that mindset Coach Saban's had at Alabama, even the first year when we were there and we struggled," he added. "But the belief system and the processes that are supposed to be in place, doing it the right way, are what we're going to do. The results are going to eventually take care of themselves through the process, through doing the things that we are going to do to be an elite program."
He sees an elite program coming manned by elite players he sees growing.
Players like sophomore linebacker Quez Jackson, who personified a "Next Man Up" mentality Saturday at Duke by coming in after defensive leader David Curry left the game following a second-quarter targeting penalty and led the team with nine tackles.
"For the third-straight week, the special teams developmental player of the week had to step into the game and have a big game for us. That was Quez Jackson," he said. "He led the team in tackles after David Curry had to leave the game, Quez came in and played a really nice game, was covering on kickoffs as well. He was flying around making plays for us. I'm really proud of him."
There's also pride in the continued growth as a leader of redshirt freshman quarterback James Graham, who is evoking the example of a young QB from a different SEC program that made an impression on Collins and is now getting it done at the next level.
"The biggest point I was trying to make was the leadership point, the building of the culture, development of a player. I referenced Dak Prescott," said Collins, who was defensive coordinator during Prescott's tenure at Mississippi State, before Prescott became starting quarterback of the Dallas Cowboys. "Who he was as a leader, who he was as a man. There was no job that was too small for Dak Prescott. He was the first one in the building, he was the last one to leave. He would take responsibility for everything, even if it had nothing to do with him or being his fault. I see James making those steps. I see a lot of guys in this program making those steps, being great teammates, which is the highest honor that you can have in this program. Consequently, you'll end up being a great leader. James Graham is starting to develop that process so that he can be a big-time player for us."
The Jackets have completed the first half of the first season of the Geoff Collins Era. While it hasn't been the most memorable on the scoreboard, precedent says these first six games are something Georgia Tech fans will remember down the road when they look back and as they look up where the Jackets' are listed in the top-25 polls.
"I know one thing, our processes work. We've won a ton of games doing it this way and we're going to continue to teach our guys how to do it," Collins said. "Not doing it is guaranteed not to work. Us being negative is guaranteed not to work. Us being positive and building these guys up as we develop this program is guaranteed to work. So we're going to stick with our process, we're going to stick with building these guys up and recruiting at a very, very high level moving forward."