THE FLATS — It may be impossible to remember all the details of what happened Saturday in Georgia Tech's win over No. 9 North Carolina because you might go to 1,000 baseball games and not see everything that happened at Russ Chandler Stadium.
There was the batted ball by North Carolina in the four-run eighth inning that could've triggered an inning-ending play, but instead hit third base and led to, well, four runs. That wasn't long after a Tech wild pitch bounced over the screen and out of play.
But Tristin English is not going to forget hitting a for the cycle, which he'd never done in his 22 years, and no Yellow Jacket had done since Richard Lewis tallied a single, double, triple and home run in the same game against Georgia Southern in 2001.
So, yeah, English was smiling like the Joker after the Jackets walked off the Tar Heels 11-10 in the bottom of the ninth inning when Michael Guldberg lifted a fairly deep fly ball to right center-field to score Austin White from third base.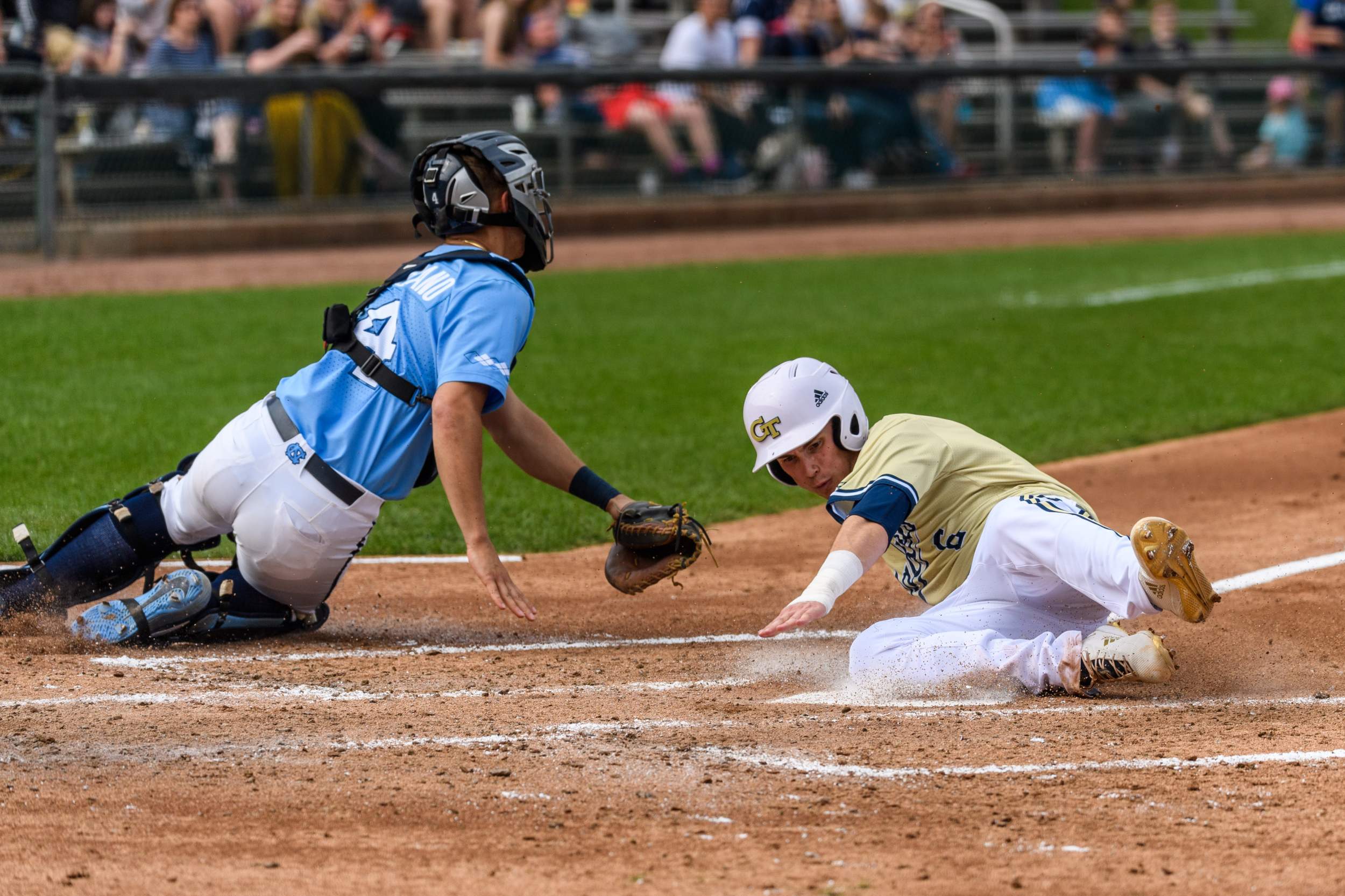 Winning validated his work, making it considerably more meaningful.
"The one always holding me back was the triple. First AB, got it out of the way, came back to the dugout and said, 'I'm a runner,' " he reported. " . . . . If we didn't win, I was not going to say anything about it. It was probably going to feel like an 0-for day for me, especially the style we would have lost in."
A loss would have been dreadful.
Tech led 9-2 after six innings, and starting pitcher Connor Thomas was once again doing what he does. When you stack up three straight Saturday starts with victories, including a complete game shutout two weeks ago at No. 4 Louisville and seven innings of shutout ball last Saturday in an eventual win over Notre Dame, you create expectations.
Thomas petered out in the seventh, which he didn't finish, and Notre Dame added two runs. The Fighting Irish scored two more in the eighth. Tech's lead shrank to 9-6.
The Jackets are trying to win their fourth consecutive ACC series after dropping two of three games to open league play at Miami.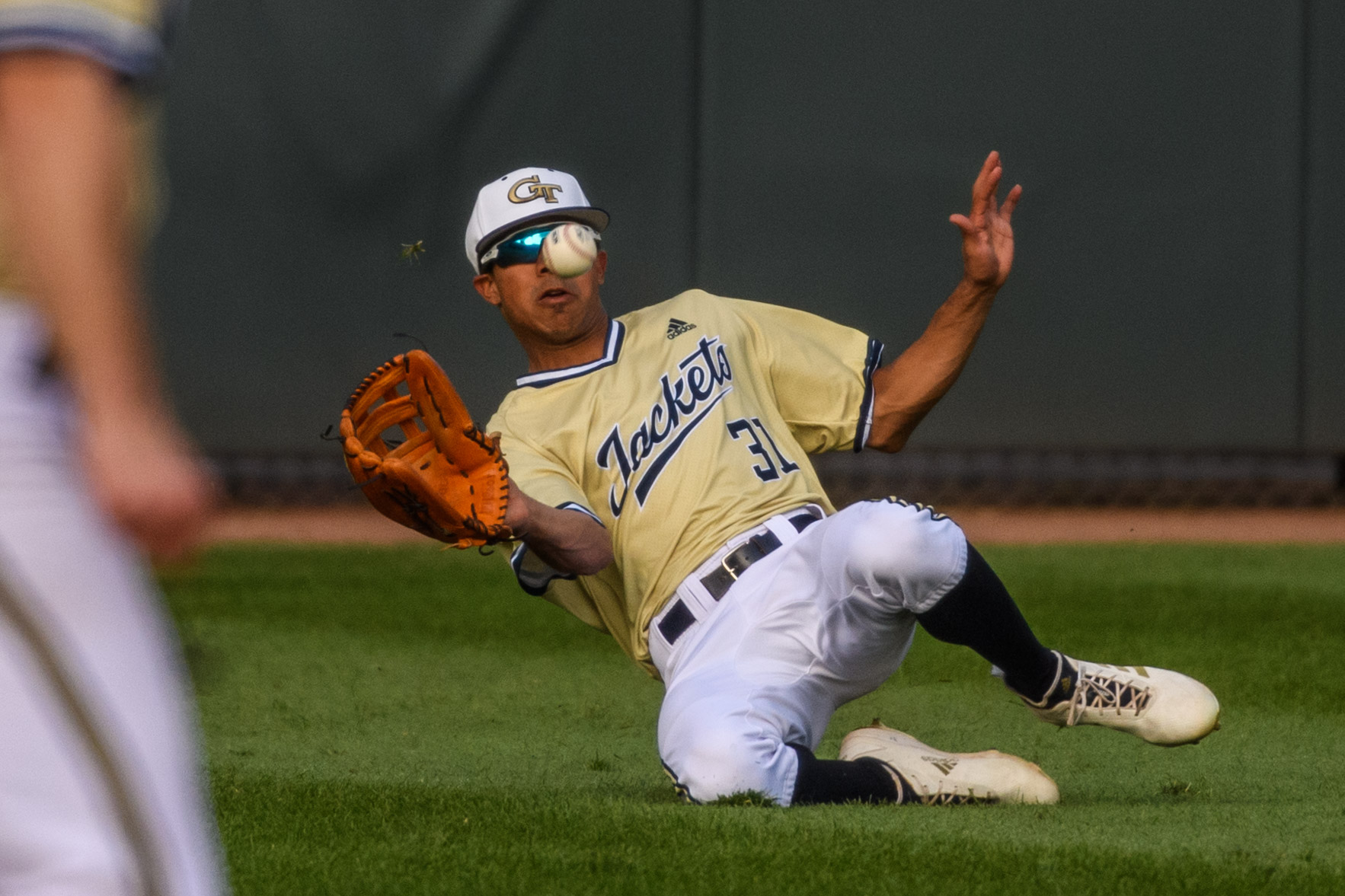 English was annoyed, which was obvious earlier in the game. We'll get to that.
And he feared not baseball superstition, an unfindable coda which suggests that when a player is on the verge of doing something that doesn't happen often, nobody talks about it.
If a pitcher is tracking a no-hitter past the halfway point of a game, teammates and coaches tend to stay away. Don't want to jinx anything.
English wasn't haven't much to do with that, and neither was one of his newer coaches.
"I knew I was a home run shy and I don't think many people on our team knew I was a home run shy, but our first-base coach Dan Jaffe . . . he said, 'You know you're a home run shy of the cycle before I was leading off the inning,' and I said, 'Oh yeah, I know,' " English remembered.
"He said, 'Well, let's get a home run and put a run on the board.' And I said, 'You already know I'm going to swing for it.' "
It took a few pitches; some balls, some strikes, a foul tip.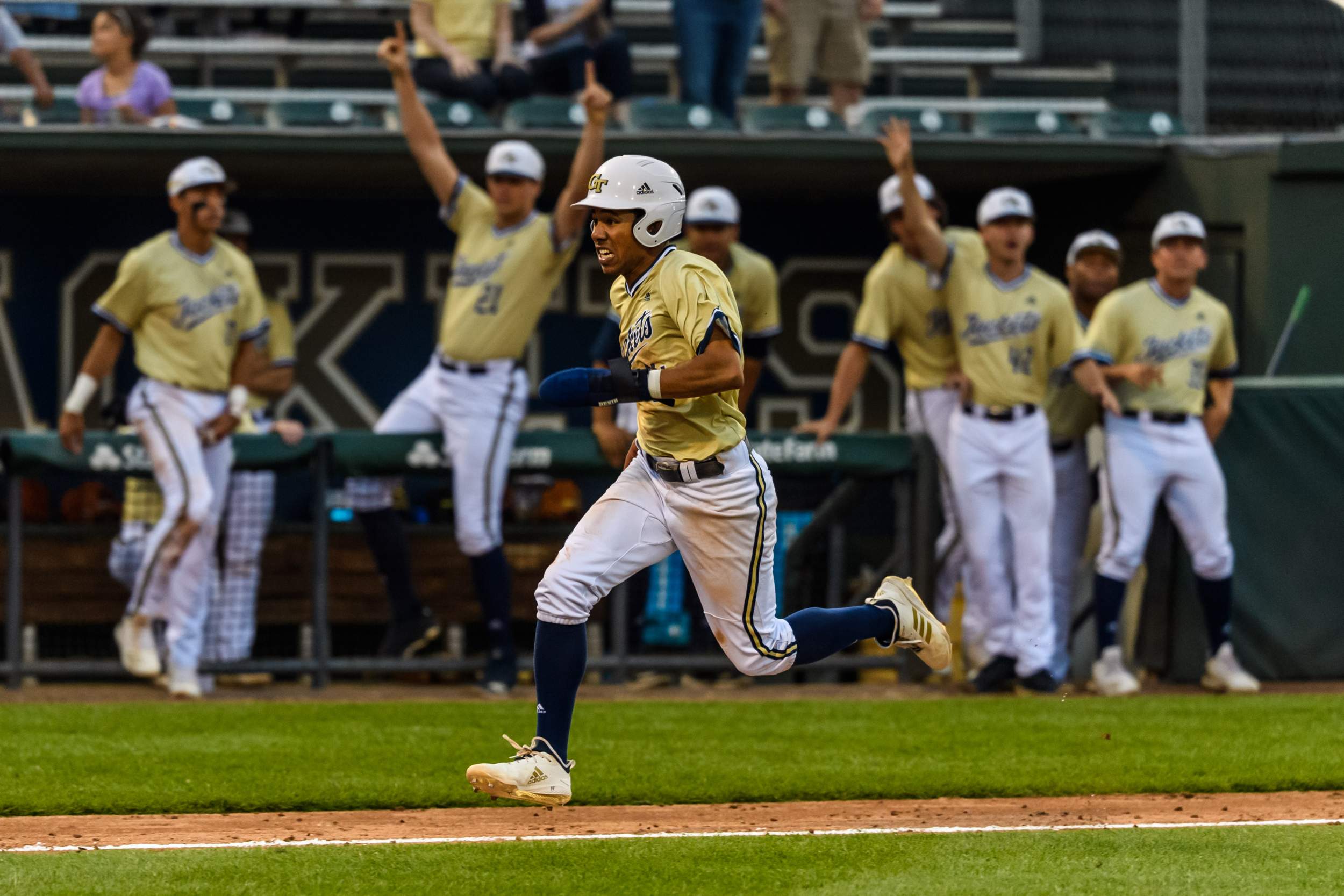 And then North Carolina pumped a fastball – which English hadn't seen often this weekend – up in the strike zone. He said after the game that he was surprised to see a fastball, but the fourth-year junior's played a lot of baseball, and he adjusted and crushed it.
That ball hit high off the scoreboard in left centerfield to give Tech a 10-6 lead.
In ways, that wasn't the highlight of his day.
English's triple, his single and Guldberg's game winner amplified everything and bade the sum better than the parts.
That leadoff triple in the second inning was a bullet off the wall near the leftfield corner. After it kicked away from the UNC defender, that defender fell down. So he kept running and beat a throw to third to start a three-run inning.
So, he said, "I kind of run every now and then. Not very fast, but I run."
The single was even better.
In the fourth inning, English was hit by a pitch, but as the right-handed batter trotted toward first base, home plate umpire Morris Hodges called him back to hit.
The breaking ball from UNC pitcher Caden O'Brien didn't break as much to the inside of the plate as he anticipated in the half-second he had to work with. So, he coiled backward to load his swing, and once he realized the ball wasn't going where he thought, he froze.
And a baseball plunked English on his left triceps, where he wears a small shield. He's used to getting hit. English entered the game leading the ACC in times hit by pitches, with 12.
Perhaps the umpires knew that.
So, Hodges said, in so many words, that's a strike.
"They basically said that he stuck his arm out, I guess," said head coach Danny Hall. "That's the only thing I can think. For me, the easiest way I can explain the rule is I cannot try to get hit by the pitch; the pitch has to hit me. They must have felt like he tried to get hit."
Replays appeared to indicate that English shorted his attempt to get out of the way of the pitch and at the same time did not lean into it.
This is one of baseball's most arbitrary rules, subject to interpretation that went all the way to replay Saturday.
The umpiring crew upheld the call, but not after English's anger was anything but arbitrary.
"He said right here in the box, 'You leaned into it. I said all I did was turn. But he said, well you can review it, and I said, no I just want to hit," English said. "And coach Hall came out and said review it."
And so, on the very next pitch, English smoked an RBI single in Tech's two-run inning.
As the Tar Heels made another pitching change, he went toward his dugout with a lot of jumps, high-fives, fist-bumps and screaming.
"I wasn't very happy with the situation, but ended up getting a hit and that really got me going a little bit," English said. "It was probably more because I thought I had first base, and then a rule that I don't agree with a whole lot – a ball in my batter's box – gets called a strike on me, and being able to stay through it and eventually getting a hit and an RBI . . . "
In the end, which seemed to take a long time to arrive as the Tar Heels scored four annoying more runs in the top of the ninth to make for eight runs in the final three innings.
English, though, was just as happy about the bottom of the ninth inning, which he had little to do with other than body English.
Against yet another UNC pitcher, Austin Wilhite off with an infield single.
Brother Nick sacrifice bunted him to second.
Shortstop Luke Waddell smoked a single to center, but it was hit so hard that it froze Austin for a bit, and he advanced just to third.
That left Guldberg at the plate, runners on first and third, one out.
He's leading the ACC with a .456 batting average.
So, Hall let him swing.
And he lifted a high ball about 270 feet to right center.
English would have you believe that was the best sequence of his very good, very unusual, super fun day.
Guldberg is the Jackets' No. 1 contact hitter, so, English had no doubt. He began putting his equipment away.
"None whatsoever. I would have been on-deck had had he gotten out, and I had already taken my stuff and put it in and I told Robert Winborne he's going to put this ball in play, so we're going to win. He said I fully agree," he said. "So, sure enough, fly ball. Always nice to have a guy hitting .450 in the lineup."
English should know.
Through Tech's first 10 games, he had five hits. In the 21 since, he's had 30.
Wilhite slid easily ahead of the throw, which bounced away harmlessly.
And soon, Hall agreed smartly with his player.
As he left the post-game press conference, he belied the Jackets' sense of belief.
The head coach grabbed the knob on the door, twisted and pulled as his team had, and without turning around to face anyone in the room he was leaving said, "Never a doubt."