Programmed For Success
GT women's basketball honored winners of the 2018 Jacket 2 Jacket Reading Program
By Jon Cooper
The Good Word
Something big happened throughout Sunday's game between Georgia Tech and No. 12 Syracuse at McCamish Pavilion, a game that saw the Yellow Jackets turn a 35-25 halftime deficit into a 65-55 win.
It's a mystery as to what transpired in the Yellow Jackets locker room during intermission but what took place at center court of McCamish Pavilion was an inspirational tale. It was the final chapter of a story of hard work and dedication and culminated in recognition for the winners of the 12th annual Jacket 2 Jacket Reading Program. (The entire list of winners is below).
It was a real page-turner, complete with a story book ending.
The program is a partnership between Georgia Tech, the WNBA's Atlanta Dream and, since 2015, Georgia United Credit Union. It's a month-long competition (October 1 through 31) among students in elementary and middle schools in Metro Atlanta to see who can read the most. On Sunday the winning students were honored.
It was a proud day for them and, of course, the event's sponsors.
"Georgia United Credit Union is committed to supporting students' educational efforts, and we're excited to partner with Georgia Tech and participate in the Jacket 2 Jacket program," said Georgia United's Business Development Officer Hannah Thompson. "The Jacket 2 Jacket Program motivates students to learn through reading in a fun, interactive way and we're proud to award the hard-working students for their efforts."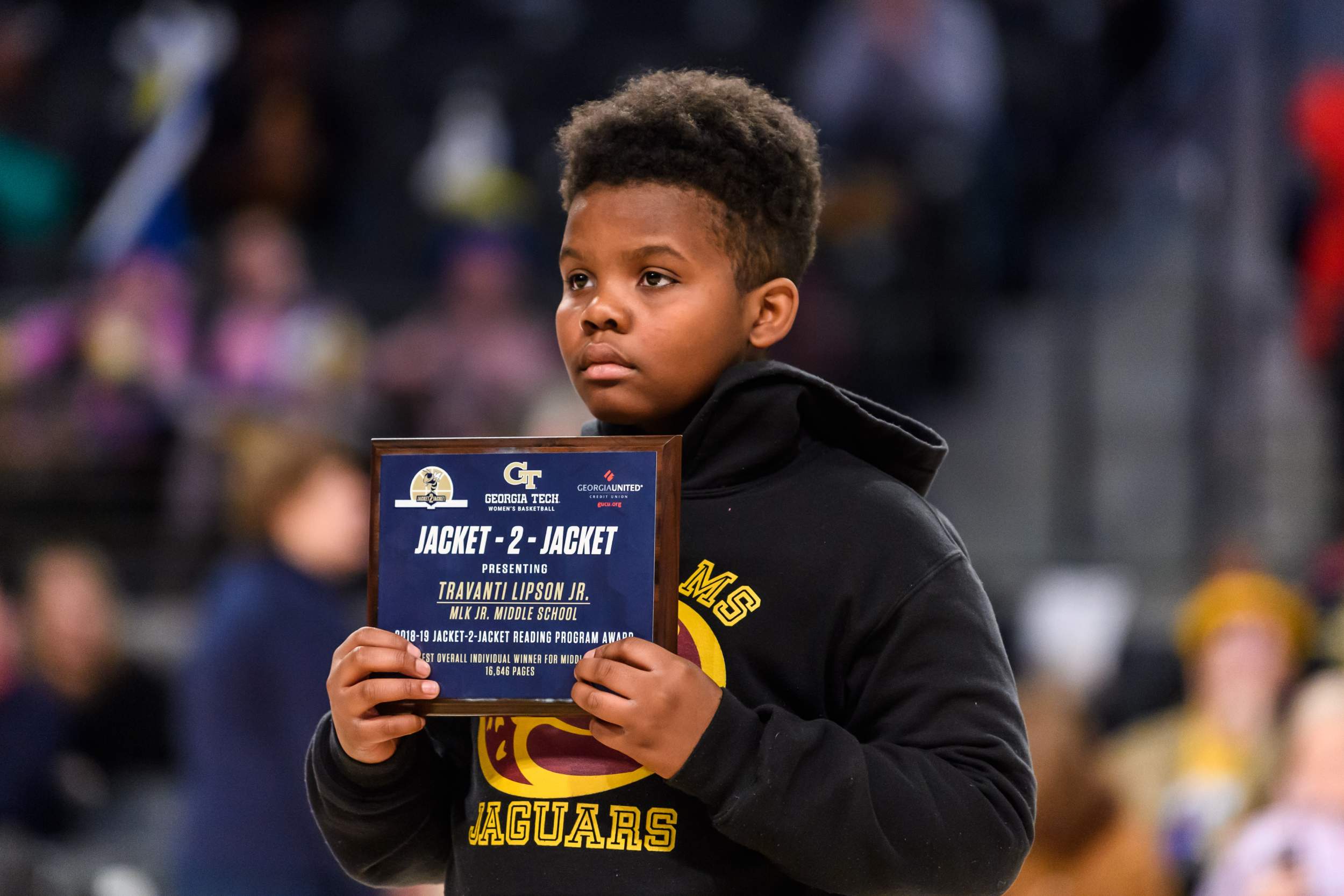 "Reading is foundational to all children's success and that's why I think the Jacket 2 Jacket Reading Program is one of the best programs I've that ever been associated with," said Mark Baker, Professional School Counselor, an educator in Georgia for 23 years — 18 in Cobb County — and currently K-5 Counselor at Argyle Elementary in Smyrna. "I think that it's an unbelievable program. It's so well put together. It's ingenious, actually. I think it would be great for all the schools to be involved in it, because, again, reading is just so important."
Some 51 schools from Fulton, Cobb, Gwinnett, DeKalb and Atlanta participated. That was up from 34 in 2017. Students are required to read and keep track of the pages they've read during the month of October. More than 1.5 million pages were read in this year's J2J. The only criteria is that students must read on their own.
Baker found motivation wasn't an issue. The students were enthusiastic with a great support system.
"The students deserve all the credit and the teachers, and, of course, the administration," said Baker, who is in his first year at Argyle, which won overall winner and top fourth grade, and was at Hollydale Elementary in Marietta, when the school won J2J overall elementary five consecutive years. "It's really a team effort and everyone working together for a common goal — our awesome and highly supportive administration team, Principal Mrs. Georgette Clinton, Assistant Principal Malcolm Cobb, our fabulous hard working K-5 teachers who work so well as a team to get this J2J victory. Lisa Westmoreland, fourth grade teacher, was just phenomenal in motivating her students to read for success, as well as her entire grade level teammates. We're looking forward to the future and next year's reading competition."
Other multiple winners included Morris Brandon Elementary (individual first grade, tie, Maxwell & Harrison O'Boyle and kindergarten, Ms. Estrada), Deerwood Academy (individual second grade, Anaya Wilkerson, and classroom, first and second, Jolita King and Wanda Smith), The Main Street (individual, fourth grade, Joseph Stephenson — also overall individual winner, third grade, Ms. C. Graves), Harper Elementary (individual fifth grade, Taryn Sanders, fifth grade, Ms. Allen), MLK Junior (individual seventh grade, Travanti Lipson — also middle school overall winner — and seventh grade, Kandy Wilkinson), and Willis Sutton (sixth grade, Courtney Casso, overall middle school).
All the winning schools got to participate in a pregame pizza party prior to the game against Syracuse and will enjoy a visit from the team on a day to be determined during the spring.
Of course, the Jackets players also win, as they'll get to visit the winning schools.
"We enjoy it. The minute you walk into the school the students are SO excited," said Brittni Oliver, who is in her second year on the MaChelle Joseph's staff and who serves as the J2J point person at Tech, tallying up the school sheets through a database she created. "They definitely enjoy having the players come out. It's a big thing for them, to see players.
"We have the players introduce themselves and let them know what year they are and their major and how reading has helped them from a young age to now," she added. "We'll read three or four stories and then at the end, the players will interact and ask the students, 'What was your favorite book?' Then they all choose and we'll have them tell us why. So it's a good interaction with the players and the students."
Baker believes that while the pizza party, the free tickets, the ceremony, and even the school visit are great, the kids have received an even bigger and longer-lasting reward from the competition.
"I think it gives them a lot more confidence," he said. "We're an at-risk school, a Title One School. Winning a competition like this really does a lot for them. It helps them believe that they can accomplish anything. At the outset, I personally told them that they could win this competition. I kept talking about how they could win. So they bought into it. They're just so excited. They are really thrilled about it."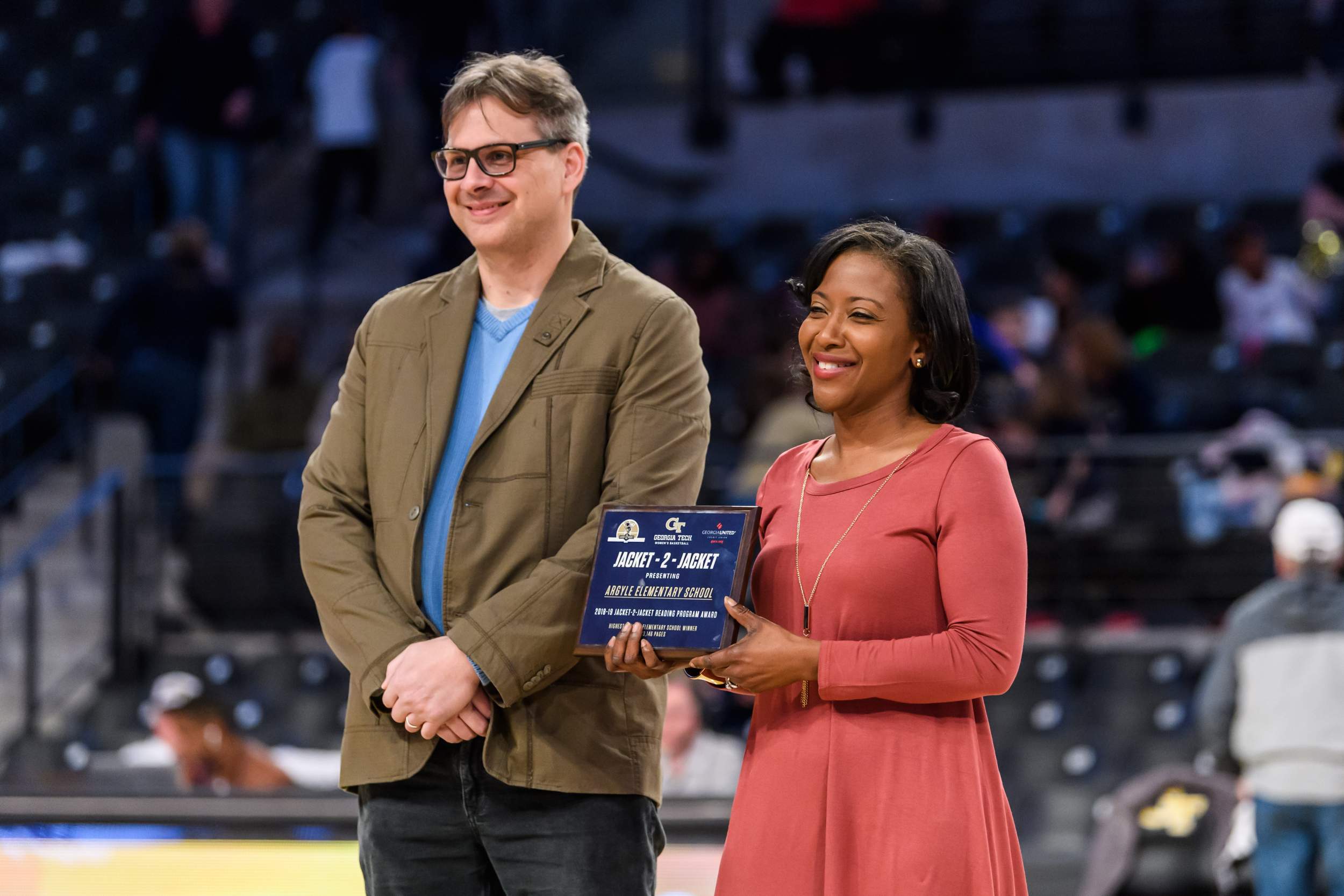 Georgia Tech and its partners in J2J are thrilled about the response in 2018 — a 33 percent increase from 2017 — and are hoping that down the road the program will see continued increases.
Baker can't wait to see how J2J continues to grow.
"I personally have a vision for this program and I think that it can get a lot bigger than it is. It will just take spreading the word and I have been doing that in Cobb County," said Baker. "There are some schools in Cobb that are interested in jumping aboard with this competition next year. I think there's unbelievable growth potential in this program.
"So my message to everyone out there is to get involved in this program. It does amazing things to help support your students with reading, getting them excited and pumped up and it is fun. That's one of the key things about this program. It is so much fun. They have fun competing and reading and I've never seen so much enthusiasm and excitement around this. I highly believe in this program. I just truly love it."
Oliver, who'll start the ball rolling for 2019 when she attends the Atlanta Public School Media Specialists' their annual training program, sees J2J as a win-win proposition for everyone involved, but especially the kids.
"You get a lot of students who are reading a lot of pages and they truly love to read," she said. "I think that it's great to see. To have them talk about it or just see how excited they are that they've won something, I think that's a great experience. They all came back for the pizza party on Sunday. I think a lot of parents are excited that their kids are participating in this and that they are winning in a way. But I think everybody who participates is a winner."
Complete list of winners:
Individual Winners
Kindergarten – Griffin Warren Hoskins (Sarah Smith ES) @ 2,535 Pages
1st Grade – Tie: Maxwell & Harrison O'Boyle (Morris Brandon Elementary) @ 5,554 Pages
2nd Grade – Anaya Wilkerson (Deerwood Academy) @ 4,911 Pages
3rd Grade – Buddy Wright (Mary Lin Elementary) @ 11,924 Pages
4th Grade – Joseph Stephenson (The Main Street) @ 16,762 Pages
5th Grade – Taryn Sanders (Harper Elementary School) @ 12,867 Pages
6th Grade – Nishan Watson (Centennial Academy) @ 7,100 Pages
7th Grade – Travanti Lipson, Jr. (MLK Jr. MS) @ 16,646 Pages
8th Grade – Allanna Heaven (Sylvan MS) @ 10,054 Pages
Classroom Winners
Kindergarten – Ms. Maritza Estrada (Morris Brandon Elementary) @ 5,556 Pages
1st Grade – Ms. Jolita King (Deerwood Academy) @ 42,486 Pages
2nd Grade – Ms. Wanda Smith (Deerwood Academy) @ 12,890 Pages
3rd Grade – Ms. Chandra Graves (The Main Street Academy) @ 33,389 Pages|
4th Grade – Ms. Lisa Westmoreland (Argyle Elementary) @ 43,642 Pages
5th Grade – Mrs. Allen (Harper Elementary School) @ 24,881 Pages
6th Grade – Ms. Courtney Casso (Willis Sutton MS) @ 62,608 Pages
7th Grade – Ms. Kandy Wilkinson, Jr. (MLK Jr. MS) @ 16,646 Pages
8th Grade – Ms. Tamara Verriett (Salem MS) @ 13,251 Pages
Overall Winners
Individual:
Elementary – Joseph Stephenson (The Main Street) @ 16,762 Pages
Middle School – Travanti Lipson (MLK Jr. MS) @ 16,646
School
Elementary – Argyle Elementary @ 223,146 Pages
Middle School – Willis Sutton MS @ 154,918 Pages