By Matt Winkeljohn | The Good Word
Nat Page has been around the coaching world for a while and he knows a thing or two thousand, but he was miffed Monday night at the Yellow Jacket Celebration when Chaunte Howard-Lowe — 2008 Olympic bronze medalist in the high jump – showed up for the banquet to honor Georgia Tech athletics.
She's an accountant in Orlando most of these days, a four-time Olympic high jumper and arguably Page's most accomplished protégé. Usually, when she's in town, Page – who's been an assistant track and field coach at Tech since 1996 – knows ahead of time that she's coming because Lowe makes those trips to work with Page on her jumping technique.
Then, almost right off the top Monday night at YJC in the Georgia Tech Hotel and Convention Center, Lowe was at the podium calling Page up to honor him with Order of Ikkos award, bestowed by the United States Olympic Committee to coaches who guide athletes to Olympic medals.
There was a delayed reaction. Folks were quiet. Page seemed stuck in his seat.
Chaunte leaned into the mic, and again summoned the man who coached her to the 2004 Olympics when she was a sophomore at Tech.
His thought?
"How did they sneak this over on me?" Page said quietly. "That's pretty good."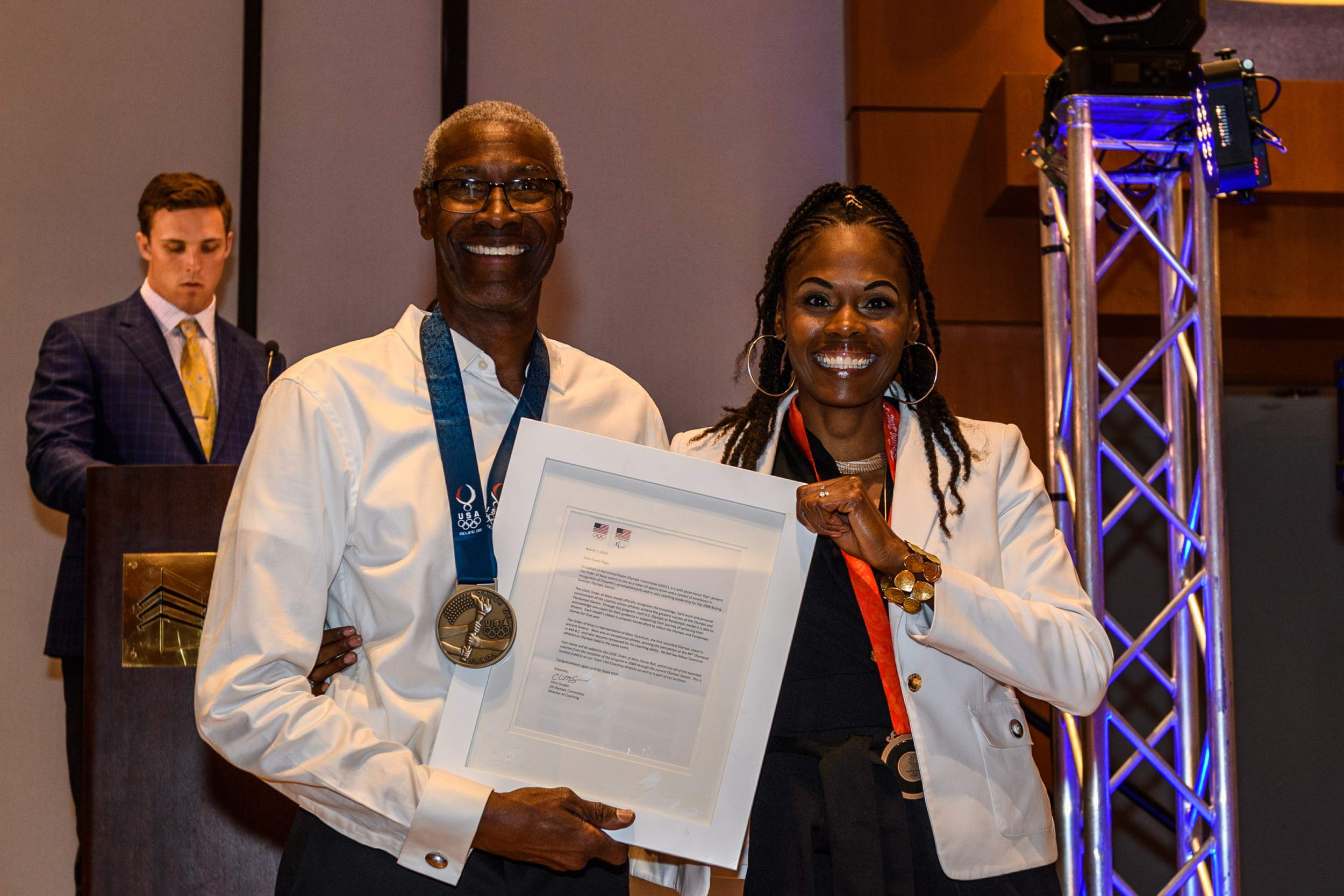 Page isn't one to sneak anything over on anyone. He's to the point while being absolutely absent of bluster. But he was fooled by his student, who holds the American records for women's high jump indoors (6-feet-7, 1/2) and outdoors (6-8, 1/2).
As the jumps and hurdles coach for Tech men's and women's track and field teams, he has been a model of consistency for more than two decades, and he's mentored more than four dozen ACC champions. Most recently, senior Bria Matthews won the ACC indoors triple jump title and earned All-America honors in the NCAA meet with a fifth-place finish on his watch.
He comes from experience.
When you've been a four-time Big 8 high jump champion and a five-time All-American at Missouri, made the 1980 Olympic team as a high jumper only to miss the Moscow Games because of a U.S. boycott, and competed professionally for years as a hurdler, you have cred.
Which is why Lowe made her way from Riverside, Calif., in 2002 to Tech.
"He called and recruited me. I did a little research and I loved his philosophy about high jump and the fact that he had already coached amazing athletes and he had a track record of success," Lowe said. "When he picked me up at the airport [on her official visit] from day one, it was like, 'Oh, my gosh! This is the person I want to train with.'
"One of the main things was that he was an elite athlete himself. He had already been to the stages that I was trying to go to. He had already taken athletes where I wanted to be, and on top of that he understood from an athlete's point of view what it actually feels like to dig in and what it would actually take to get where I wanted to go."
Lowe made quite the impression upon Page, too, especially when workouts began.
"I was looking for a high jumper that was athletic and talented in different areas. She had hurdled, she had long jumped and high jumped and sprinted," Page said. "That's what I was really looking for, and she fit every piece of that."
In no time at all, Page realized he was working with special talent: "I said I have somebody who wants to dig down, who wants it really bad, and her drive and determination is that of any elite athlete, male or female."
Page is not going to grill anyone, but he's not going to shrink into the background, either. He's persistent in a tolerable way, and with experience helping coach four U.S. national teams, accomplished. He connected with Lowe before the first jump.
"I think the thing that I liked is everyone else is going, 'You're already jumping 6-1, you're doing great.' They'd sugarcoat things. He was never easy on me, and I loved that," Lowe said. "I would think I had a great jump, and ooh, I got a personal best at practice, and he'd say, 'Yeah, but technically it was horrible.'"
Well, not horrible. That's not the Page way.
And his way is still Lowe's way.
She might like to go back to the Olympics in 2020, in Tokyo.
Page has traveled with her to Olympic Games in 2004, 2008, 2012 and 2016.
Maybe it will happen again.
Lowe continues to train, although she's not jumping right now.
"It's always been Coach Page's workouts, his guidance, his structure. Even to this day, I know what I'm going to do Monday, Wednesday, Friday. I know what I'm going to do on a Tuesday and I'm going to rest on a Thursday and I have not changed one bit of that," she said.
"In the beginning of the year I kind of let him know that I was interested in potentially pursuing a fifth Olympic games. I just haven't been ready to jump yet, but when the time comes, I'll come up here to Atlanta and have him help me out with those jumping sessions."
Humble as always, Page suggests that Lowe can go it alone, although he also said he wants to be there if Lowe goes back to the Olympics again.
"She's learned so much that she can train herself properly to jump against anybody in the world," Page said. "The only thing she needs is an eye here or there. She is an unbelievable professional and technician, and she knows what it feels like and what it takes. She knows all of that. She calls and shoots me a little bit of video, but she pretty much has it down."
Lowe, who triggered the process to bestow the Ikkos award upon Page by contacting the USOC, differs, and she coordinated with the U.S. Olympic Committee and Tech Total Person program director Leah Thomas to make it happen on Monday night.
"I don't think so," she said of Page. "I still need him."