EDITOR'S NOTE: Click HERE to read Part 1 of The Good Word recap of Georgia Tech football head coach Geoff Collins' June 2 video conference with local media
By Jon Cooper | The Good Word
A call to action for racial equality wasn't the only emotional moment of Geoff Collins' video conference with local reporters last week.
Early on in the conversation, when discussing the return of the student-athletes, Collins made sure to address the team's recognition of Bryce Gowdy. The 17-year-old Broward County, Fla., native would have been an incoming freshman this spring, but died tragically on New Year's Eve. It's the second-straight season the Jackets will dedicate themselves to the memory of a lost teammate — 2019 was dedicated to "Big B," Brandon Adams. The tribute will appear in a video of the "Jumpstart Jackets" Zoom call Collins and the staff had with the incoming freshmen late last month. It will soon be posted on social media.
"I would have been remiss if I didn't include him in that meeting," Collins said. "He would be here with us if this was the first day of classes and this was the first day that we're doing things as a Georgia Tech football program … As this signing class progresses, through graduation and through championships, all those things that this class is going to be a part of, [we want] to make sure that we're carrying Bryce's legacy throughout with this group of guys. It was on my heart to include him as well."
****
While social issues were the focus of the call, student-athletes' return to campus was also a topic. Phase I of their return is scheduled for June 15 and will be done under watchful eyes and a vigilant adherence to a "safety-first" protocol.
"We've got an unbelievable medical staff, we've got an athletic department that is committed to making sure that all of our student-athletes and our football players — because they're going to be the first ones to [fully] return to campus — that they're health and safety is the first priority in every single thing that we do," he said. "There are a lot of programs that are starting to return, have returned, maybe even returning as early as [last] weekend. [Georgia Tech's return] might be a little bit later than some places but we wanted to make sure that all processes were in place, we had all the data that we needed to ensure that when our guys return, that we have the best chance to be successful and to keep our guys healthy and safe, even from the very start.
"It may look to the outside world that we're being really cautious. I don't think that's a bad thing," he added. "The level of thought and care went into every single decision throughout this thing for our guys and even for our staff. We have some coaching staff members whose family members have compromised immune systems, so we take those things into consideration as well for the health and well-being of every single person that is in our organization or can be affected by any decisions that we make and how we handle the protocols in place."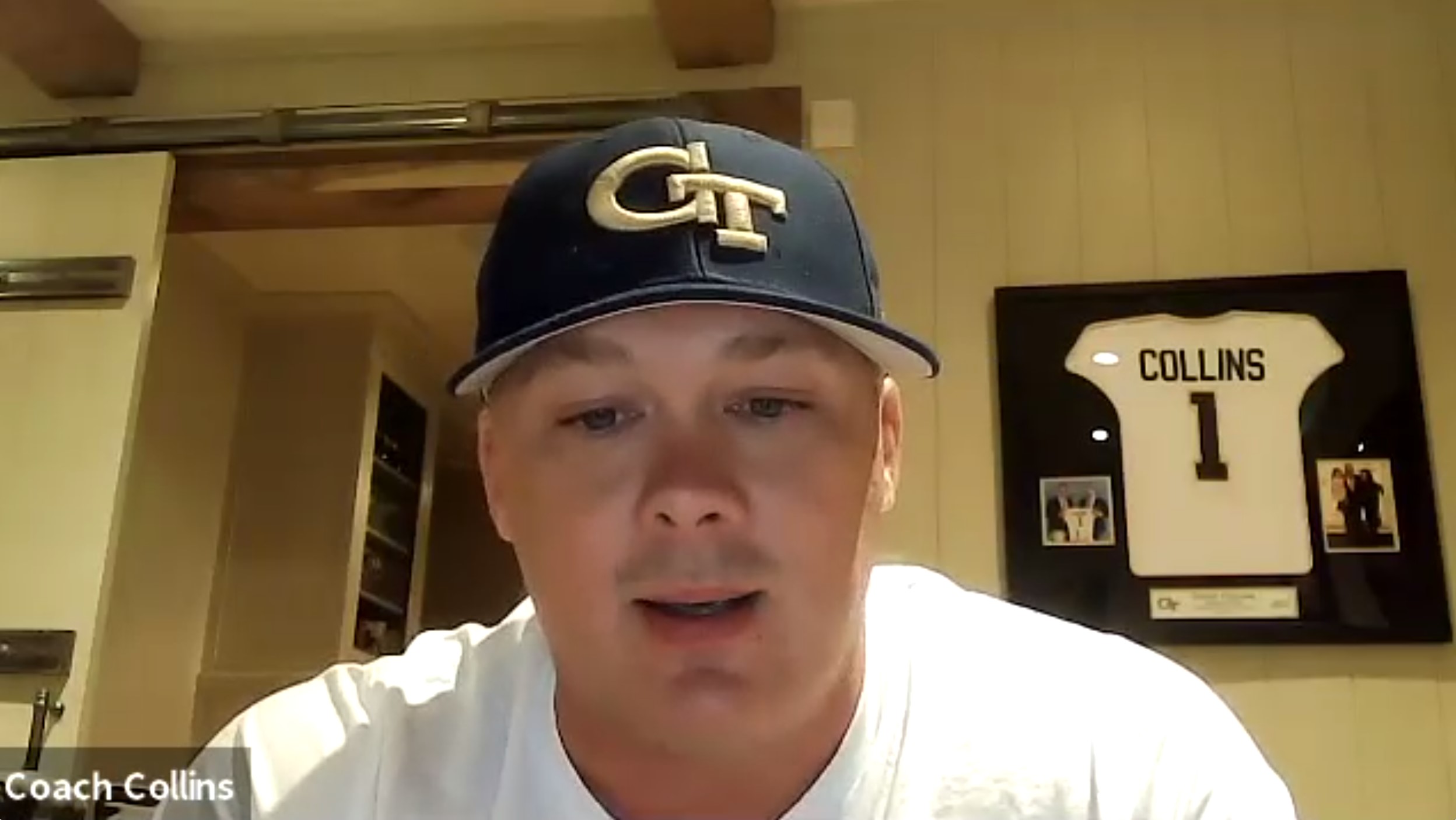 A late start won't deter Collins.
"I started off as a high school coach, was a I-AA non-scholarship coach, was a Division III coach, was a I-AA coach again. At those places, you don't have summer workout programs. They show up day one of preseason camp. At the Division III level, we didn't even have spring football," he said, with a laugh. "So I think that gives me an edge to understand there are ways to do it.
"I think we have a very innovative coaching staff," he added. "We've got guys that look outside the box, that try to find answers to the questions and aren't going to be stuck in an archaic system that [says], 'It has to be done in this way, in this time frame, in this amount of reps.' We are fully capable of adjusting, adapting. We have Ryan Horton, who is our director of applied science, and we will use scientific data to put the plan in place to get our guys ready to play. We have a young, technologically savvy staff as well. [The NCAA] allowing us to do the Zoom meetings throughout this period that we've been apart has been a blessing. In a lot of cases, we might even be further ahead from the X's and O's piece. Obviously, there will be challenges. But the way that we have our culture set up, we have our program set up, lends us to be innovative, think outside of the box and find the best way for our players to have success."
Things appear to be falling into place nicely.
"We do have a process for everything and the steps that we're going to go through," he said. "I think the number [of student-athletes] right now is in the low 20s for the Phase One. It's local guys that are having the ability to isolate for 14 days. There's a whole bunch of steps that they've got to go through before they return. I'm excited for them to come back. [Strength and conditioning] coach [Lewis] Caralla's got the system setup for the times and all that. We're going to be at the Brock Indoor Practice Facility, even for the weight workouts. You've seen along the Coca-Cola [west] sideline, there's racks set up there. We've actually ordered five more racks for the indoor that will be on the other side. We're going to lift the garage doors on the Waffle House [east] sideline to make sure we maximize air flow, there's going to be entry points and exit points. There's all kinds of things that are going to be put in place to make sure the guys are safe and healthy."
****
Collins made sure to give props to the student-athletes and academic advisors responsible for the team's program-record 3.0 GPA during the spring semester, which came while adapting to the unprecedented on-line learning program.
"We, as a Georgia Tech football program, had above a 3.0 GPA, a school record grade point average, in the midst of a pandemic and the transition for the first time in Georgia Tech history to a completely virtual classroom setting. Phyllis LaBaw, Chris Breen, Brandon Pottebaum, the entire academic staff, did a phenomenal job. Todd Stansbury, our athletic director, put the plan together, trusted the people that really know how to execute it and were very innovative and found ways to make sure our guys succeeded academically. I just wanted to say how much I appreciate them. Obviously, our players did an amazing job, too, as well as our coaching staff."
2020 Season Tickets
2020 Georgia Tech football season tickets are on sale now. The Yellow Jackets' seven-game home schedule is one of the best in program history, featuring matchups at Bobby Dodd Stadium versus Clemson, Miami, Virginia and UCF, as well as the inaugural "Mayhem at MBS" showdown against Notre Dame at Mercedes-Benz Stadium on Nov. 14. Season tickets start at just $229 and include the Mayhem at MBS contest versus Notre Dame. For more information and to purchase tickets online, visit ramblinwreck.com/footballtickets.
Alexander-Tharpe Fund
The Alexander-Tharpe Fund is the fundraising arm of Georgia Tech athletics, providing scholarship, operations and facilities support for Georgia Tech's 400-plus student-athletes. Be a part of developing Georgia Tech's Everyday Champions and helping the Yellow Jackets compete for championships at the highest levels of college athletics by supporting the A-T Fund's Annual Athletic Scholarship Fund, which directly provides scholarships for Georgia Tech student-athletes, and Athletics Initiative 2020, Georgia Tech athletics' ongoing $125 million initiative to allow Tech to recruit the nation's most elite student-athletes, build a better student-athlete once they arrive on The Flats and, ultimately, win! To learn more about supporting the Yellow Jackets, visit atfund.org.   
For the latest information on the Georgia Tech Yellow Jackets, follow us on Twitter (@GTAthletics), Facebook, Instagram or visit us at www.ramblinwreck.com.