GAME PREVIEW: Georgia Tech at Virginia Tech – Thursday at 7:30 p.m. (ESPN)
By Jon Cooper | The Good Word
Nobody circles "Bye" when schedules are announced at the beginning of the season, yet there may not be a week more welcome once the campaign begins.
Sometimes there's nothing better than a Saturday spent watching everyone else bang heads and fight it out. After the grinding and pounding of seven weeks of games, Georgia Tech had few complaints about that kind of Saturday while preparing to get back into action Thursday night against Coastal Division leader Virginia Tech.
"I think having a couple of days off was probably good for us physically and psychologically," said head coach Paul Johnson. "I think we've gotten some stuff done.
"We're still beat up," he added. "But we've still got (a few) days. So we'll see."
Senior wide receiver Brad Stewart found the week off a time to reflect on the season passed while also look forward to finishing his career strong.
"I think, definitely, at this point of the season it hasn't gone like we intended but at the end of the day, there's still a lot of football to be played," he said. "As a senior, I'm taking every moment in. I was disappointed in the loss to Duke but at the same time we just have to move forward and get ready for Virginia Tech this Thursday in Blacksburg. It's going to be a great game. We have great fans behind us. Virginia Tech is definitely the loudest and the craziest atmosphere."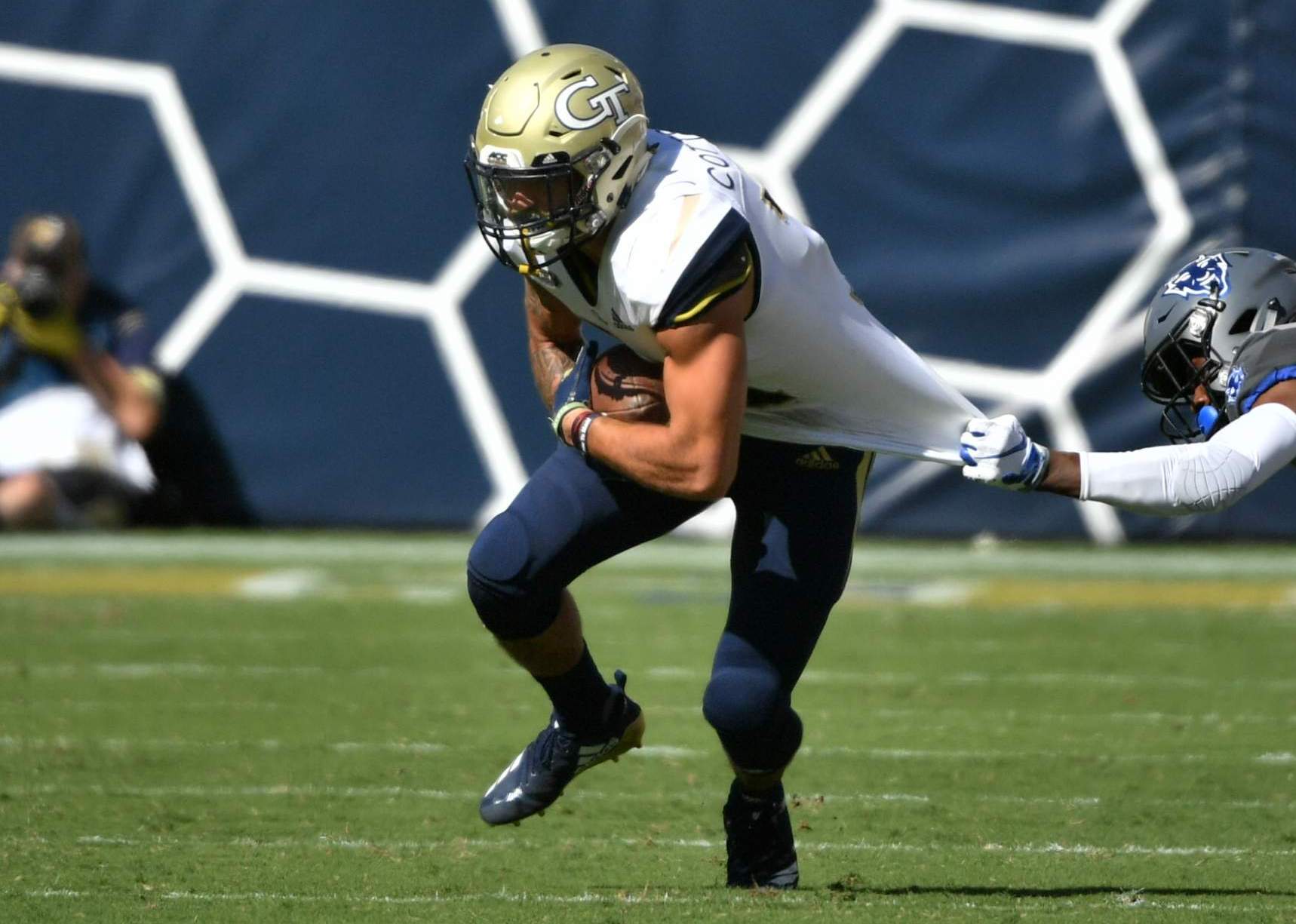 Junior A-back Nathan Cottrell (above), who considers himself one of the fresher backs, was itching to get back out on the field and preferred to focus on that.
"I'm not a huge fan of bye weeks. I don't like not being able to play on Saturdays. It's always a long week. So I'm ready," he said. "Obviously coming into the bye week with a loss is not fun at all, so the atmosphere on the team, we're all ready to get going, get up there, play a great game like we know we can. It's going to be a fun atmosphere. It's going to be a fun game to play, it's going to be on primetime TV, everybody is going to be watching, all the rah-rah is going to be there. Once we buckle down and do what we know we can do, we'll be ready for it."
"This bye week has definitely helped me because getting banged up throughout the season, I needed this bye week," said redshirt freshman B-back Jordan Mason, whose 70 carries and 482 yards are second on the team behind only quarterback TaQuon Marshall. "In this offense. You're getting hit every play. You know you're going to get hit every play, so you just have to go full-speed. I can't think of how KirVonte [Benson] got through that [as the lone featured B-back in 2017]. Getting in the training room, getting my body right helps."
Helping get him through it has been his running hot and cold — in the locker room with the hot tub and cold tub, that is.
"I go five hot, four cold, five hot, four cold, five hot. Hot tub, cold tub. Five minutes, four minutes, five minutes, four minutes, five minutes, you're out. I feel like a whole new man," he said.
The offensive line has had its bumps and bruises but was also well-served by time off. Redshirt freshman Zach Quinney actually didn't mind getting last Saturday off.
"[I'll] Probably just rest," said Quinney, who will make his seventh-straight start at left tackle on Thursday. "Get some rest. It's good to get practice out of the way early [on Saturday morning]."
He's excited about his first trip to Blacksburg. After all he's heard, he's not worried about the Lane Stadium crowd and what he possibly won't be able to hear.
"It's very difficult. It's probably more difficult for me than it is for anybody else on the offensive line, but we've been working really hard at that communication," he said. "I think we'll be okay."
The Jackets worked hard during the off-week on special teams and Johnson promised there would be changes in both the kickoff- and punt-return game. Georgia Tech is currently at the bottom of the ACC in kickoff returns (18.7 yards per return) and 12th of 14 teams in punt returns (8.4 ypr).
The need to improve field position really came home to roost in the loss to Duke.
"The field-position game was a killer. I think we averaged starting on our 18 yard line in the [second half against Duke]. They were probably out close to the 45," he said. "You start the second half, you're going to get the ball first. It's not bad enough to get tackled on the 15, you've got a hold and get tackled on the 15. Then you're back on the 8. You flip the field, put them out on the 5, they come down, flip the field right back, punch you out on the 9. Against good defenses, you're not going to see a whole lot of 92-yard drives, 91-yard drives. So it's a big part of the game."
The continuing education of true freshman Juanyeh Thomas in the role of kickoff returner also has been hand-wringing. Johnson said he will try to rectify things communications-wise.
"We've probably given them too many options, truthfully," he said. "They've been told if the ball gets back in the end zone not to bring it out and if it's a high kick or it's in the corner to fair catch. But we need to be more specific with them. We will moving forward."
Punt return also may see "noticeable" changes, but Johnson refused to put all the blame on the shoulders of Stewart, the team's main punt returner.
"Brad's done a really great job since he's been here as a punt returner, catching the ball …" he said. "It doesn't matter who's been back there, necessarily. You've got to do a better job of executing and blocking. Brad still will be back there some, but we may look at other people, we may put two guys back there, may do some different stuff."
Part of the frustration in fixing special teams is actually nailing down the problem.
"It's not the same all the time. That's why it's so frustrating and so hard to fix," Johnson said. "If it was the same person all the time or the same position all the time, then you'd just change the people or you'd change the thing. So 1) we have to look at the scheme and how we're doing it, 2) you have to look at how you're teaching it, and when you haven't had success, you have to look at all those things. Maybe we need to turn into a punt-block team as opposed to a punt-return team. There's all those facets that you can look at."
The Jackets hope an improved return game will lead to an improved record coming off the bye.
Under Johnson, Tech is 6-6 following an open week but 0-3 in such games against Virginia Tech, with all three of those contests coming on Thursday nights.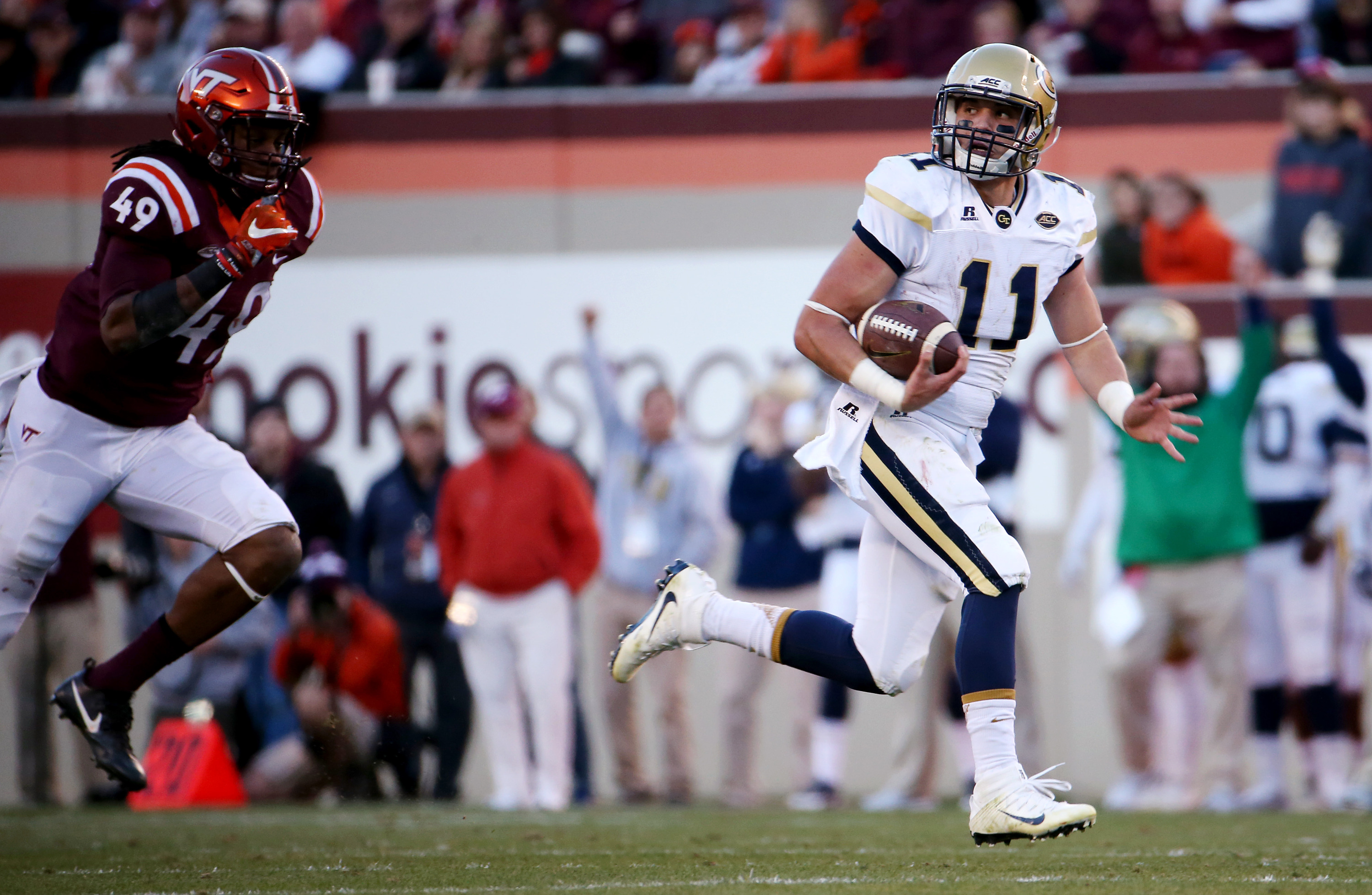 The Jackets would prefer to focus on a more pleasant memory — its last visit to Blacksburg, back on Nov. 12, 2016, when they stunned the No. 18 Hokies, 30-20, despite playing without starting quarterback Justin Thomas, starting center Freddie Burden, as well as right tackle Andrew Marshall and B-back Dedrick Mills. The Jackets rambled for 309 yards on the ground, with 122 of them and two touchdowns coming from backup quarterback Matthew Jordan (above). Marcus Marshall added 143 more with a TD, as Tech blew out to a 20-0 halftime lead and never looked back. The defense recovered two fumbles and had two interceptions, going plus-3 on turnovers.
It was a recipe for success that the Jackets want to repeat again on Thursday.
"The thing that I remember about the game up there two years ago is that it was probably our best game on defense," said Johnson. "We got some interceptions, we played well and it didn't turn into a 'don't-miss-a-turn' game. The first two or three times we had the ball, we ended up kicking field goals but the defense would make it hold up and they'd get you the ball back. We were up 20-0 at the half, came out and fumbled the very first play of the second half and they scored and then we went back to playing. We hit some big plays."
"We just executed," said Stewart. "We knew we were going to be down those two guys [Thomas and Burden], we were going to have to make some more plays and guys just did their jobs. It was not anything special. Doing your job, defense had a great game, had a great start. We'll need that again. Just execute and play our game.
"We have a lot of playmakers offensively and with the offensive line, we have a lot of disciplined guys," he added. "We just have to go out and execute. If we execute, we're a hard team to beat."