RECAP – Georgia Tech 63, Bowling Green 17
By Jon Cooper | The Good Word
Georgia Tech quarterback TaQuon Marshall spent practices leading up to Saturday's game against Bowling Green perfecting his short pitches to his A- and B-backs.
On Saturday afternoon, Marshall showed that he had no problem with the long ball. He hit five of his six attempts for 160 yards (32.0 yards per completion) to four different receivers, as the Yellow Jackets came out bombing and took care of business, handling the Falcons, 63-17, at Bobby Dodd Stadium.
"I've always known I have the ability to pass the ball," said Marshall, whose 83.3 percentage was the best against BGSU all season — prior to Saturday, opposing QBs had completed only 47 percent of their their throws and no quarterback had successfully hit on better than 50 percent against the Falcons. "The guys up front did an awesome job giving me plenty of time and I really emphasized this week getting deep into the pocket so I could give myself a little bit more room and I could see things a lot better. I was just trying to place the ball in a place where the guys could catch it. They ran some pretty awesome routes today to get themselves open. They did a great job and I was just trying to put the ball in the right place."
"Offensively we were very efficient," said head coach Paul Johnson, who saw his team put up big play after big play and score touchdowns on 8-of-10 offensive possessions, including seven-straight to open the game. "We went back and tried to simplify and do things the right way. I don't think we had a penalty on offense and we might have had one bad snap but the ball was never out. When you do that, you have a chance."
The Falcons never had a chance on Saturday.
The aerial assault began on the game's first play, when Marshall faked a handoff, dropped back and threw a rainbow down the right side. Junior wide receiver Jalen Camp was the pot of gold under it, having easily shed his man. The 33-yard completion was the second-longest pass play of the year for the Jackets and the longest since an 81-yard hookup between Marshall and A-back Clinton Lynch in the first quarter of Week 2 at South Florida. It jump-started a seven-play, 69-yard touchdown drive and further filled up Marshall's confidence.
"My confidence was already high," he said. "Jalen ran a good route and I tried to but the ball in a place where only he could catch it. It turned out to be a big play and it got our offense rolling in the first half."
The Falcons appeared to be caught off-guard by the opening play call. They weren't alone.
"I was pretty shocked when he called that play first play of the game," said Camp, who set a career-high with his 70 receiving yards. "Normally, we run a running play. I just took it as an opportunity to run my route well and make a play."
Camp made another big play on Tech's second possession, again off play action, this time out-jumping a Bowling Green defender on a ball over the middle for a 37-yard pickup.
"It was a 'fake crack post,'" he said of the 37-yard completion. "The play before we had a crack, so the next play we ran a fake crack post. So I'm just going in faking crack on the safety. I expected the corners to kind of drop off but he stayed on my hip the whole time. [Georgia Tech wide receivers] Coach Buzz [Preston] teaches us to be physical. [The DB] was grabbing on me, holding on me so I was just trying to hold my ground, keep that line and give the quarterback a good target to throw to."
The Jackets receivers were confident they'd be good targets to throw to.
"I saw that they played a lot of man-to-man," said senior A-back Clinton Lynch. "We just had to be able to win and have the opportunity to make plays off that."
Lynch would make his big play on Tech's first drive of the second quarter. After BGSU cut Tech's lead to 14-10, Marshall and Lynch teamed up on a 41-yard throw, setting up the Jackets at the Falcons' 17. They would cash in four plays later.
The catch was historic, as with it Lynch became the first player in program history to record 1,000 career rushing yards AND 1,000 career receiving yards.
"I'm really just in awe about that, that I'm the first one to do it," said Lynch, who added 18 rushing yards on three carries. "It still hasn't really hit me yet. It's kind of weird. I'm just taking in the moment.
"I was really listening in for the [public address] announcer," he added. "Once he said [the yardage was] forty-something, I was like, 'Okay, I did it.' I had my little moment and went on to the next play.
His teammates and coaches were happy for him.
"We actually talked about it a couple of days before the game," said Marshall. "We didn't say anything then. We just kind of waited until the drive was over but everybody was congratulating him, talking about how much of a playmaker he is and just joking around a little bit on the sidelines. But I'm super-proud of him. The first guy to ever do it, right? That's a huge accomplishment. You'll see more Clinton Lynch, for sure."
"We're happy for Clinton," said Johnson. "He's been a good player and consistent and if there's one guy that always seems to be around big plays, it's Clinton. He just has a knack for being in the right spot at the right time and when he's there he usually makes the play."
Marshall finished the first half by completing 4-of-5 passes for 121 yards but, more importantly, was 4-for-4 on touchdown drives — something that Georgia Tech had never done in any half during the Paul Johnson era.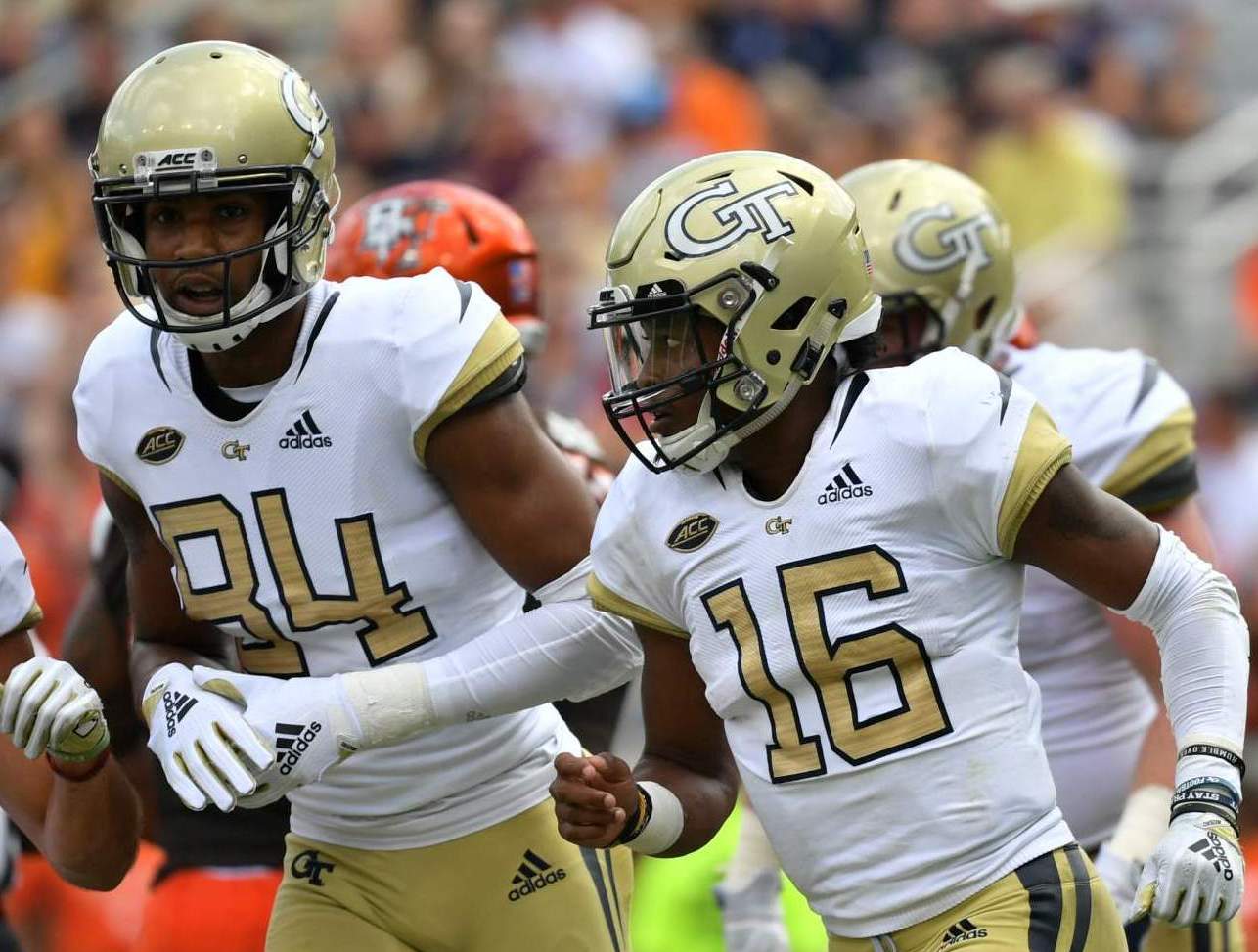 Marshall put an exclamation point on his 5-of-6 passing masterpiece on the third play of the second half, when he rolled left, reared back and hit sophomore wideout Stephen Dolphus (above left) for 39-yard gain.
Dolphus' first-career catch would have been a touchdown had Marshall been able to lead him, which was about the only regret the passing game would have all day.
"We saw Steve get open but then I felt a little pressure in the pocket so I just tried to step around it and I threw it off my back foot," Marshall said. "If I had stepped into it I could have thrown it to him on the run but I was just trying to get it to him because I saw how wide open he was."
The return of the big-play pass was a nice complement to a dominant ground game. After fumbling eight times last Saturday against Clemson, the Jackets did not miss a pitch all day. That led to several big plays, including long touchdown runs of 33 (Fr. BB Jordan Mason), 34 and 62 (Fr. QB Tobias Oliver) yards against a worn-down BG defense in the second half.
"He's really quick. He's shifty," said Johnson of Oliver. "When he gets downhill. He's quicker than people think.
"I was giving him a hard time on the sidelines. I told him he went 62 yards in 13 seconds. I said, 'That's not real good,'" Johnson added with a laugh. "He continues to progress. He'll learn the more he plays."
The Jackets hope they've found their big-play game and will look to take it on the road with them in their primetime return to ACC play on Friday night in Louisville.
"I thought [the receivers] played well. We didn't throw the ball a lot but they cracked and blocked and got after folks," said Johnson. "It was good to see Steve [Dolphus] make a play … Jalen made a couple of nice plays, Clinton made a play … Brad [Stewart] really didn't get one thrown his way but I remember the very first time we cracked the safety, he almost knocked him out over there on their bench. So those guys played well."
They'll need to play as well, if not better, on Friday. Marshall doesn't see motivation as an issue.
"Everybody knows what this game means," said Marshall. "I just told the guys, 'Everybody's always talking about a big, prime time game. You got one.' Friday night, the only game that will probably be on, 7 o'clock, they're wearing all black, their stadium will be jumping. That's what you play college football for. It'll be rocking. Everybody will be ready to play."