Thanks to the excitement surrounding new head coach Geoff Collins and the great value of 2019 season tickets (reserved seats for seven home games – including the regular-season finale vs. archrival Georgia – beginning at just $219 and Stinger Mobile Passes starting at just $149), Georgia Tech season-ticket memberships continue to sell briskly. For more information and to purchase season tickets online, visit ramblinwreck.com/footballtickets TODAY.
By Jon Cooper | The Good Word
By now, everybody knows that Georgia Tech's 2019 spring game drew 21,194 fans on April 26 at Bobby Dodd Stadium — a new attendance record for the game, shattering the previous mark by more than 3,000 fans.
While the game gave Yellow Jackets faithful an idea of how effective first-year head coach Geoff Collins' on-field strategy can be, the crowd and atmosphere gave people an actual demonstration of how effective Collins' "#404Takeover" and the re-branding of Georgia Tech has already been.
"Yellow Jacket Nation came out and supported in such a big way. I think we might have even underestimated how big the crowd was," said Collins. "It was an awesome environment. The neat thing was the amount of sidewalk fans that have started to embrace what we're doing and the energy and the excitement that's surrounding Georgia Tech, right here in Midtown Atlanta."
Collins always sees the bigger picture and is always looking to spread "The Good Word." Football is his product, but his methods to grow his program and the Georgia Tech brand are universal.
The Georgia Tech Executive MBA Program was interested in learning more and back on April 5 and Collins obliged, taking time to share his thoughts on marketing and branding with students at the Scheller College of Business.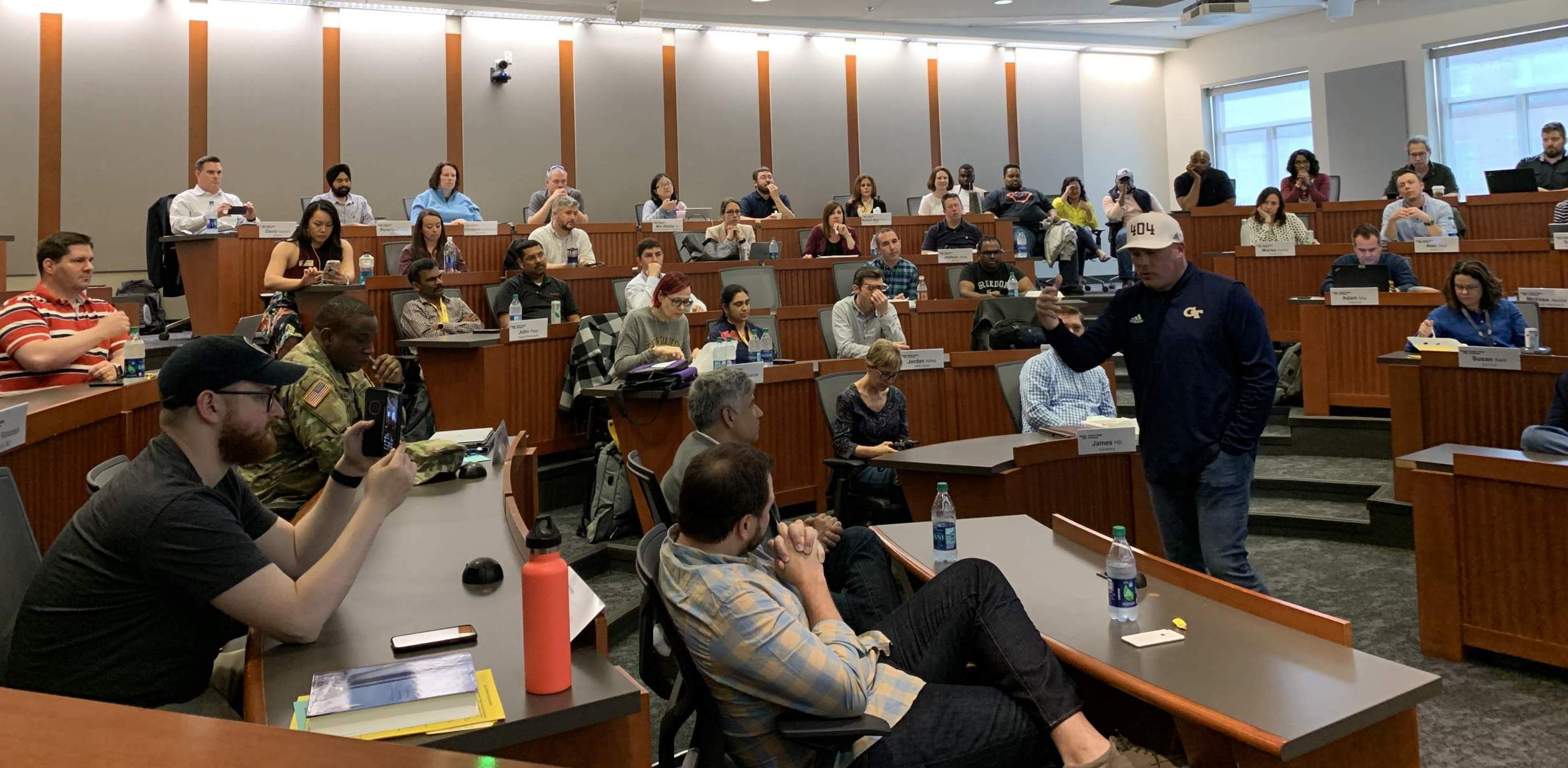 "Our class is comprised of elite executive-level business students from leading companies in Atlanta including Coke, IBM, Google, Southern Company, Macy's, Chick-fil-A, Mercedes-Benz, Home Depot and Delta Air Lines, various startups, as well as Georgia Tech employees," said Rebekah Vepraskas, LPC, the founder of Salient Counseling in Decatur, a student in the program and the leader of "Buzz Talks," a student organization within the Scheller College of Business which promotes executive speaking.
"Inviting Coach Collins to come and speak to our class was an ideal choice as our business school students chose to earn their Executive MBA's at Georgia Tech because of the value of the Georgia Tech brand."
For nearly 45 minutes, Collins — with help from football chief of staff Vince Sinagra, assistant athletics director for brand and ideation Simit Shah and brand manager Santino Stancato, aka "Morpheus" — put on a step-by-step presentation that laid out the football program's blueprint to students looking to build a culture or business and market themselves in the same manner Collins has for GT football.
It starts with dedication and focus.
"Every single thing that you do is about building a culture and building a brand. That is very important," Collins said. "Our spring game [was] Friday, April 26 at 7:29 in the p.m. The reason it's 7:29 is [on August] 29th, we play Clemson. Every meeting that we have in the offseason, every workout that we have in the offseason starts at some form of 29. Just so they constantly are reminded that on Aug. 29, [on the] ACC Network, we open at Clemson, in Death Valley. I don't leave anything. No attention to detail is missed as we build our brand, as we build our culture."
Collins believes in the idea that "If you build it, they will come," but his "Field of Dreams" isn't limited to Grant Field. If anything, that is only the starting point. His vision knows no bounds and he sees big things ahead.
"I'm big on vision and what your plan is and how you see the future," he said. "I distinctly can visualize in 10 years [ESPN] doing a 30-for-30 on this experience that we're having right now — on the re-birth, the rebrand of Georgia Tech football, how this place is the epicenter of college football … Every single day, in every single thing that we do, we're building an empire and we're building a brand that is Georgia Tech football."
Collins interspersed videos of team practices, memes and other pieces that appearon social media. He reinforced the constant presence of his Twitter handle (@CoachCollins), as well as those of Georgia Tech athletics (@GTAthletics) and Georgia Tech football (@GeorgiaTechFB), and the hashtags that they have branded (such as #404Takeover).
He also reinforced relationships and partnerships, like the one Georgia Tech has forged with adidas.
Not only is the sports apparel giant outfitting the Jackets, they helped provide inspiration for a daily team award at practice.
"I noticed at the U.S. Army All-America game they started rocking the adidas three-stripe on their helmets. So I reached out to our adidas rep. I'm like, 'That looks really freakin' cool. How do I get those for our guys during spring ball?'" he recalled. "The guys that have the three stripes [on their helmets] were the guys that busted their [butts] in the previous practice. It looks really cool and we have pictures. So we incentivize. We want to be a culture built on effort. So we reward it."
It all comes back to Collins' constant themes of brand and culture — themes that coincide with the vision and priorities of director of athletics Todd Stansbury.
"Culture, that's the branding and the marketing, that kind of thing that we've done since we've been here," he said. "What is your culture? What does is say? What do you want it to be? What do you believe in?"
He even had some fun in appealing to his audience, picking out an alumnus from his alma mater, Western Carolina University.
"When I played I wasn't the biggest, I wasn't the fastest, I wasn't the strongest, I went to Western Carolina, so I wasn't the smartest. No offense to the WCU grad.," he said, as the class laughed, walking up to his fellow Catamount, giving him a fist-bump. "I wasn't the biggest, fastest, strongest, smartest, but you were not going to out-work me. You were not going to out-effort me. It's been the same way through my entire coaching career.
"We are going to get the best of the best to come play for us," he continued. "The effort piece is never going to change because that's what our culture is built on. Effort in the classroom, effort on the field, effort off the field, effort in every single thing you do because that is our culture."
Collins wrapped up by holding a brief pop-quiz.
By the end of the session, seven students left with a t-shirt for properly answering his each of the quiz's seven questions, one left with the memory of sharing a laugh and a fist-bump with Collins in defending his alma mater's honor, and all left with better insight into Georgia Tech's football coach and his mission and how it can be applied to their business.
"Coach Collins fit right in at the Scheller College of Business. My fellow students and I were amazed by Geoff's presentation," said Vepraskas. "His personal message on marketing, branding, partnerships and strategy inspired us all. Geoff and I are from the same hometown, so it was a huge thrill when he was named head football coach. Since December, watching him build his program, excite Yellow Jacket Nation and claim Atlanta as his own has been exciting.
"Geoff's success dovetails perfectly with business strategy principles," she added. "He knows his target audience, he is relatable and fun, his message is consistent, his brand is exceptional and, most important, he is relentlessly determined to win. I believe he will."
As always, Collins saw potential and big things from the opportunity of being able to get his message out. Coincidentally, he left Scheller and went down the street to show his ability to literally play hardball — by throwing out the ceremonial first pitch at Georgia Tech baseball game.
"We're building what essentially is one of the hottest startups in college football — the rebranding of Georgia Tech football and the re-energizing of the culture and the brand," he said. "So those lessons, whether you're in the business world or in the marketing community, all of those lessons are relevant. It was nice to be able to share in this class."