The Good Word | by Jon Cooper
Bria Matthews doesn't believe that anything is impossible.
Take any scenario, regardless of how dire it may appear, and she'll simply reverse it into one that asks, 'Who says anything is NOT?'
That approach allowed her to reverse things turned a negative, potential career-ending scenario into a positive, career re-builder.
Her latest step in that direction came last weekend at the NCAA Indoor Championships, where she earned first team all-American status with a fifth place finish on a career-best mark in the triple jump.
It's a heart-warming turn of events for fans who appreciate track and field or really anyone who simply appreciates overcoming near-impossible odds.
Matthews, who had been an ACC Champion in the long jump AND triple jump as a freshman, competed in four meets total over two years due to injury, none of them in the triple jump, due to a stress fracture in her right leg.
While coming back might have seemed impossible to some, especially in an event like the triple jump, where there are so many moving parts, it didn't to Matthews.
Georgia Tech Jumps/Hurdles coach Nat Page admitted that she had been missed.
"She was — and she still is a big name," said Page. "Folks have been asking me the last two years, 'Where's Bria? Where's Bria?'"
Fans can have three guesses now — just take a look at the medal podium.
Matthews not only is back, but appears to be ALL THE WAY back. Yet, HOW she got there is the more impressive part of the story.
While Matthews' right leg has healed, it didn't allow her to triple jump. So she saved her career and re-invented herself by re-learning the event by launching off her left leg.
"It started last year. I wanted to start competing again. I just didn't feel I could jump off my right leg and I really wanted to jump," she said. "So I tried to long jump off of my left leg. I thought this was a way that I would be able to jump without hurting myself. It didn't work last year so I didn't finish my season. This season I just kept with the whole left leg idea."
The switch of take-off legs and the results pleasantly surprised Page.
"I've looked at world-class athletes for the last 40 years. I've seen athletes come back from injuries and still do things on the dominant side of their body but to come back from injury and do it on the other side of your body, that's a whole completely different athlete," he said. "That's what makes it so special. If you didn't know it, you would say, 'She's just a normal jumper that's developing.' But when you hear the story, then you say, 'I don't know anybody who's done that.' I've seen guys do it that were healthy but when you're coming back from a point where you could NOT jump, that's a whole different story."
"She's come a long way working with coach Page and kind of having to learn to jump off the opposite leg," said women's track and field head coach Alan Drosky prior to ACCs. "It's kind of like having been a right-handed batter your whole life and now, for some injuries, you have to start all over, batting on the left side. To see her back healthy and kind of improving her performance, getting closer and closer to back to where she was is huge for our program. It's a great story."
That story added two more satisfying chapters at ACCs then NCAAs.
At the Conference Championships in Blacksburg, Va., Matthews went a season-best 13.21 meters (43'-4.25") easily outdistancing Virginia's Kelly McKee (13.00, 42'-7"), to take home the gold. Ironically, it wasn't the stress fracture that nearly did her in, simply stress.
"Going into ACCs I was really stressed because I felt like it was sort of expected of me to do really well because that's what I did when I was a freshman," she said. "I was making myself really nervous. It was really shocking. I didn't expect to jump that far. I jumped two feet further than I did the meet before, which is a big jump. It was really crazy. I don't know what happened."
Page does. In fact, he saw a big day coming and told Bria as much following her performance at the Tiger Paw Invitational in Clemson, S.C., the season's final meet.
"We sat and we talked and I said, 'Bria, we're going to score at the Conference Meet. We are going to be on the podium. I don't know which order but we will,'" he said. "The way the jumps came about and how easy they looked, I was like, 'Okay, she looked comfortable.' In all the events, when you do them correctly they look easy, which is deceiving, but when you start to get it right it's easy for that person, you can see how easy it is and you can see that there's more there."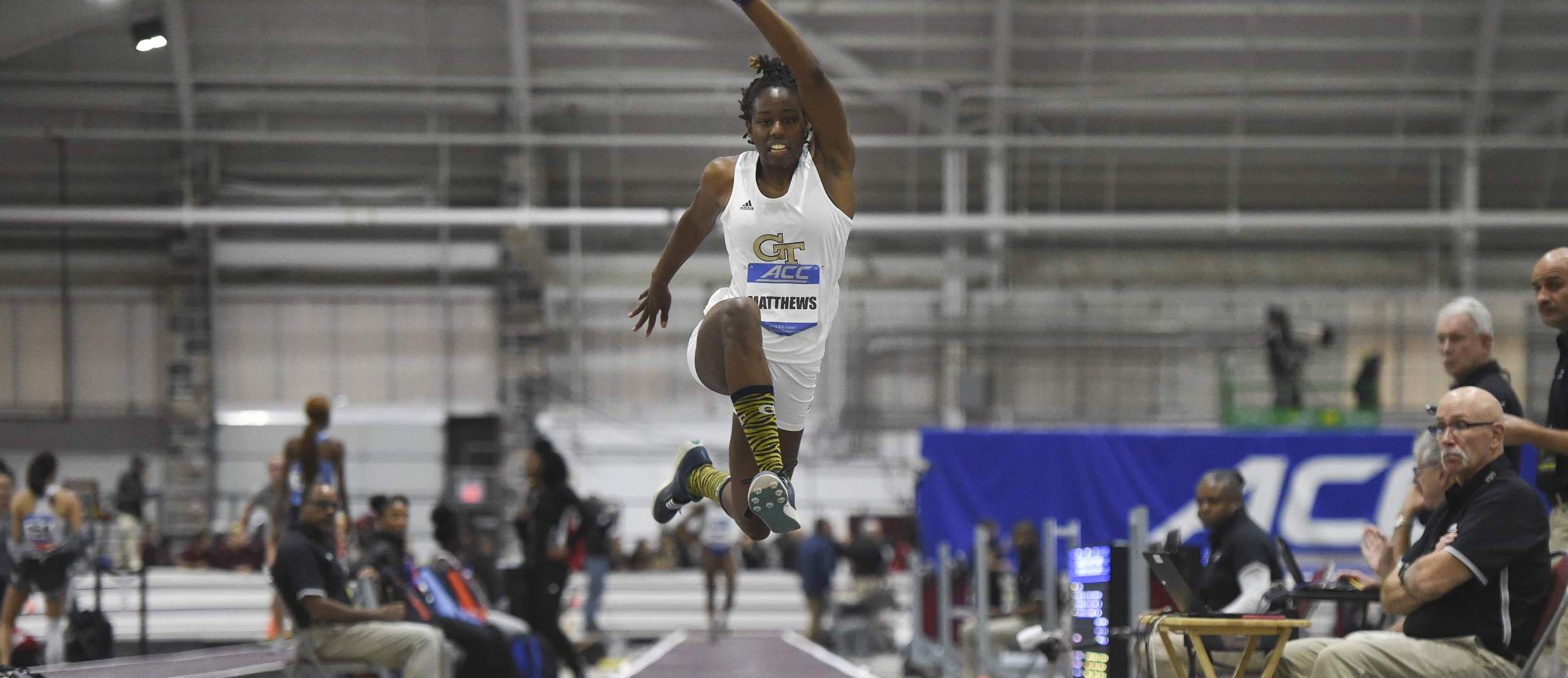 There'd be a lot more at NCAAs.
That, too, would not come with some drama, as heading into her final jump, Matthews sat in eighth place. She knew it would take a superlative effort to get into first-team all-American territory. Adding to the drama was that she was unsure of how superlative her effort needed to be, as there was a competitor, whose score was unknown due to a filed protest.
"They blocked out her marks so she could have been ahead of me but I wouldn't know. So I was like, 'I have to get out of eighth because she could push me out. Then I wouldn't score and that would be kind of sad,'" she admitted. "I knew I could jump further and I wanted to get 45 feet. So I was really determined to jump further than I had before because I knew I had it in me. It did feel like a better jump. I didn't know how far I had jumped, though."
Page did. He knew she hit a big jump even before her distance was revealed.
"Oh, yeah," he said, breaking into a big smile in re-living the jump. "I was like, 'Okay, that's the push we needed and that's how you run up the board.' Because then there's a slow cycle, slow, pendulum cycle that takes effect in the hop-phase. You watch her run to the board and then you see that everything slowed up, it's like, 'Okay, there it is.' I looked at the jump and said, 'Alright, that's 43-high, 44 feet.'"
The jump, 13.50 meters (44'-3.5" feet), was Matthews' personal record and moved her into the top five. She'd finish fifth overall.
Her postseason and the end of her indoor career was just the way she pictured it. In fact, picturing things was instrumental in learning to going off her left leg.
"I just imagined myself doing the jump," she said. "I used a lot of imagery. I went through the motions of my triple jump. I heard that the same parts of your brain that you use when you jump are the same parts of your brain that you use when you do imagery. So I was getting muscle memory not by doing it but by thinking about it, visualizing it. I think that helped me a lot."
"It was just being patient and just sticking with the right things to have her triple jump right," Page said. "We didn't try to rush anything. I think things came along as she started to develop the same technique as she had on the right side of her body. Her normal hop-leg is her right leg and so now we're jumping off of her left leg. Once that starts to come through or started to get better technically things started to get better weekly and we didn't have any pain on her right leg, which is her step-phase now."
Not only is Bria back, but her jumps off her right leg, both at ACCs and NCAAs actually exceeded her jumps from her freshman year, when she was jumping off her right leg.
"I am more mature. When I'm jumping I know what I'm doing wrong. I can feel what I'm doing wrong, so it's easier to correct it when you feel it," she said. "Also, I just feel like I'm more determined and more focused than I was. I didn't think I was going to triple jump this season and then I did and I did well."
There's another big difference in this year's success than that of her freshman year.
"I appreciate it a lot more than I did my freshman year," she said. "My freshman year it was kind of expected that I would do better but this year, it was more like I was HOPING I would do better. So it feels a lot better. It's a big difference."
Page believes that the best is yet to come in outdoors, of which Matthews has two seasons of eligibility, and that lefty, not only is different but may actually be BETTER than the freshman righty.
"We're coming from the same spot. She came in as a freshman and this year, basically, she started as a freshman because we started, so I would have to say current — ending the indoor season, same meet, same place, jumped further at this point in time," he said, after a long pause for consideration. "Now there is a strength difference that will apply, because she's been lifting for four years, compared to the two semesters first freshman year, but she knew how to triple jump already on that other side of the body compared to this side. So there's pluses and minuses."
The journey actually may be as satisfying as any results she gets during the outdoor season.
"To watch her put it together was even more exciting because once you see that you're like, 'Wow, there's more to go,'" he said. "Not just, 'Yeah, she placed high at Indoor NCAAs.' You're like, 'There's more to this.'"
Page hopes more includes getting Matthews back into long jump, and maybe even sprints during the outdoor season, which kicks off this weekend at the Yellow Jacket Invitational.
For her part, Bria's locked in on triple, where she already holds the school record (13.73m, 45'-0.5"). Extending that would be nice but she has a simpler goal.
"My goal this year is to jump 47 in the triple jump and I think I can do it," she said. "I'm just going with the flow. I try not to stress over anything too much. There's a reason for everything and it will just come.
"Maybe me not being in competition helped someone else be better and that helped them with their lives," she added. "Also maybe it helped me be a better athlete because I feel like I'm more determined than I was my freshman year just because I've been through so much."
Matthews' ability to reverse things — in this case, her triple-jump technique — allowed her to reverse a negative, potential career-ending scenario into a positive, career-rebuilder, and resulted in her earning a fifth-place finish and First-Team All-America status on a career-best jump at last weekend's NCAA Indoor Championships.
For the latest information on the Georgia Tech Yellow Jackets, follow us on Twitter ( @GT_TrackNField ), Facebook ( Georgia Tech Track & Field/Cross Country ) or visit us at www.ramblinwreck.com .