BUY GT-MIAMI TICKETS ONLINE (starting at just $35)
THE FLATS – The Atlantic Coast Conference and ESPN have elected to place a six-day hold on the selection of a game time and television network for Georgia Tech's Nov. 10 contest versus Miami (Fla.), the ACC announced on Monday.
With Georgia Tech coming off of an impressive 49-28 victory at Virginia Tech last Thursday, the GT-Miami game has been selected to be televised nationally on an ESPN network. The kickoff time and network will be announced following the conclusion of games on Saturday, Nov. 3.
Georgia Tech athletics has a number of special events planned in conjunction with the Miami game. They include:
WHITEOUT
The Miami game serves as Georgia Tech's annual Whiteout at Bobby Dodd Stadium. The Yellow Jackets will wear their adidas Whiteout uniforms and fans are encouraged to wear white as well. Georgia Tech's annual Whiteout tradition began in 2008 with a 41-23 win over Miami. The Yellow Jackets have won three of the last four Whiteout games, including a 28-17 win over Miami in 2014, the "Miracle on Techwood Drive" triumph over No. 9 Florida State in 2015 and last year's 33-7 rout over North Carolina.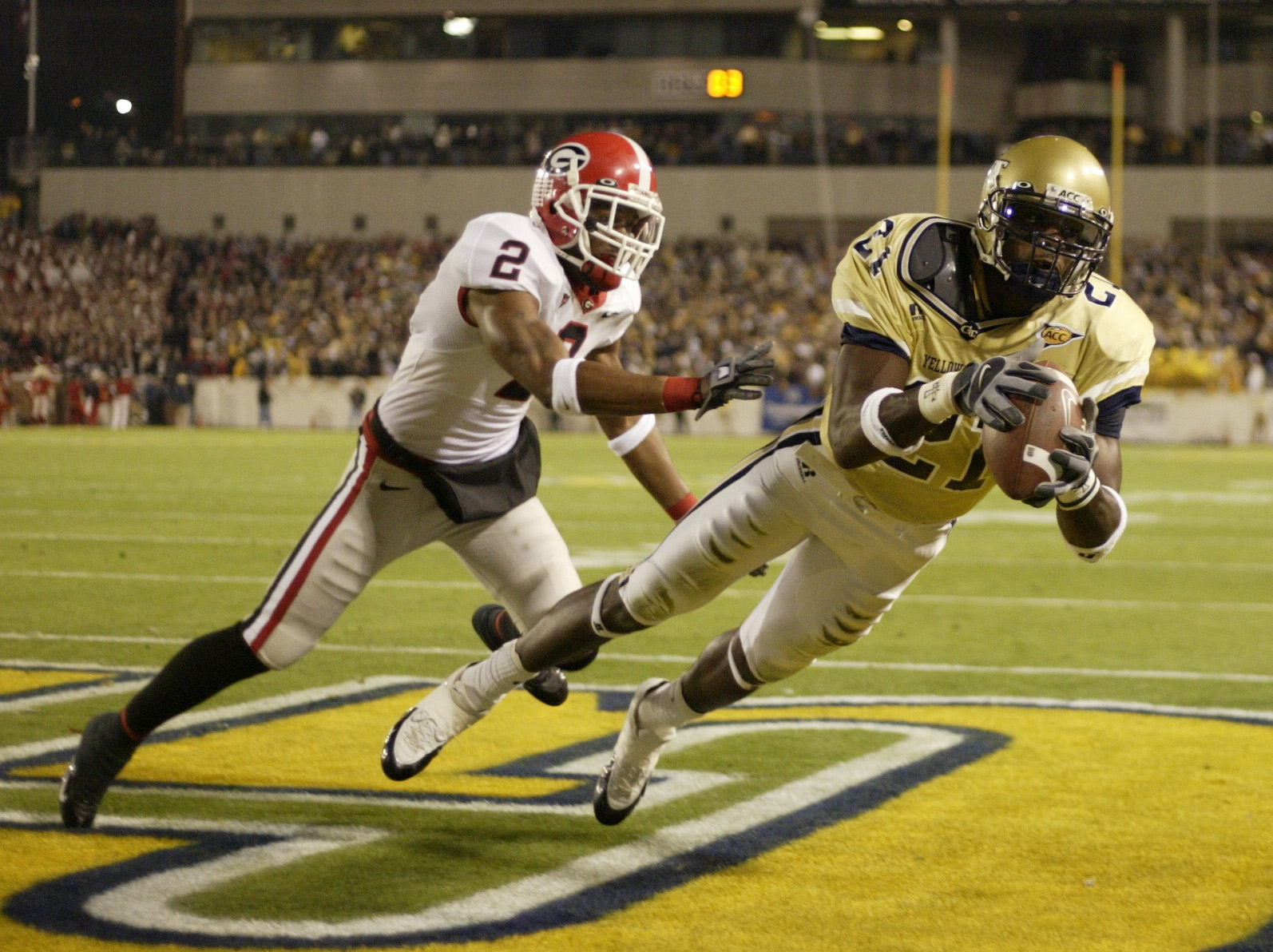 CALVIN JOHNSON ON-CAMPUS SALUTE
Georgia Tech will honor Calvin Johnson's upcoming induction to the College Football Hall of Fame with a National Football Foundation Hall of Fame On-Campus Salute during the Miami game. The NFF's Hall of Fame On-Campus Salutes, presented by Fidelity Investments, have been a tradition for College Football Hall of Fame inductees since 1951. As part of the hallowed event, Johnson will be presented with his Hall of Fame plaque in an on-field ceremony during the contest.
One of the most successful wide receivers in the history of both college and professional football, Johnson was a three-time all-ACC honoree and two-time first-team all-American during his three-year Georgia Tech career (2004-06). After being selected No. 2 overall in the 2007 National Football League Draft, he went on to be a three-time first-team All-Pro (2011-13), a six-time Pro Bowler (2010-15) and two-time NFL leader in receiving yards (2011-12) in nine seasons with the Detroit Lions (2007-15).
Johnson was named a member of the College Football Hall of Fame's 2018 class in January and will be officially inducted on Dec. 4 in New York. He'll be Georgia Tech's 19th all-time inductee.
CALVIN JOHNSON BOBBLEHEADS
As part of the events planned to honor Johnson's upcoming College Football Hall of Fame induction, Georgia Tech will distribute a limited number of FREE Calvin Johnson bobblehead dolls to fans in attendance for the GT-Miami game.
The limited-edition bobbleheads will be distributed to ticket-holders on a first-come, first-served basis (one per person) at Bobby Dodd Stadium Gates 1, 2, 3, 4, 5, 7, 8, 9 and 10. A limited number are available, so fans are encouraged to arrive early. Gates open two hours prior to kickoff.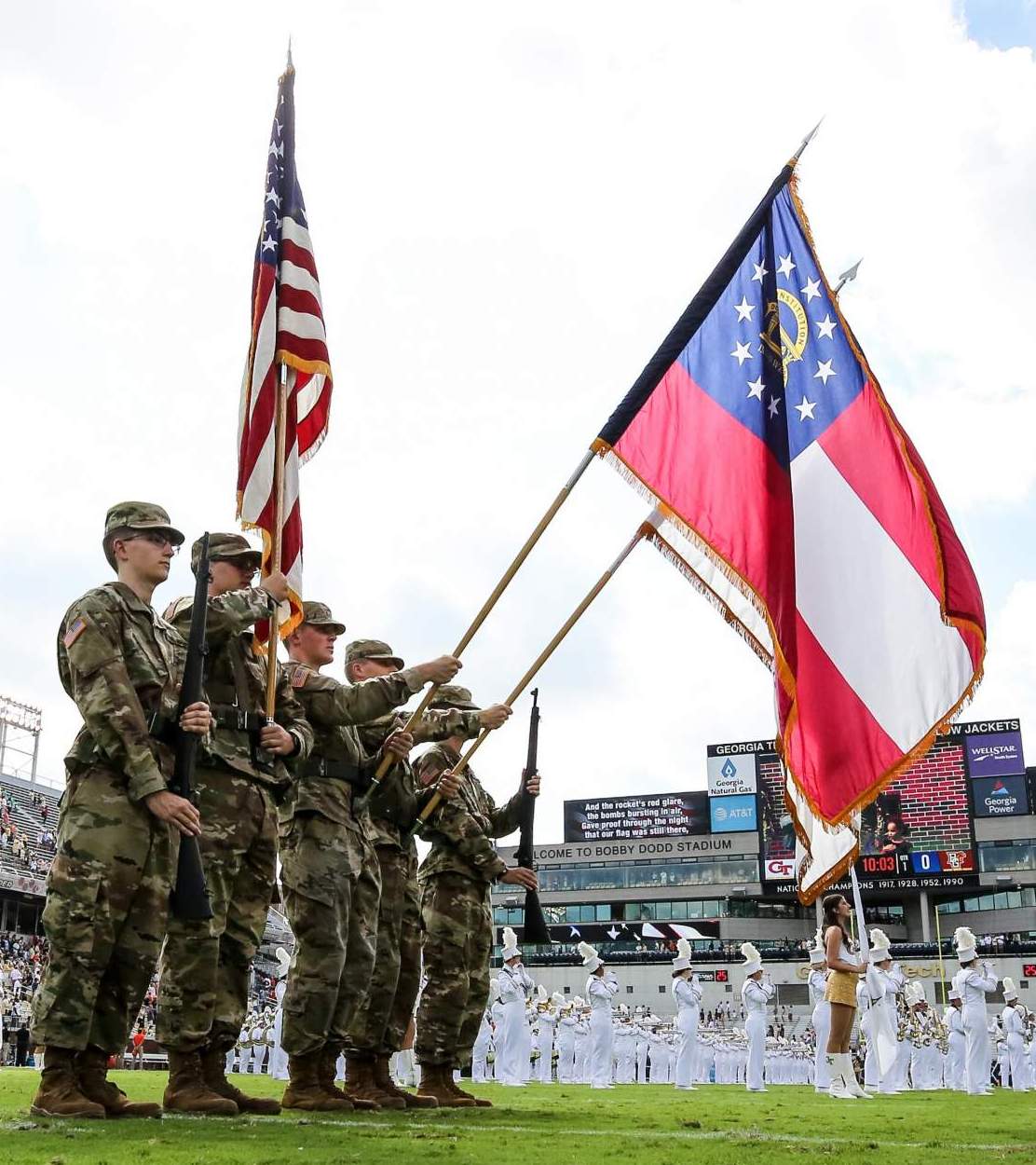 VETERANS DAY SALUTES
In honor of Veterans Day on Nov. 11, Georgia Tech athletics has planned two ways to recognize U.S. military veterans in attendance at the GT-Miami game and thank them for their service to our country.
Nominate a Veteran for VIP Experience
Fans can honor veterans by nominating them to receive a VIP Experience at the GT-Miami game. The VIP Experience includes four game tickets, four passes for The Tailgate at Wreckfest, four Calvin Johnson bobbleheads and four adidas t-shirts. To nominate a veteran, please email the veteran's name, dates of service, military branch and a photo to gtmarketing@athletics.gatech.edu. The winner will be notified by Monday, Nov. 5.
Military Appreciation Photo Scroll
Georgia Tech athletics would like to recognize military heroes during the GT-Miami game by including photos of U.S. military veterans in a photo scroll to be shown on the Bobby Dodd Stadium videoboard during the game. For a chance to include a photo in the Military Appreciation Scroll, fans are asked to submit photos of veterans to gtmarketing@athletics.gatech.edu.
Tickets are still available for the highly anticipated Georgia Tech-Miami showdown, beginning at just $35. Click HERE to purchase tickets online.
For the latest information on the Georgia Tech Yellow Jackets, follow us on Twitter (@GTAthletics), Facebook, Instagram or visit us at www.ramblinwreck.com.