Final Stats (.html) | Final Stats (.pdf) | Multimedia | Postgame Notes | Postgame Quotes | Photo Gallery
THE FLATS – Keyed by a 17-5 second-half run, Georgia Tech downed Notre Dame, 63-61, on Tuesday night at McCamish Pavilion.
For much of the evening, Tuesday's game was a back-and-forth affair, featuring eight ties and 12 lead changes in the first 29 minutes of the contest. Trailing 42-41 with less than 12 minutes to go, Georgia Tech (11-8, 3-3 ACC) scored 17 of the next 22 points to take its largest lead at 58-47 with 5:08 remaining.
Notre Dame (11-8, 1-5 ACC) pulled within two points on three occasions late in the ballgame but the Yellow Jackets held on for their fourth-straight home win over the Fighting Irish. A follow dunk by Abdoulaye Gueye with 52 seconds to go and a pair of free throws by Jose Alvarado with 8.2 seconds left on the clock proved crucial to the Jackets keeping the Irish at bay.
James Banks and Alvarado led four Jackets in double-figures with 16 points apiece. Gueye added 13 points and Michael Devoe chipped in with 11 to round out Tech's four double-figure scorers. Alvarado's 16-point performance came in his first game back after missing last Saturday's game versus Louisville due to injury while Gueye returned to the lineup for the first time since missing the last two contests due to a medical condition.
Georgia Tech returns to action Saturday, traveling to Durham, N.C., for a contest against No. 1 Duke at Cameron Indoor Stadium. Tipoff for the ACC matchup is set for noon. The game will be televised regionally on the ACC's Raycom Sports Network.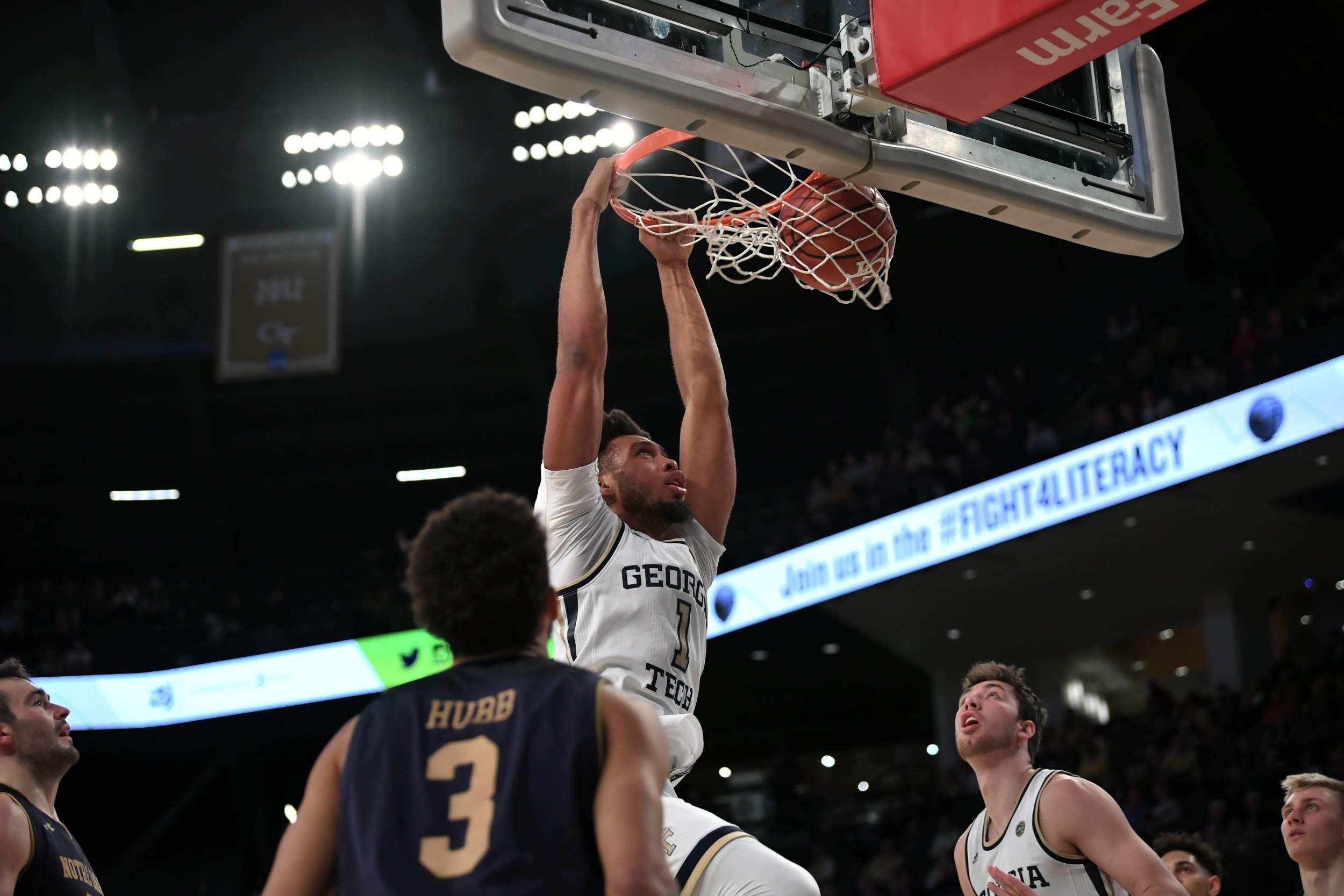 James Banks led made 8-of-13 shots in the win over Notre Dame.
Post-Game Notes
MISCELLANEOUS NOTES
Georgia Tech starting lineup: Alvarado, Devoe, Haywood II, Gueye, Banks III
First subs for Georgia Tech: Cole, Moore, Phillips, Wright for Alvarado, Haywood, Gueye, Banks  – 10:42-1st half
On the floor for Georgia Tech at the end: Alvarado, Devoe, Moore, Gueye, Banks III
Opening tap won by Georgia Tech – Georgia Tech has won the opening tap 11 times in 19 games this season
Series record vs. Notre Dame: Georgia Tech is 11-8 overall, 8-1 at home, 3-2 under Josh Pastner, 6-6 vs. Mike Brey
Current series trend: Georgia Tech won the last two meetings
Georgia Tech is 9-4 at McCamish Pavilion this season, 81-41 in its sixth season in the building, 38-15 under Josh Pastner
Georgia Tech is 2-3 on the road this season, 2-4 away from McCamish Pavilion
Georgia Tech's next game: Saturday, Jan. 26, vs. at Duke (12 p.m., Cameron Indoor Stadium)
TEAM NOTES
The 11 meetings between Notre Dame and Georgia Tech since the Fighting Irish joined the ACC have been decided by a total of 51 points.
Jose Alvarado (groin), Abdoulaye Gueye (unspecified medical condition) and Brandon Alston (personal matter) all dressed and were on the bench Tuesday night against Notre Dame. Alvarado missed the Louisville game, while Gueye and Alston both missed the Louisville and Clemson games.
The Yellow Jackets went back to the starting lineup that it used to win the Syracuse game – Alvarado, Michael Devoe and Curtis Haywood II on the perimeter, Gueye and James Banks III in the frontcourt.
Devoe, a freshman, has started Tech's last 10 games, having made his first collegiate start at Arkansas. Haywood started his fourth straight game and 14th of the season, while Banks has started the last 14 straight games in the post. Gueye has started eight games, and Alvarado 17.
Georgia Tech has used eight different starting lineups this season. No Yellow Jackets has started every game this season, and 10 different players have started three or more games.
Tech made no substitutions over the final 11:45 of the game, keeping four of its starters on the floor and freshman Khalid Moore, who replaced Curtis Haywood II. The Jackets trailed 42-41 when Moore returned to the game, and the freshman scored all seven of his points over that stretch.
Tech again used nine players in the game against Notre Dame, but only six of them for more than three minutes, and only five players scored. At least eight players have seen significant minutes in all of Tech's games this season, despite a variety of injuries and illnesses.
Wake Forest (74.4 ppg, scored 79) and Clemson (71.4 ppg, scored 72) are the only Georgia Tech opponents to exceed their season scoring averages this season this season against the Yellow Jackets this season. Tech had held every other opponent this season under its season scoring average – breakdown by game: Lamar 81.8 (69), Tennessee 85.5 (66), East Carolina 71.1 (54), UTRGV 70.2 (44), Prairie View A&M 69.2 (54), Northwestern 73.5 (67), St. John's 83.5 (76), Florida A&M 63.2 (40), Gardner-Webb 82.9 (79), Arkansas 81.8 (69), Georgia 79.2 (70), Kennesaw State 62.5 (57), USC Upstate 70.9 (63), Virginia Tech 81.1 (52), Syracuse 70.9 (59), Louisville (79.9 (79), Notre Dame 74.7 (61).
Tech held Notre Dame to 61 points (74.7 average), 32.3 percent from the floor (41.5 percent average) and 23.3 percent from three-point range (33.7 percent average). The Jackets also came up with 13 turnovers against a team that came in averaging 9.5 (No 2 in the ACC).
Tech has shot 48.6 percent from the floor and 31.8 percent from three-point range in ACC games, compared to 45.2 percent from the floor and 30.5 percent in its non-conference schedule.
Since the Dec. 22 game against Georgia, in which Tech scored 59 points and shot 32.3 percent from the floor, the Yellow Jackets have averaged 69.2 points, shot 51 percent from the floor, 32.5 percent from three-point range and assisted on 65.3 percent of their made field goals (130-of-199).
Tech's ACC opponents have attempted 88 more shots from the floor and 64 more three-point field goals than have the Yellow Jackets through six games. The Jackets have outshot them, percentage-wise, 48.6-38.5 percent from the floor and 31.8-27.6 percent from three-point range. The Jackets have attempted 32 more free throws and made 12 more.
PASTNER'S KEY METRICS
Assists to made field goals: The Jackets have 130 assists on 199 field goals (65.3 percent) in its last seven games. The Jackets are at 58.9 percent for the season, 23rd in the nation, and 58.5 percent in ACC games. Tech assisted on 11 of 24 made field goals (45.8 percent) against Louisville, coming up short of its nightly goal of 60 percent.
Free throws made to opponents' attempts: Tech is 37-15 under Josh Pastner when attempting more free throws than the opponent. Tech connected on 10-of-15 free throw attempts to Notre Dame's 12-of-15 (nightly goal of making more than opponent tries not accomplished).
Turnovers: Tech has averaged 15.1 turnovers per game this season, 16.0 in ACC games to date (3.5 more per game than opponents). Target each night is 11 or fewer, which Tech has met twice this season (both wins). More telling for Tech under Josh Pastner is that when Tech has committed fewer turnovers than its opponent, it is 22-13. When it has committed more, it is 20-24.
Guard rebounding: The group of Alvarado, Alston, Devoe, Haywood, Moore and Phillips has combined to take 225 of Tech's 488 defensive rebounds this season (46.1 percent). Tech's guards combined for 11 of Tech's 25 defensive rebounds against Notre Dame.
INDIVIDUAL NOTES
Abdoulaye Gueye, who missed Tech's last two games against Clemson and Louisville with an unspecified medical condition, posted his second straight double-digit scoring game with 13 points (5-12 FG) with eight rebounds, matching his season high against Notre Dame. He scored 10 in a start at Syracuse, the game in which he was injured. The 6-9 senior is Tech's third-leading scorer in ACC games (9.3 ppg over four games) and has hit 15-of-29 shots from the floor
James Banks III posted his sixth double-double this season (16 points/10 rebounds vs. Notre Dame) and his second in a row while playing against the ACC leader in double-doubles (John Mooney, who earned his 11th of the season). Banks has 10 double-figure scoring games this season and leads the Jackets in scoring on ACC games (15.7 ppg, 58.2 pct. FG, 72.7 pct. FT).
Jose Alvarado returned after missing the Louisville game with a groin injury suffered at Clemson on Jan. 16, and matched Banks for team-high honors with 16 points against Notre Dame. The sophomore has 14 double-figure scoring games this season and nine in his last 10 games. Since a 3-for-20 afternoon against Georgia, the gritty 6-foot guard has hit 28-of-60 from the floor, 13-of-32 threes, in his last seven games.
Freshman Michael Devoe has started 10 straight games and logged seven double-figure scoring games this season. He scored 11 points against Notre Dame, his first double-digit game since scoring 16 against Wake Forest in the ACC opener on Jan. 5, and had five assists and just one turnover in 38:32.
Freshman Khalid Moore scored all seven of his points over the final 11:45 of the game, nailing his only three-point attempt to give the Jackets a 46-42 lead with 10:31 left in the game. He made all three of his field goal attempts and has converted 51.9 percent for the season.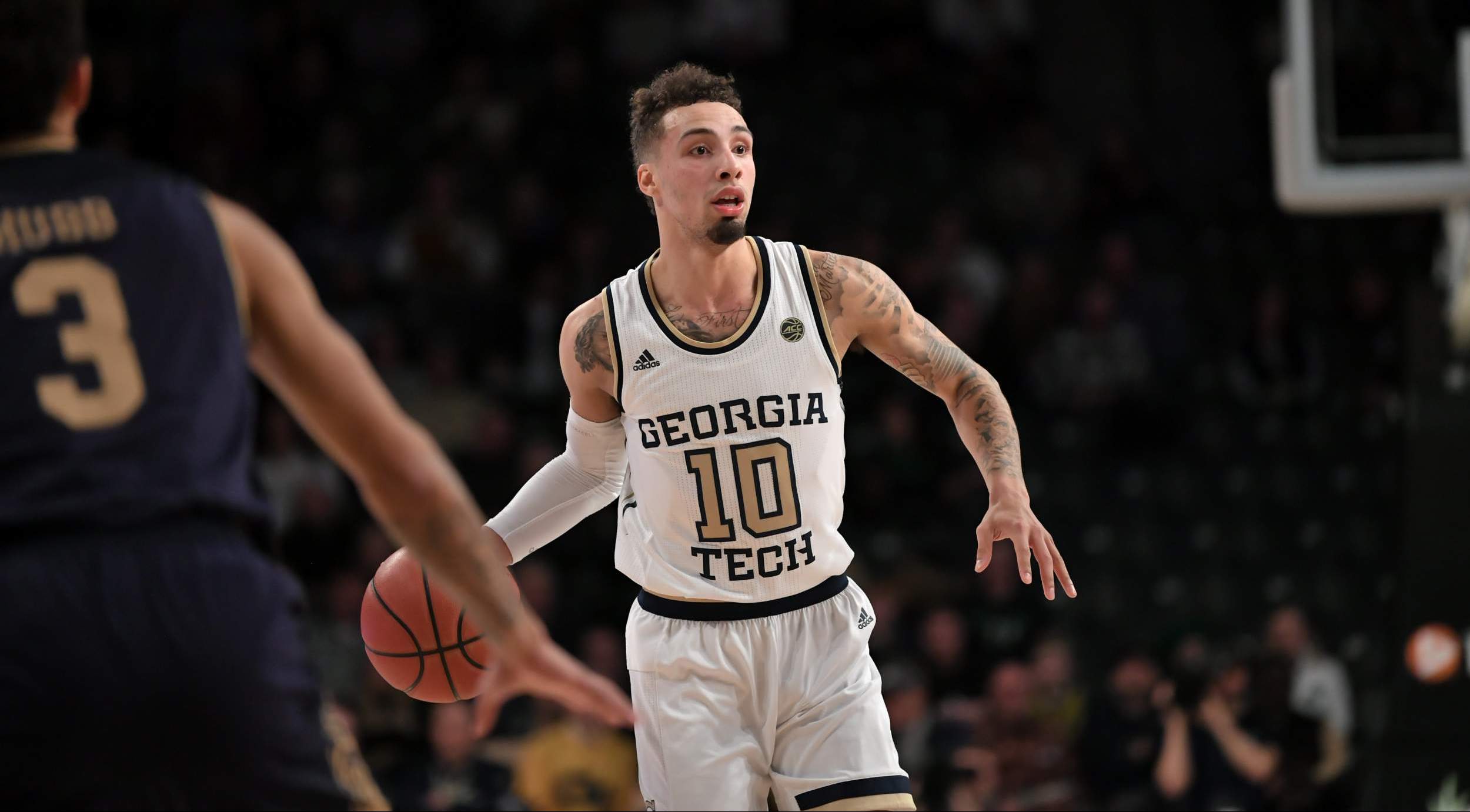 Returning to the lineup after missing one game due to injury, Jose Alvarado scored 16 points in Tuesday night's win.
Multimedia
Game Highlights
Post-Game Interviews
Coach Josh Pastner Press Conference Audio