Final Stats (.html) | Final Stats (.pdf) | Multimedia  | Postgame Notes |  Photo Gallery
Raleigh, N.C. – James Banks III scored the game-winning basket on a dunk off a feed from Jose Alvarado with 1.4 seconds remaining, giving Georgia Tech a 63-61 victory over NC State Wednesday night in Atlantic Coast Conference basketball at PNC Arena.
It was the final bucket in an 8-for-8 night for Tech's junior center, who was fouled on the play and made the free throw to finish with a game-high 19 points. The winning play gave the Yellow Jackets (14-17, 6-12 ACC) their second ACC road win this season in their final regular season game.
Tech led by as many as eight points in the second half, 52-44 with 8:07 left, but the Wolfpack (20-10, 8-9 ACC) rallied by draining four three-point baskets and hitting five free throws in the final eight minutes. Torin Dorn hit the last three with 6.1 seconds left for a 61-60 NC State lead.
Head coach Josh Pastner called timeout and drew up the winning play, in which Alvarado took the inbounds pass and raced up the court. He penetrated the lane, dished to Banks cutting in from the left side, and Banks slammed home the winner.
Banks reached double figures for the third straight game, adding nine rebounds, five blocked shots and three assists in 36 minutes. Sophomore forward Moses Wright, playing in his hometown for the first time in a Yellow Jacket uniform, hit 7-of-11 shots from the floor to score 18 points while grabbing eight rebounds. Alvarado also reached double digits with 12 points, and added six rebounds and four assists while also playing 40 minutes.
The Jackets shot 58.1 percent from the floor, getting most of its baskets from close range and getting only one three-point basket in the game. They also turned the ball over just four times in the second half.
Johnson led four NC State players in double figures with 17 points, while D.J. Funderburk scored 15 before fouling out. Devon Daniels added 13 and Dorn finished with 12. The Wolfpack got 20 second-chance points in the game, but shot just 31.9 percent from the floor altogether, and went 8-of-35 from three-point range (22.9 percent).
Tech started the game hot, making eight of its first 10 shots from the floor to lead by as many as eight points (18-10) in the first half. But the Wolfpack ratcheted up their pressure, forcing 12 turnovers while finishing the half on a 10-4 spurt to take a 33-28 lead into the locker room. The Jackets outscored the Wolfpack 14-7 over the first eight minutes of the second half to regain the lead.
Georgia Tech returns to action next Tuesday in the opening round of the ACC Tournament at the Spectrum Center in Charlotte, N.C. The Yellow Jackets opponent and tip time will be determined following the final regular season round of games Friday and Saturday.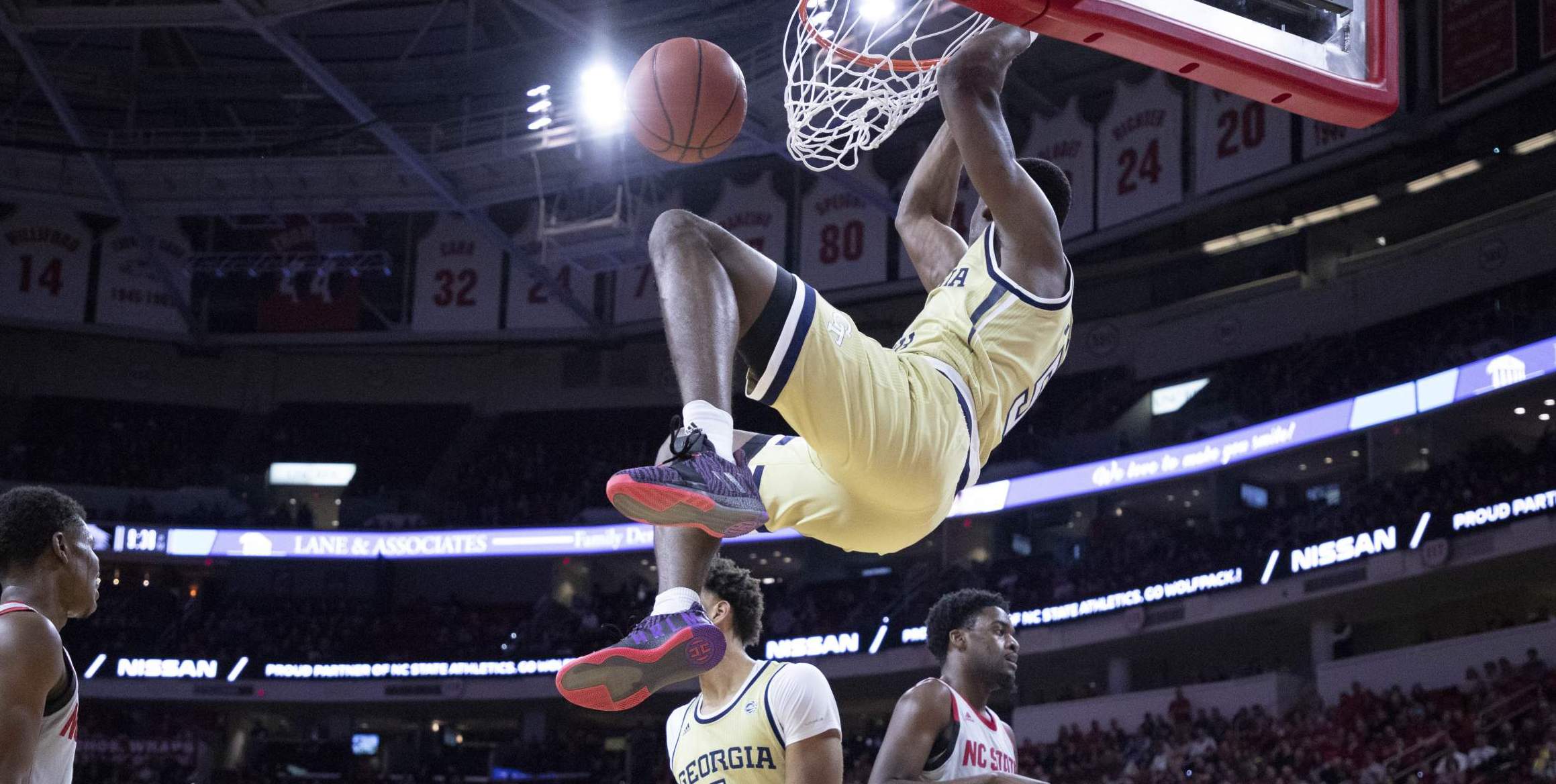 Moses Wright had 18 points and grabbed eight rebounds in his homecoming game in Raleigh.
Post-Game Notes
MISCELLANEOUS NOTES
Georgia Tech starting lineup: Alvarado, Devoe, Moore, Wright, Banks III
First subs for Georgia Tech: Alston, Gueye for Moore, Banks  – 10:23-1st half
On the floor for Georgia Tech at the end: Alvarado, Devoe, Moore, Wright, Banks III
Opening tap won by Georgia Tech: Georgia Tech has won the opening tap 18 times in 31 games this season
Series record vs. NC State: Georgia Tech is 41-57 overall, 12-31 on the road, 3-1 under Josh Pastner, 2-0 vs. Kevin Keatts
Current series trend: Georgia Tech has won four of the last five meetings
Georgia Tech is 11-7 at McCamish Pavilion this season, 83-44 in its sixth season in the building, 40-18 under Josh Pastner
Georgia Tech is 3-9 on the road this season, 3-10 away from McCamish Pavilion
Georgia Tech's next game: Tuesday, March 12, at ACC Tournament, Charlotte, N.C. (time TBA, Spectrum Center)
 TEAM NOTES
Tech is alone in 10th place in the ACC standings following Wednesday night's win at NC State, a half-game ahead of Boston College and Miami, and can finish no worse than tied for 10th when all is said and done. The Yellow Jackets were picked to finish 13th in preseason polls.
Tech must wait until this weekend to determine its ACC Tournament seed. Should BC and Miami both win their weekend games and create a three-way tie with Tech, the Yellow Jackets will wind up with the No. 12 seed (each team is 1-1 against the other two, BC draws the 10th seed by virtue of its win over Florida State, and Miami wins tiebreaker over Tech based on head-to-head). If Miami wins and BC loses, Miami gets the 10th seed, Tech 11 and BC 12. If BC wins and Miami loses, Tech is the 10th seed by virtue of its win over the Eagles.
Tech has won multiple ACC road games (Syracuse, NC State) for the first time since the 2015-16 season, when the Yellow Jackets won three (NC State, Florida State, Boston College).
Like last season, Tech won its final two regular-season games to finish 6-12 in the ACC.
For the last six games, Georgia Tech has started out in a 4-out, 1-in alignment, starting guards Jose Alvarado and Michael Devoe with two wings and post man James Banks III. The two wing forwards have rotated, but Moses Wright has occupied one of those for the past six games, and freshman Khalid Moore started against NC State, his first start since Jan. 9 against Virginia Tech. That lineup has started seven games this season and posted a record of 4-2.
Moore made his seventh start this season and first since Feb. 13 at Virginia Tech, while Wright started for the 19th time this season. Devoe, a freshman, has started Tech's last 21 games, Banks has started the last 24 games in the post, and Alvarado has started 28 games.
Georgia Tech has used 12 different starting lineups this season. No Yellow Jacket has started every game this season, and 10 different players have started three or more games.
Tech did not make a substitution until 10:23 remained in the first half, the latest the Jackets have made their first lineup change this season. The previous latest sub occurred at 12:44 against Kennesaw State on Dec. 28.
Tech has utilized its shortest playing rotation of the season – seven players – in its wins over Boston College and NC State. Tech's bench played only 10 minutes at NC State, and only one minute in the second half. At least eight Yellow Jackets, and often nine of 10, had played in every previous ACC game.
Tech has shot 50 percent or better in nine games this season, four during conference play, after connecting on 58.1 percent at NC State and 50.8 against Boston College. The Jackets shot 50 percent in six games last season (three ACC games), and five times (once in ACC play) in 2016-17.
Tech scored 44 points in the paint in each game against Boston College and NC State
Tech's two best shooting games this season came in its two ACC road wins – 59.5 percent at Syracuse and 58.1 percent at NC State – and in those games attempted just 17 three-point shots and went 43-for-68 inside the arc.
Tech has managed to win three road games this season despite high turnover counts – 20 at Arkansas, 22 at Syracuse and 16 at NC State.
Tech's one three-point field goal at NC State was its fewest since going 1-for-10 on Jan. 19 vs. Louisville. The Jackets had averaged 7.6 threes and shot 34.2 percent from beyond the arc in its previous seven games. In the five games before that, the Jackets shot 14-for-96 (14.6 pct.) from bonus range.
Tech has held 18 opponents this season, and nine ACC opponents, under 40 percent from the floor (NC State shot 31.9 percent). The Jackets have limited 16 opponents, nine in the ACC, to 30 percent or less from three-point range.
Tech committed a season-low nine fouls at NC State, and the Wolfpack's 11 free throw attempts matched a season-low by an ACC opponent.
Tech has won its last two games despite giving up 36 second-chance points (16 to Boston College, 20 to NC State).
PASTNER'S KEY METRICS
Assists to made field goals: The Jackets are at 57.6 percent for the season (52nd in the nation) and 56.4 percent in ACC games. Tech assisted on 17 of 25 made field goals against NC State and 19 of 31 against Boston College, making its nightly goal of 60 percent in each game.
Free throws made to opponents' attempts: Tech is 39-17 under Josh Pastner when attempting more free throws than the opponent. Tech connected on 12-of-20 free throw attempts to NC State's 9-of-11 (nightly goal of making more than opponent tries accomplished).
Turnovers: Tech has averaged 14.6 turnovers per game in ACC play, and only forced 11.3. Target each night is to commit 11 or fewer, which Tech has met only in its last two games. More telling for Tech under Josh Pastner is that when Tech has committed fewer turnovers than its opponent, it is 22-14. When it has committed more, it is 23-30.
Guard rebounding: The group of Alvarado, Alston, Devoe, Haywood, Moore and Phillips has combined to take 356 of Tech's 789 defensive rebounds this season (46 percent). Tech's guards combined for 11 of Tech's 32 defensive rebounds against NC State.
INDIVIDUAL NOTES
Jose Alvarado has scored in double digits in six straight games, averaged 18.3 points over that stretch and leading the Jackets in scoring five times. He has hit 37-of-75 shots from the floor (49.3 percent), 12-for-30 from three-point range (40 percent). The 6-foot sophomore scored 17 against Florida State, 29 vs. Pittsburgh, 20 at Miami, 12 at Virginia, 21 against Boston College and 11 at NC State. Alvarado had scored a total of 25 points, attempting just two free throws, in the six games prior.
Alvarado has scored (37) or assisted (24) on 61 of Tech's 123 field goals in the last six games. In those five games, he also has 29 rebounds and 12 steals.
Alvarado has hit 24-for-32 from the free throw line (75 percent) in his last six games after going five straight games without attempting one.
Alvarado has just eight turnovers over his last eight games (310 total minutes).
Alvarado has played all but six minutes in Tech's last six games, playing the full 40 minutes against Pittsburgh, Miami and NC State and 44 of 45 in Tech's overtime win over Boston College. The sophomore has 13 complete games in his career, five this season.
Moses Wright has reached double figures in three of his last four games (19 vs. Miami, 10 vs. Boston College, 18 at NC State), averaged 13.3 points and 6.0 rebounds and hit 24-of-40 shots from the floor (60 pct.). Over his last six games, the 6-9 sophomore has averaged 11.5 points and 5.3 rebounds, while hitting 30-of-62 field goals (48.3 pct.). He had scored just six points in the five games prior to that.
James Banks III rebounded from his first scoreless game as a Yellow Jacket (Feb. 23 at Miami) with three straight double-figure games, 11 points and seven rebounds at Virginia followed by 18 and nine rebounds against Boston College and 19 points and nine boards at NC State (that's 16.0 ppg and 8.3 rpg). He hit 20-of-26 shots from the floor and 8-of-10 from the foul line in the three games.
Banks was a perfect 8-for-8 from the floor at NC State, punctuating his night with a slam dunk with 1.4 seconds remaining for Tech's winning points in the 63-61 victory. The 6-9 junior also blocked five shots and had three assists.
Michael Devoe recorded a season-high seven assists in the win at NC State, offsetting a poor shooting night (1-for-6, 5 points). The 6-4 freshman averages 10.4 points (No. 3 on the team), 3.7 rebounds and 2.8 assists in ACC games, and he has hit a team-best 43.8 percent of his three-point tries, leading the Jackets with 32 threes in conference play. Devoe is 23-of-50 from three-point land (46 pct.) in his last nine games.
Devoe has played all but one minute in Tech's last two games.
Curtis Haywood II was sidelined with a left ankle injury suffered in the Boston College game.
Freshman Khalid Moore started for the ninth time this season and first time since Jan. 19 against Louisville. He played a personal high of 38 minutes against NC State, surpassing his previous high of 34 back on Dec. 19 at Arkansas, and matched his scoring high in an ACC game with eight points (3-5 FG).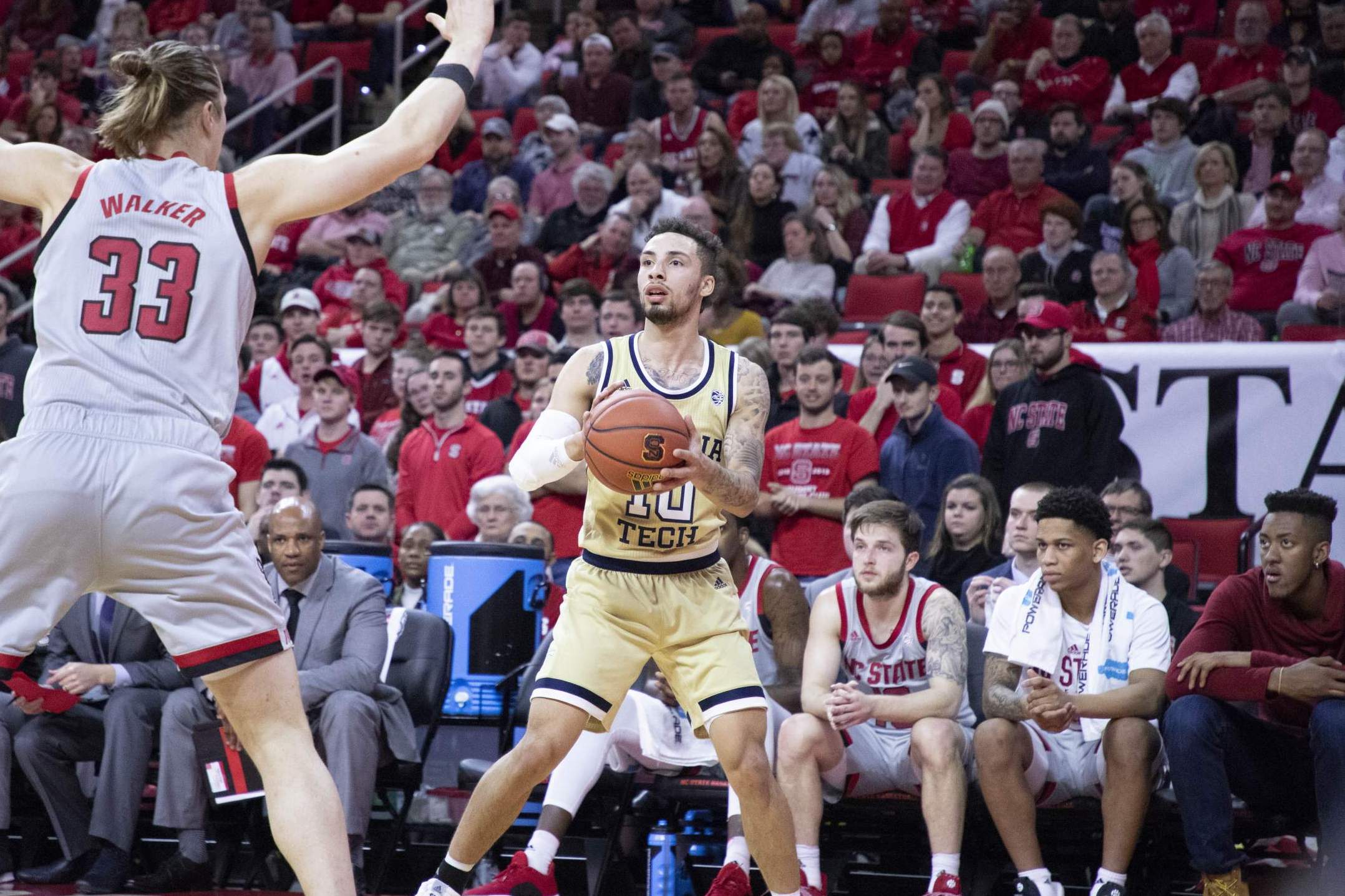 Jose Alvarado finished the game with 12 points and four assists.