THE FLATS – Georgia Tech came within one possession in the second half, but an efficient shooting No. 5/6 Louisville team finished strong for a 58-47 win Thursday night. Nerea Hermosa and Lotta-Maj Lahtinen led the Yellow Jackets with 11 points each, as Tech dropped to 17-10 overall and 8-8 in ACC play.
How It Happened
Georgia Tech shook off a slow start after Louisville opened with a 9-0 run to pull back within 12-10 following a Francesca Pan three-pointer and Lahtinen bucket with 2:22 to play in the first. The teams traded baskets over the remainder of the period before Louisville took a 21-14 lead with the first bucket of the second frame. Tech kept the Cardinals off the scoreboard for the next two minutes and used a 6-0 run to close the game to 23-22 with 7:13 to play in the second. Louisville answered closing the period with a 13-4 run to lead 36-26 at halftime.
Both teams got off to a slow shooting start in the third quarter with Tech hitting the first field goal at the 6:16 mark and opening a 10-3 run to cut its deficit to one possession, 39-36, with 1:55 on the clock. Louisville answered with a 9-0 run spanning both quarters to reopen a 48-36 advantage. Tech would come within seven points, but Louisville extended its lead back out to double-digits to seal the win.
For the game, Tech shot 29.8 percent (17-57) from the field to Louisville's 46.9 percent (23-49) effort. The Jackets hit 12-of-17 from the free throw line, while limiting the Cardinals to 6-of-7. Lahtinen and Hermosa paced Tech's offense, chipping in 11 points each, while three Cardinals finished in double-figures led by Jazmine Jones with 18 points. Tech committed only six turnovers in the game, while forcing 14.
Next Up
Georgia Tech plays its final regular season home game on Sunday, Feb. 23, welcoming No. 17/19 Florida State for its annual #Play4Kay pink game. Tip is slated for 4 p.m. on ACC Network.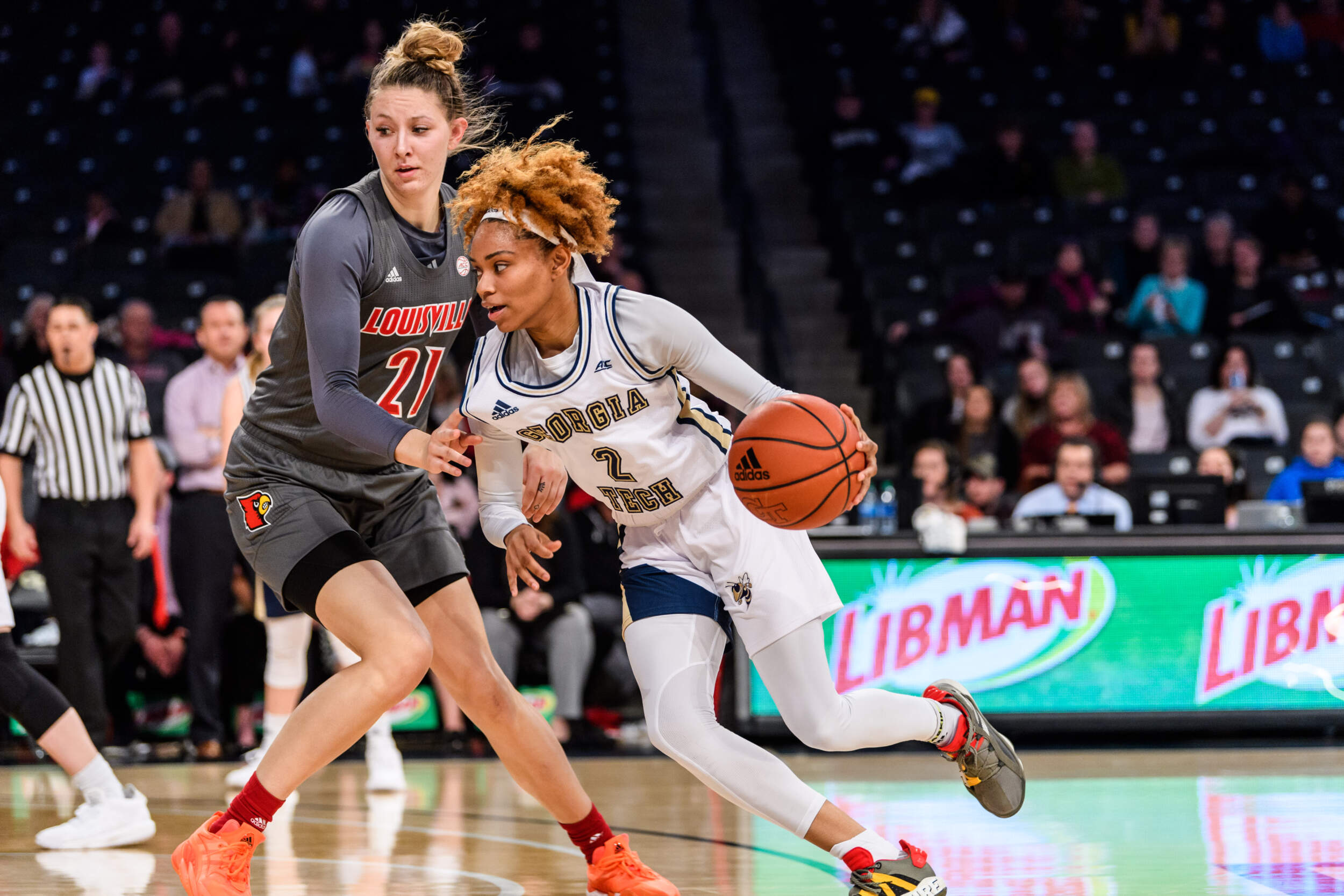 Alexander-Tharpe Fund
The Alexander-Tharpe Fund is the fundraising arm of Georgia Tech athletics, providing scholarship, operations and facilities support for Georgia Tech's 400-plus student-athletes. Be a part of developing Georgia Tech's Everyday Champions and helping the Yellow Jackets compete for championships at the highest levels of college athletics by supporting the A-T Fund's Annual Athletic Scholarship Fund, which directly provides scholarships for Georgia Tech student-athletes, and Athletics Initiative 2020, Georgia Tech athletics' ongoing $125 million initiative to allow Tech to recruit the nation's most elite student-athletes, build a better student-athlete once they arrive on The Flats and, ultimately, win! To learn more about supporting the Yellow Jackets, visit atfund.org.
For the latest information on the Georgia Tech Yellow Jackets, follow us on Twitter (@GTWBB), Instagram (GTWBB), Facebook (Georgia Tech Women's Basketball) or visit us at www.ramblinwreck.com.