Final Box Score (.pdf) | Full gamebook/play-by-play (.pdf) | Multimedia | Photo Gallery | Postgame Quotes | Postgame Notes
THE FLATS – Jose Alvarado and Michael Devoe combined to score 33 of Georgia Tech's 68 points and the Yellow Jackets pulled away for their fifth straight home win, a 68-59 triumph over visiting Clemson on Tuesday evening at McCamish Pavilion.
Alvarado overcame an injury that forced him to momentarily leave the court midway through the first half to score 19 points on 8-of-14 shooting (3-of-5 from 3-point range). Devoe scored 14 points to go along with six rebounds and a game- and career-high eight assists. Moses Wright also reached double figures for the Yellow Jackets with 10 points.
Georgia Tech (14-14, 8-9 ACC), which led wire-to-wire in its previous three home wins over Morehouse (Jan. 28), Virginia Tech (Feb. 4) and fifth-ranked Louisville (Feb. 12), was behind for only 10:25 of Tuesday's 40 minutes. The Jackets closed the first half with a 9-2 run to take a 34-29 halftime lead and never trailed after the break.
Tech limited Clemson (14-13, 8-9 ACC), who had averaged 77 points and hit 34-of-68 threes in winning its last three games, to just 59 points and 2-of-20 from three-point range.
Aamir Simms led all scorers with 23 points for Clemson, while Al-Amir Dawes and Hunter Tyson each added 10.
The Yellow Jackets return to action Saturday with an 8 p.m. ACC game against Miami at McCamish Pavilion, the second of three straight home games for Tech. The game will be televised on the ACC Network.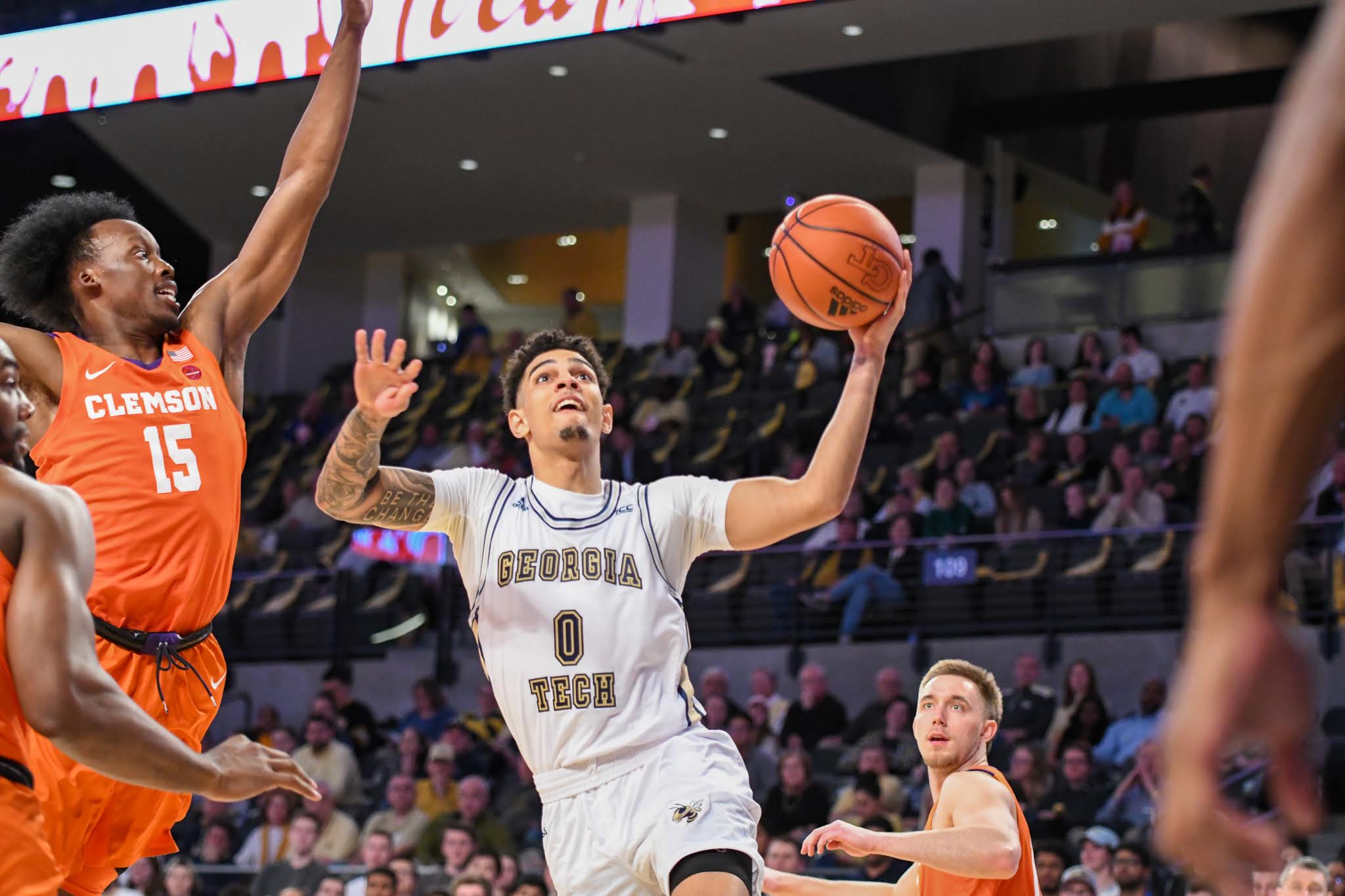 Michael Devoe stuffed the stat sheet with 14 points, six rebounds and eight assists in Tuesday's win over Clemson. (photo by Anthony McClellan)
Post-Game Notes
TEAM NOTES
Georgia Tech has won its last five home games after starting the season 3-6 within the confines of McCamish Pavilion.
Tech entered the Clemson game having not trailed in its last 122 minutes and 41 seconds of basketball at McCamish Pavilion. Tech never trailed in its prior three home games (Morehouse, Virginia Tech, Louisville) and for the final 2:41 of its Jan. 25 game against NC State. Clemson broke that streak by scoring the first basket of the game, but the Jackets never trailed in the final 21:58 against the Tigers, being tied once in the second half.
Tech improved to 9-2 this season when leading at the half.
Tech has won eight ACC games for the first time since the 2016-17 and 2017-18 seasons (finished 8-10 both years). The Jackets have not won nine ACC games since the 2003-04 season, and has won eight or more only five times since the program's last regular-season title in 1995-96.
Tech has won the rebounding battle eight times and held even twice in 13 games since the beginning of January. The Jackets are plus-28 on the boards in ACC games for the season, averaging 1.6 per game more than their opponents.
Tech has hit 36-of-93 (38.7 percent) of its three-point attempts in its last six games. The Jackets went 7-for-16 against Clemson.
Over its last eight ACC games (5-3 record), Tech has averaged 70.8 points, has shot 46.4 percent from the floor, and 34.6 percent from three-point range. The Jackets also have a plus-2.9 scoring margin and a plus-3.5 rebound margin, have scored 14.8 points per game from the foul line and reduced its turnover rate to 14.4. Opponents have shot 41.7 percent from the floor, 23.9 percent from three-point range.
Tech has managed as many as the 68 points it scored Tuesday night only six times in 20 meetings against Tiger teams coached by Brad Brownell.
Tech played one of its better defensive games of the season and did not have a player foul out for the first time since Feb. 4 against Virginia Tech. The Jackets were whistled for just 16 fouls, its fewest in an ACC game since Jan. 25 against NC State. Twenty-two Georgia Tech players have fouled out this season, the most for the Yellow Jackets since the 1989-90 season (28 in 38 games). In conference play, 15 Jackets have fouled out, the most ever for the Jackets in an ACC season.
INDIVIDUAL NOTES
Jose Alvarado (team-high 19 points, 3-of-5 3pt FG) has made a three-point basket in 15 straight games. That is the longest streak for a Tech player since Adam Smith knocked down a three in 24 straight games during the 2015-16 season.
Alvarado has hit 32-of-80 shots (40 pct.) from three-point range in his last 15 games (3-of-5 vs. Clemson) and is 77-of-159 overall (48.4 pct.) during that stretch. He has hit 37.1 percent from distance in ACC games.
Michael Devoe (14 points, 2-of-4 3pt FG) has made a three in seven straight games. His longest streak is 13 games, last year as a freshman.
Devoe established a career high for assists with eight, breaking his previous personal best of seven accomplished three times earlier this season.
Last seven games for Michael Devoe – 17.1 points per game, 5.1 assists per game, 50.1 percent (38-of-75) from the floor, 43.8 percent (14-for-32) from three-point range, 86.2 percent (25-of-29) from the free throw line. He has hit 43.1 percent of his threes in ACC games.
Alvarado and Devoe have combined to score 39.4 percent of Tech's points and sink 39.6 percent of their three-point attempts in ACC games, 45.8 percent overall from the floor. Against Clemson they combined for 33 of the Jackets' 68 points, hit 5-of-9 from three-point range and 14-of-27 overall. They also combined for 11 assists against three turnovers and had nine rebounds and four steals.
Moses Wright has hit double figures in Tech's last seven ACC games, averaging 16 points and 6.9 rebounds over that stretch, and hitting 54.1 percent of his shots from the floor. Counting the Morehouse games, he has an eight-game streak of double digit games. The 6-9 junior has scored 10 or more in all but five games this season.
Jordan Usher has averaged 7.0 rebounds over his last three games.
James Banks III did not foul out (just two fouls) for the first time in five games. He played 31:30 and had seven points, eight rebounds and a career-best four steals.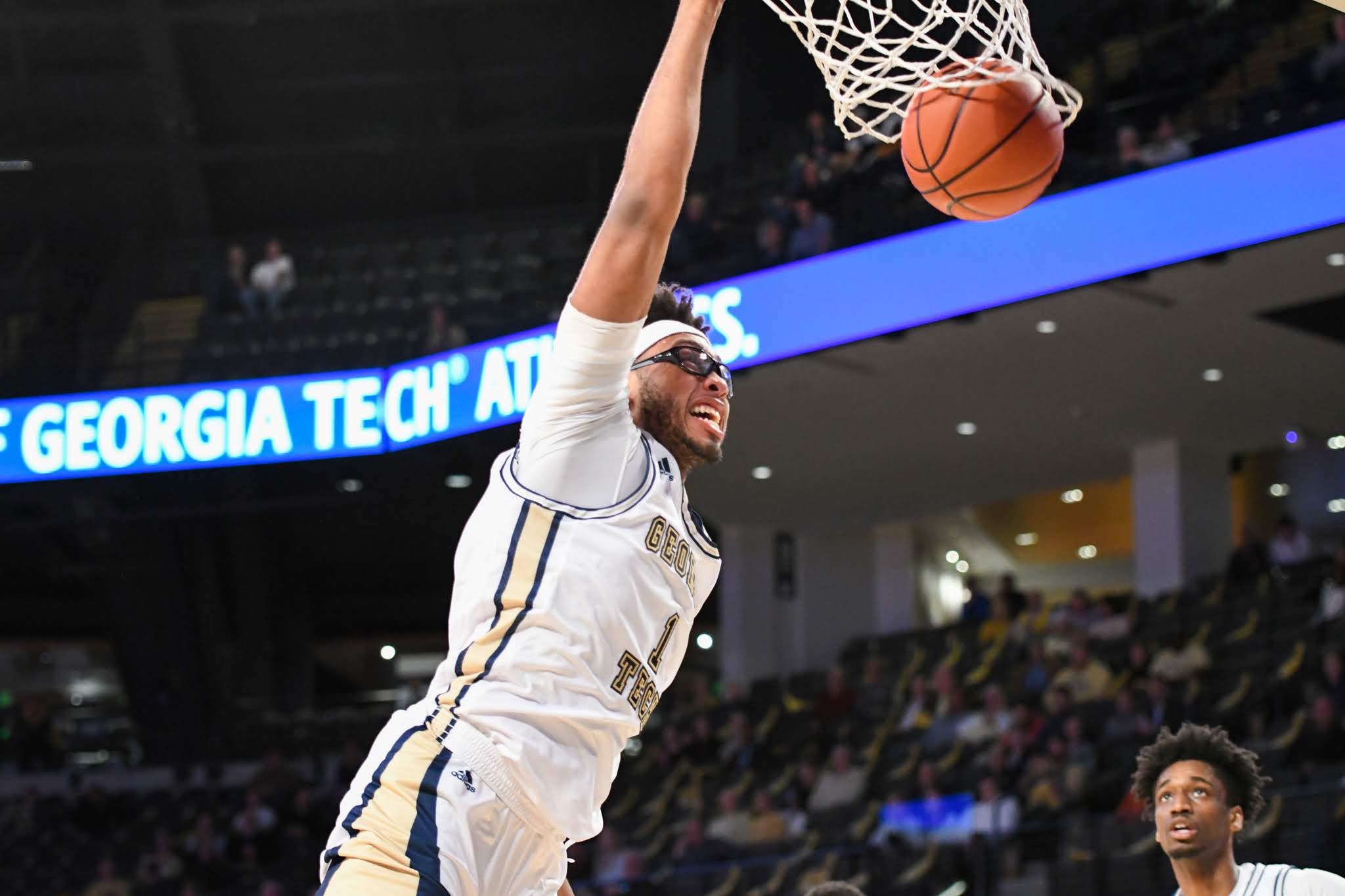 Two thunderous dunks by James Banks sparked a 9-2 Georgia Tech run over the final two minutes of the first half that gave the Yellow Jackets a five-point halftime lead. (photo by Anthony McClellan)
Multimedia