Final Box Score (.pdf) | Full gamebook/play-by-play (.pdf) | Multimedia | Photo Gallery | Postgame Quotes | Postgame Notes
THE FLATS – A shoeless Michael Devoe made a steal with seven seconds left and knocked down the two clinching free throws to seal a wire-to-wire victory for Georgia Tech men's basketball over No. 5 Louisville, 64-58 on Tuesday night at McCamish Pavilion.
The Yellow Jackets (12-13, 6-8 ACC) broke out to leads of 12-2 and 16-5 early and held off the Cardinals (21-4, 12-2 ACC) late, earning their the first victory over a top-5 team since Jan. 9, 2016, when it defeated No. 4 Virginia at home, 68-64.
Tech shot 43 percent during the slugfest, and went 20-for-28 from the free throw line, both season highs, while also holding the Cardinals, the ACC's top three-point shooting team at 44.9 percent in conference games, to just 13 percent from downtown.
The Yellow Jackets never trailed during the game as junior Jose Alvarado led with 18 points on 5-of-11 shooting, while junior forward Moses Wright finished with 12 rebounds and six rebounds, including a crucial 4-for-4 from the line. Also finishing in double figures was Jordan Usher (11) and James Banks III (10).
Devoe struggled from the field (2-for-9), but hit 6-for-7 from the free-throw line to help push the Jackets to the win.
Leading the way for the Cardinals was Malik Williams, who finished with 16 points and eight rebounds, while David Johnson also tallied 16 points. Dwayne Sutton hauled in 10 rebounds to go along with his nine points.
Georgia Tech heads on the road for its next two games, beginning at Wake Forest on Feb. 19 at 7 p.m.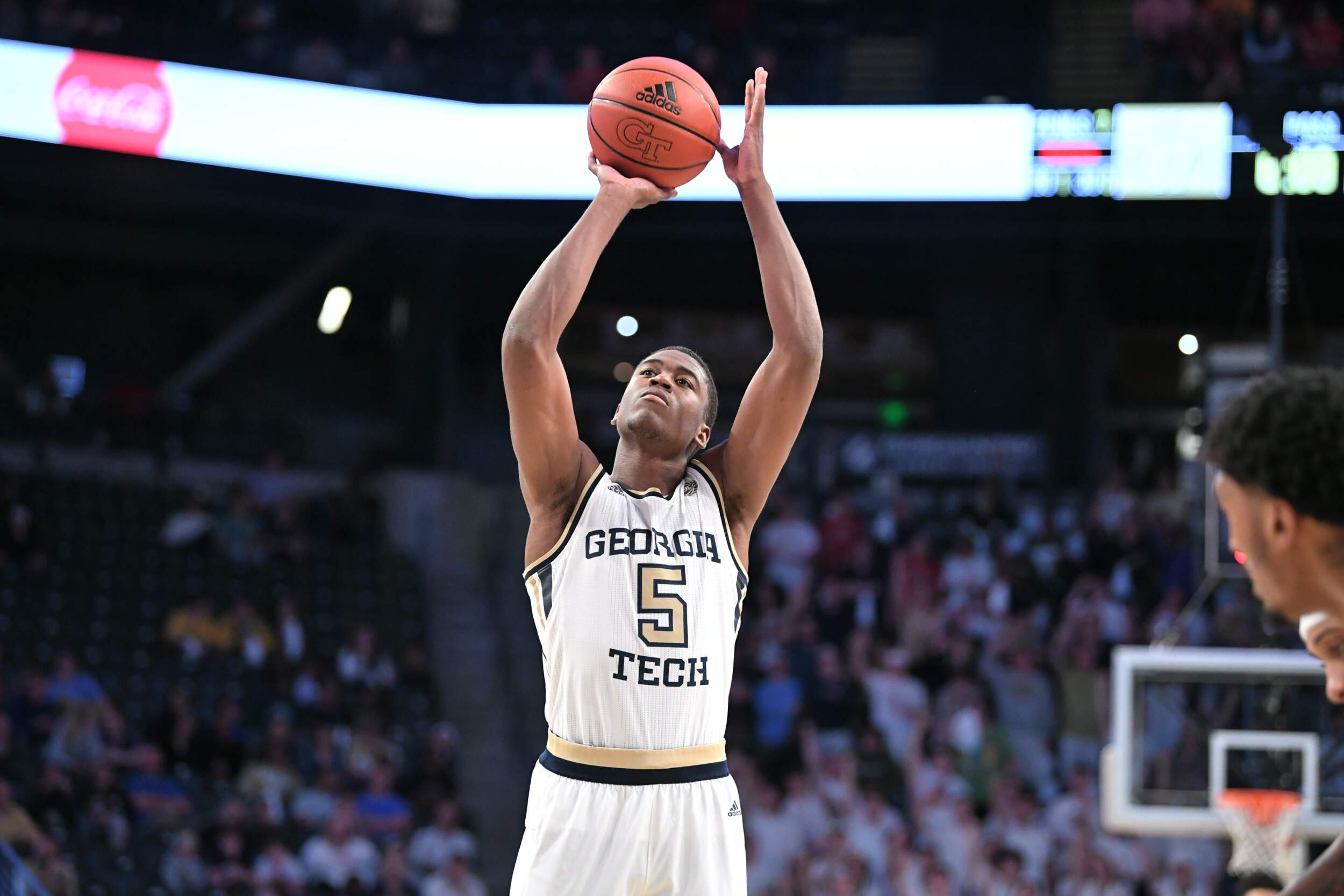 Forward Moses Wright finished with 12 points and 6 rebounds, while also going 4-for-4 from the free-throw line. (photo by Danny Karnik)
Post-Game Notes
TEAM NOTES
Tech snapped a 17-game losing streak against teams ranked in the top 25 of either the AP or coaches' poll, dating back to the Jackets' Jan. 10, 2018 win over Notre Dame (No. 25 coaches). Tech's last win over a top-10 team came Jan. 25, 2017 against No. 6/8 Florida State (78-56) at McCamish Pavilion. Last win over a top-5 team came on Jan. 9, 2016 vs. No. 4/4 Virginia (68-64) also at McCamish Pavilion.
The Jackets are 7-1 this season when leading at the half. They led at the half in both games against Louisville.
In its two games against Louisville, Tech held the lead for 64:59 of the 80 minutes. The Jackets never trailed tonight.
All five Tech starters reached double figures in points against Louisville, the first time this season that has happened.
Tech has held its last three ACC opponents at home under 40 percent from the floor (NC State 38.2, Virginia Tech 38.2, Louisville 33.9). Collectively, those teams shot 36.3 percent (61-for-168).
The Jackets' last three home ACC foes (NC State, Virginia Tech, Louisville) have hit just 16.9 percent (11-of-65) from three-point range, and Tech won all three of those games. Tech's last nine ACC opponents (home and away) have combined to hit just 25.4 percent from distance (47-for-185).
Tech's 28 free throw attempts against Louisville was a season high (27 vs. Elon previous high, 24 at North Carolina previous high for an ACC game). Tech's 20 free throws made also was a season high (previous high was 18 vs. Hawaii and North Carolina, both road games; previous high in a home game was 14 vs. NC State).
Tech's 26 points in the paint against Louisville was its fewest since Dec. 31 at Florida State (24). Tech had averaged 39 points in the paint over the previous 11 games, compared to 27 for its opponents. Only Duke (38-36) and Louisville (32-30 in game 1, 28-26 in game 2) had scored more than Tech in that stretch.
Tech has hit 18-of-48 (37.5 percent) of its three-point attempts in its last three games.
James Banks became the 18th Tech player to foul out this season, the most for the Yellow Jackets since the 2003-04 season (20). In ACC play, 11 Jackets have fouled out, most since 2005-06 (12).
Tech has won the rebounding battle six times and held even twice in 11 games since the beginning of January. The Jackets are plus-15 on the boards in ACC games for the season, averaging around one per game more than their opponents.
INDIVIDUAL NOTES
Jose Alvarado (game-high 18 points, 5-11 FG, 3-6 3pt, 5-6 FT) has made a three-point basket in 12 straight games. That is the longest streak since Michael Devoe connected in 13 consecutive games during last season. Alvarado had a 10-game streak his freshman year.
Jose Alvarado has hit 26-of-65 shots (40 pct.) from three-point range in his last 12 games (3-of-6 vs. Louisville) and is 62-of-127 overall (48.8 pct.) during that stretch. He has hit 36.5 percent from distance in ACC games.
Last four games for Michael Devoe – 16.4 points per game, 4.8 assists per game, 21-of-42 from the floor, 8-for-20 from three-point range, 16-of-18 from the free throw line. He has hit 41.5 percent of his threes in ACC games.
Jordan Usher reached double figures in points (11 vs. Louisville, 5-10 FG) for the first time since scoring 13 at Boston College on Jan. 11. The 6-7 junior has averaged 10.3 points in the eight games Tech has won since he became eligible.
Moses Wright hit double figures for the sixth time in eight games (12 points, 4-7 FG, 4-4 FT) after a streak of eight straight with 10 or more. The 6-9 junior has failed to reach double figures just five times this season, never in back-to-back games.
Wright has connected on 65.5 percent of his free throws (38-of-58) over Tech's last 15 games after going just 4-of-14 in the first nine games of the season.
Alvarado and Devoe have combined to sink 38.6 percent of their three-point attempts in ACC games, 46.1 percent overall from the floor.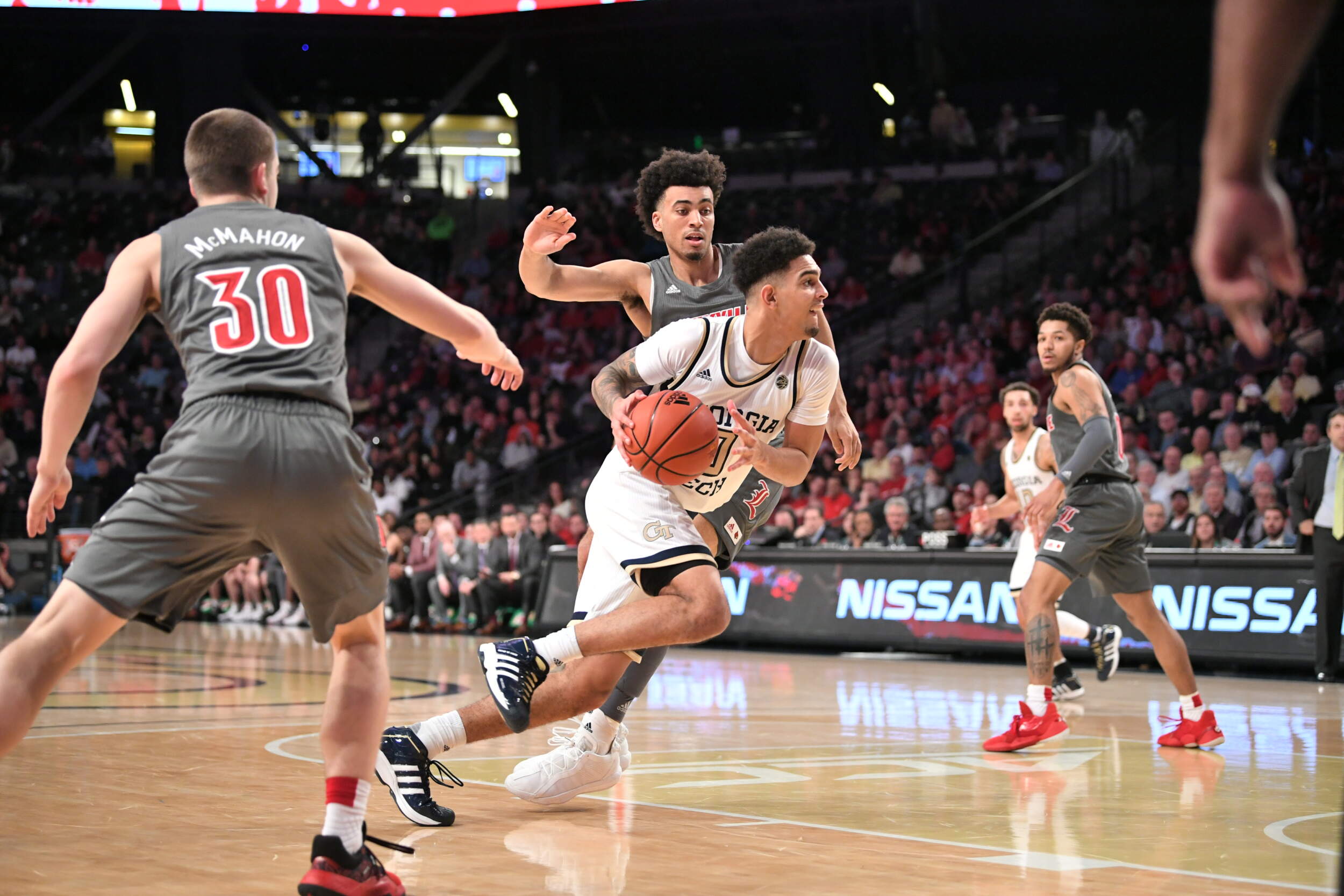 Michael Devoe (0) struggled from the field (2-for-9) but went a crucial 6-for-7 from the line to seal the win. (photo by Danny Karnik)