Final Box Score (.pdf) | Full gamebook/play-by-play (.pdf) | Multimedia | Photo Gallery | Postgame Quotes | Postgame Notes
THE FLATS – A combined 18-2 run over the 4:30 across the halftime break pushed the lead to 31 as Georgia Tech men's basketball defeated Morehouse handily, 82-54, on Tuesday night at McCamish Pavilion.
The Yellow Jackets (10-11) used a well-balanced offensive effort that included 45-percent shooting from the floor, 29 points off turnovers and 32 bench points, while the Maroon Tigers (9-9) shot 38-percent from the field, including a 5-for-15 mark from downtown.
Leading Tech on the day was James Banks III, who finished one rebound shy of a double-double with 12 points and nine rebounds, in addition to four blocks. Moses Wright also finished with double figures at 11 points, while Evan Cole came off the bench to contribute seven points and 10 rebounds.
Tech had a decided advantage on the boards (45-30), assisted on 24 of 30 made field goals and hit 14 of 17 shots from the foul line. Seven different Jackets made a three-point field goal.
Morehouse was led by Michael Olmert, who finished with nine points and four rebounds on the night.
Georgia Tech returns to ACC action Saturday when it heads to South Bend, Ind. to play Notre Dame. Tipoff is set for 12 p.m., and the will be broadcast live on the ACC's Regional Sports Network.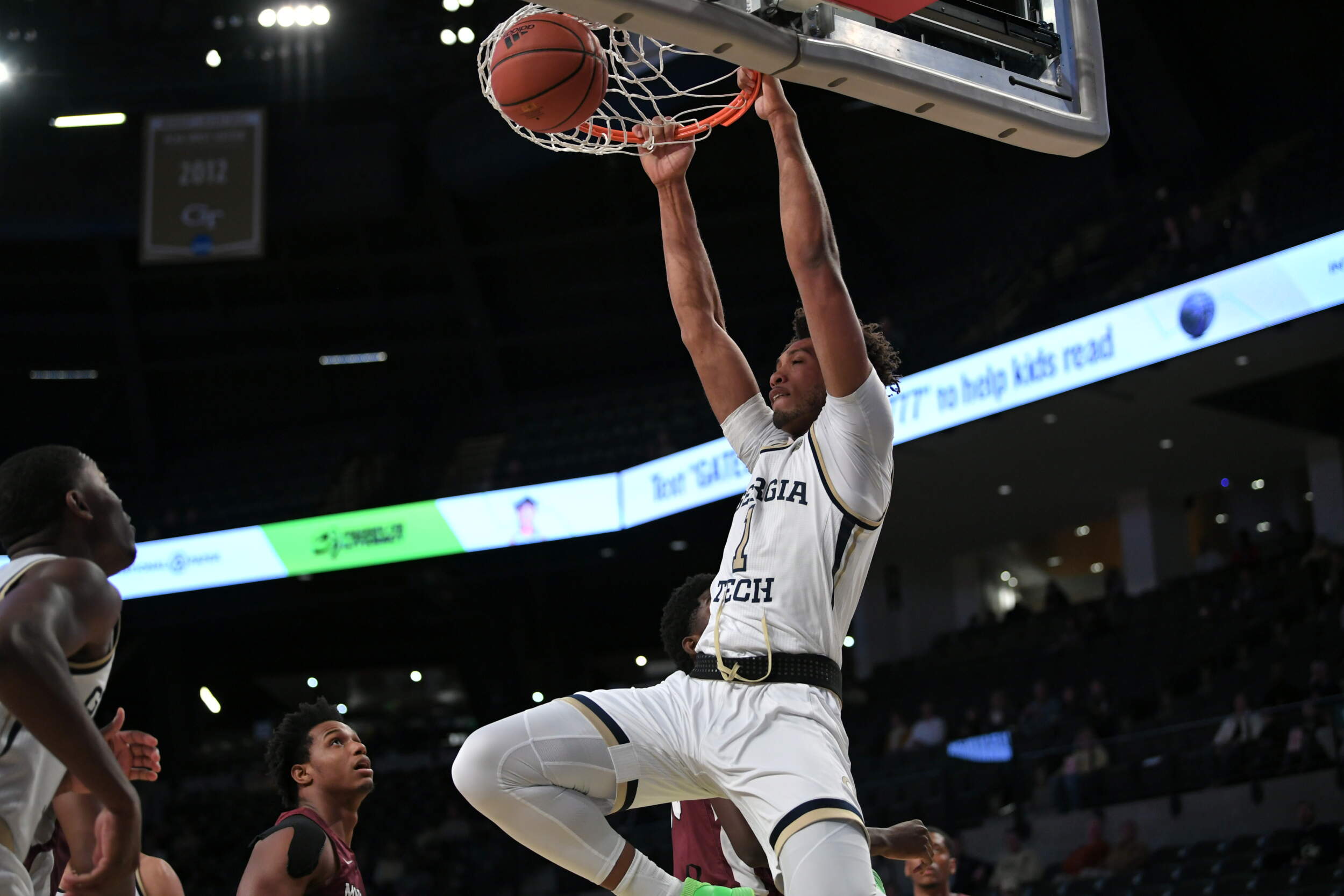 Helping lead the way for Tech was James Banks III (1), who finished with 12 points and nine rebounds on the night. (photo by Danny Karnik)
Post-Game Notes
TEAM NOTES
Tech is 5-5 away from McCamish Pavilion this season, 5-6 at home.
Tech has led at halftime in seven games this season, winning six of those. Only at Louisville on Jan. 22 did the Yellow Jackets lose a game they led at the half.
Tech played its entire roster against Morehouse save the injured Michael Devoe. None of the five starters played as many as 20 minutes. Three reserves played more than 20 minutes.
Since the beginning of last season, Tech has held 28 opponents, including 11 ACC foes, under 40 percent shooting from the floor (Morehouse connected on 38.2 percent). Nine Tech opponents this season have failed to hit 40 percent.
The Jackets have limited 23 opponents, 11 in the ACC, to 30 percent or less from three-point range over the same period (Morehouse hit 33.3 percent). Nine Tech foes this season have made less than 30 percent.
Tech assisted on 24 of 30 made field goals against Morehouse, a season high for the Yellow Jackets in assists and percentage of assists on made field goals (80 percent). Tech has assisted on 159 of 262 made field goals in ACC games (60.7 percent), the third-best rate in the ACC according to KenPom.com.
Tech has averaged 40 points in the paint over its last eight games (42 vs. Morehouse), compared to 29.5 for its opponents. Only Duke (38-36) and Louisville (32-30) have scored more than Tech in that stretch.
Tech went 14-of-17 from the free throw line against Morehouse and has hit better than 70 percent in nine of its last 12 games. Tech has converted 155-of-212 attempts (73.1 percent) over that stretch.
The Jackets have hit 32.5 percent of their three-point field goal attempts in ACC games, which ranks middle-of-the-pack, compared with just 26.4 percent out of conference. Against Morehouse, Tech went 8-of-24, with seven different players making a three.
Tech has averaged 15.2 turnovers over its last 12 games since the return of Jose Alvarado, compared with 17.4 prior to that. The Jackets committed 13 each against the Maroon Tigers and NC State in the last two games, fewest since Jan. 11 at Boston College (also 13). Only against Houston (9) has Tech turned the ball over fewer than 13 times in a game. With Alvarado on the floor this year, Tech has averaged 15.4 turnovers, compared with 18.6 in the seven games in which he was absent.
Tech is minus-2 assist-to-turnovers in ACC games, minus-45 in non-conference games. The Jackets have been on the plus side of that ledger in five of the last eight games.
INDIVIDUAL NOTES
Khalid Moore made his second straight start for the Yellow Jackets in the absence of injured Michael Devoe, and his 11th of the season. Moore scored nine points on 3-of-3 shooting from the floor, including a pair of threes, and has scored 14 points on 5-of-6 shooting combined in these two games. He also has posted the team's best plus-minus mark in each game – plus-13 in his 21:12 against NC State, plus-32 in 17:37 vs. Morehouse.
James Banks came up one rebound shy of a double-double against Morehouse, scoring 12 points (4-5 FG, 4-4 FT) with nine boards. He has averaged 11.9 points and 7.9 rebounds against ACC teams this season, hitting 56.9 percent of his shots from the floor.
Moses Wright scored 11 points (4-5 FG, 3-4 FT) with four rebounds against Morehouse, just his second double-digit scoring game in the last four after a streak of eight straight in double figures.
Wright has connected on 69.2 percent of his free throws (27-of-40) over Tech's last 12 games after going just 4-of-14 in the first nine games of the season.
Jose Alvarado has hit 16-of-42 shots (38.1 pct.) from three-point range in his last eight games (1-3 vs. Morehouse) and is 38-of-80 overall (47.5 pct.) during that stretch. The 6-foot junior scored just nine points, but had three assists against just one turnover and posted a plus-31 in the plus/minus column in 18:56.
Evan Cole posted his first double digit rebound game this season (10 to go with seven points), matching his career high first set against Wake Forest on March 3, 2018 during his freshman year. Cole had recorded nine twice (Elon, Arkansas) earlier this season.
Jordan Usher has dealt six assists in each of his last two games against just three total turnovers. The 6-7 junior scored nine points (4-5 FG) against Morehouse and also took four steals, a season-best.
Shembari Phillips scored a season-high seven points with a season-high five assists against no turnovers in a season-high 19:02. The seven points are his most since his first game in a Tech uniform, when he scored 10 against Lamar on Nov. 9 of last season.
Georgia Tech used a 32-point advantage from its bench, including seven from Shembari Phillips (2). (photo by Danny Karnik)