WEATHER ADVISORY
With Atlanta under a winter weather advisory for Tuesday, Georgia Tech's men's basketball game with North Carolina will be played as scheduled as the Tar Heels will be in town before the weather arrives. Fans attending the game are advised to use caution traveling to McCamish Pavilion. Doors open at 6 p.m. for a 7 p.m. tip. Check here for more updates.
THE FLATS  –  Georgia Tech closes its month of January at home Tuesday night when the Yellow Jackets host No. 9/10 North Carolina in a 7 p.m., sold-out Atlantic Coast Conference contest at McCamish Pavilion.
Tech (11-9, 3-4 ACC), in its third season under head coach Josh Pastner, enter the final week of January a game under .500 in ACC play and tied for eighth place in the conference standings. Tuesday's game will be the fifth home game out of eight to start the ACC schedule, and the Jackets have split their first four home conference games, defeating Wake Forest and Notre Dame.
North Carolina (15-4, 5-1 ACC), in its 16th season under head coach Roy Williams, are coming off an eight-day break since a 103-82 victory last Monday at home over Virginia Tech and have won three straight games. The Tar Heels have all three of their ACC road games against Pittsburgh, NC State and Miami.
Tuesday's game will be broadcast live on the ACC's Regional Sports Network (Fox Sports South in Georgia), and will be streamed live on ACC Network Extra, available through the ESPN app. Radio coverage is provided on the Georgia Tech IMG Sports Network, airing in Atlanta on 680 AM and 93.7 FM the Fan. The Tech broadcast is available on satellite radio (Sirius ch. 135, XM ch. 194, internet ch. 956).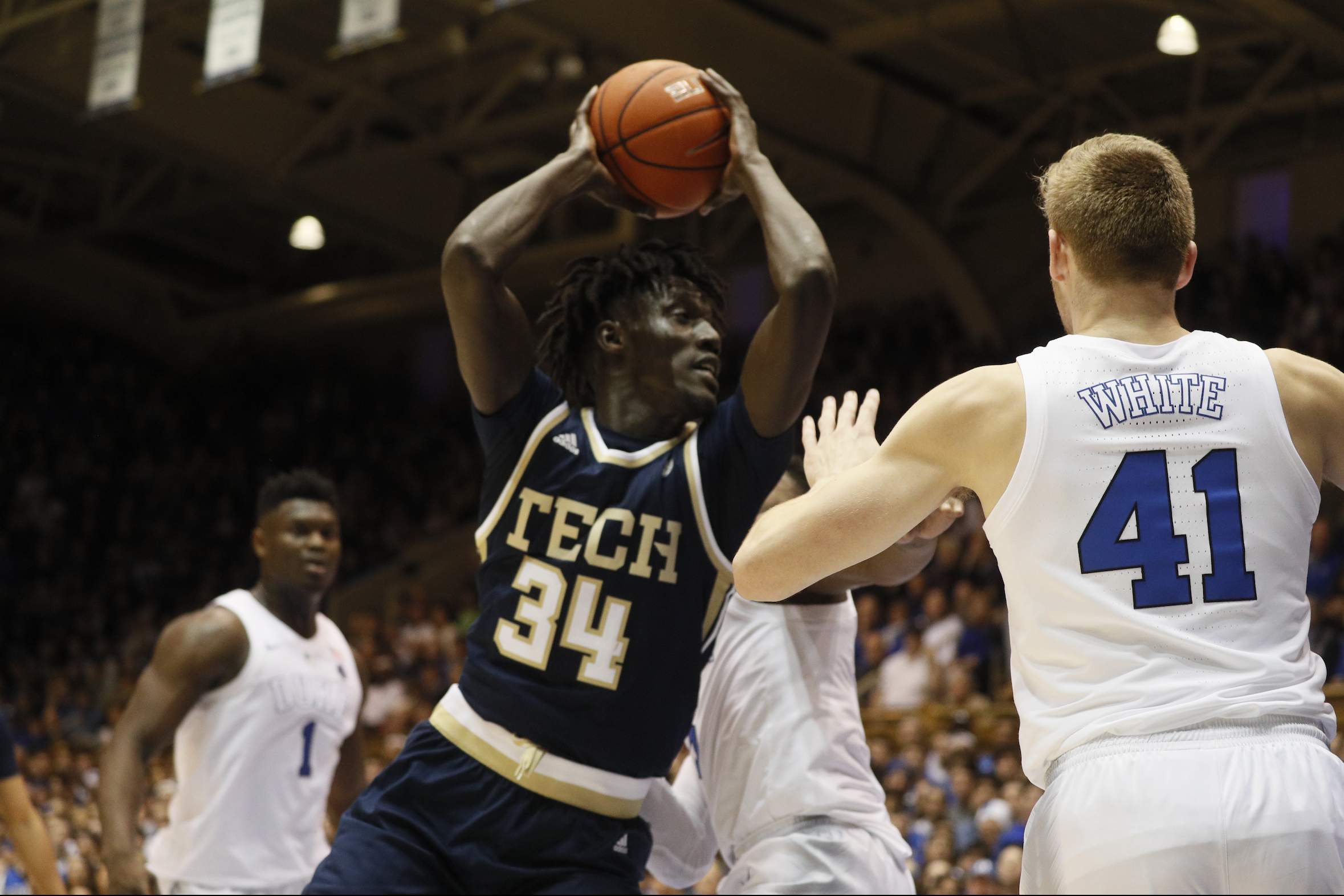 Abdoulaye Gueye has scored in double digits in four straight games, averaging 12 points and 6 rebounds per contest.
STARTING LINEUP
Top 10 – North Carolina, which moved up to No. 9 in the AP poll and No. 10 in the coaches poll this week, becomes the fourth top-10 team Georgia Tech has faced this season, following No. 5/6 Tennessee, No. 9/7 Virginia Tech and No. 2/2 Duke.
A step ahead – A win Tuesday night would give Georgia Tech its best ACC start since the Jackets finished January at 5-4 two years ago. Tech was 3-5 after eight games a year ago and finished January at 4-5.
Banks and Gueye – James Banks III and Abdoulaye Gueye have given Georgia Tech an increasingly reliable frontcourt combination in ACC play. The duo shared the floor for more than 56 minutes in wins over Syracuse and Notre Dame (Gueye was sidelined for games against Clemson and Louisville). They were on the court together for just 16:56 at Duke due to foul trouble.
The Bank is open – In 19 games at Georgia Tech, James Banks III has exceeded his 46-game totals at Texas in every offensive category. His 46 blocks are four short of his total at Texas. Banks has six double-doubles this season for the Jackets, fourth most in the ACC.
Guard your yard – Georgia Tech ranks No. 2 in the ACC in scoring defense (66.9 ppg) and field goal percentage defense (38.9 pct.) and No. 2 in three-point percentage defense (25.4 pct.) against conference opponents. The Jackets rank No. 2 in steals (8.71 pg) and fourth in blocked shots (4.86 pg).
Below average – Georgia Tech has faced three of the nation's top 10 teams in offensive efficiency as ranked by KenPom.com – Tennessee (3), Virginia Tech (5) and Duke (7) – and held them to an average of 61.3 points. Each posted their lowest efficiency rating of the season against the Jackets. North Carolina comes to Tech ranks No. 13.
Rising up – Since its Dec. 22 game against Georgia, in which the Yellow Jackets scored 59 points and shot 32.3 percent from the floor, Georgia Tech has averaged 67.4 points, shot 49.8 percent from the floor, 32.4 percent from three-point range and assisted on 63.2 percent of their made field goals (141-of-223).
Shooting straight – Georgia Tech ranks No. 2 in the ACC in field goal percentage against conference opponents (47.3 percent) and No. 9 in three-point accuracy (31.6).
Tough at home – Tech is 14-8 against ACC teams at home under Josh Pastner, 5-4 against top-25 ACC teams.
Tough slate – Tech ends the month of January with games against No. 2 Duke on the road and No. 11 North Carolina at home. The Jackets began their conference slate two years ago with the same two opponents, defeating North Carolina at home before losing at Duke.
Going deep – Georgia Tech has deployed eight different starting lineups this season, and 10 Yellow Jackets have started three or more games.
Longer bench – Tech has utilized at least nine players in five of its ACC games to date (eight at Syracuse). Tech's bench has played 33.9 percent of available minutes, No. 92 in the nation according to KenPom.com (national average is 30.8 pct.). Tech reserves are outscoring their opponents 23.1 to 15.8 per game.
Michael Devoe is averaging 10.8 points in his 11 starts for the Jackets.
SERIES VS. NORTH CAROLINA
North Carolina has a 68-25 lead in the all-time series between the two teams, and a 54-23 advantage since Tech joined the ACC.
The Tar Heels have won eight of the last nine games in the series, including an 80-66 win in Chapel Hill in the teams' only meeting of the 2017-18 season.
Tech's only win in that stretch occurred on New Year's Eve of 2016, opening its ACC schedule with a 75-63 home-court upset of the Tar Heels, who would go on to win the national championship. It was the Jackets' first win in the series since a 78-58 win in Atlanta on Jan. 16, 2011.
Before that, Tech had won four games in a row for its longest winning streak in the series. Tech is 11-13 against North Carolina dating back to the 2001-02 season.
The teams have played 39 times in the city of Atlanta, including four at McCamish Pavilion. The teams met 23 times at Alexander Memorial Coliseum, where the Tar Heels won 12 of 23. Tech won six of the last seven meetings in the Thrillerdome, however, and won six of eight against UNC in the Coliseum under Paul Hewitt.
Between 1982 and 1996, the Yellow Jackets played eight of their home games with the Tar Heels at the old Omni arena in downtown Atlanta (2-6 record). Counting ACC and SIC Tournament games played in the city, Tech is 15-24 vs. North Carolina in Atlanta.
Tech is 8-5 in games played away from Chapel Hill since 2000-01, including three ACC Tournament wins. The Jackets are 9-13 against the Tar Heels under Roy Williams, 9-14 against Williams all-time.
Tech has lost 12 of the last 13 meetings in the Smith Center and is 4-25 all-time in the building. Counting regular-season games in Greensboro, Tech is 5-32 on the road against UNC.
In ACC Tournament play, the Yellow Jackets have won five of nine meetings, and Tech has won the last three encounters (2004, 2005, 2010). Two of Tech's five tournament wins occurred in championship games, the 1985 final in Atlanta and the 1993 final in Charlotte.
Tech's greatest success in its series with North Carolina occurred during the middle 1990s when the Jackets won five of seven meetings, including three straight wins over No. 1-ranked Tar Heel teams during the 1993 and 1994 campaigns.
ABOUT GEORGIA TECH MEN'S BASKETBALL
Georgia Tech's men's basketball team is in its third year under head coach Josh Pastner. Tech has been a member of the Atlantic Coast Conference since 1979, won three ACC Championships (1985, 1990, 1993), played in the NCAA Tournament 16 times and played in two Final Fours (1990, 2004). Connect with Georgia Tech Men's Basketball on social media by liking their Facebook Page, or following on Twitter (@GTMBB) and Instagram.
For more information on Tech basketball, visit Ramblinwreck.com. Tickets for men's basketball can be purchased here.