Complete game notes | Where to Watch | Watch online | Listen
THE FLATS – Georgia Tech begins a stretch of three games in seven days Sunday when Bethune-Cookman comes to Atlanta for a 6 p.m. contest at McCamish Pavilion.
Tech (2-2. 1-0 ACC), in its fourth season under head coach Josh Pastner, has lost its last two games by a combined five points, including a 62-61 overtime loss to Arkansas on a last-second three-point basket Monday night. Three of the Jackets' four games this season have been decided by a total of six points. Tech has the ACC's leading scorer in sophomore guard Michael Devoe.
Bethune-Cookman (5-2, 0-0 MEAC), in its third season under head coach Ryan Ridder, comes to Atlanta on a four-game winning streak, including three wins over Incarnate Word, Eastern Illinois and St. Francis (Ill.) to win the UIW Invitational last week. The Wildcats have played one game against a power conference team, a 79-44 loss at Texas Tech, the 2019 NCAA Championship runner-up.
Sunday's game will be televised live on the ACC's Regional Sports Network, including Fox Sports South in Georgia. Live streaming is available on ACC Network Extra through the ESPN app. Radio coverage is provided through Learfield IMG College, airing in Atlanta on 680 AM and 93.7 FM the Fan and through the TuneIn app. The Tech broadcast is also available on satellite radio (XM ch. 371, internet ch. 371).
THE TIPOFF
Busy week – After playing its first four games over a 20-day period, Georgia Tech plays three games in the next seven days, all at home, before taking time off for fall semester final exams.
No ducking – Georgia Tech's schedule includes six power conference teams in its first eight games, including road games at NC State and Georgia and a home game against Arkansas among the first four. After Sunday night's game, the Yellow Jackets host Nebraska (Dec. 4) and Syracuse (Dec. 7) ahead of a road trip to Kentucky (Dec. 14).
Beefing up – With a more veteran team in 2019-20, Georgia Tech made an effort to strengthen its non-conference schedule, beginning a two-game series with Kentucky and finishing another two-game set with Arkansas, while accepting an invitation to play in the Diamond Head Classic, in which the Jackets could wind up playing a pair of 2019 NCAA Tournament teams in Houston and Washington. Also on the schedule are the annual meeting against Georgia and the Big Ten/ACC matchup against Nebraska.
Michael Devoe leads the ACC and ranks 13th nationally in scoring average (22.5 ppg). He ranks No. 2 in the nation and leads the conference in three-point field goal percentage (.647), and he ranks sixth in the ACC in field goal percentage and 13th in free throw percentage.
James Banks III leads the ACC and ranks No. 2 in the nation in blocked shots (4.5 per game), while Tech also leads the ACC as a team (7.8 per game).
Khalid Moore leads the ACC in steals (2.5 per game), while Georgia Tech is eighth as a team (7.3 per game).
Michael Devoe (37.6) and James Banks III (35.5) rank No. 1 and 3 in the ACC in most average minutes played this season.
SERIES VS. BETHUNE-COOKMAN
Georgia Tech has won both prior meetings on the court against Bethune-Cookman, including a 65-62 decision in the second game of the 2017-18 season that was vacated by the NCAA Committee on Infractions, the last meeting between the two teams.
Tech took a 73-46 win over the Wildcats in the first meeting between the two teams on Dec. 31, 2005, played at Alexander Memorial Coliseum.
FOLLOWING THE TRENDS
Through four games, Georgia Tech ranks No. 30 in defensive efficiency according to KenPom.com (89.1 points per 100 possessions). No. 4 nationally in effective defensive field goal percentage (38.9), sixth in two-point field goal defense (38.1) and 33rd in three-point defense (37.1).
Since the beginning of last season, Tech has held 21 opponents, including nine ACC opponents, under 40 percent from the floor. Three of four Tech opponents this season have shot under 40 percent, and the Jackets are No. 4 among NCAA teams, and No. 2 in the ACC, in field goal percentage defense (.342).
The Jackets have limited 17 opponents, nine in the ACC, to 30 percent or less from three-point range in the same time frame. Tech ranks 25th in NCAA rankings at 26.4 percent allowed this season.
Tech ranks No. 3 nationally in blocked shots with 31 in four games (7.8 per game), but had only one against Arkansas, its fewest since Dec. 3, 2018 (one vs. Tennessee). James Banks III is No. 2 in the nation with 18 in four games (4.5 per game).
Tech ranks third in the nation in defensive rebounding with 35.5 per game, and had 37 against Arkansas, which had only three offensive rebounds.
Georgia Tech's adjusted tempo is 71.4 possessions per game according to KenPom.com, well ahead of the 66.1 possessions per game last season and 66.8 in 2016-17. Game-by-game, Tech has 73, 77, 78 and 68 possessions and has exceeded 100 points/100 possessions twice.
Tech has reached 70 possessions per game over the course of a full season only four times since 1997, the first year KenPom kept 1997-98 (72.3), 2000-01 (72.1), 2001-02 (70.5) and 2008-09 (70.5).
Tech's 71.3 points per game this season is more than any Yellow Jacket team has been able to sustain over a full season since 2007-08 (77.6). The Jackets have finished a season at 70 points or more per game only once in the last nine seasons (73.2 in 2015-16).
Tech has averaged 10 fewer field goal attempts per game than its opponents, but has made nine more overall.
Tech hit just 2-of-11 three-point field goals against Arkansas, a season low in percentage and number of three-pointers made.
Tech's 24 turnovers against Arkansas were a season high and the team's most since committing 24 against Florida State on Feb. 1, 2012.
Tech has played two overtime games in four this season. The Yellow Jackets won at NC State, 82-81, in game one and lost, 62-61, at home to Arkansas. The Jackets are 64-60 all-time in overtime games, 3-2 under Josh Pastner.
PERSONNEL NOTES
Michael Devoe came into the Arkansas game as the ACC's leading scorer at 26.0 points per game, but was held to just 12 against Arkansas and fouled out.
The ACC's top three-point shooter coming in (11-of-15), Devoe missed his only two attempts against the Razorbacks. The sophomore went 4-for-16 from the floor overall, after hitting 59.1 percent in the first three games.
James Banks III posted his ninth double-double in a Tech uniform and his second this season with 20 points and 14 rebounds against Arkansas – he also had 20 points and 13 boards at NC State. He went 6-for-10 from the floor and 8-for-10 from the free throw line.
Banks III still leads the ACC in blocked shots with 4.5 per game (18 in four games), despite having only one against Arkansas. He had six at Georgia, six against Elon and five at NC State.
Bubba Parham has reached double figures in two straight games with 10 points each at Georgia and against Arkansas. He has hit 2-of-4 from three-point range in each of the last two games.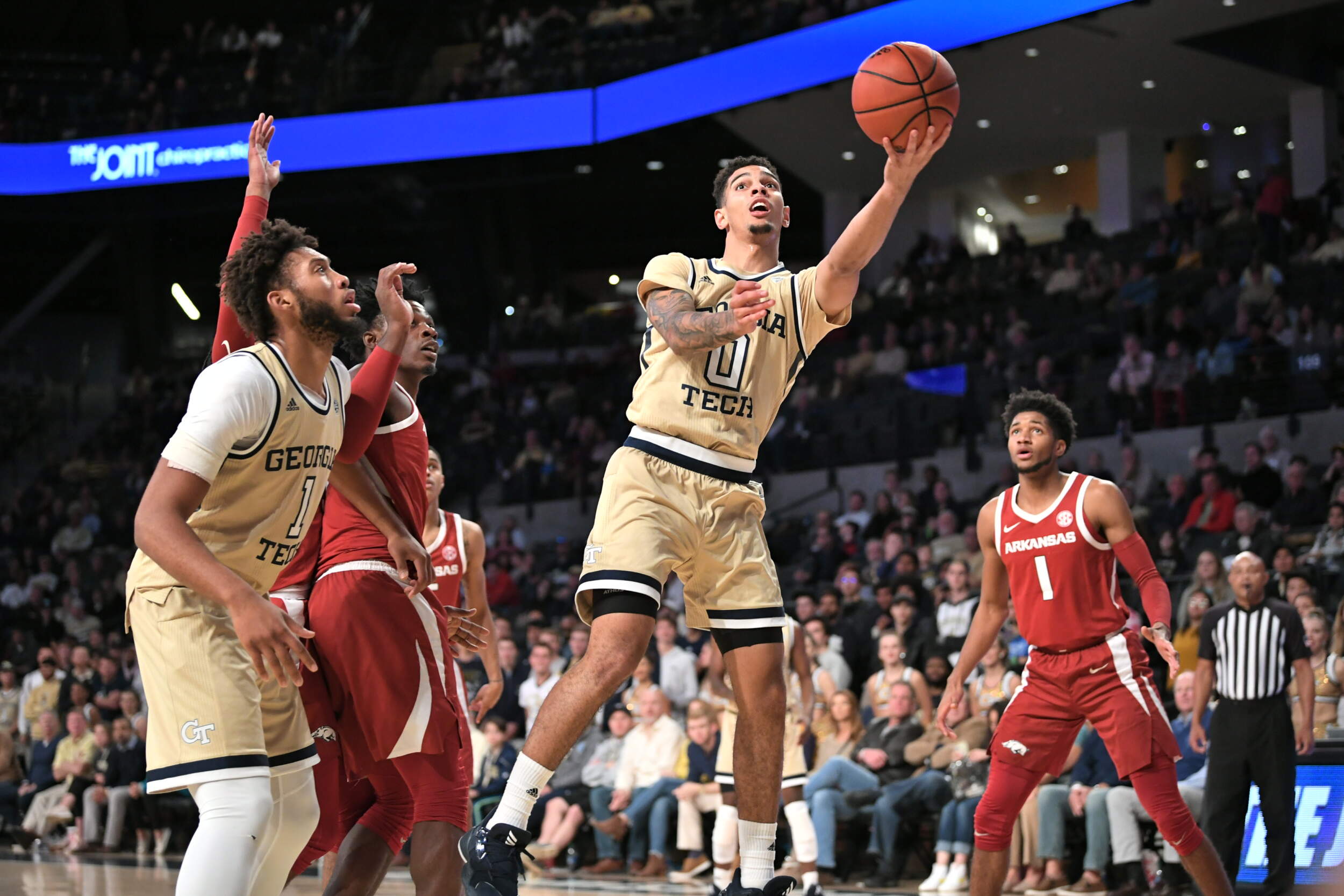 Michael Devoe remains the ACC's leader in scoring (22.5 ppg) and three-point shooting (11-for-17).
* About the ACC Network: The ACC Network (ACCN) is a new national network dedicated to 24/7 coverage of Atlantic Coast Conference sports. ACCN is currently available through six national providers: DirecTV, Dish Network, Sling TV, Hulu, YouTube TV and Playstation Vue. ACCN is also available via 60-plus local cable/digital providers, including AT&T uVerse and Cox Communications. To learn what providers carry ACCN in your area, visit getaccn.com.
** To watch ACC Network programming online via the ESPN app or WatchESPN.com, the viewer must subscribe to a cable/satellite/digital provider that carries the ACC Network.
ABOUT GEORGIA TECH MEN'S BASKETBALL
Georgia Tech's men's basketball team is in its fourth year under head coach Josh Pastner. Tech has been a member of the Atlantic Coast Conference since 1979, won three ACC Championships (1985, 1990, 1993), played in the NCAA Tournament 16 times and played in two Final Fours (1990, 2004). Connect with Georgia Tech Men's Basketball on social media by liking their Facebook Page, or following on Twitter (@GTMBB) and Instagram. For more information on Tech basketball, visit Ramblinwreck.com.
Season tickets for men's basketball can be purchased here.