THE FLATS – Georgia Tech's men's basketball team and Kentucky have agreed to play a two-game series over the upcoming two seasons, beginning with the Yellow Jackets traveling to Lexington this December, and the Wildcats playing in Atlanta during the 2020-21 season.
Kentucky, which has won the NCAA Championship eight times, most recently in 2012, will host the Yellow Jackets Dec. 14 at Rupp Arena this season, and Tech will host the Wildcats in a "Holiday Hoopsgiving" event Nov. 27, 2020, at State Farm Arena in downtown Atlanta. Kentucky becomes the third Southeastern Conference opponent on the Yellow Jackets' pre-conference schedule this season, joining Georgia (Nov. 20 in Athens) and Arkansas (Nov. 25 at McCamish Pavilion). With its pre-conference schedule nearing completion, Tech also hosts Nebraska on Dec. 4 for the Big Ten/ACC Challenge and Ball State on Dec. 18, and the Jackets travel to Hawai'i to play in the Diamond Head Classic Dec. 22-25, where they will face Boise State in the opening round.
The former Southeastern Conference rivals have met 71 times previously, the fifth-most meetings for the Yellow Jackets against any non-ACC opponent. The Wildcats have a 56-15 advantage since the teams first met in 1924, but the Jackets won the most recent contest, 86-84 on Dec. 9, 2000 at Philips Arena in Atlanta.
Nine of Tech's 15 wins over Kentucky came between 1955 and 1964 under legendary coach John "Whack" Hyder, three of those against Wildcat teams ranked No. 1 in the nation. The teams have met 34 times in Lexington, including three games at Rupp Arena, and 29 times in Atlanta.
"We're excited about playing this series," said head coach Josh Pastner, who was an assistant to Kentucky coach John Calipari for one season at Memphis (2008-09) before succeeding Calipari as the Tigers' head coach. "Kentucky is one of the preeminent programs in the history of college basketball and remains so today under Coach Calipari, who is one of the great coaches in the game. As we continue to build our program, we strive to schedule top competition to give us a better chance to earn a spot in the NCAA Tournament from a strength of schedule standpoint, increase the exposure for our program and bring high-level teams to play in Atlanta for our fans."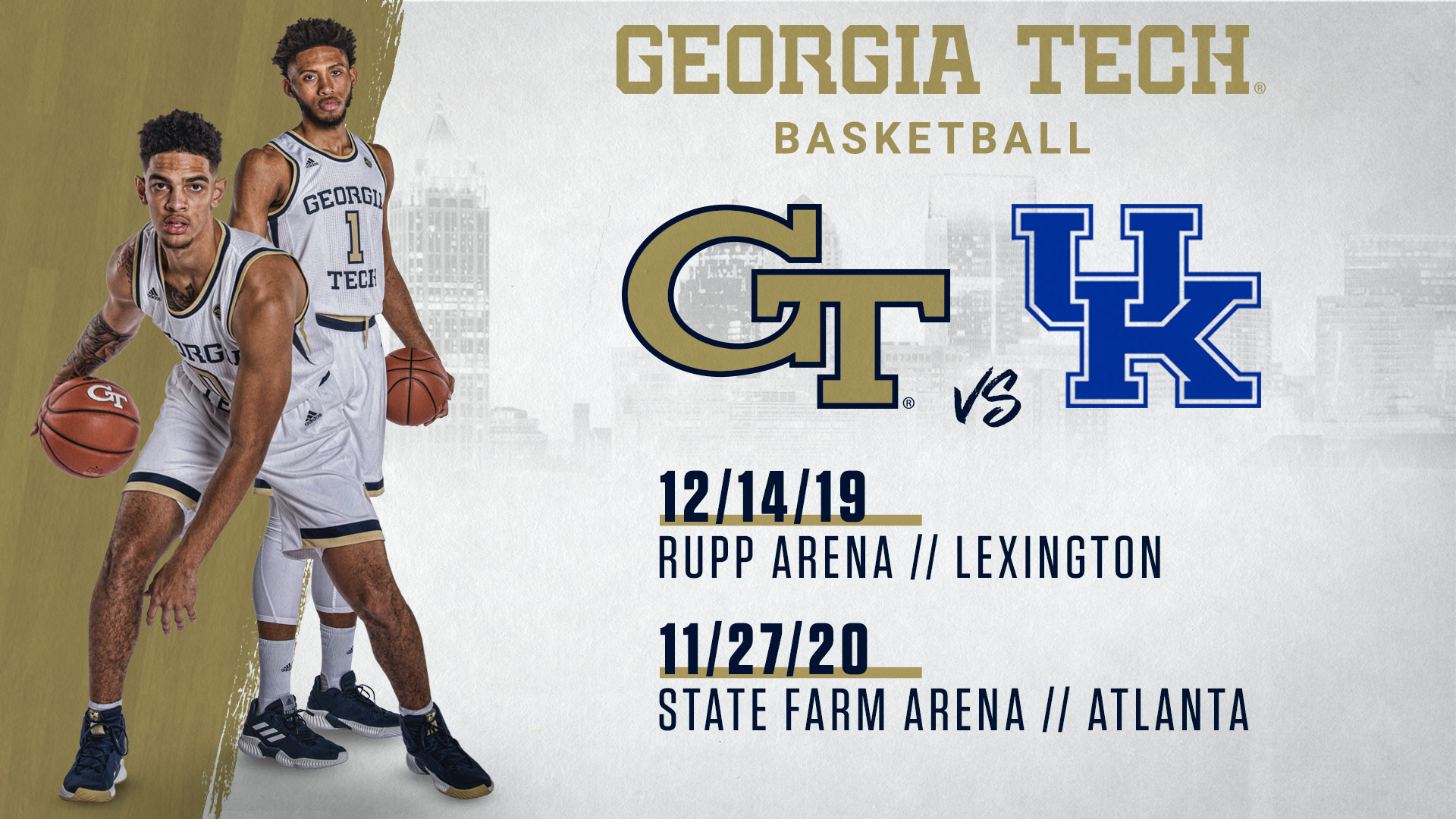 With the new 20-game ACC schedule beginning in 2019-20, Yellow Jacket fans will see 10 conference home games, with defending national champion Virginia, Duke, Notre Dame, Syracuse and Louisville, as well as Miami, NC State, Pittsburgh and Virginia Tech, coming to McCamish Pavilion. The ACC will announce the full conference schedule for all teams in the near future.
Men's basketball season tickets remain on sale, starting at $290, which is less than $15 per game and represents a significant savings from single-game ticket prices. Other great benefits of purchasing season tickets include participating in an exclusive season ticket holder event with Coach Pastner and the team, an opportunity to be honored as a season ticket holder of the game and receive a Coach Josh Pastner autographed basketball, priority access to purchase single-game and postseason tickets, season parking options and more. Click here to see the entire list of benefits.
| | | |
| --- | --- | --- |
| Date | Opponent | Location |
| 11/5/2019 | at NC State | Raleigh, N.C. |
| 11/20/2019 | at Georgia | Athens, Ga. |
| 11/25/19 | Arkansas | McCamish Pavilion |
| 12/4/19 | Nebraska (Big Ten/ACC Challenge) | McCamish Pavilion |
| 12/14/2019 | at Kentucky | Lexington, Ky. |
| 12/18/19 | Ball State (Diamond Head Classic campus game) | McCamish Pavilion |
| 12/22/19 | Boise State (Diamond Head Classic) | Honolulu, Hawai'i |
| 12/23/19 | Houston or Portland (Diamond Head Classic) | Honolulu, Hawai'i |
| 12/25/19 | Final Round (Diamond Head Classic) | Honolulu, Hawai'i |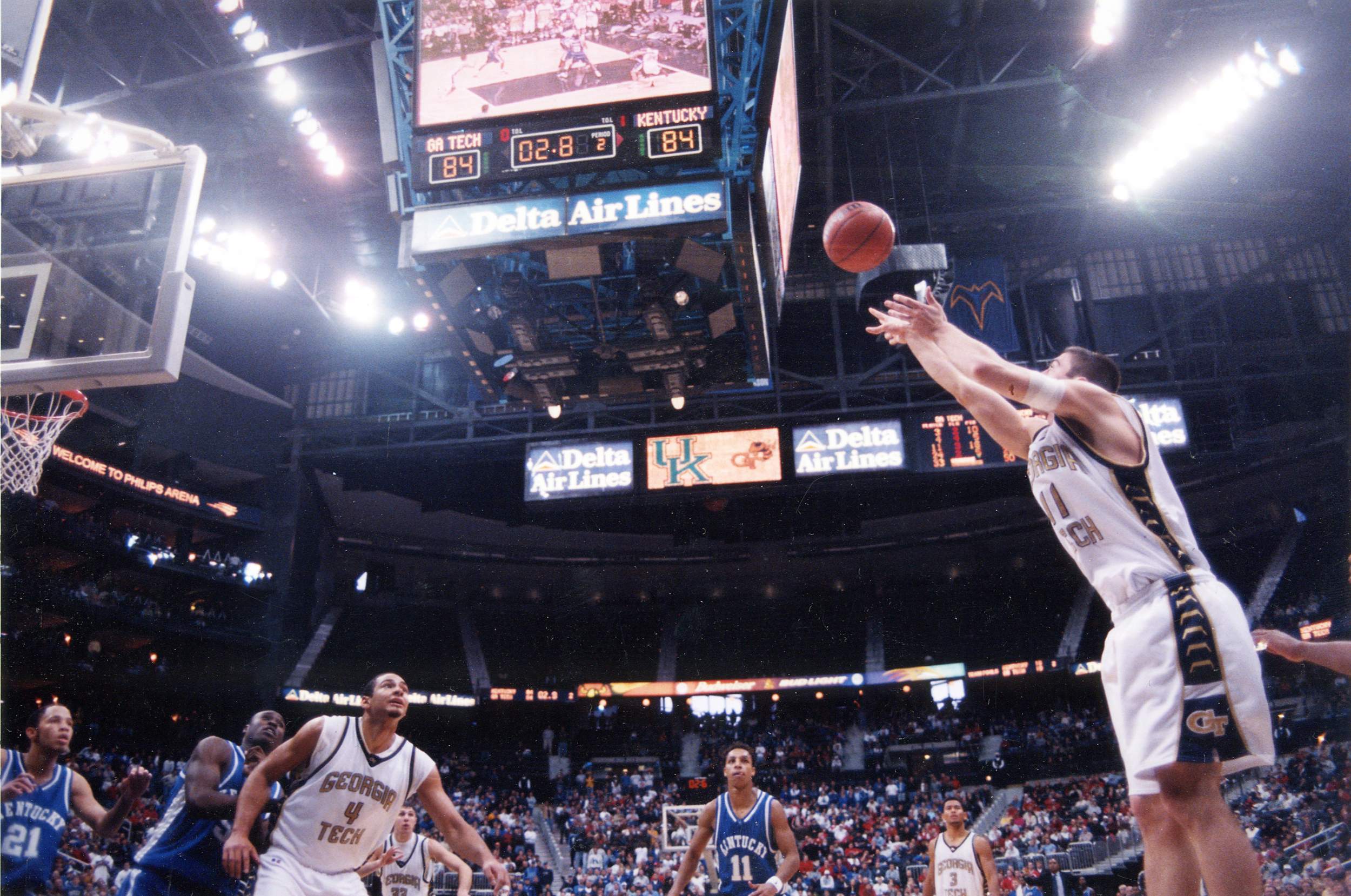 FANTASTIC FINISH – On Shaun Fein's corner jump shot in the final seconds, Georgia Tech defeated Kentucky, 86-84, at Philips Arena in the teams' most recent meeting.
Pastner welcomes back the Yellow Jackets' top three scorers from the 2018-19 season – Jose Alvarado, James Banks III and Michael Devoe – who accounted for 48.4 percent of its points, 41.6 percent of its rebounds and 47.2 percent of its minutes.
Also returning are fast-rising 6-9 junior forward Moses Wright, who finished the season with 25 points against Notre Dame in the ACC Tournament, and 6-7 sophomore sharpshooter Kristian Sjolund. Altogether, Tech returns eight of its top 11 players, who combined for 73.2 percent of its points, 66.4 percent of its points and 73.7 percent of its minutes. Those eight players combined to start 123 games.
To help get ready for the upcoming season, the Yellow Jackets are taking an eight-day trip to Spain in August, where they will play four games against some of the country's top competition.
ACC NETWORK – COMING AUG. 22
The ACC Network is a linear and digital platform dedicated to 24/7 coverage of ACC sports. It will exclusively televise approximately 450 live events each year, including approximately 40 football games (beginning with Georgia Tech's 2019 season opener at Clemson on Aug. 29), as well as 150 men's and women's basketball contests.
Don't get shut out! For more information and to learn if your cable/satellite/digital provider is committed to carrying the ACC Network, visit GetACCN.com. Georgia Tech fans whose cable/satellite/digital providers aren't already committed to carrying the ACC Network are urged to contact their providers and ask for the ACC Network to be a part of their subscription.
ABOUT GEORGIA TECH MEN'S BASKETBALL
Georgia Tech's men's basketball team is in its fourth year under head coach Josh Pastner. Tech has been a member of the Atlantic Coast Conference since 1979, won three ACC Championships (1985, 1990, 1993), played in the NCAA Tournament 16 times and played in two Final Fours (1990, 2004). Connect with Georgia Tech Men's Basketball on social media by liking their Facebook Page, or following on Twitter (@GTMBB) and Instagram. For more information on Tech basketball, visit Ramblinwreck.com.
Season tickets for men's basketball can be purchased here.