Final Box Score (.pdf) | Full game book/play-by-play (.pdf) | Postgame Quotes | Multimedia | Photo Gallery | Postgame Notes
THE FLATS – Georgia Tech men's basketball used suffocating lockdown defense and 26 points the Michael Devoe to defeat Nebraska, 73-56, and take this year's Big Ten/ACC Challenge contest on Wednesday night at McCamish Pavilion.
The Yellow Jackets (4-2) held the Cornhuskers (4-4) to just 32.3-percent shooting overall, including just two points over the final four minutes of the first half, and 25.0-percent shooting in the second half. Meanwhile, Tech shot a consistent 43.8 for the game, including 48.6 in the second half.
The Atlantic Coast Conference's leading scorer, Devoe recorded his fifth 20-point game of the season and hit four three-point field goals to go along with his eight rebounds and seven assists. Junior forward Moses Wright nearly had his second-straight double-double, finishing with 18 points to go along with his nine boards on the night. They went 18-for-30 from the floor combined.
Nebraska was led by four double-digit scorers, highlighted by a double-double by Haanif Cheatham, who finished with 14 points and 11 rebounds. Cam Mack (11), Jervay Green (11) and Thorir Thorbjarnarson (11) also finished in double figures.
Tech returns to action Saturday, Dec. 14, when it travels to face No. 8 Kentucky in Lexington. Tipoff is at 5 p.m. at Rupp Arena, and the game will be televised live on ESPN.
Sophomore guard Michael Devoe finished with 26 points to record his fifth 20-point game of the season. Devoe leads the ACC in scoring and is sixth in the country. (photo by Danny Karnik)
Post-Game Notes
TEAM NOTES
Tech improved to 8-11 all-time in the Big Ten/ACC Challenge.
Evan Cole started in place of James Banks III for the second straight game. The lineup of Devoe, Parham, Moore, Cole and Wright also started the Bethune-Cookman game and is now 2-0.
Tech led at halftime for only the second time in six games this season. The Jackets are 39-12 under Josh Pastner when leading at the half.
Tech has won two of its games by 23 (Elon) and 17 (Nebraska) points, Tech's other four games other this season have been decided by nine points.
Tech, the nation's leader in blocked shots coming into the game, hit its average with eight against Nebraska and now has 48 in six games this season. Against the Cornhuskers, five different Tech players blocked a shot, led by Moses Wright with three.
Tech has held five of its six opponents this season under 40 percent from the floor (Nebraska finished at 32.3 percent) and has yielded 34.6 percent for the season. Tech came into the game ranked third in the ACC and No. 8 in the nation.
Tech's 32 field goals were its most in a game since hitting 32 in the 2018-19 season opener against Lamar, and its 73 field goal attempts were its most in a game since taking 73 shots against Boston College in the ACC Tournament on March 6, 2018.
Tech opponents have taken 50 more shots from the floor than have the Yellow Jackets this season, an average of nearly 10 attempts per game. But Tech has made 20 more (45.2 percent to 34.6 percent).
Tech has connected on just 9-of-44 three-point field goals in its last three games (2-for-11 vs. Arkansas, 2-for-10 vs. Bethune-Cookman, 5-for-23 vs. Nebraska) after hitting 21-of-63 (33.3 percent) in the first three games of the season.
Tech had more assists than turnovers for the first time since the season opener at NC State (20 over 18).
The 18 Husker turnovers were the most Tech has forced this season.
Tech scored a season high 48 points in the paint and is averaging 35.3 points per game there over six games. The Jackets have outscored all six opponents in the paint.
Tech's 71.0 points per game this season is more than any Yellow Jacket team has been able to sustain over a full season since 2015-16 (73.2). That is the only time the Jackets have finished a season at 70 points or more per game in the last nine seasons.
PASTNER'S KEY METRICS
Assists to made field goals: Tech has assisted on 84 of 159 field goals (52.8 percent) this season. The Jackets had 19 on 32 made field goals against Nebraska, just missing their nightly goal of 60 percent, which Tech has made three times this season.
Free throws made to opponents' attempts: Tech went 4-of-8 from the free throw line against Nebraska, while the Cornhuskers were 8-of-18, falling short of accomplishing its nightly mission of making more free throws than the opponent attempts. The Jackets are 41-17 under Josh Pastner when attempting more free throws than the opponent.
Turnovers: Tech committed 16 in the game to Nebraska's 18, the first time this season the Yellow Jackets have turned the ball over fewer times than its opponent. The Jackets have averaged 17.2 turnovers in six games, forcing 14.0. Target each night is to commit 11 or fewer, which Tech met only three times last season (all in the last four games) and none this season. More telling for Tech under Josh Pastner is that when Tech has committed fewer turnovers than its opponent, it is 23-15. When it has committed more, it is 26-31.
Guard rebounding: Tech's players outside of Banks, Cole and Wright collected 16 of the Jackets' 35 defensive rebounds. For the season, they have 85 of the Jackets' 199 defensive rebounds.
INDIVIDUAL NOTES
Michael Devoe, the ACC's leading scorer coming into tonight's action, scored 26 points against Nebraska, notching his fifth 20-point game this season and sixth of his career. He reached double digits for the 21st time in his career and for the sixth time in six games this season.
Devoe is also the ACC's leading three-point shooter by percentage, hitting 17-of-29 this season (58.6 percent), including 4-of-8 against Nebraska. He went 10-of-16 overall, improving his season rate to 55.4 percent, which ranks in the ACC's top five.
Devoe matched his career high with seven assists against Nebraska and came up one shy of his career high in rebounds with eight. He also had a team-high three steals.
Moses Wright came up one rebound shy of his second straight double-double, matching his season high with 18 points and grabbing nine rebounds. Wright is averaging 11.3 points and 8.2 rebounds this season, both career highs, and has hit 58.2 percent of his shots from the floor (8-of-14 against Nebraska).
James Banks III blocked just two shots against Nebraska, playing a season-low 24:24. He has 28 in six games this season for an average of 4.3, still No. 1 in the ACC and 1.8 per game more than last season.
Bubba Parham had not turned the ball over in Tech's last two games, covering 68 minutes. The junior from Snellville, Ga., had a season-high four assists against Nebraska and had six points, four rebounds and two steals in 32:27.
Freshman Asanti Price scored a season-high six points with four rebounds and two steals.
Evan Cole continued to play solid basketball with eight points and six rebounds against Nebraska. In Tech's last three games, he has 20 points (10-for-19 from the floor) and 18 rebounds.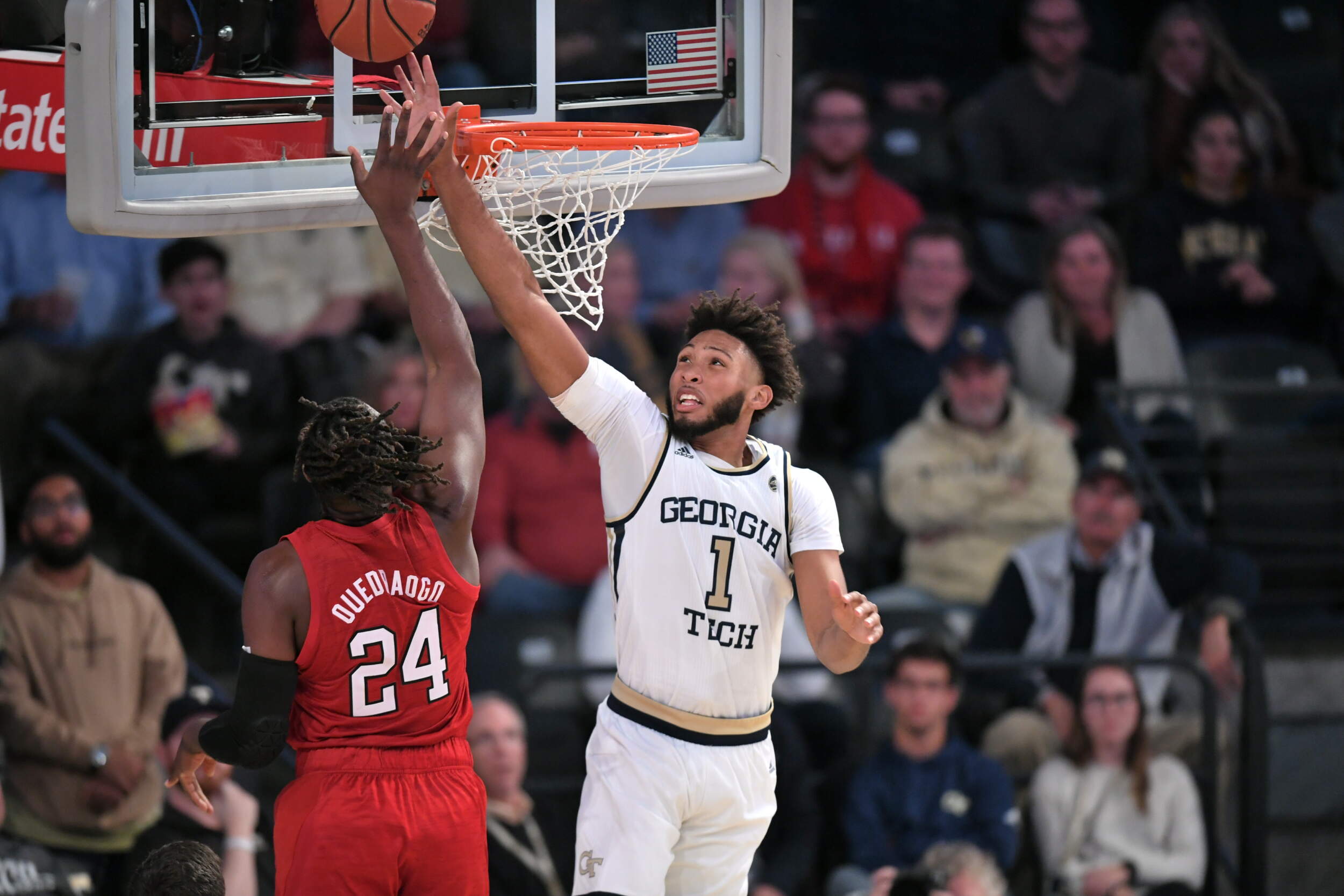 With help from big men James Banks III (1) and Moses Wright, Georgia Tech held Nebraska to just 32.3-percent shooting overall, including a paltry 25.0-percent in the second half. (photo by Danny Karnik)
Multimedia