Video recap: Georgia Tech 27, Miami 21
Final Stats (.html) | Final Stats (.pdf) | Postgame Notes | Postgame Quotes | Multimedia | Photo Gallery
2018 Georgia Tech Bowl Information and Season-Ticket Holders' Ticket Application
THE FLATS – For the 20th time in the last 22 years, Georgia Tech is going bowling after dropping visiting Miami (Fla.), 27-21, on Saturday night at Bobby Dodd Stadium.
In his first extensive action since sustaining an upper-body injury versus Duke on Oct. 13, senior quarterback and co-captain TaQuon Marshall accounted for all three of Georgia Tech's touchdowns in the win. In addition to his touchdown runs of 28 and 8 yards and a 31-yard TD pass to Brad Stewart, Marshall led the Yellow Jackets on a 12-play drive that milked the final 6:43 off the clock after Miami scored to make it 27-21 in the fourth quarter.
Marshall and the Jackets converted three third downs on the game-clinching drive, including a pivotal 22-yard pass to Jalen Camp on third-and-6 for the initial first down of the possession.
Miami (5-5, 2-4 ACC) turned the ball over three times in their third-straight loss, which led directly to 13 of Georgia Tech's 27 points. The Yellow Jackets' three takeaways give them 23 for the season (they had 10 for the entire 2017 campaign).
Marshall finished with 165 total yards (92 rushing, 73 passing) to go along with his three touchdowns. Senior linebackers Brant Mitchell and Jalen Johnson paced Georgia Tech (6-4, 4-3 ACC) defensively with eight tackles apiece.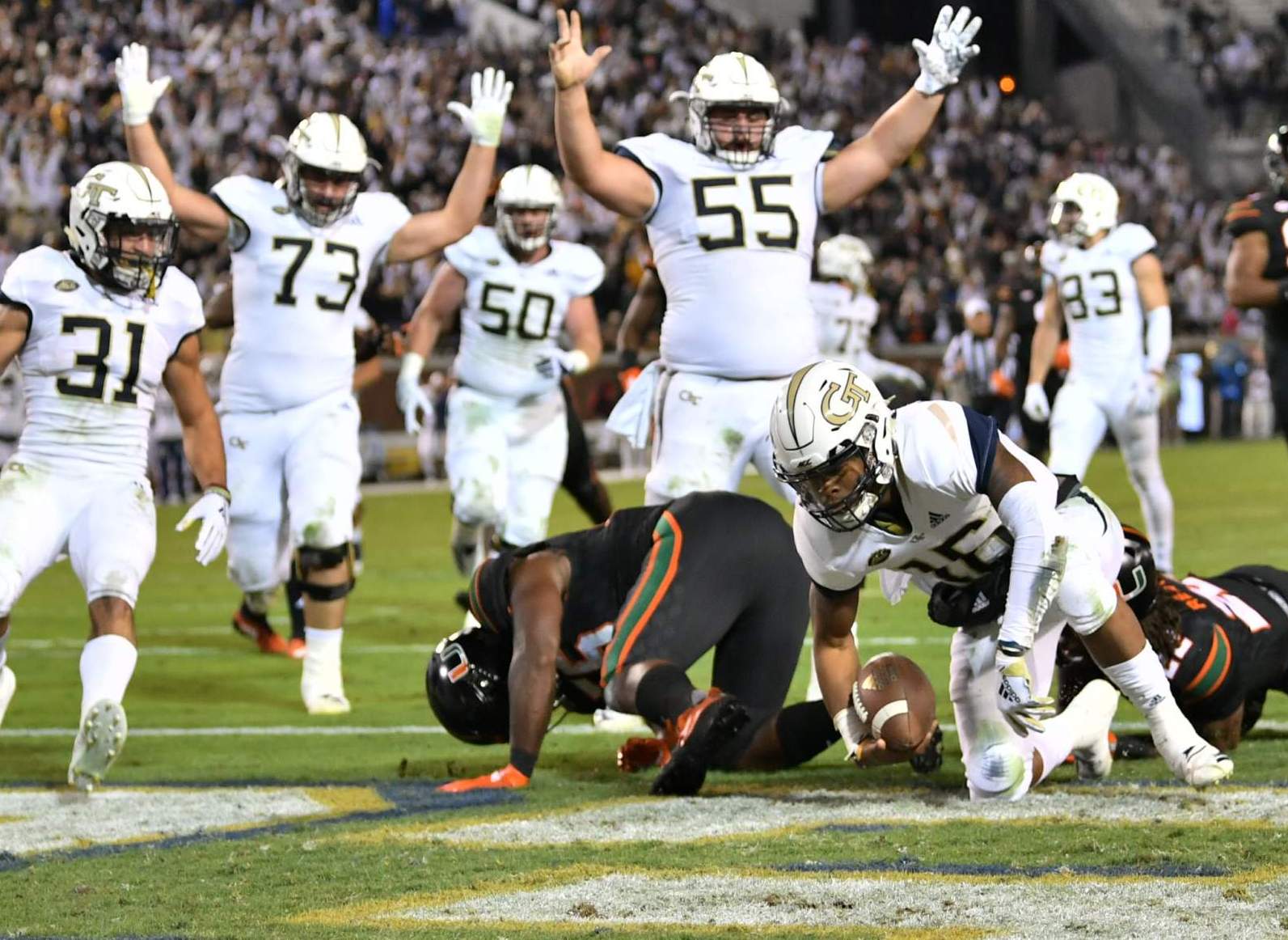 Georgia Tech celebrates one of TaQuon Marshall's two touchdown runs in Saturday night's 27-21 win over Miami (Fla.) at Bobby Dodd Stadium.
---
Postgame Notes
Team
Georgia Tech moved to 6-4 on the season at 4-3 in Atlantic Coast Conference play.
Georgia Tech became bowl eligible for the 20thtime in the last 22 seasons.
Georgia Tech ensured that it will finish .500 or better in ACC play for the 23rdtime in the last 24 seasons.
The win was Georgia Tech's third-straight, good for its longest winning streak since it won four games in a row to close the 2016 season.
Georgia Tech snapped a three-game losing streak against Miami and beat the Hurricanes for the third time in head coach Paul Johnson's 11 seasons with the Yellow Jackets.
Georgia Tech evened the all-time series versus Miami at 12-12.
Georgia Tech won for the 11thtime in its last 14 home games.
The win was Georgia Tech's fourth in its last five annual Whiteout games at Bobby Dodd Stadium.
Georgia Tech had a season-high-tying three takeaways, giving them 23 for the season. Coming into Saturday's game, the Yellow Jackets were tied for eighth nationally with 20 turnovers gained.
Georgia Tech scored 13 points off Miami's three turnovers.
Georgia Tech's three fumble recoveries were its most in a game since it recovered six in a 56-28 win at Pittsburgh on Oct. 25, 2014.
Miami's three lost fumbles were its most in a game since it lost three in a 52-13 loss at Kansas State on Sept. 8, 2012.
Individual
Taking the majority of Georgia Tech's snaps at QB for the first time since sustaining an upper-body injury vs. Duke on Oct. 13, Sr. TaQuon Marshall was responsible for 165 yards (92 rushing, 73 passing) and three touchdowns (two rushing, one passing).
Marshall is now responsible for 43 touchdowns in his career (29 rushing, 14 passing), good for ninth in Georgia Tech history.
Georgia Tech Fr. OLB Charlie Thomas'fumble recovery in the second quarter was his third of the season, the most by a Yellow Jacket in a season since Quayshawn Nealy in 2014 (3).
Thomas is only the fourth Yellow Jacket in head coach Paul Johnson's 11 seasons as Georgia Tech's head coach with as many as three fumble recoveries in a season (Derrick Morgan – 4, 2008; Jerrard Terrant – 3, 2010; Nealy – 3, 2014).
Georgia Tech true freshman PK Wesley Wells was 2-of-2 on field-goal attempts (38 and 23 yards), marking the first time in his career that he made multiple field goals in a game.
Wells also made 3-of-3 PAT attempts and moved to a perfect 39-of-39 on kick attempts this season (4-of-4 on field goals, 35-of-35 on extra points).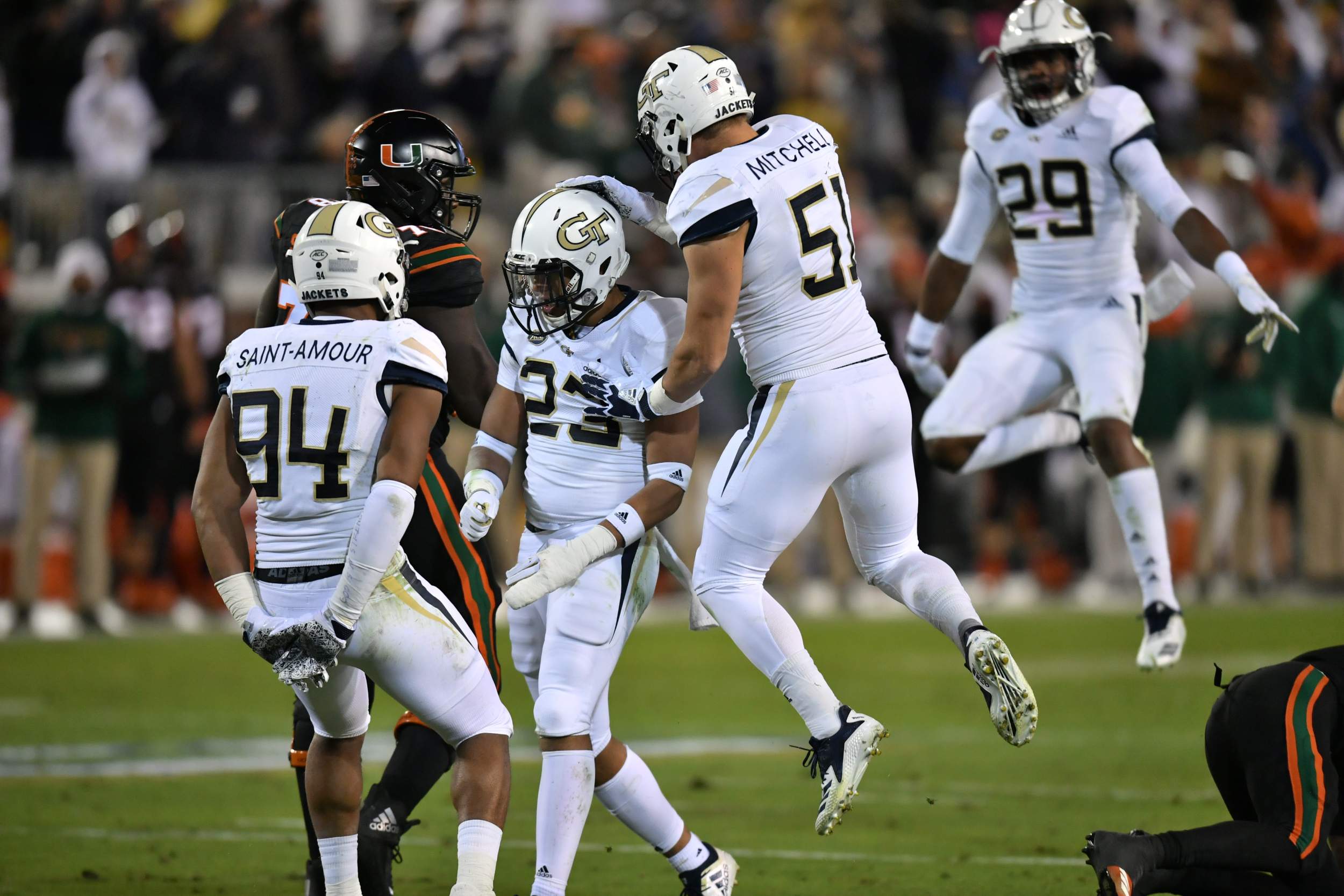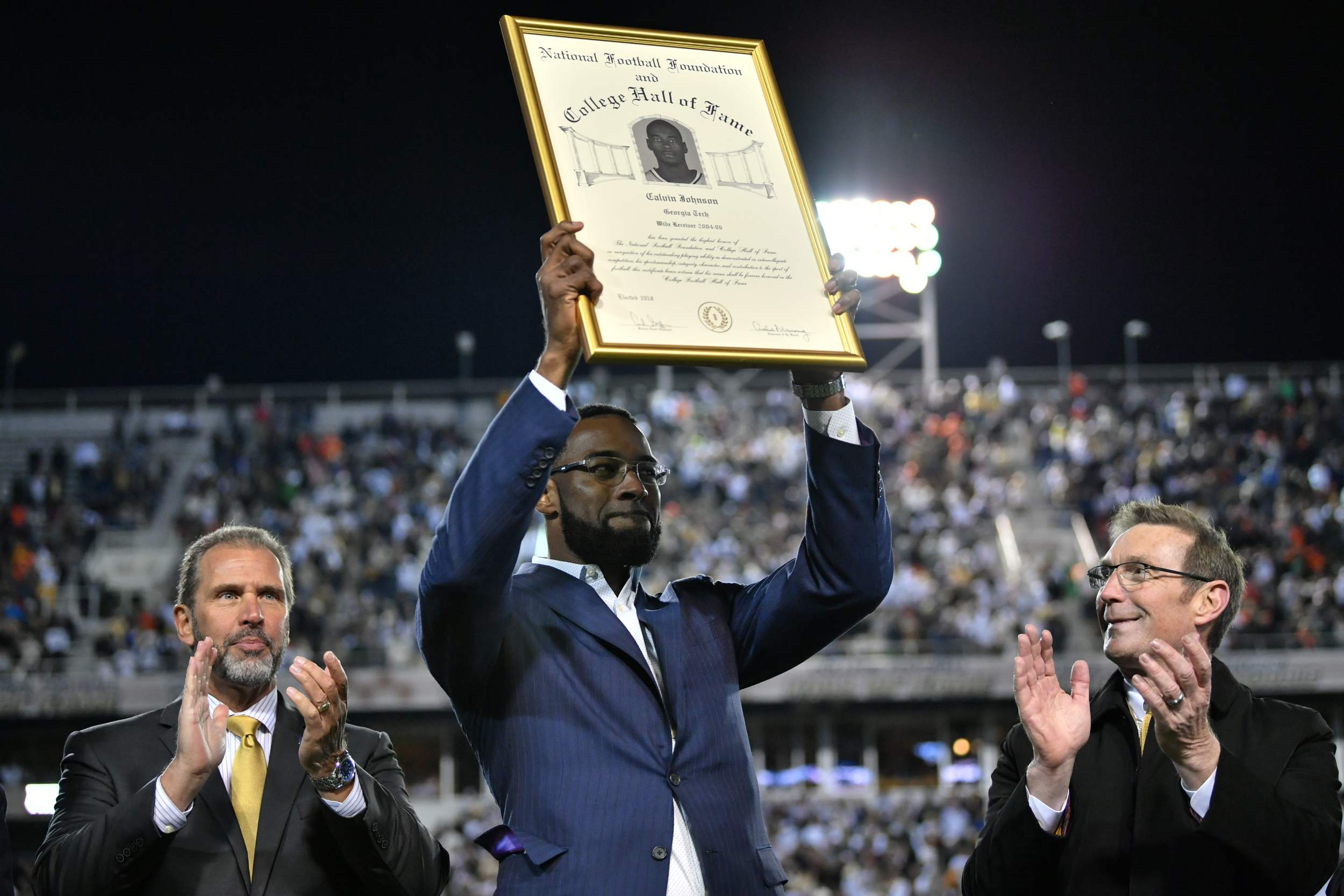 Legendary Georgia Tech wide receiver Calvin Johnson received his College Football Hall of Fame plaque in an on-field ceremony during Saturday's Georgia Tech-Miami game at Bobby Dodd Stadium.