Final Stats (HTML) | Final Stats (PDF) | Postgame Notes | Postgame Quotes | Multimedia | Photo Gallery
THE FLATS – Georgia Tech fumbled on three-consecutive plays, which led to three Duke touchdowns in a span of 1:49 and turned what was a 7-7 game late in the third quarter into a 28-14 defeat on Saturday afternoon at Bobby Dodd Stadium.
Georgia Tech outgained the Blue Devils, 354-304, but couldn't overcome its untimely spate of turnovers with less than three minutes to go in the third period. The Yellow Jackets were driving to break the 7-7 deadlock when sophomore B-back Jerry Howard began the string of fumbles at Duke's 43-yard line with 2:41 remaining in the third quarter. Fifty-two seconds later, Duke scored on a 48-yard pass on third-and-12 to take a 14-7 lead.
Duke booted the ensuing kickoff out of bounds, giving the Jackets possession at its own 40-yard line. But on the first play of the series, senior quarterback TaQuon Marshall lost control of the ball and the Blue Devils only needed five plays to make it 21-14.
Georgia Tech didn't even run an offensive play before it turned the ball over yet again, as freshman returner Juanyeh Thomas put the ball on the ground on the 6-yard line while trying to make something happen Duke's next kickoff. It took just one play for the Devils to score their second touchdown in 15 seconds and third in 1:49, giving them a commanding 28-7 lead.
The Yellow Jackets controlled play for much of the final quarter but only found the end zone once more in the disheartening loss.
Needing three victories in its final five games to become bowl eligible for the 20th time in the last 22 seasons, Georgia Tech is off next Saturday before returning to action on Thursday, Oct. 25 at Virginia Tech. Kickoff for the nationally televised contest (ESPN) is set for 7:30 p.m. The Yellow Jackets have beaten a nationally ranked Virginia Tech squad each of the last two seasons.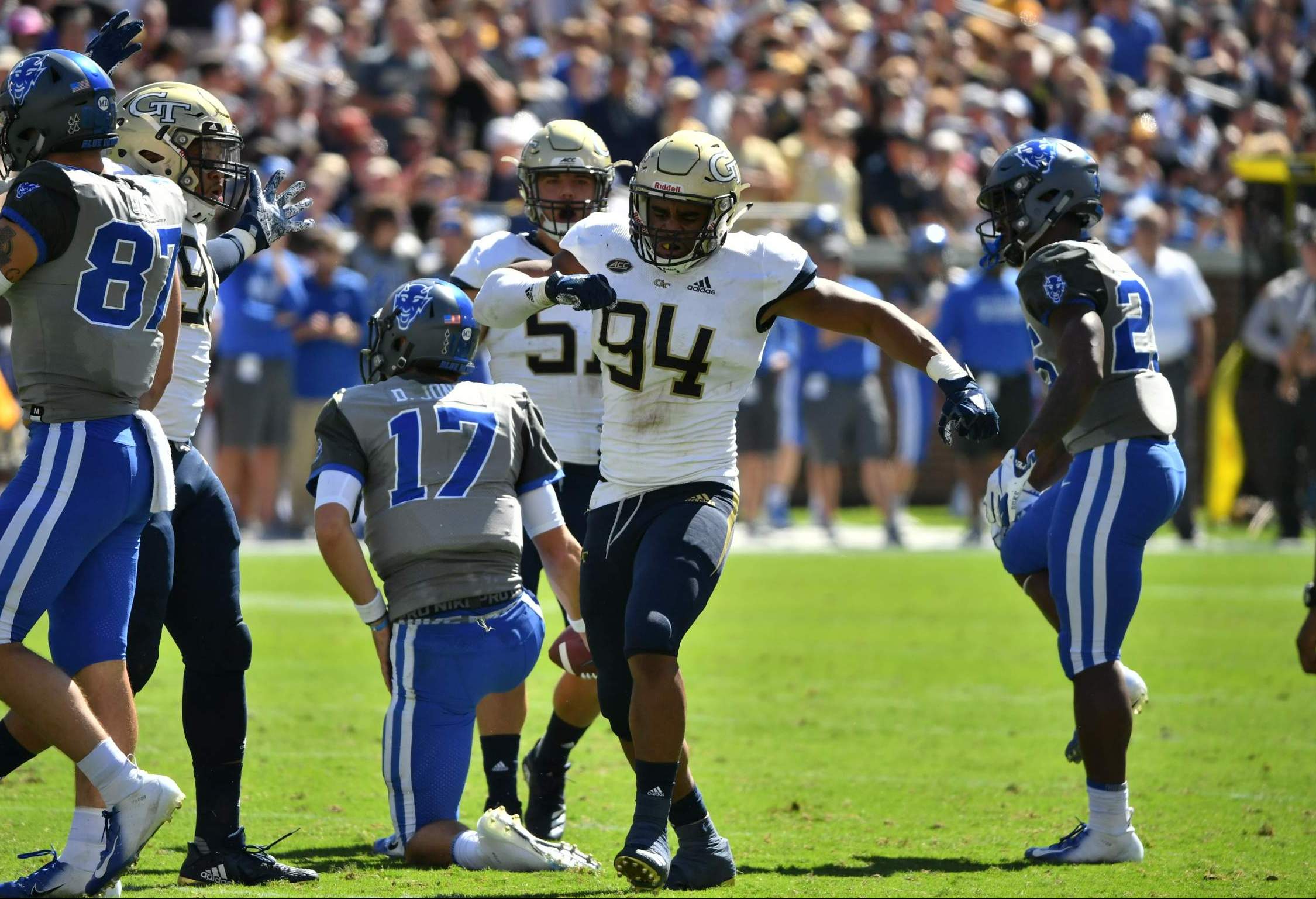 Senior defensive end Anree Saint-Amour celebrates one of his two sacks. Saint-Amour also forced a fumble and caused an interception with a QB hurry.
---
Team Notes
Georgia Tech fell to 3-4 on the season (1-3 ACC) while Duke moved to 5-1 on the season (1-1 in ACC).
The loss was only Georgia Tech's third in its last 13 home games overall and its second in its last 12 home games versus Duke.
The loss snapped Georgia Tech's nine-game home winning streak versus unranked opponents.
The loss snapped Georgia Tech's five-game homecoming winning streak. The Yellow Jackets fell to 8-2 in their last 10 homecoming games, 20-3 in their last 23 homecoming games and 53-16-1 all-time in homecoming games.
Georgia Tech limited Duke to 304 yards of total offense, which was the fewest yards allowed by GT vs. an NCAA Division I FBS opponent this season (prev.: 335 at Pitt, Sept. 15)
Georgia Tech also forced three turnovers, giving it 16 takeaways for the season. The Yellow Jackets forced 10 turnovers the entire 2017 season.
Georgia Tech, which hadn't committed a turnover in the last two games, turned the ball over on three-consecutive touches in the third quarter (two offensive plays and a kickoff return). The Yellow Jackets' three turnovers matched a season high. The Jackets committed three turnovers against Alcorn State (Sept. 1) and USF (Sept. 8).
Individual Notes
Georgia Tech Sr. DE Anree Saint-Amour matched a career high with two sacks, forced his third fumble in the last two games and was credited with a quarterback hurry. The QB hurry led directly to a Duke interception with 1:42 to go in the second quarter – two plays later, Georgia Tech scored its first points of the game on a 32-yard touchdown pass from Sr. QB TaQuon Marshall to Fr. WR Malachi Carter.
Georgia Tech's interception with 1:42 to go in the second quarter was registered by Sr. CB Lamont Simmons. It was the first INT of his career.
Georgia Tech r-Fr. Tre Swilling recorded the first sack, tackle for loss and forced fumble of his career when he stripped Duke QB Daniel Jones at the GT 25-yard line late in the first quarter.
Carter's touchdown was the first of his career. It came on only the third reception of his career.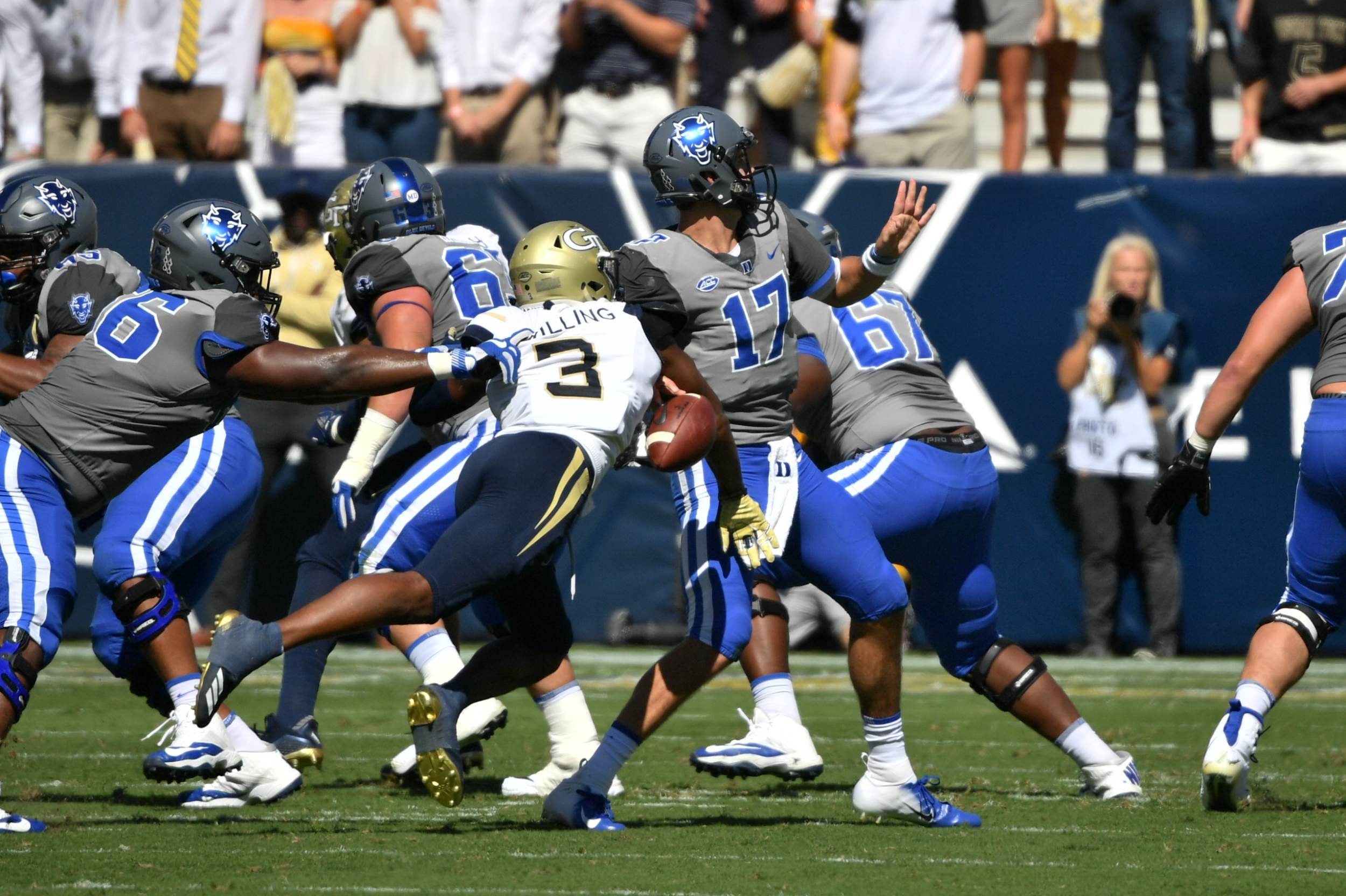 Redshirt freshman cornerback Tre Swilling's strip sack of Duke QB Daniel Jones thwarted a Blue Devils' scoring chance in the first quarter.
---
ACC Digital Network Condensed Game (Video)
ACC Digital Network Highlights (Video)
Head Coach Paul Johnson Postgame Press Conference (Audio)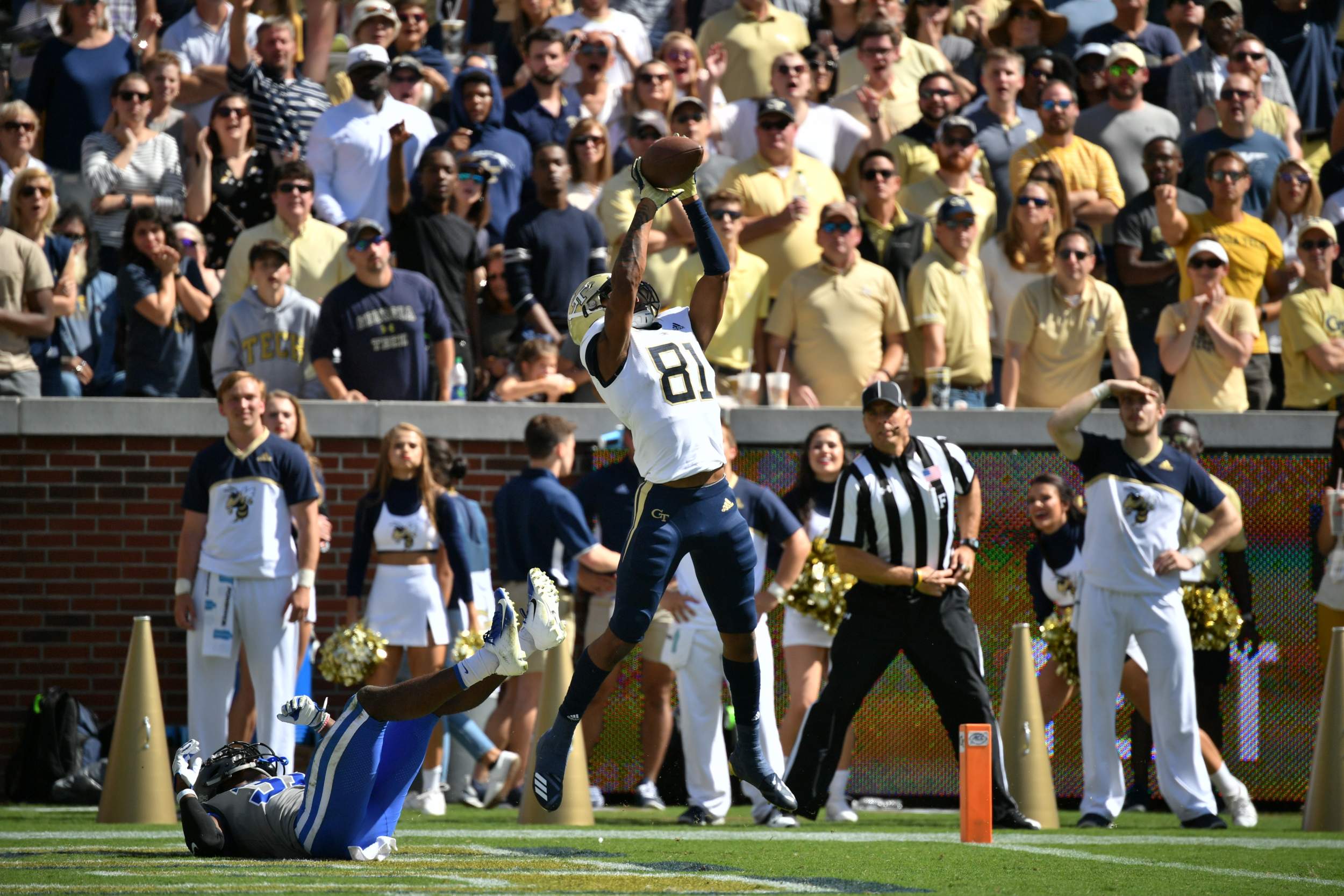 True freshman Malachi Carter scored his first-career touchdown on a 32-yard catch late in the first half.