Final Box Score (.pdf) | Full gamebook/play-by-play (.pdf) | Multimedia | Postgame Quotes | Photo Gallery | Postgame Notes
THE FLATS — Georgia Tech men's basketball pushed No. 2 Duke to the brink, but a scoring drought over the final three minutes doomed it in the 73-64 loss on Wednesday at McCamish Pavilion.
The Yellow Jackets (7-8, 2-3 ACC) battled furiously, jumping out to a 14-6 lead to start the game, before using a 9-0 in the second half to regain the lead 59-58. The Blue Devils (14-1, 4-0 ACC) capitalized on Tech's cold-streak, going on a 12-3 run over the final 4:17 of the game to get the decision.
Tech was led by junior guard Jose Alvarado's 18 points and five assists as he finished as one of four Jackets in double figures. He joined senior James Banks III (14), junior Moses Wright (12) and sophomore Michael Devoe (12), with Banks III hauling in his fourth double-double of the year and Wright his fifth. Banks III finished with a season-high 15 rebounds, with seven blocks to boot, while Wright dragged down 10 boards, helping Tech hold a 39-30 rebounding edge on the night.
Duke's Tre Jones led the way with 14 points, eight rebounds and seven assists, while Cassius Stanley (14), Vernon Carey (11) and Matthew Hurt (11) rounded out the other double-figure scorers.
Only four teams this season have played the second-ranked Blue Devils to within 10 points as Georgia Tech joins Stephen F. Austin (+2), Georgetown (-8) and No. 3 Kansas (-2).
Georgia Tech returns to the floor when it travels to Boston College for a 6 p.m. tip on Saturday, Jan. 11. The game will be broadcast live on ACC Network.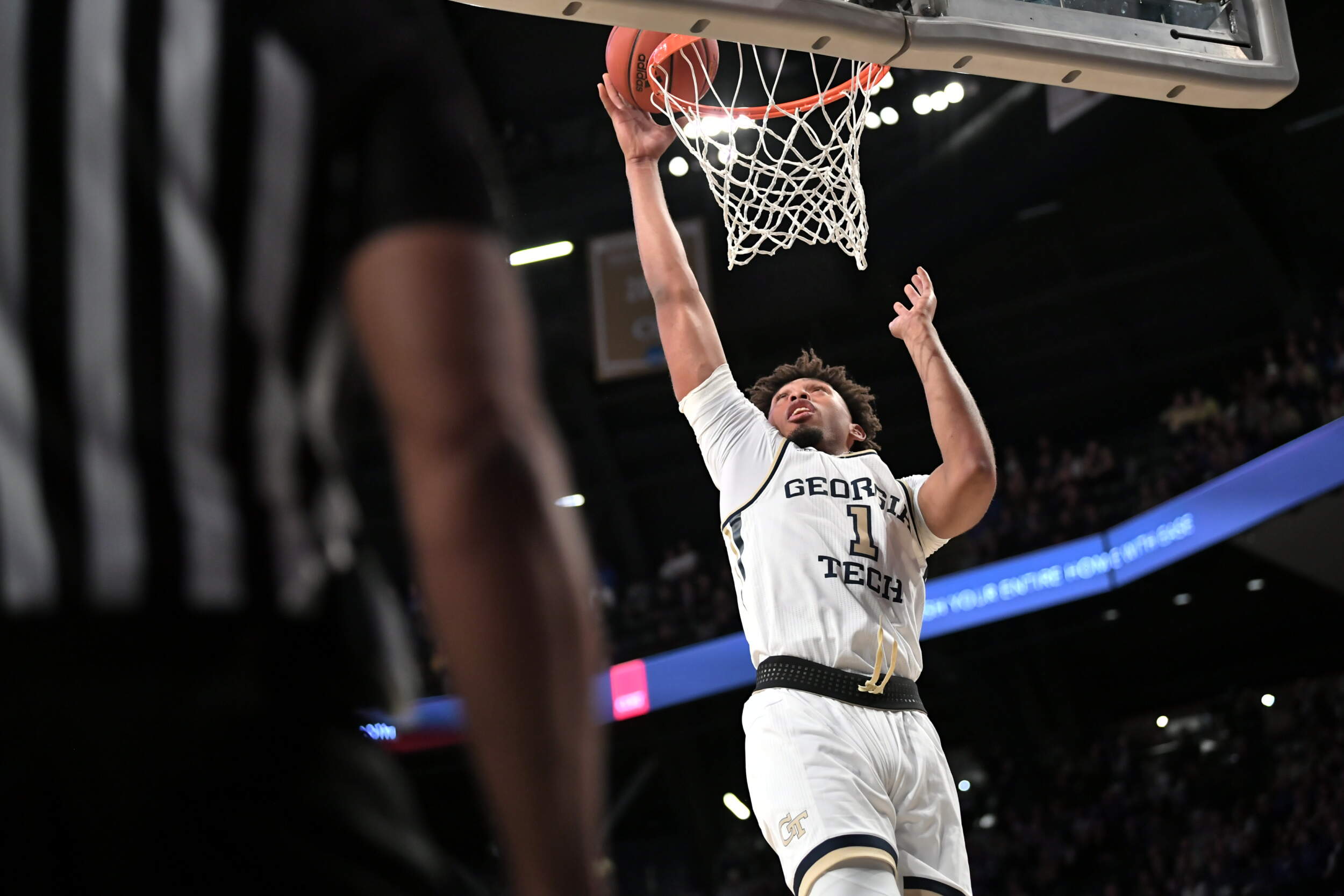 James Banks III recorded his fourth double-double of the season, scoring 14 points and hauling in a season-high 15 rebounds. He also chipped in seven blocks on the night (photos by Danny Karnik)
Post-Game Notes
Tech is 4-4 away from this season, 3-4 at home.
Tech has trailed at halftime in 12 of its 15 games this season, coming back to win four of those games. The Jackets are 14-48 when trailing at the half under Josh Pastner.
Tech's game against Duke was the 20th sellout in the seven-plus-year history of McCamish Pavilion.
Tech took 16 offensive rebounds in the game, a season high, and converted a season-best 14 second-chance points from them.
Tech hit 13-of-15 shots from the free throw line against Duke and has connected on 86-of-112 (75.2 pct.) in its last six games. Tech has hit the 70-percent mark in its last six straight games after missing that mark in eight straight games prior to its trip to Hawai'i.
Tech has hit 19-of-52 three-point attempts in its last three games (36.5 percent). The Jackets have hit 34.7 percent from distance in ACC games.
Tech began the season hitting 21-of-63 in its first three games (33.3 percent). In the nine games in between, Tech connected on just 36-of-149 attempts (24.2 percent).
Tech has averaged 15.5 turnovers over its last six games since the return of Jose Alvarado, compared with 17.4 prior to that. With Alvarado on the floor this year, Tech has averaged 15.8 turnovers, compared with 18.6 in the seven games in which he was absent.
INDIVIDUAL NOTES
James Banks III has averaged 12.4 points and 8.8 rebounds against ACC teams this season, hitting 53.3 percent of his shots from the floor.
Banks' notched his fourth double-double this season against Duke with 14 points and a career-high 15 rebounds. It was his first double-double since Dec. 1 vs. Bethune-Cookman, and the 11th of his career.
Banks blocked seven Duke shots, the most by any player against Duke since 2016, and one off his career high of eight set against Bethune-Cookman on Dec. 1. He remains No. 2 in the ACC at 3.07 per game.
Moses Wright posted his fifth double-double this season with 12 points and 10 rebounds. The last four have come against Kentucky, Houston, Florida State and Duke.
Wright has scored in double figures in six consecutive games, averaging a team-high 16.7 points and 8.2 rebounds over that stretch while hitting 53.2 percent of his shots from the floor. The 6-9 junior ranks No. 2 in the ACC in field goal percentage (54.0) and No. 7 in rebound average (8.1).
Wright is Tech's high scorer and rebounder in ACC games at 15.2 points and 9.0 rebounds per game, and he has hit 48.6 percent of his shots from the floor against the league.
Jose Alvarado has averaged 21.5 points over his last two games against North Carolina (25) and Duke (18), with 13 assists and eight steals. He has hit 15-of-24 shots from the floor and 6-of-10 from three-point range.
Bubba hit a pair of three-point field goals in three attempts and scored six points with a career-high six rebounds in 24:46 off the bench. He is 8-of-17 from the floor in his last four games, 4-of-8 on threes. All five of his double-figure games this season have come against power-conference foes (Georgia, Arkansas, Syracuse, Kentucky and North Carolina).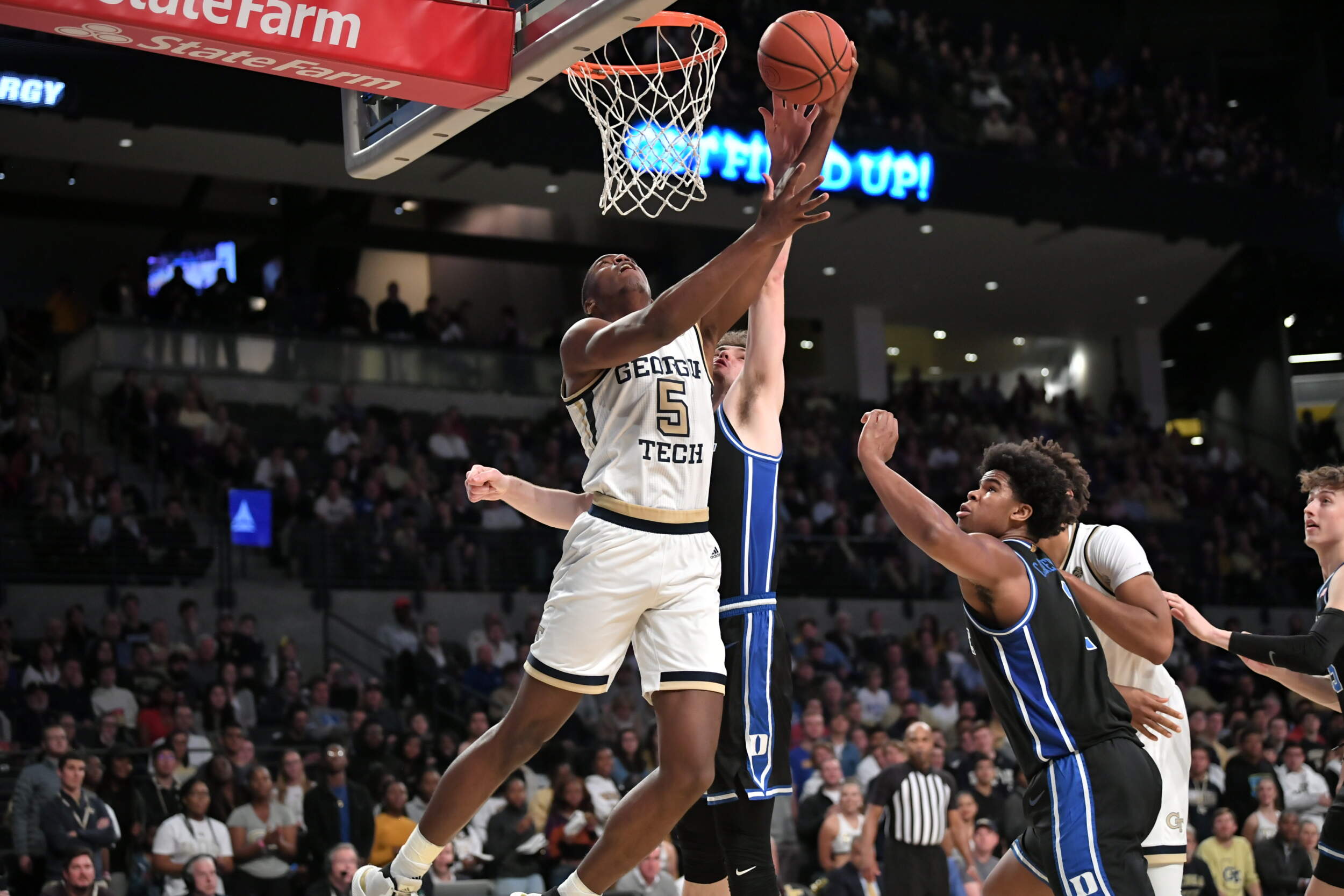 Moses Wright had another strong outing, notching his fourth double-double of the season with 12 points and 10 rebounds. (photos by Danny Karnik)