THE FLATS – Georgia Tech football opens its seven-game 2019 home schedule on Saturday, Sept. 7 vs. USF. Kickoff is set for 2 p.m. at Bobby Dodd Stadium, the historic on-campus, midtown-Atlanta home of the Yellow Jackets.
Part 4 of a four-part series outlining new stadium initiatives and reminders for fans prior to attending Saturday's season opener highlights additions to the gameday experience geared towards Georgia Tech students at Bobby Dodd Stadium.
An EXCITED, ENERGIZED and ENGAGED Georgia Tech student body is vital to the gameday experience at Bobby Dodd Stadium for ALL fans, the student-athletes representing the Institute on the field and recruits on hand that may be experiencing a Georgia Tech gameday for the first time! Therefore, the following initiatives and promotions have been put in place to encourage Georgia Tech students to arrive early (be in your seats 30 minutes prior to kickoff – 1:30 p.m. for this Saturday's home opener vs. USF), stay late and BE LOUD while cheering on your Yellow Jackets.
WHITEOUT TANK TOP GIVEAWAY | STUDENT SECTION D.J. | #SEASON TICKETS | STUDENT SINGLE-GAME TICKETS | TAP AND GO STUDENT ENTRY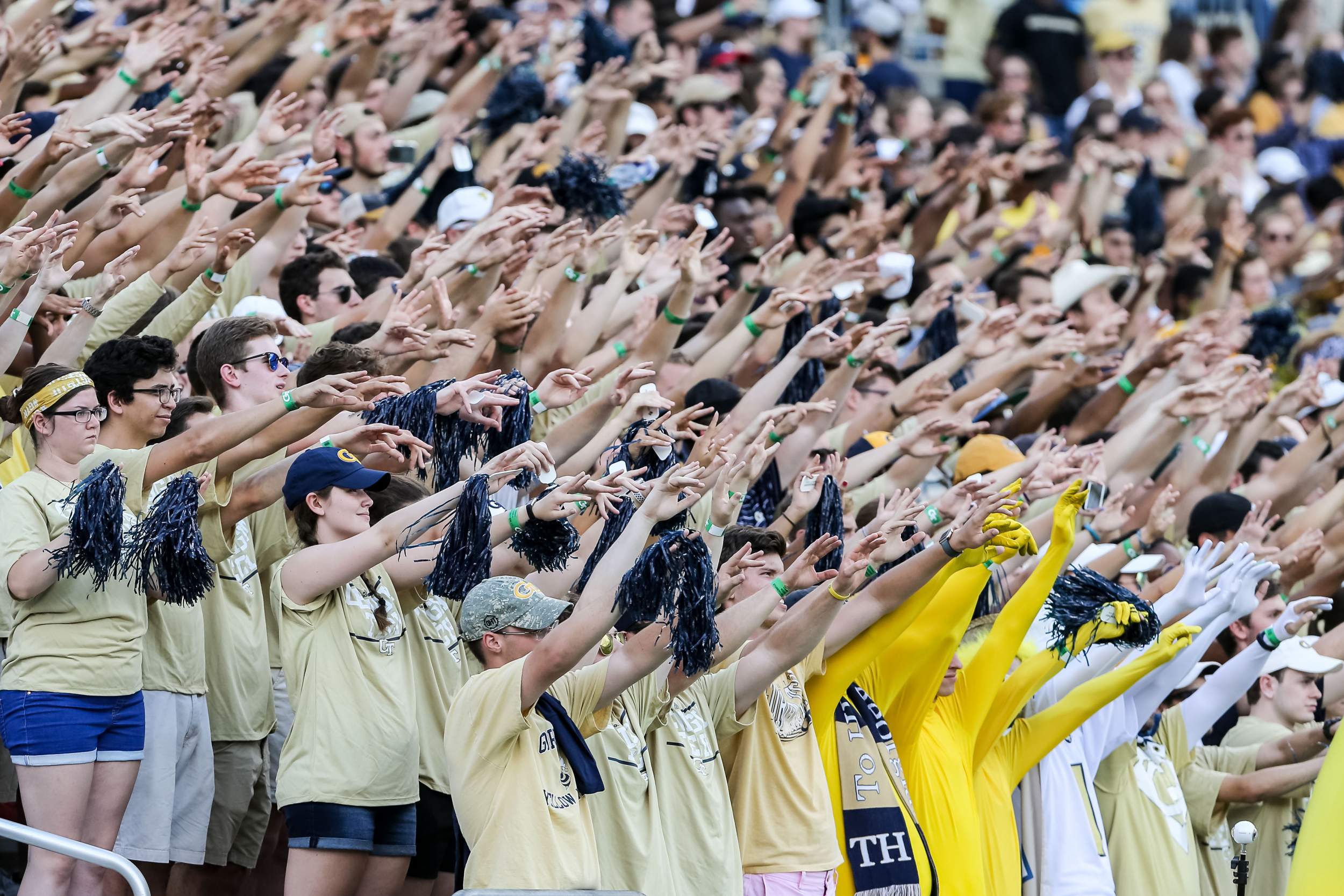 WHITEOUT TANK TOP GIVEAWAY
For Saturday's home opener vs. USF, the first 1,500 Georgia Tech students in attendance will receive a FREE white GT football tank top.
Tank tops can be claimed inside Bobby Dodd Stadium on the north concourse.
Georgia Tech students must show a valid Buzz Card to claim a tank top.
STUDENT SECTION D.J.
For ALL Georgia Tech home games in 2019, a D.J. will be stationed in the student section on the north end of the stadium to help energize the GT student body throughout the game.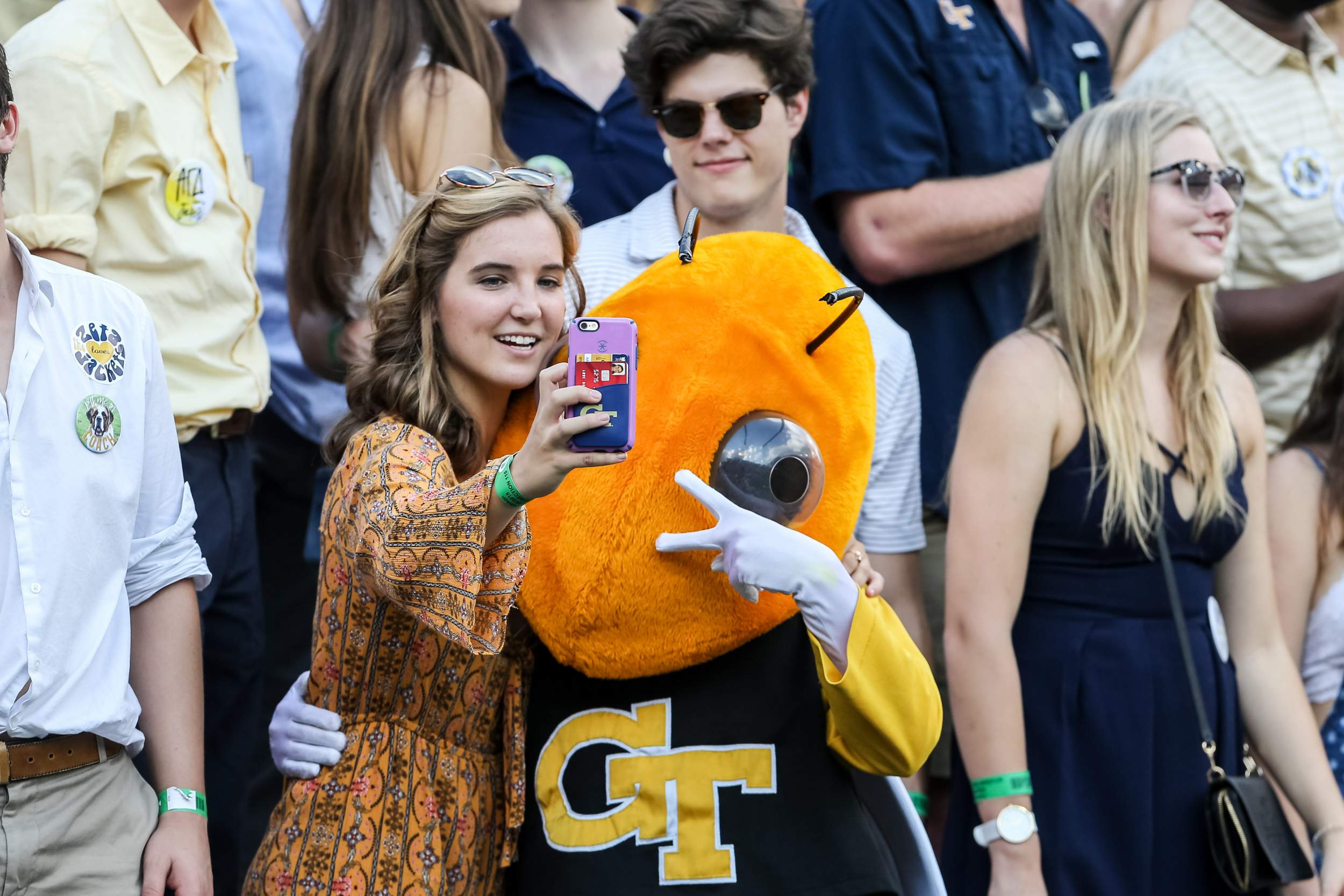 STUDENT SEASON TICKETS – YELLOW JACKET CLUB
Student season tickets are included with a Gold membership to the Yellow Jacket Club, which costs just $65 per student for the 2019-20 academic year.
Students that purchase a Yellow Jacket Club Gold membership are guaranteed a seat in the student section located in the lower north end zone (sections 112-120) and will receive a FREE 404 Whiteout t-shirt.
Yellow Jacket Club Gold memberships can be purchased online at com/students.
STUDENT SINGLE-GAME TICKETS
Complimentary single-game tickets will be distributed to Georgia Tech students beginning on the Monday before each home game on a first-come, first-served basis at com/students.
Seating for students that claim tickets on a single-game basis are available in the student section located in the south end zone (sections 133-136).
TAP AND GO STUDENT ENTRY
Students who have purchased season tickets or claimed single-game tickets can add their Tap and Go tickets to Apple Wallet or G Pay and enter the stadium simply by placing their iPhone, Apple Watch or Android device near a reader, eliminating the need to scan or worry about misplacing paper tickets.
With Tap and Go entry, entry at student gates will be expedited and fraud risk will be significantly reduced through the elimination of barcodes, rendering photos and screenshots of tickets useless.
Georgia Tech is testing Tap and Go entry with student tickets during the 2019 football season in hopes of utilizing the technology on a broader level in the future.
TICKETS
Thanks in large part to the excitement surrounding head coach Geoff Collins' first season at the helm of the Yellow Jackets, 2019 Georgia Tech football season tickets (beginning at just $219), Stinger Mobile Passes (starting at just $149) and single-game tickets (beginning at just $15) continue to sell briskly, so buy yours today! For more information and to purchase tickets online, visit ramblinwreck.com/footballtickets.
For the latest information on the Georgia Tech Yellow Jackets, follow us on Twitter (@GTAthletics), Facebook, Instagram or visit us at www.ramblinwreck.com.