Lila Best and Brentavious Glanton came from different corners of the Georgia Tech Athletic Association, yet they were quite alike when it came to taking advantage of the summer internships available to Tech student-athletes through the Athletic Association's renowned Fifth Street Bridge Program.
Best, who graduated in May 2019 with a business administration degree, was a swimmer for the Yellow Jackets. Glanton, who graduated in December 2019 with a business administration degree, was a defensive lineman on the football team. But, they both kick-started their professional careers via summer internships, beginning with "micro-internships (short-term internship opportunities)" at RaceTrac Petroleum headquarters in Atlanta in May 2019.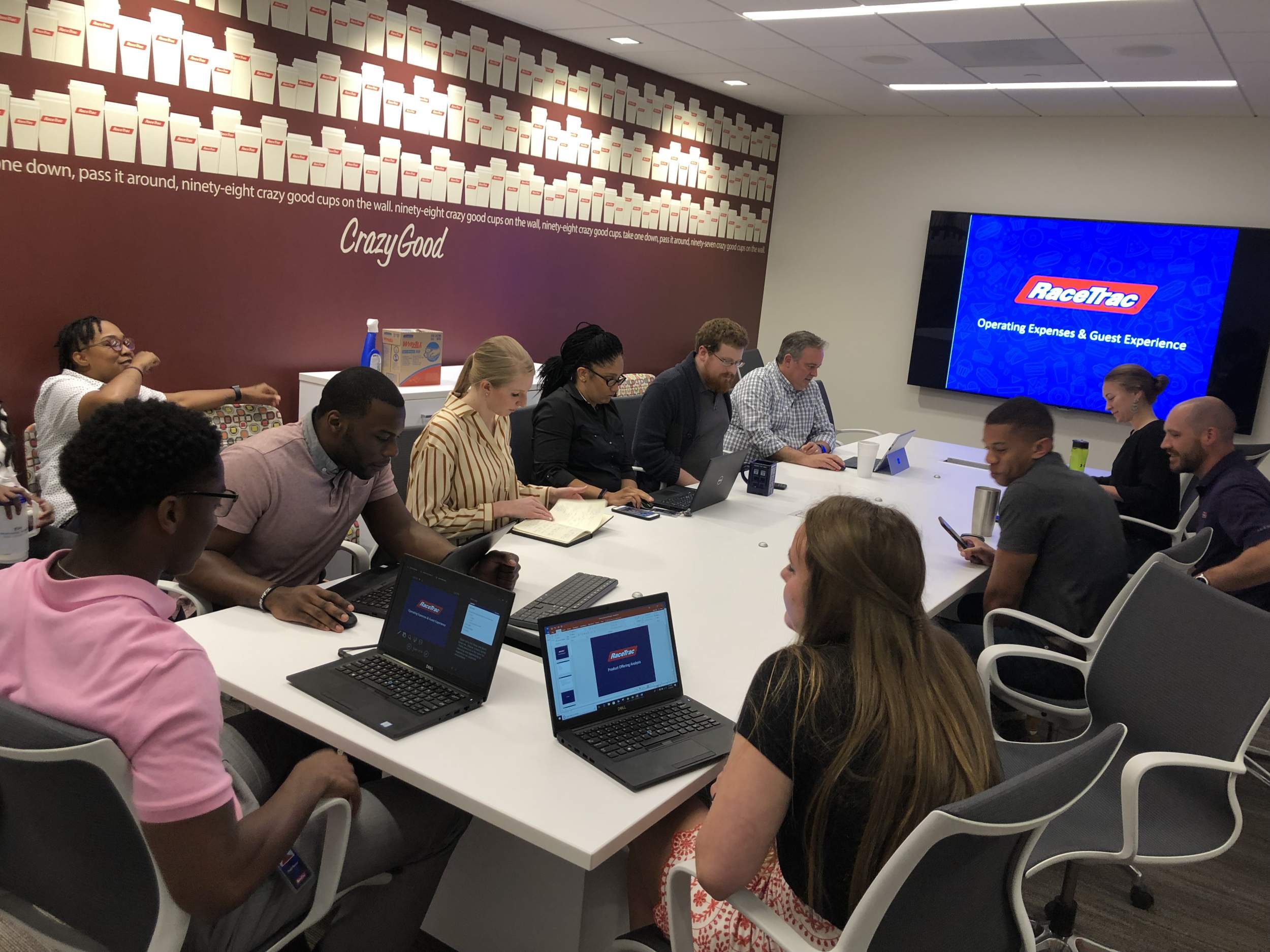 Both turned pro in things other than sports after their time as Tech student-athletes. And it was their participation in the Fifth Street Bridge program — which saw more than 100 student-athletes participate in summer internships in 2019 — that played a big part in their professional development.
"I worked with promotions," Glanton said of his time at Atlanta's RaceTrac offices. "We were building limited-time offers and stuff like that. We met with different vendors . . . and I learned a lot about how to carry yourself, and how to get what you want.
"We were in the office mostly, but we did store visits. If a vendor has a product they're trying to get on the shelves, we did taste tests. I really liked the culture they had. It felt like a family environment."
For Best, her RaceTrac internship took off in the operations department where she "looked at potential new products that they should offer, and decided what would be good ideas going into the summer. We actually did store rides and went to their truck stop."
Volleyball's Grace Rigsbee and student assistant football coach Jaylend Ratliffe also worked at RaceTrac last summer, as a record 107 student-athletes lined up summer internships with help from Georgia Tech athletics.
The athletics internship program was rebranded as the Fifth Street Bridge Program because of the many opportunities available to student-athletes in Midtown Atlanta, which is connected to campus by the Fifth Street Bridge.
Accenture and EY, for example, are just a short walk from the heart of Tech's Midtown campus. RaceTrac, Waffle House, the Atlanta Zoo, NASA, IBM, Norfolk Southern, Delta, and UPS are among the other companies that offer on-the-job learning experiences for Tech student-athletes, who welcome the ability to participate in high-level internships while remaining in metro Atlanta. This essentially enables them to benefit from some of the nation's most prestigious internships and still participate in their teams' offseason programs. It's a best-of-both-worlds opportunity that isn't afforded to many of the nation's Elite student-athletes — simply because of geography.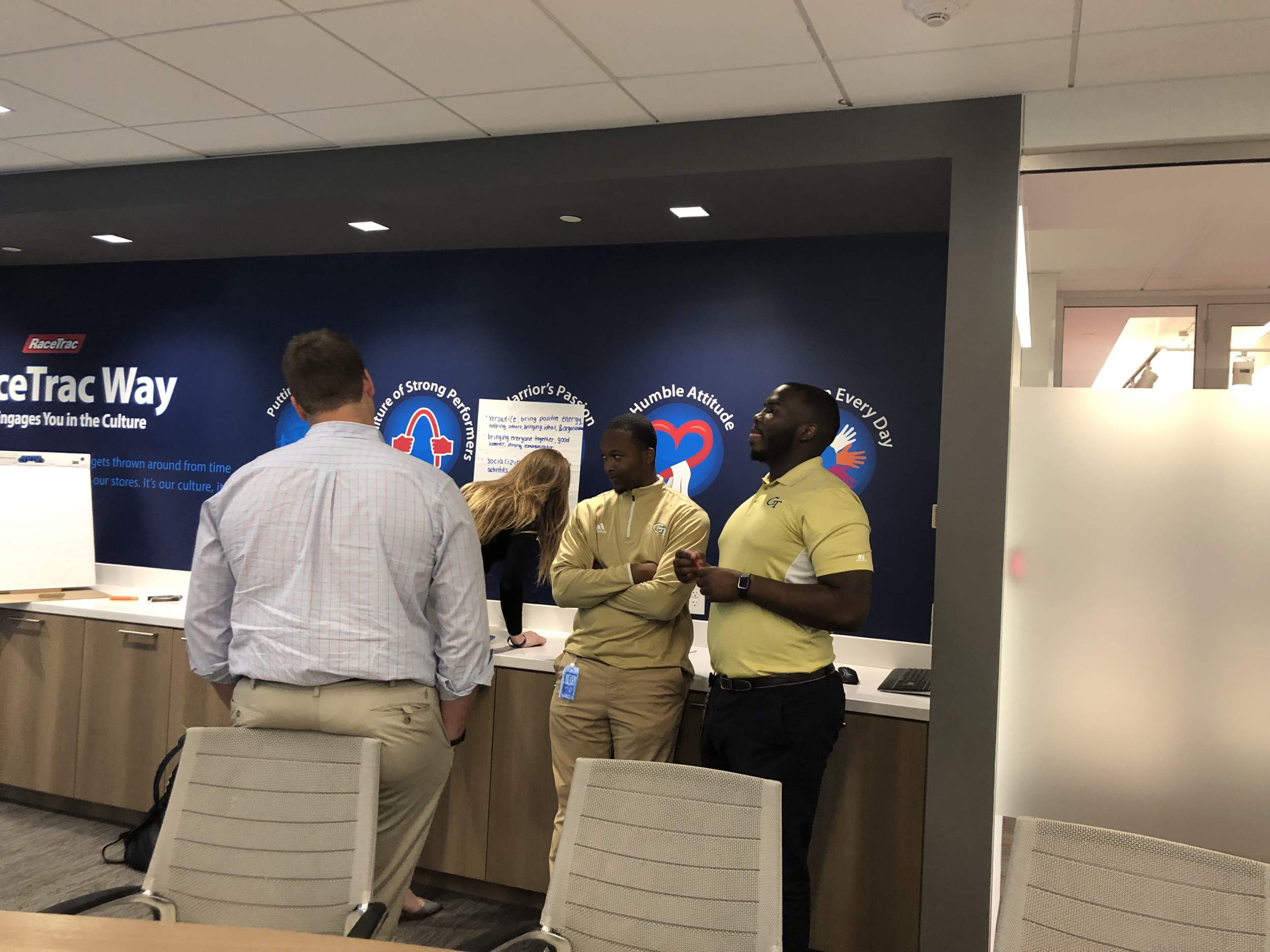 After their micro-internships at RaceTrac, Best and Glanton both settled into full-summer internships in the Atlanta area — Best with UPS Capital and Glanton with Barton Executive Search.
"I worked with the higher-ups to help develop corporate strategy they want the company to focus on in the future," Best said of her time at UPS Capital. "Another one of the projects [was] interviewing people in different departments — they all have different committees and governance — to see if their meetings are redundant. We want to eliminate red tape.
"In a more creative project, [I also helped] upgrade the [employee] reward system."
Glanton was one of three Georgia Tech football student-athletes (along with Omahri Jarrett and Christian Campbell) who interned at Barton Executive Search in 2019. Barton has hired many Tech student-athletes in recent years, both as interns and as full-time employees, upon graduation.
"We like to say we don't find jobs for people, we find people for jobs," Glanton said of his time with Barton.
Both Best and Glanton parlayed their participation in the Fifth Street Bridge Program and their degrees into impressive full-time jobs upon their graduation from Tech. Best's internship with UPS Capital turned into a full-time position, while Glanton landed a job with Amazon.
Thanks in large part to the Athletic Association's annual career and internship fair, held in September 2019, many student-athletes have already secured internships for summer 2020. A full list of student-athletes participating in the 2020 Fifth Street Bridge Program will be finalized in May.