INDIANAPOLIS – Former Georgia Tech baseball standout and two-time MLB World Series champion Jason Varitek will receive the NCAA Silver Anniversary Award in January, the association announced Thursday.
One of the NCAA's most prestigious awards, the Silver Anniversary Award recognizes distinguished individuals for their collegiate and professional achievements on the 25th anniversary of the conclusion of their college athletics careers. He joins Tim Cullen, Mia Hamm, David Hirsch, Lisa Leslie and Heath Shuler as the 2019 honorees.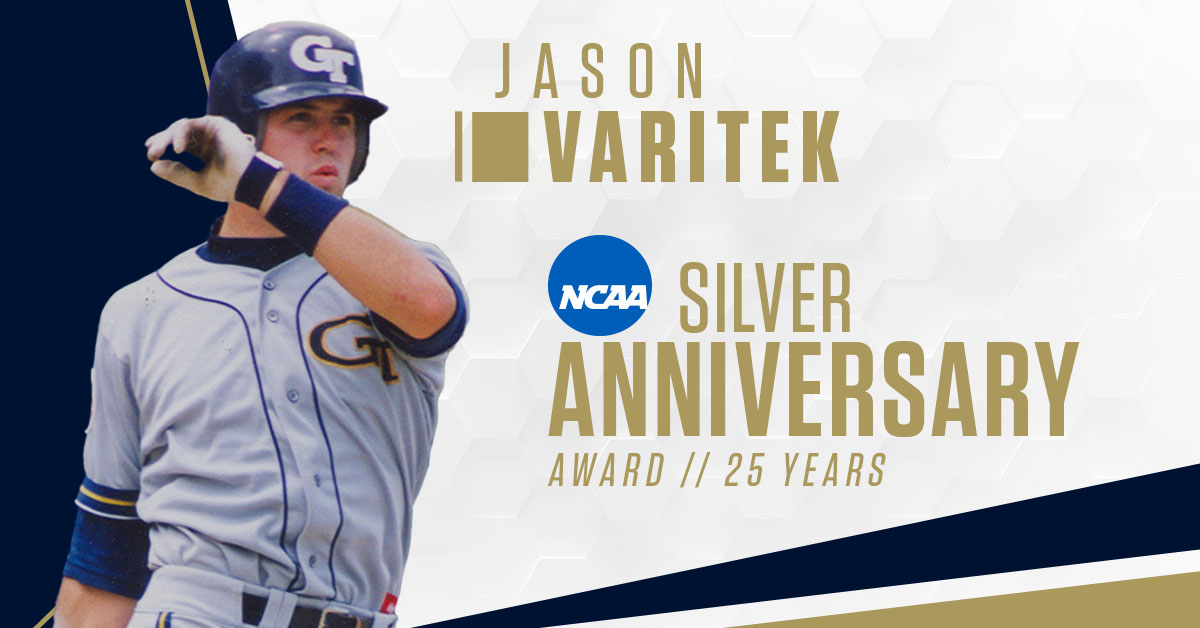 A three-time first-team All-American at Georgia Tech, Varitek began his illustrious collegiate career by earning the Atlantic Coast Conference's Rookie of the Year Award in 1991. He would go on to win the ACC Player of the Year award in 1993, when he led the conference in hitting (.404) and home runs (22). En route to a Golden Spikes Award in 1994, Varitek helped the Yellow Jackets swarm all the way to the College World Series where they were runner-up.
The only player in Georgia Tech baseball history to have his number retired, Varitek is still atop many of the program's annals, leading in most career games played (253), runs scored (261), base hits (351), home runs (57), RBIs (251), total bases (610), doubles (82), batting average (.384) and slugging percentage (.667).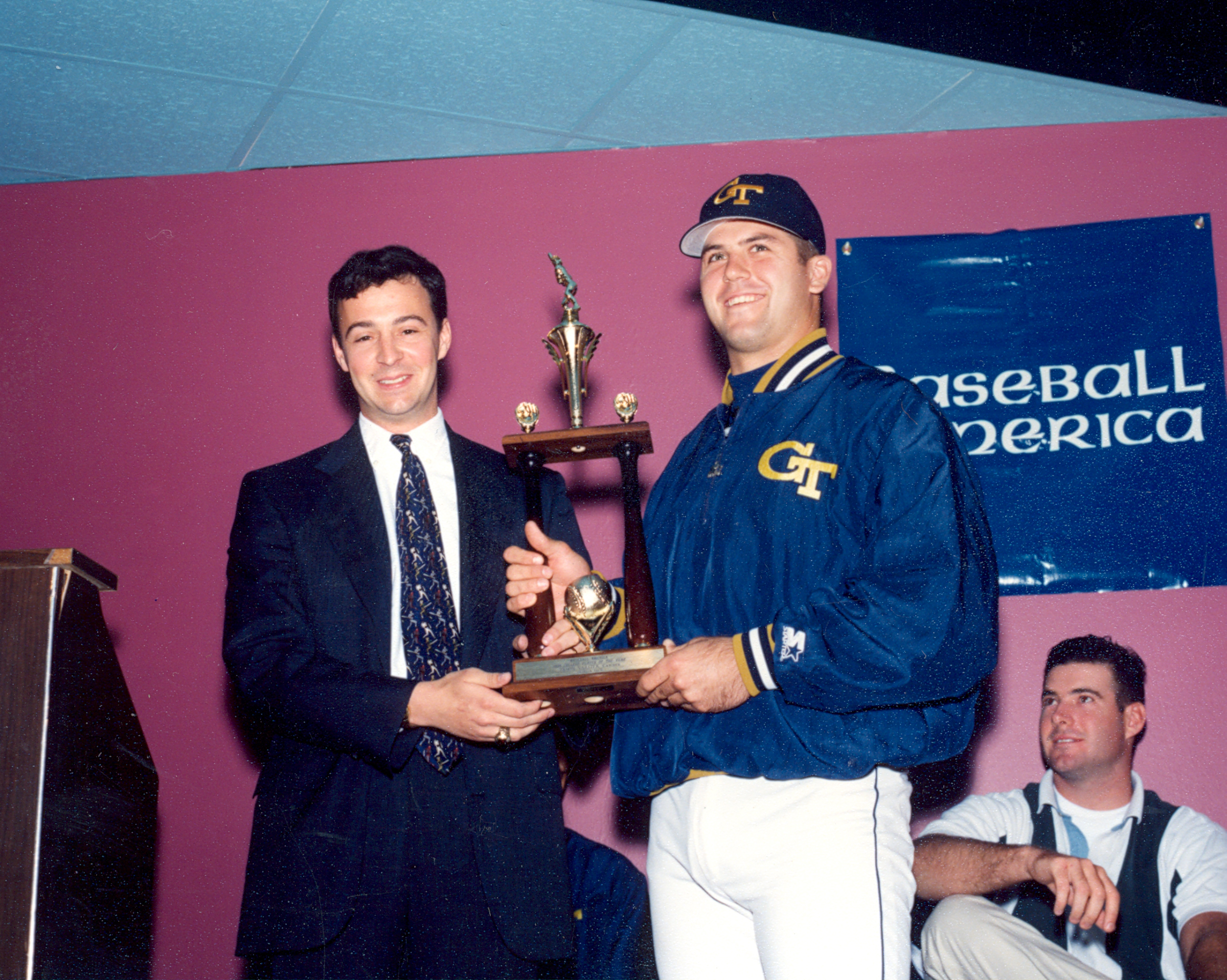 After completing his degree in management, Varitek went on to play 15 seasons professionally with the Boston Red Sox. While in Boston, he would help the Red Sox to two World Series championships, as well as garnering American League All-Star honors three times. In 2005, he captured both the Rawlings Gold Glove Award and the Silver Slugger Award. He holds the Red Sox record for most postseason games played in team history and also the most opening-day starts for a Red Sox catcher. After retiring from the field, Varitek served as special assistant to the general manager for the Red Sox and is now the special assistant to the team's president of baseball operations.
Off the field, Varitek has worked just as hard to give back to the communities he's played in. One of his largest charity events is the Tek & Friends Charity Golf Classic, which benefits Pitching in for Kids – a nonprofit organization that provides grants designed to improve the lives of children across New England.
He's also held 'Jason Varitek Charity Putt-Putt' for seven years with proceeds benefitting the Boston's Children Hospital and Journey Forward – an organization that focuses on helping patients with severe spinal cord injuries. He's served as co-chair of the Pancreatic Foundation Dinner for Boston, a panelist for "Inside the Baseball Champions for Charity Lunch" and headlines the Maine Children's Cancer Program Dinner. In connection with The Flats, Varitek held the "Tek for Tech Charity Golf" outing in 2016 and 2018, benefitting Georgia Tech baseball.
Varitek is the fifth Yellow Jacket to earn the impressive honor, joining Steve Raible (1976), Larry C. Morris (1955), Cecil J. Silas (1953) and Howard H. Callaway (1949).
The 2019 honorees will be honored on Jan. 23 at the Honors Celebration during the 2019 NCAA Convention in Orlando, Fla.
JASON VARITEK ON BEING NAMED A SILVER ANNIVERSARY AWARD RECIPIENT
"Whether you were a great student growing up or not, you had to become a great student to make it at Georgia Tech. There are no cutting corners. You're going to get out of it what you put into it. They are going to demand that from you. I remember one of my management classes, we had a professor named Philip Adler, who would call me out every single day I was there and made me answer a question. And that's just the way Tech is.
"My experience was unbelievable. The academics there are second to none. The baseball program was top-notch. The people, the educators, the coaches — coach Jim Morris and his staff and later on coach Danny Hall and his staff — it was just great.
"What you learn from being an athlete, which I think is such a huge asset for those who play in college, is you have to win. That will to win and that fight to win is learned. Add on what you gain academically and learning how to manage life, manage money, manage time as you're getting your education, you walk out of there a heck of a lot smarter than when you walked in." — As told to the NCAA's Jeremy Villanueva.
For the latest information on the Georgia Tech baseball team, follow us on Twitter (@GTBaseball), Facebook, Instagram (@gt_baseball) or visit us at www.ramblinwreck.com.