THE FLATS –Phase II of renovations at Russ Chandler Stadium, the home of Georgia Tech baseball, is fully underway after construction began in earnest on June 11.
After meeting its $9 million fundraising goal in March 2019 as part of Georgia Tech's Athletics Initiative 2020 and receiving approval from the University System of Georgia Board of Regents, Phase II of the Russ Chandler Stadium renovation project is scheduled to be completed before Georgia Tech baseball opens its 2021 season in February. No state funds are being used for the project.
Phase II renovations are driven by Georgia Tech athletics' vision for its nationally renowned baseball program – to improve fan experience, enhance player development and celebrate the Yellow Jackets' rich baseball history. When complete, the upgrades will cement Russ Chandler Stadium's standing as one of the premier facilities in all of college baseball.
PROJECT RENDERING: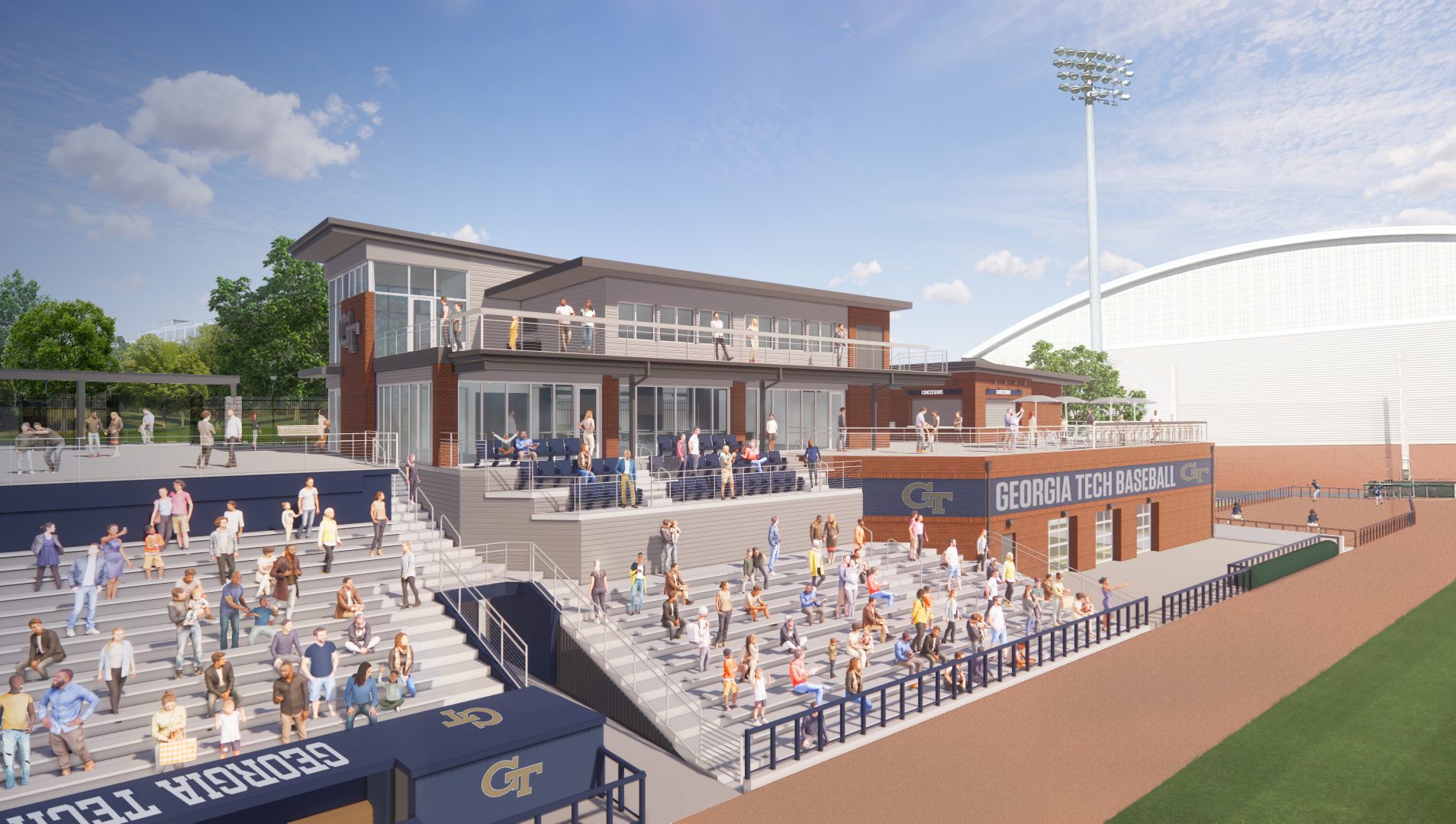 PROJECT HIGHLIGHTS:
The project is highlighted by the demolition of the existing one-story building on the third-base side of the stadium and subsequent construction of a new 25,379-square-foot, two-story structure. Features include:
a concourse-level atrium that will serve as an iconic point of entry to the stadium on gamedays and highlight the history of Georgia Tech baseball. On non-gamedays, the atrium will convert into a teaching auditorium for Tech baseball and a venue for third-party rentals;
premium suite areas, including a terrace view club overlooking the field and the Atlanta skyline, as well as renovated premium seating closer to the action on the field;
upgraded fan amenities along the third-base concourse, including new restroom facilities, concession stands and an outdoor plaza;
a new, expanded indoor training facility that will include three batting cages, two pitching tunnels and a state-of-the-art player development center, which will blend technology and analysis using a pitching lab, hitting area and video room. The facility will be adjacent to the Yellow Jackets' dugout and heated/air-conditioned for year-round use.
Phase I of the Russ Chandler Stadium renovation project was completed in 2015 and included upgrades to Georgia Tech baseball's locker room, lounge area, athletic training room and study room. Stadium upgrades that occurred between the two major phases of the renovation project included the addition of a new 36-by-31.5-foot Daktronics videoboard in 2018.
The Phase II renovation project is led by JE Dunn Construction, with assistance from Georgia Tech's design and construction department. Architectural services were provided by Collins Cooper Carusi/Populous.
PROJECT UPDATES:
January Update
Photos by Danny Karnik
November Update 2.0
Photos by Danny Karnik
November Update
Photos by Danny Karnik
September 2.0 Update
Photos by Danny Karnik
September Updates
Photos by Danny Karnik
August Updates
Photos by Danny Karnik
July 2.0 Updates
Photos by Danny Karnik
July Updates
Photos by Danny Karnik
6.22.20
Photos by Danny Karnik
7.02.20
Photos by Danny Karnik
For updates throughout the construction process, follow Georgia Tech baseball on Twitter (@GTBaseball), Facebook (@GTBaseball) and Instagram (@gt_baseball) or visit www.ramblinwreck.com.
Alexander-Tharpe Fund
The Alexander-Tharpe Fund is the fundraising arm of Georgia Tech athletics, providing scholarship, operations and facilities support for Georgia Tech's 400-plus student-athletes. Be a part of developing Georgia Tech's Everyday Champions and helping the Yellow Jackets compete for championships at the highest levels of college athletics by supporting the A-T Fund's Annual Athletic Scholarship Fund, which directly provides scholarships for Georgia Tech student-athletes, and Athletics Initiative 2020, Georgia Tech athletics' ongoing $125 million initiative to allow Tech to recruit the nation's most elite student-athletes, build a better student-athlete once they arrive on The Flats and, ultimately, win! To learn more about supporting the Yellow Jackets, visit atfund.org.