THE FLATS — Tristin English is a man of few words.
Prior to Tuesday night, he was a man of four fewer words, an absence that was extremely loathsome to him. Those words were "We run this state."
That all changed following No. 11 Georgia Tech's 8-6 win over No. 4 Georgia on Tuesday night at SunTrust Park, in the 17th annual Farmview Market Spring Classic.
"It's finally something I can say. 'We run this state.'" English said, breaking into a big smile. "I've been hearing it for four years now. It's nice to be able to say it myself."
English recorded his first career six-out save, while catcher Kyle McCann blasted a monstrous three-run homer to cap a five-run second inning and shortstop Luke Waddell went 3-for-4 — finishing a homer short of the cycle — while scoring twice and driving in three more runs to spark the offense.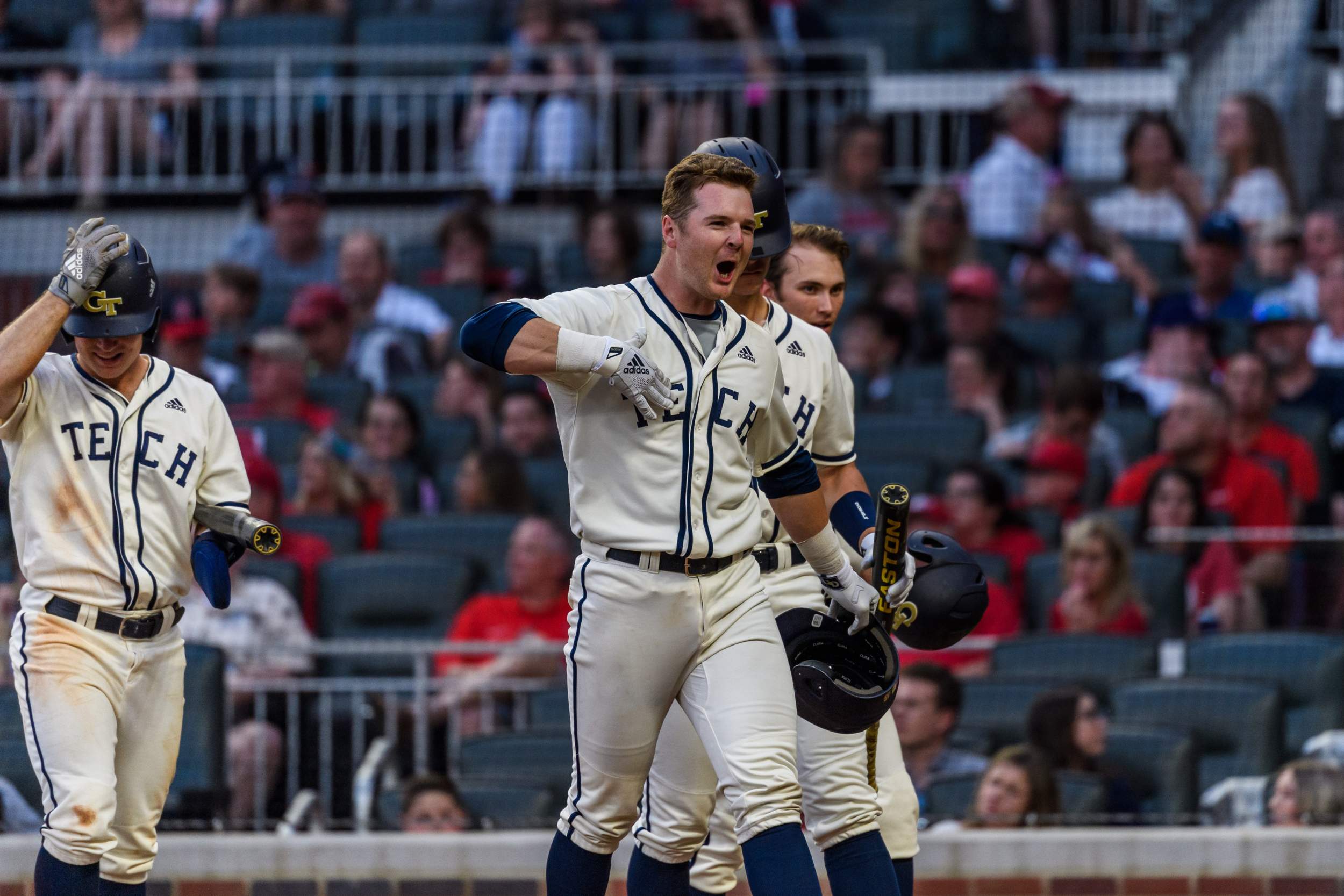 The win, which clinched the season series for Georgia Tech for the first time in four years, was sweet for the Ohio native, whose first taste of this rivalry came as a spectator, as he had to sit all three games against Georgia last season due to injuries.
"It was a bummer last year not being able to play. I was a little banged up. I knew coming in this rivalry was huge and it feels great to get this series win," he said. "It's 'Clean, Old-Fashioned Hate.' It's a lot of fun, big crowds, they're great — both sides. Everybody on both teams really likes to compete. They beat us three times last year. So we really wanted this win. It's big for the program, big for everything we've been doing."
It was big for head coach Danny Hall, who was bursting with pride over his team, which raised its record to 10-1 in midweek games this season, 4-1 against SEC powers Georgia (2-1) and Auburn (2-0). It's quite a turnaround from 2018, when the Jackets went 7-6 midweek and 1-4 against the Bulldogs (0-3) and Tigers (1-1).
"I'm proud of the way my guys played," said Hall. "We take a lot of pride in trying to win our state. They're the only team that's beaten us in a midweek game this year so it's satisfying to win the series. We're competitive. We feel like we can compete with anybody. I think that's why we won tonight. That's why we've won against some really, really good teams all year."
The Jackets were competitive on the mound and at the plate in the series-deciding game against the Bulldogs. They set the tone in the bottom of the first inning against nemesis Tim Elliott. Georgia's junior right-hander had allowed only three earned runs and seven hits in 11 ⅓ innings in two previous starts this season against the Jackets, striking out 13 and walking five.
On Tuesday night, he'd last a career-low 1 ⅓ innings, allowing six runs (all earned), on four hits, striking out two while walking four.
Waddell had a single, a double and a triple — in that order — in the first three innings, with the double driving in two in a five-run second, that gave the Jackets a 6-2 lead and took the lead back for good after UGA's two-spot in the top of the frame had given them a 2-1 lead. He would score two batters later ahead of McCann, whose titanic blast landed inside the Chop House in right field. Elliott hit English on the next pitch then was headed to the showers. He'd thrown 54 pitches, only 28 for strikes (51.8 percent). In his first two starts against Tech, Elliot had thrown 192 pitches, 121 of them for strikes (63.0 percent).
The reversal of fortune was due in part by the Jackets' approach this time around.
"He's thrown well against us twice now so we kind of knew what we were getting coming in," said Waddell. "We talked before the game with (assistant coach James) Ramsey. We didn't want him getting too comfortable, so see some pitches, try to get in their bullpen a little bit. Guys battled at-bats throughout those first few innings. I think we did a great job sticking to our approach. We put some good swings on it all the way down the lineup, which is kind of what we've been doing all year. It's not just a couple of guys doing all the damage."
"It's our third time through. We had a pretty good game plan against him," said English. "We kind of knew what pitches we wanted to hunt and in what counts we wanted to hunt them. We knew what pitches weren't going to be strikes and we really executed the game plan."
That execution in the first inning never let up and was a difference-maker.
"The first inning he had to throw a lot of pitches. I think, that probably took a little edge off him," said Hall. "When you have to throw 20-something pitches in the first inning (28), that takes a lot out of you. The second time through the order, when he didn't make his pitch we made him pay."
The same would not be said of Georgia Tech's pitchers. Starter Cort Roedig gave Tech a solid 3 ⅓, and even though GT's 7-2 lead would be trimmed to 7-5, Tech's bullpen would never allow the Bulldogs to get any closer than two. That included key at-bats by relievers Micah Carpenter, who wriggled out of a base-loaded, two-out jam in the fourth in relief of Jake Lee, then Luke Bartnicki, who relieved Carpenter, did him one better by escaping a bases-loaded, one-out jam in the fifth.
The Jackets bullpen walked the tightrope all night, as Georgia left nine men on base and managed only one hit in eight trips at-bats with runners in scoring position (a .125 average). The Jackets also littered the basepaths, stranding 10 and hitting 2-for-9 in RISP at-bats, but Tech's bullpen bore down just a little better, as UGA was 0-for-4 in at-bats with runners at third and less than two out — Tech was 3-for-4. One such at-bat came in the fourth, at 7-5, with a runner at third and one out. UGA catcher Mason Meadows ripped reliever Jake Lee's 1-1 pitch to third. Jackets third-sacker Jackson Webb vacuumed it up and threw home to McCann for an easy tag play, keeping the game at 7-5 and short-circuiting the rally.
The Jackets showed that kind of cool all night when it counted.
"It was not panicking and I thought we made some nice plays," said Hall. "We turned one double play. I'm thankful that we hung in, persevered and came out with a win."
English wasn't surprised by the the escape acts, especially by Carpenter and Bartnicki, even if it didn't come easy.
"We want to do everything with grit. We want to grind," he said. "Those were two of the grittiest performances I've seen. To be able to come in in situations they were in, that could have been game-changing, game-changing spots in the game and to be able to shut them down and really shift the momentum back to us, speaks so highly of them as players and pitchers. Incredible."
"Baseball's kind of a momentum game. They did a great job of shutting the door," said Waddell. "Our pitching staff has done great all year. Micah, Bartnicki, Hugh, Tristin, Jake Lee battled, our whole bullpen did a great job tonight."
Defensively, the Jackets also made some breaks involved — in addition to the 5-2 play, Webb a dropped infield fly but converted it into a force play, then, English got out of the eighth on Aaron Schunk's two-out grounder to short, thanks to some crafty footwork by first baseman Michael Guldberg. (English admitted afterward that he was glad there wasn't video replay available).
English and his predecessor Hugh Chapman calmed the waters and preserved the lead. Chapman threw 1 ⅔ innings of one-hit relief following Bartnicki with one out in the sixth, facing the minimum and inducing a 4-6-3 double-play to end the seventh.
That set the stage for English, who allowed a single, then issued a two-out walk to bring up Schunk, UGA's hitting equivalent to Elliott — he stepped in in the eighth 5-for-10 on the year against Tech, with five runs scored and three more driven in, including a mammoth homer to left-center to kick-start UGA's three-run fourth. English won this battle, getting the 6-3 groundout.
"(The walk is) just something you have to put in the back of your head and make pitches like you normally would, like it's a normal situation," he said. "I didn't have any off-speed tonight, so we were pretty much attacking with fastballs. I was able to get two by him early and then go up, fouled off, then I was able to run one in there late up and on his hands and get him to fist one to short."
English was in complete command in the ninth, retiring the Bulldogs in order to complete the save.
Hall insisted there was no doubt he was going to English for the six-out save. Now English has no doubt about what he can accomplish as far as longer appearances to further shorten games.
"It felt awesome!" he said. "To be able to come out here in a game like this, back and forth, a lot of momentum-shifting, to kind of be able to come in and be the guy — the team wanted me in there, I wanted to be in there, it feels awesome to be able to come out and play and to be able win."
Now that the Jackets have secured ownership of the state of Georgia, they're out to do the same with the Coastal Division. They have three ACC series left and are in a flat-footed tie at the top with North Carolina, although they hold the tiebreaker). Next up is Clemson, this weekend at Russ Chandler Stadium. The Jackets have lost the last two series and five of the six games, after having won the previous two series (4-2).
They expect an emotional spike coming off the series winner over Georgia.
"I think it will be good to be coming in riding high coming off a win like that, especially, where we have had to battle," said English. "To be able to carry that into the weekend against an opponent that is really good. They're coming in off a loss. They're hungry. We're going to try to take it to them early and see what we can do."
"We put a lot of emphasis on winning ACC series and Clemson is always one of the best teams in our league," said Hall. "So we're happy we won this game but starting tomorrow we'll start focusing on getting ready to play Clemson."