By Matt Winkeljohn | The Good Word
If you haven't been able to watch a Georgia Tech men's basketball game yet, consider this summation of Friday's 65-54 win over Prairie View A&M to be a Cliff Notes version of what the Yellow Jackets seek to be this season.
There were good, bad and ugly ingredients all there in the stew, and not in that order. But maybe, Tech's heightened inclination to keep shooting the ball – whether these Jackets make many long shots or not – will help turn the program back into the light.
Tech defended OK in the first half yet missed all eight 3-point shots and fell behind by 10 while missing six of its first 20 shots overall. In the second half, the Jackets defended better, made 4-of-9 shots from beyond the arc and outscored the Panthers 39-27 to win going away.
There, in one game, you had Josh Pastner's 2018-19 thesis: keep defending like mad and shoot more 3-pointers. Their new playing style figures to be attractive to recruits, right, because who doesn't dig the long ball?
"I've said it, we're kind of going to live by our 3-point shooting and we're going to live by our defense. If one of those two fails us, it's going to be hard for us," the head coach said after Tech moved to 4-1. "Now tonight, our shooting wasn't good, and it almost failed on us, but we were able to win the game out through defense, and we made a couple 3s in the second half."
The Jackets forged a solid defensive pedigree in Pastner's first two years, although they're playing defense a little differently so far by turning opponents over more.
They're shooting several more 3-pointers, too, sometimes better, sometimes not so much.
There's method behind evolution.
The offense no longer goes through center Ben Lammers, who is playing professionally now in Spain, and the Jackets don't have Josh Okogie to out-athlete opponents. He's spending what would be his junior season playing for the NBA's Minnesota's Timberwolves.
So, the Jackets are hoisting it more.
They're not to be mistaken for Savannah State, which is putting up 47 3-pointers a game and making 13, nor Indiana State, which leads the NCAA with a 48 percent success rate from distance.
Yet in taking 20.8 long shots per game vs. 15.3 last season and making 6.8 per game (which ranks No. 255 in the NCAA) vs. 4.9 (which ranked No. 346), Tech is digging the long ball more than in Pastner's first two seasons.
The Jackets are making 32.7 percent of their 3-pointers, which through games played Saturday ranked No. 215 vs. last season's mark of 31.8 percent, which ranked 325th. The numbers took a bit of a beating against Prairie View A&M as Tech made 4-of-17.
"I told the guys all summer we're going to shoot a lot more 3s this year," Pastner said early last week.
Tech's defense has been well above average since Pastner arrived in 2016.
Right now, it's better.
The Jackets rank No. 6 nationally in field goal defense at 34.7 percent allowed and have held all five opponents, including No. 5 Tennessee, to 39.6 percent shooting or less from the field.
They're No. 13 in scoring defense, allowing 57.4 points per game, and have held every opponent well below its scoring average.
Lammers isn't around to block shots, yet the Jackets are tied for No. 50 with 5.0 blocked shots as transfer James Bank III has blocked 10 in four games and Abdoulaye Gueye has seven. Tech blocked 5.3 per game last season.
The biggest difference in defense is the way the Jackets are jumping passing lanes, poking balls away, stealing them and forcing errant passes.
They're tied for No. 22 nationally in steals, with 9.0 a game, vs. 6.9 last season, when they ranked No. 84.
Opponents turned the ball over 12.6 times per game against Tech last season, and this season the other guys are coughing it up 16.5 an outing.
Tech's chief thieves are point guards Jose Alvarado, with 11, and Michael Devoe, with seven.
The Jackets bothered the Panthers into 16 total turnovers, and scored 19 points – or 29.2 percent of their total — off of them.
And that was a season low for turnovers forced, basically matching last year's average.
"We just knew we needed to play our game and stop worrying about other things around us," Alvarado said after scoring all 15 of his points in the second half, including a string of nine straight as the Jackets seized their first lead. "We're going to keep fighting and fighting and fighting."
The Panthers didn't shoot lights out in the first half, making 10-of-24 shots (41.7 percent). They made just 8-of-24 in the second half, though, which is when Tech hit four 3-pointers.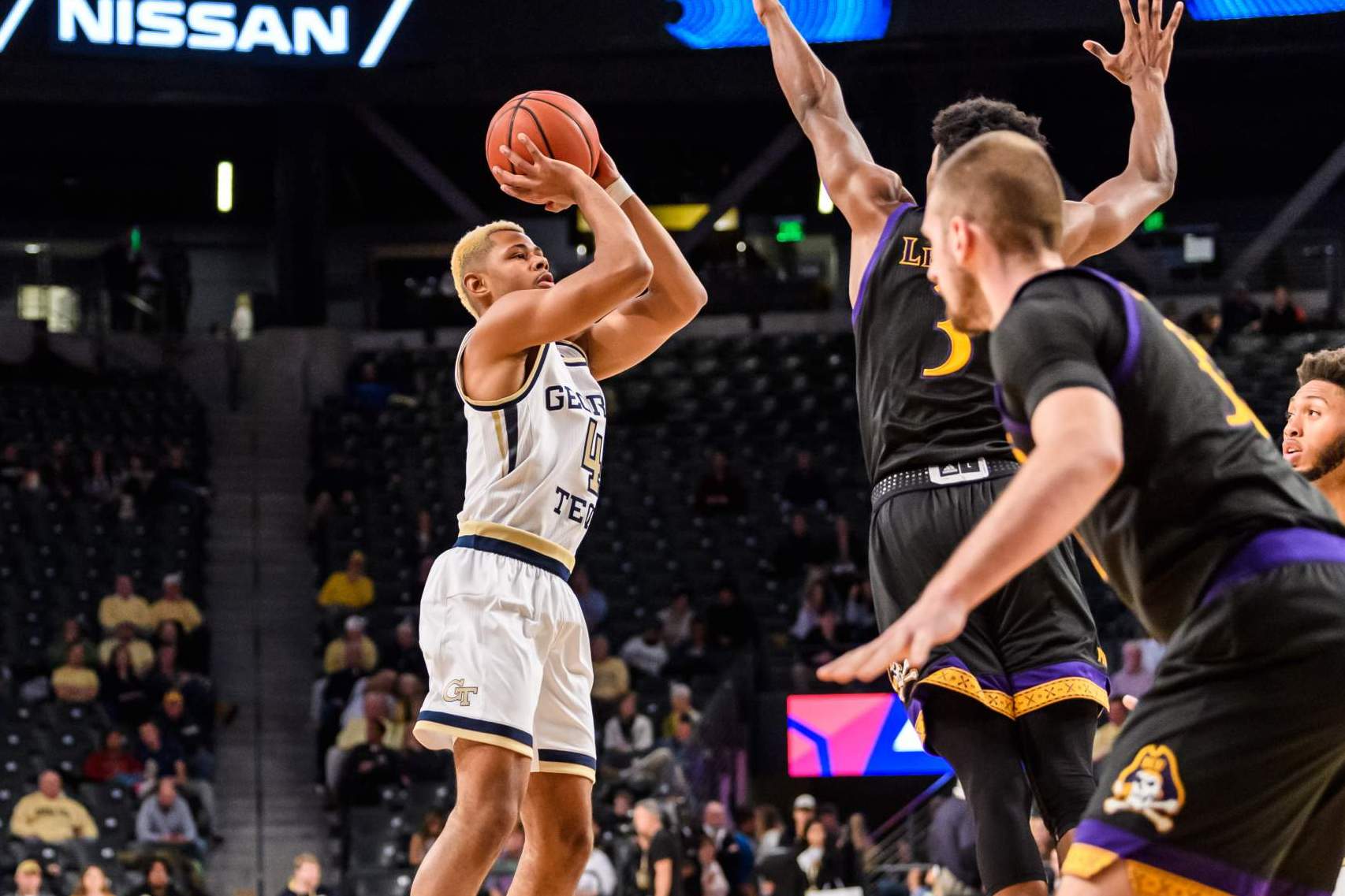 Brandon Alston's prolific work in the gym has helped him knock down 7-of-11 three-point tries through five games.
Knowing the makeup of his roster, and that Tech was deficient shooting the 3-pointer the past two seasons, Pastner last summer suggested strongly that players get up way more shots in the offseason, using the NOAH system that charts shots in both the practice gym and in McCamish Pavilion.
NOAH tracks the arc – get it? – of every shot taken, and lets the shooter know the angle of entry, how short or long the shot is and how far left or right it might be whether it goes in or not.
"We told the guys, we invested in the Noah. That cost a lot of money. We didn't get it just to look pretty; you guys have got to use it," Pastner said last week. "We stress the importance of getting on the NOAH because you get instant feedback.
"Brandon Alston, for example, put the most time in. He was shooting the most shots. He was in the gym. All the guys were, but he was the most."
And Alston has been the best 3-point shooter so far, making 7-of-11, including 2-of-3 Friday.
"I don't believe excellence is accidental. You've got to earn it and work at it," Pastner said. "He's put the time in, and worked at it. He's busted his chops, busted his tail as hard as anyone.
"I can't be any more clear or black and white about it: we're going to rely on our 3-point shooting and defense. When we're good at those two, we're going to win games, and if one of the two is off, it's going to be hard, and if both are off, it's going to be a long night for us."
There has already been some living by the long ball and dying by it.
In the first game of the season, Tech made 12-of-30 in a win over Lamar – the most 3-pointers made since Pastner's been head coach.
When the Jackets lost at No. 5 Tennessee, the defense was there as the Vols made just 39.6 percent of their shots, but the long ball was not. Tech shot 3-of-19.
The Jackets made 9-of-17 3-pointers in their most lopsided win, a 79-54 romp over East Carolina, and it surely was a good thing the Jackets found their shooting range in the second half against Prairie View A&M.
It sure sounds like the Jackets are going to keep firing away as Pastner says they're going to play outside-in on a regular basis. Even if the ball coach sounds loopy talking about it.
"When our feet are set, we've got to let it fly. That's just who we're going to be this year," Pastner said. "Life is so beautiful, and it's great and it's precious, and . . . and that's including when you're shooting 3s.
"And it's beautiful when you're shooting and making 3s, you know what I mean? Everything's better. I'm a better coach. Fans like us better. Everything's better."