By Jon Cooper | The Good Word
THE FLATS — Homecoming is the weekend for welcoming back alumni and reminiscing about glorious memories and events from days gone by.
In Georgia Tech's homecoming game Saturday afternoon against Duke, however, a rather unwelcome guest resurfaced – the turnover bug.
The Yellow Jackets, who hadn't fumbled in its previous two games did so six times, losing a season-high three of them. They came on back-to-back-to-back touches, no less. Duke cashed in all three and in a span of 1:49, turned a 7-7 stalemate into a 28-7 hole, one too deep for Georgia Tech to climb out of. Tech would fall, 28-14, ending their five-game homecoming winning streak.
Bigger picture: The loss prevented the Jackets from joining the crowded four-team field in the Coastal Division chasing leader Virginia Tech, and, costing them a primetime, first-place showdown in its next game, Thursday, Oct. 25, in Blacksburg, Va., against the division-leading Hokies.
"I'm just really frustrated," said head coach Paul Johnson, whose Jackets' 21 points allowed off turnovers matched their season total. "I thought we had cleaned that up, but clearly, we haven't. We can't win games when we turn the ball over three times. We have stayed away from [penalties] and today we didn't do a very good job of that."
Fumbles actually were abundant for BOTH teams on Saturday. The Jackets put the ball on the ground six times, two short of its season high, set against Clemson, while Duke dropped the ball on four occasions, one more than they had in its previous five games, and lost two of them, matching its season total.
But Tech's late third-quarter flurry of drops proved the difference-maker.
The bug-biting began with 2:41 left and the game tied at 7. B-Back Jerry Howard had rambled for 7 yards on a second-and-4 play, moving the Jackets over midfield. The fumble ended a drive that began at the Jackets' 9 and had them methodically moving toward a go-ahead score. Howard had sledgehammered his way for 25 yards, making five carries out of six plays on the drive – the other was a TaQuon Marshall-Brad Stewart 21-yard hookup. The turnover by Howard – the Jackets' leading rusher (62 yards on 12 carries with a TD) – came via video review and an overturned call, as Howard had originally been ruled down by contact.
Four plays later, Duke took the lead on a 48-yard Daniel Jones connection with T.J. Rahming, made easier by safety Kaleb Oliver's slipping on the play.
On Tech's next play, Marshall fumbled after a 1-yard gain. Tech reviewed that call, but the play stood as called. Five plays later Duke was back in the end zone.
The trilogy of errors concluded on the ensuing kickoff, when freshman Juanyeh Thomas, trying to make a play, tried to break one gang tackle too many and lost the ball. Duke fell on it at the 6, then converted as Jones lofted a pass Johnathan Lloyd in the right corner.
The Jackets' defense was angry by the turn of events – not at the offense, but with themselves for not making a play to bail out their teammates on the other side of the ball.
"It's kind of depleting, but as a defense, you're always taught to go back and just be ready to stop them," said senior defensive end Anree Saint-Amour, who had four tackles (two solo), including a pair of sacks, a forced a fumble, and a quarterback hurry. "No matter where they fumble or where ever they get the ball, as a defense, it's our job to stop them from getting into the end zone."
"Sudden change is a part of the game," said redshirt-senior corner Lamont Simmons, who made his first career interception, a direct result of Saint-Amour's QB hurry on Jones, and just missed getting to Jones on a corner blitz on the pass to Rahming. "As a defense we just have to go back out there and try to get a turnover ourselves."
The defense did a good job of forcing turnovers, forcing three, and capitalizing on Simmons' second-quarter pick, as true freshman receiver Malachi Carter outdueled Duke redshirt-freshman corner Josh Blackwell in the right corner of the North end zone for his first career score.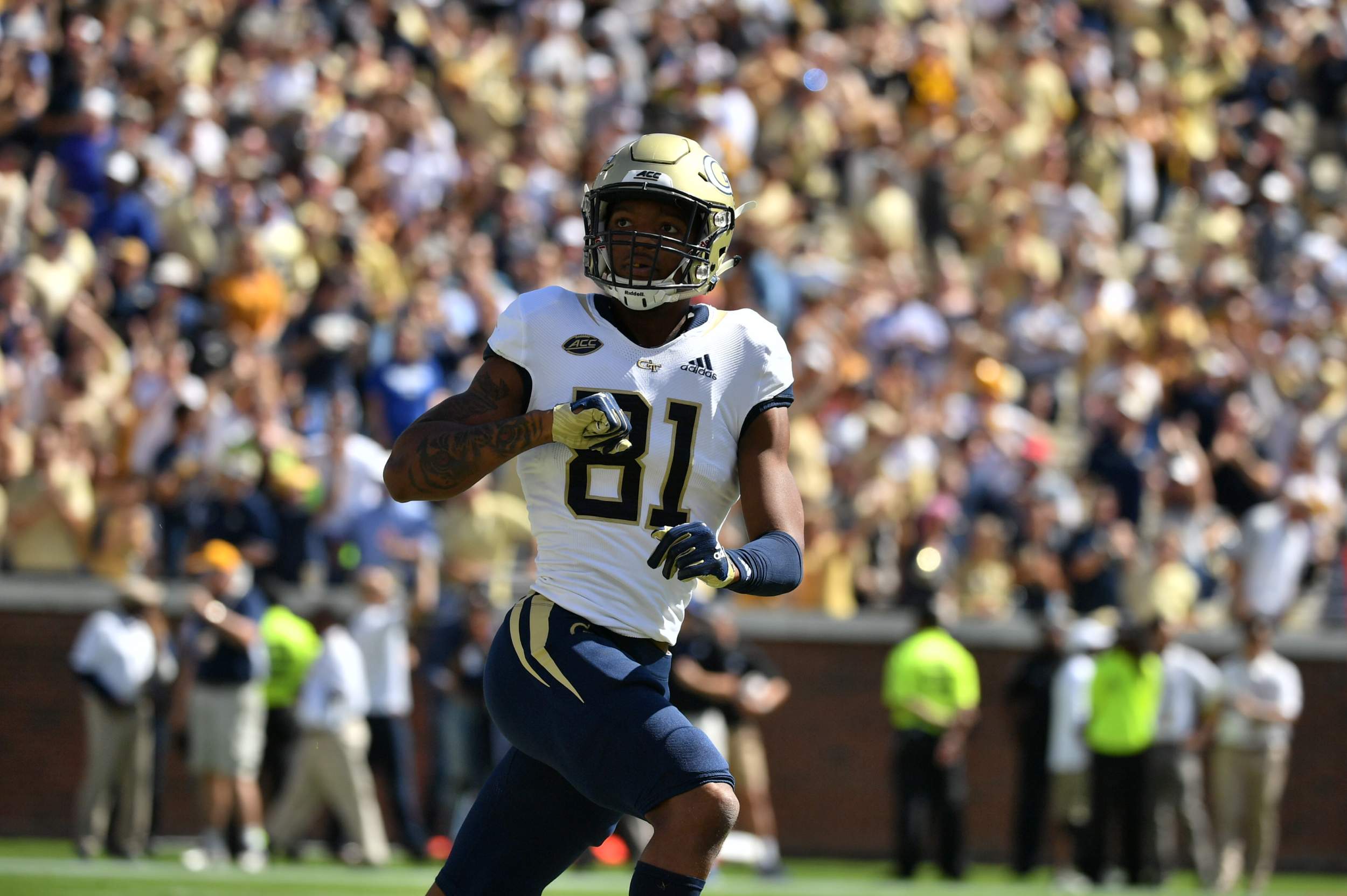 After a rough first series, in which Duke marked 52 yards in four plays, the defense forced three punts, a fumble, got an interception and twice held on fourth-and-short situations. For the game, they limited Duke to 304 yards, the lowest of any FBS team this season.
"We played well after the first series," said Johnson. "We had done some good things defensively, and then when the turnovers started, it's like we went crazy there, too. We got misaligned, and they hit the wheel route. You take the positives, and you try to grow from them. You correct it, and you go play. We can be a pretty good football team if we don't turn the ball over and we don't have penalties. But when we do that, we don't have the explosive guys to create."
There was plenty of explosiveness and negative plays and pressures coming from the defense.
"Everything was coming from our blitzes and executing our blitzes, everybody being in the right place, winning our 1-on-1 matchups, that was a big thing and a big emphasis this week. So that was a good job of execution," said Saint-Amour, whose three previous games saw him make a career-high seven stops against Clemson, record a touchdown off an interception against Bowling Green and force two fumbles against Louisville. "I feel like everybody got comfortable. I feel like that second possession we got comfortable, realized what we needed to do and realized that we could dominate them on defense and that's what we did."
The defense, which played the majority of the game without linebackers David Curry, who left in the first quarter with an injury, and Victor Alexander, who was disqualified in the second quarter, got some big performances by some youngsters.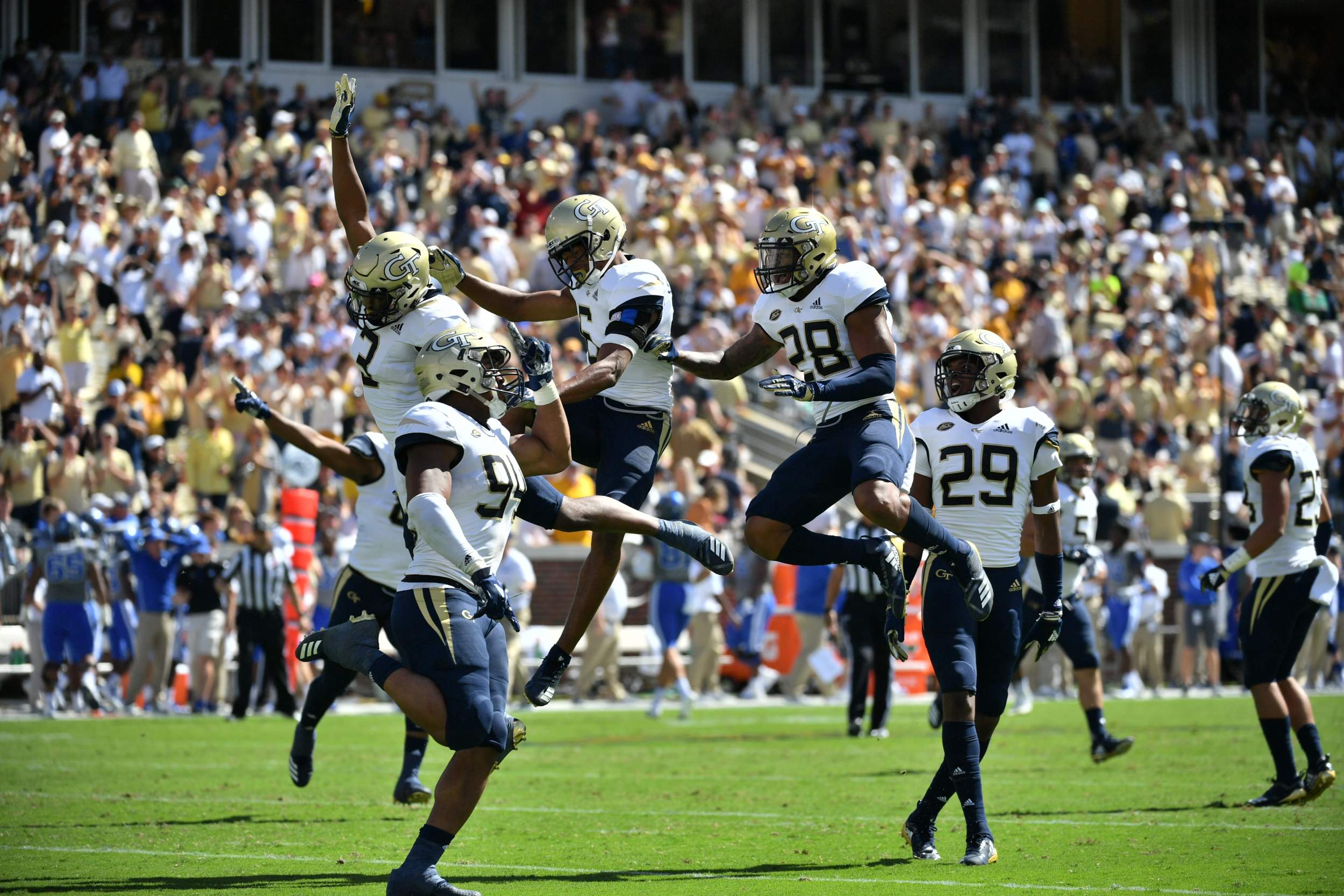 Redshirt-freshman corner Tre Swilling also had a strong performance, recording three solo stops, and a strip-sack of Jones deep in GT territory late in the first quarter.
"I've been taught about making a play like that since I was born, seeing all the videos from my dad," said the older Swilling – younger brother Bruce Jordan-Swilling was Tech's leading tackler with eight stops (three solo), and had a fumble recovery and 6-yard return. "Pass-rushing, I guess, is in my blood a little bit. So I was itching to get my first one. Strip-fumble and just being able to go out there and make a play for my team and, at that point, it was critical."
Penalties also hurt. While Tech was flagged three times – the same as Duke – all three came in the third quarter – a hold on the opening kickoff, then two false starts, both on first-and-10's, the second pinning the Jackets back at their 5 and throwing a wrench in their third-quarter plans.
"It was 7-7 at halftime, and I told our guys 'We are in great shape. We get the ball first to start the second half,'" said Johnson. "I think we have scored every time we had the first possession of the second half all year. Then we go out there and have a terrible kickoff return and a get penalty on top of that. You start on the 8, you claw your way out and get out and you're moving the ball, and then we jump offsides. We had their guy, if our guy didn't jump because they [Duke] were trying to time the snap up and we jumped offsides. First-and-15 instead of first-and-5, we couldn't overcome it, and we had to punt."
The Jackets head into their bye week looking to overcome the emotional scar left from Saturday and to bury – for good, they hope – the ball-security and signal-calling issues.
"There's a real small margin of error for this team," said Johnson. "The bottom line is don't put the dang ball on the ground. That's the bottom line. We talk about it, preach it and chirp it but evidently we're not doing a good enough job coaching it."
The players are eager to get things back in order, on both sides of the ball.
"It's just something we have to fix as a team moving forward," said Howard. "A couple of games ago we struggled with penalties and stuff. We had that fixed for two games and now we've got to go back to the basics and start over."
No argument from the defense.
"We're going into a bye week so we have a lot of time to sit on this loss and get ready for the next game," said Saint-Amour. "Going into it, we have to execute everything we need to execute and make fewer mistakes and win every game that we go against."
"We also have to stick together," said Simmons. "Those guys in there are my family. We all just have to keep gelling together and keep working hard, motivating each other."