By Matt Winkeljohn | The Good Word
THE FLATS — It wasn't all smooth sailing when Tristin English returned to the pitching mound Sunday, yet everything worked out in the end as he struck out Virginia's designated hitter, who'd been a pain for Georgia Tech, to close a 6-5 win a clinch an ACC series win.
It had been awhile. English went two weeks, eight games, without pitching out of the bullpen and that's less than ideal for a team's closer. His sore thigh and arm were good enough to go, though, and he picked up his second save with 17 pitches in an inning of work.
Later, he and the Yellow Jackets (13-7, 3-3 ACC) whooped and hollered in the locker room.
"He kind of said his arm felt good [Saturday]," head coach Danny Hall recalled. "More worried about his quad than anything, and so he went down [to the bullpen in the] bottom of the eighth and I told coach [Jason] Howell, 'Go down there and make the decision . . . and when he came back he's like 'English is good.' "
Hopefully, the fourth-year junior first baseman/pitcher will be even better with more work.
He found a squirrelly situation against the Cavaliers (9-10, 2-4).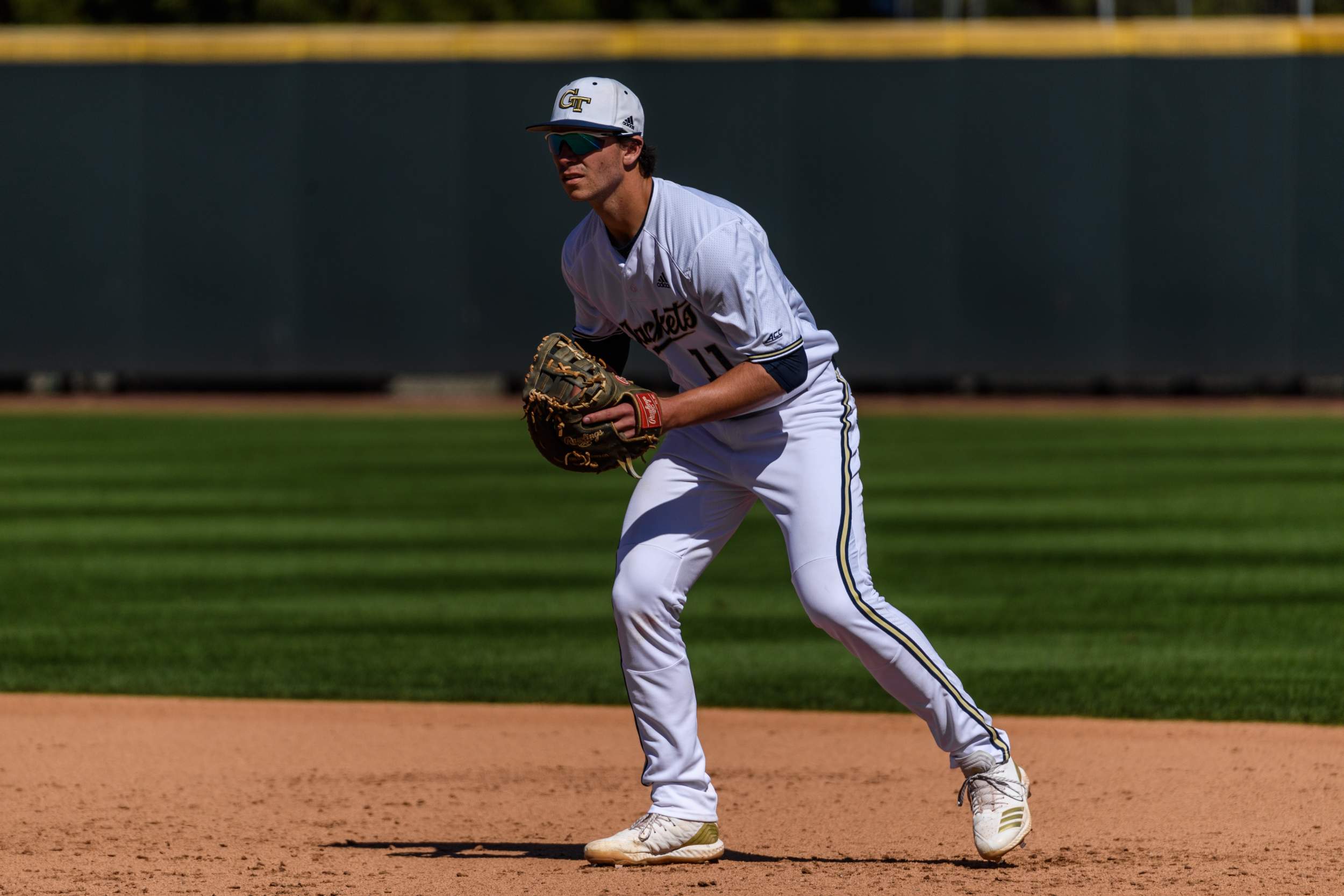 Tech led 6-1 through seven innings with sophomore starter Brant Hurter rolling.
"Can't say enough about Brant Hurter," Hall said. "Sunday, series on the line, gives up two runs, seven innings, no walks, seven strikeouts . . . just an outstanding job by him."
Virginia's Tanner Morris led off the eighth inning with a single, though, and Hall called on Keyton Gibson. He hit a batter with a pitch, and Brendan Rivoli – that designated hitter – hit a three-run bomb to right field.
Jake Lee walked the only batter he faced before freshman Luke Bartnicki worked Tech out of the inning, thanks largely to the 6-4-3 double play that he induced off the bat of Nate Eikhoff.
Once Bartnicki walked Nic Kent to lead off the ninth, English took over.
"The arm's well rested," he said afterward, with a smile. 'We weren't really sure how it was going to go getting on a mound for the first time in a game, so coach Howell came down to the bullpen while I was warming up to make sure everything went well.
"I had a couple nagging ailments that have kind of kept me from being able to practice, and kind of pitch . . . "
While he wasn't pitching, English resumed hitting. He had 13 hits in the eight games in which he did not pitch. He had seven hits over Tech's first 11 games.
This was about pitching, and it didn't start well.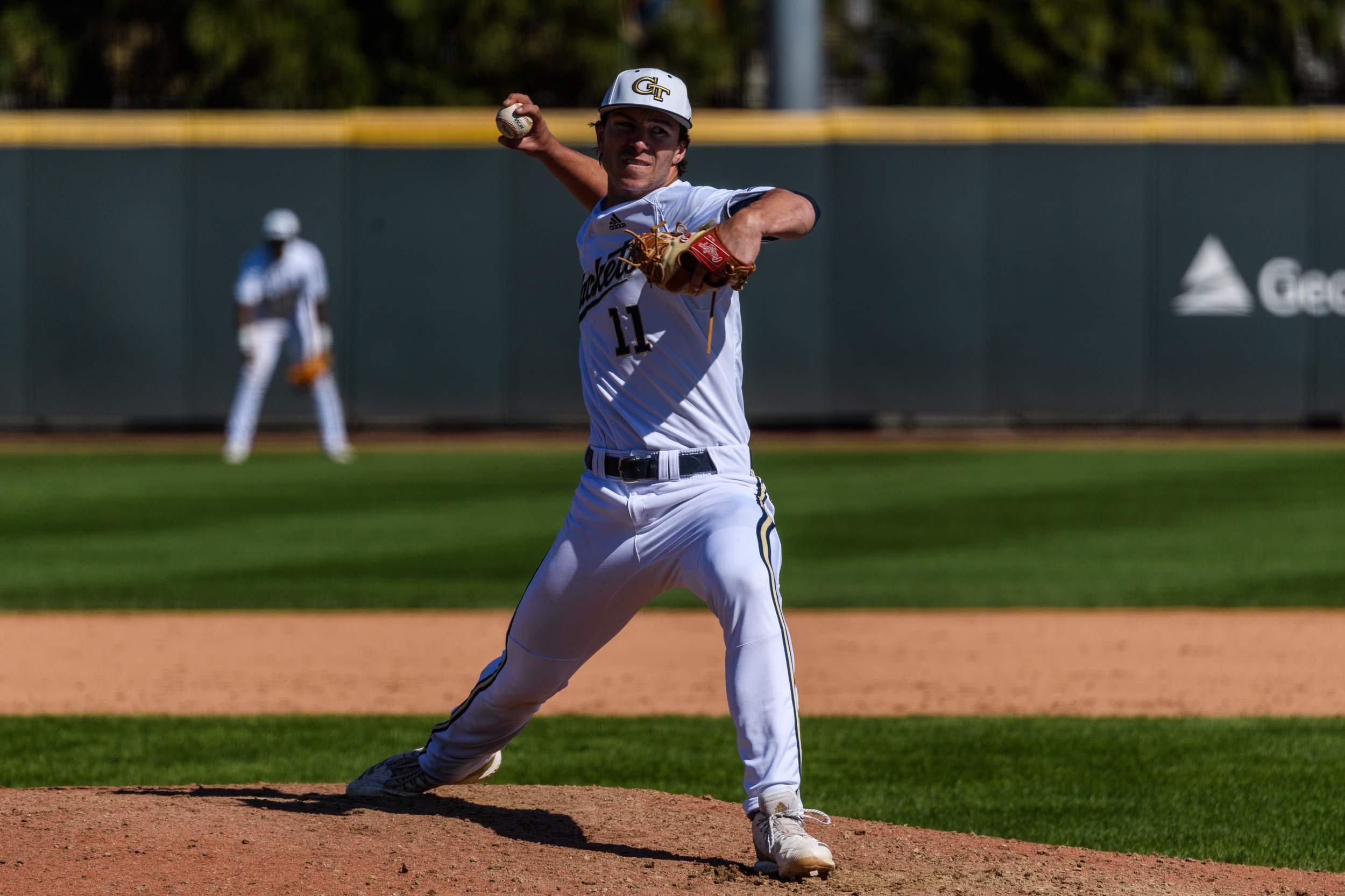 Virginia leadoff hitter Zack Gelof singled hard to right field, sending Kent to third base, and summoning the memory of Friday night. That's when the Cavs scored three runs in the ninth to win 9-8.
Here came Morris again.
He ripped a hard grounder to shortstop, where Luke Waddell fielded and flipped to second baseman Austin Wilhite. He whipped a ball to Jackson Webb at first for another 6-4-3.
Hall a few days earlier switched Waddell and Wilhite partly because Wilhite's sidearm fits so well when it comes time for a second baseman to turn a double play.
"Those double plays were huge for us today, and I kind of like the way that looked," the coach said. "It worked out well."
Actually, there was still work to be done.
With two outs, Cameron Simmons singled to left, and suddenly the go-ahead run walked to the plate in the personage of Rivoli. He homered in Virginia's Friday rally, and he'd homered an inning earlier.
"The plan was – particularly in this ballpark because he had hit a slider off of Gibson for a three-run homer – don't slow anything down that he can pull the ball," Hall explained. "So, we tried to stay hard away from him and Tristin did a good job executing."
Strike three might have been high. Perhaps it was outside. Whatever, the left-handed hitter missed it, and English wound up smiling and high-fiving.
"I knew who I was going up against," the pitcher said. "I knew he had two home runs on the weekend, and just kind of stuck with our plan of attacking him with fastballs away, fastballs away and got him to chase one at the end. He did me a favor."