By Jon Cooper | The Good Word
It takes a certain kind of optimism to be a defensive lineman.
Outnumbered by the offensive line before they even line up — five-on-four, five-on-three in some sets — D-linemen can sometimes spot their counterparts 100 pounds. Ends occasionally also have to deal with a tight end, further stacking the deck against them.
But there's a spirit that drives them. They see the chance to make a tackle or blow up a play in the backfield,. Each play presents another opportunity and keeps them getting back up and trying again.
Larry Knight knows that feeling well. From 2006-09, the Augusta, Ga., native was a defensive end at Central Michigan University, earning all-Mid-American Conference honors his senior year. His 123 career stops (including 25 for loss, 13.5 of which were sacks), contributed to the Chippewas winning three MAC titles — he made a game-sealing stop on a late fourth-and-five play in the '09 win over Ohio. CMU capped '09, his senior year, with a No. 23 ranking. Those teams, which also featured a pretty good wide receiver named Antonio Brown, went a combined 38-17, capped by a thrilling 44-41 double-overtime win over Troy in the 2009 GMAC Bowl and No. 23 final national ranking.
Perhaps most impressive was that was that he did his damage standing 6-3, 220 — that would fit nicely on many NCAA Division I FBS squads … at linebacker!
Knight knows what made him successful and knows what he wants to see in a defensive lineman. That discerning eye will come in handy as defensive line coach and defensive recruiting coordinator for Georgia Tech's new head coach, Geoff Collins.
He also knows what he wants to see in a student-athlete that fits the Georgia Tech model. It isn't a job for front-runners or coasters. It's for young men looking to build and advance, much in the mold of the Institute itself.
"It's easy to go jump on board something that's already doing well. 'Ooh, they're doing well. Let me go join them,'" he said. "I feel like it takes a special person to be like, 'I see the vision of what this person is doing or what this group of people are doing. Let me become a part of that.'
"Typically, I feel like those type of people, those type of players have a different edge to them," he continued. "That, alone, would help contribute to putting us on that nationally prominent level as far as performance on the field. So I think that's a big deal and that's definitely the type of players that we're looking for, that want to grind, that want to put in the effort, the grit, the relentless effort, accountable and tough guys. That's what we're looking for."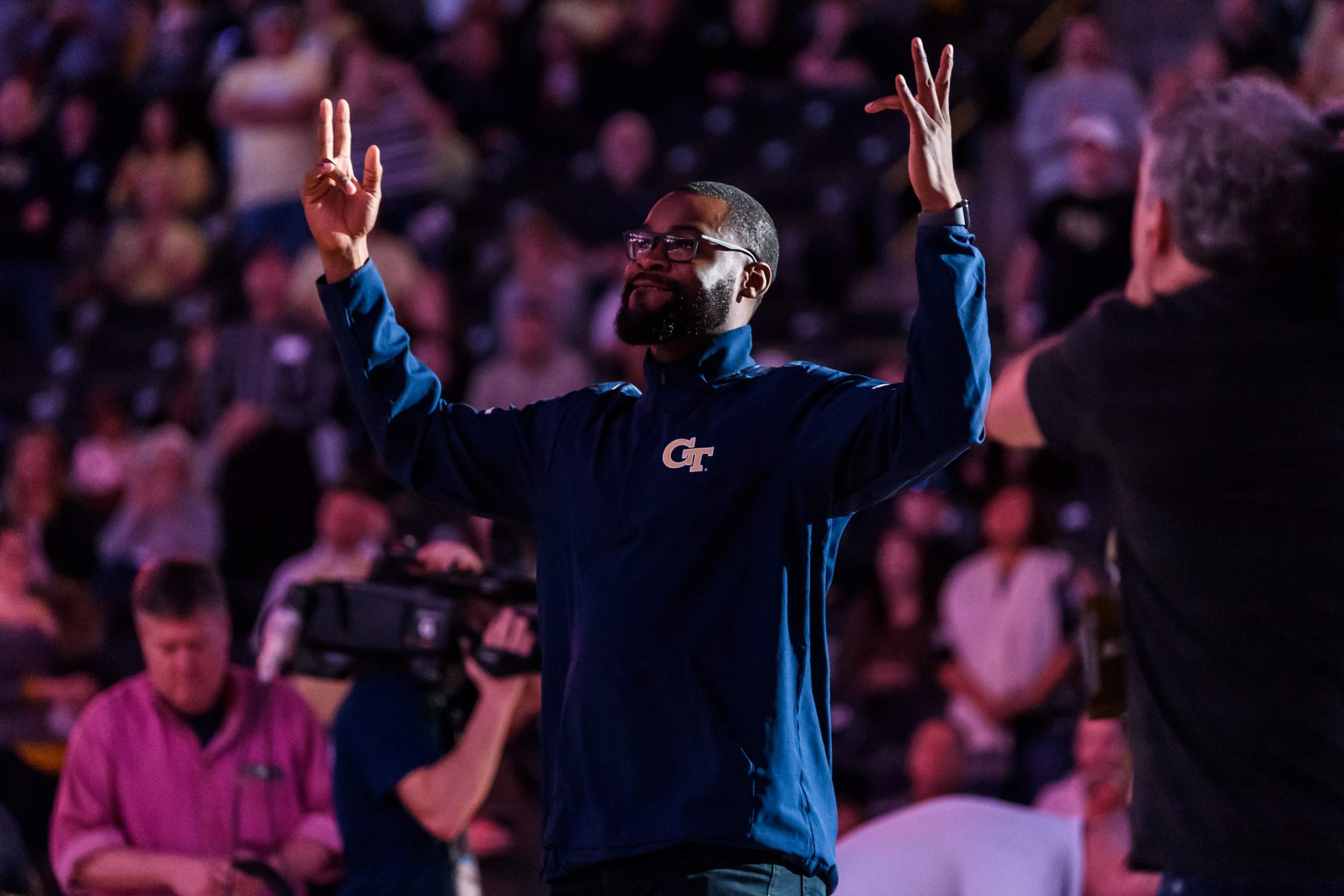 Knight has been searching for those types of players high and low, using not only his connections in Georgia — he grew up in Augusta, and starred at Glenn Hills High School — but also connections made coaching. He's made stops at Cincinnati, Tennessee, Georgia State and Temple over the past seven years and has worked under his head coach at Central Michigan, Butch Jones (at UC and UT), and under Collins the last two seasons at TU.
While Knight loved Philadelphia, he was thrilled at the prospect of coming back home. He is determined to make Georgia Tech a player for the state's top talent and make the school a big deal, especially in Atlanta.
"Oh yeah. We're going to take care of home first," he said, assuredly. "Georgia Tech and Atlanta should be one and the same. That's definitely a goal and it'll be cool. We'll get it done. It'll be cool to see it grow and become as one. This is a huge, huge sports city and Georgia Tech is as big a part of it as anyone. That's the beauty of being at Georgia Tech. This is a place that is nationally known. So you're not walking into a school and they're like, 'Who is this?' They know. That's the cool thing.
"A lot of it's going to have to be community outreach and the branding and marketing that Coach [Collins] keeps talking about. Everything he does, he does for a reason," he added. "So all of us that are here now on his staff, have a social media, Twitter presence. It's not forced. If you look at my Twitter, it's going to be a lot of Georgia Tech football but half the time I'm talking about of random stuff, like Offset hasn't dropped his album yet. He knows that that's a huge part of it and so do we, but it's something that's natural. That's just who we are. We're social people. To be successful at this, you kind of have to be."
You also have to be passionate. Knight believes he is and that passion comes across crystal clear in his message and every member of the Jackets' new staff when they go into houses to recruit.
"Just the love of the city. You have Georgia Tech alums that are back here, you've got guys from Georgia that are here and you've got guys that love football that are here as far as on this staff," he said. "So I think that's going to be huge in bringing [Georgia Tech] back.
"It is something concrete here," he continued, adding quite strongly, "To heck with football. A degree from Georgia Tech? That's something everybody knows. That means something. You're talking about something you don't even have to sell. It sells itself. That's what's more important than anything. We can get guys to the NFL but we all know that doesn't last long. We can excel on the field but what's going to happen after that? You have to always have a plan. You have to always have something after that. What better place is there to set you up for the rest of your life than Georgia Tech?"
Knight, who compares himself to a rapper, freestyling to the needs of each individual recruit and family he visits, strongly believes in Georgia Tech's past and the hands currently holding the program.
"All you have to do is check our track record as a staff that we've had together, what we've been able to do and what this place has been able to do," he said. "You're talking about a successful program. They just did it in a different way. I've never really had a recruiting pitch. It's just real and brutal honesty. You're going to get the real."
Collins and Co. will get the real as to how their message has played on Wednesday, National Signing Day.
Regardless of the results, Knight will take the day the way he did as a player — it's simply one play, then time to line up for the next one.
Of course, he believes there are quality pieces already on campus.
"What I'm very excited about is they are hungry," he said. "I sat down to dinner with a couple of the D-linemen the other day … just talking with them over a meal, you could just see they're hungry. They're excited. I feel like we have a good group of kids that are going to buy in.
"At the end of the day, you don't go to bowl games for no reason," he added. "It's been a winning culture here. You're looking at a group of guys that knows how to win, knows what it feels like to win and wants to take the next step. I think that's a great combination and we're excited about it."