#BestofGT:  This story originally appeared in early November on the eve of Georgia Tech's season opener at NC State. In his hometown of Raleigh, N.C., Wright hit 6-of-9 shots and scored 12 points before fouling out that night, but it was the start of a stellar junior season in which he was one of the most improved players in the ACC, ranking among the ACC leaders in scoring, rebounding and field goal percentage.
By Matt Winkeljohn | The Good Word
As Georgia Tech prepares to crank up basketball Tuesday at NC State, Moses Wright will have you know that he considers it no big deal to opening in his hometown because, well, he's been there and done that and quite well.
There's good reason to question part of this assessment before the Yellow Jackets open against an ACC opponent, but there's no doubt that if a certain junior forward can pick up where he left off the last time he was in Raleigh in a Tech uniform, that could figure large.
It sure looked like the light came on the closing stretch of his sophomore season, when he averaged 15.6 points and 6.2 rebounds over the final five games.
He shot 62 percent in that span while putting up the three highest scoring games of his college career, and the Wright run included 18 points and eight rebounds at N.C. State on March 6 when the Jackets closed the regular season in Raleigh with a 63-61 victory.
But, no, going home for the first game of the season isn't so special.
"Not really. Played there last year," Wright said. "It was big the first time because it was like a coming home thing, but now it's just another game."
Maybe the young man is moderating, trying to keep it simple.
That worked for him at the end of last season when he simplified his approach to a game he didn't take seriously until the end of his high school years, and just went out and played.
The Wright run began when the 6-foot-9, 230-pounder scored a career-high 19 points with five rebounds in a late February loss at Alabama. It ended with a new career high of 25 points, seven rebounds and three assists in an ACC Tournament loss to Notre Dame.
"I would say in the beginning I was over-thinking a lot of stuff and analyzing too much, and just not letting the game flow naturally. It was just letting the game flow more naturally, me just going with the pace of the game instead of trying to think about what to do next," he said of his late-season surge.
Sign the Jackets up for more of that, and don't look for head coach Josh Pastner to be surprised.
Wright blocked a shot at the rim and ran the floor to create a thrilling transition basket in a December win over Nebraska.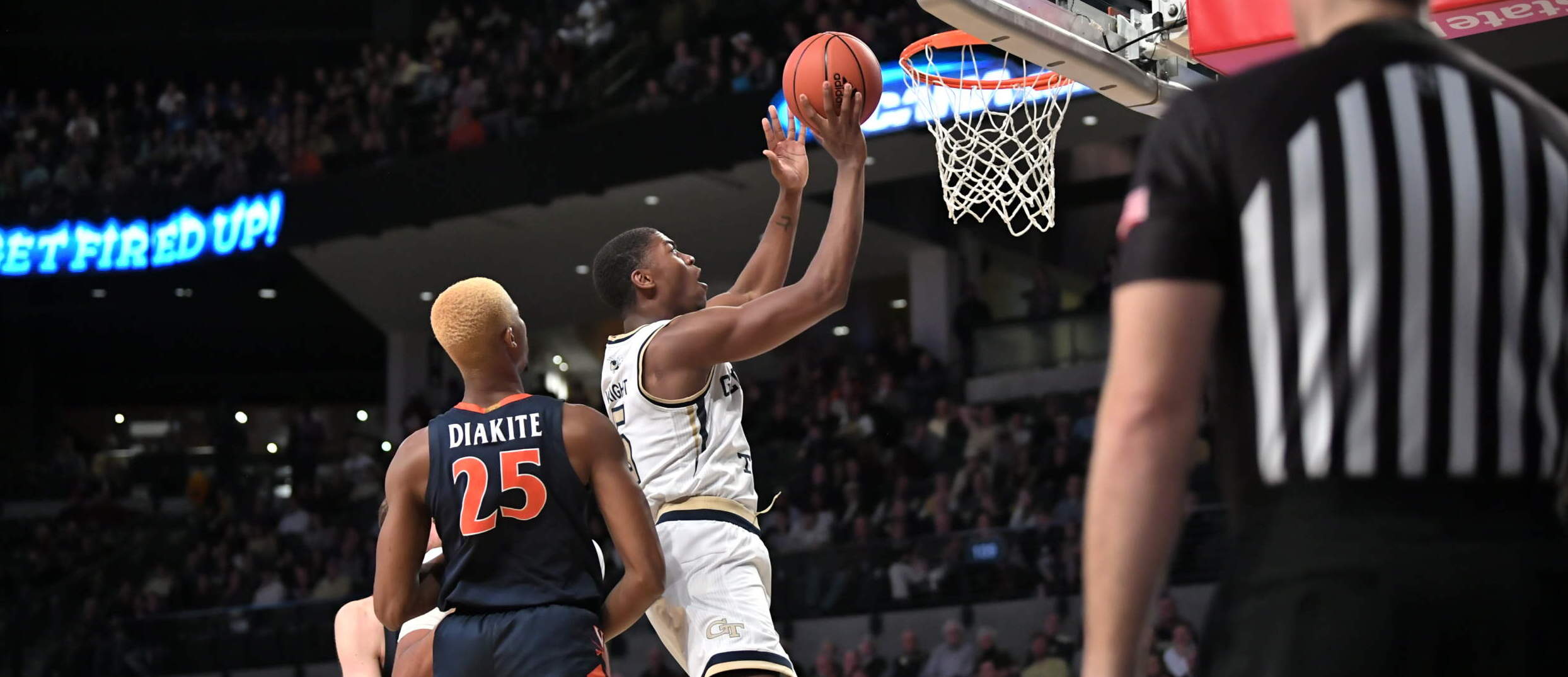 Wright scored in double figures in all 23 of Tech's 31 games, averaging 13 points and seven rebounds while connecting on 53.1 percent of his shots from the floor.
"First of all, Moses Wright has a lot of potential, a lot of upside. He has continued to get better," the coach said. "Towards the end of the season last year, he was high level. He looked like he was All-ACC type of player the way he played at the end of the year."
Tech got in late on Wright's recruitment, and there were reasons.
He grew up chiefly a swimmer and tennis player with the dream of landing a college scholarship.
Just one thing. He kept growing, and as he was winding down his middle school days, a YMCA basketball coach named Michael Gordon saw a long, lean lad leaving swimming practice and asked him to try out for basketball.
Soon, Wright tried out for basketball at Enloe High School, and spent two years on the junior varsity before playing on a home school team as a junior. And he kept growing, adding four inches after his sophomore year, and stretching out to deploy a 7-2 wingspan.
In addition to some earnest work in AAU ball, which brought some attention from Division II programs and casual conversation with coaches from Kansas State, Wright returned to Enloe as a senior and dominated. He averaged 21.5 points, 12.5 rebounds and 1.5 blocked shots, and Tech jumped in upon being enamored by his dimension and athleticism. Wright is plenty jumpy.
It'd sure be nice if he continues to track like, say, Ben Lammers. The former center improved demonstrably between his sophomore and junior seasons under the tutelage of recently promoted associate head coach Eric Reveno.  After being a sub, he in 2016-17 was one of the ACC's best players.
The Jackets hope the Wright run follows a similar path as the Tech big man.
"He was a no-star recruit. You couldn't even find him, but one thing we've done well here is we've gotten guys better," Pastner said. "Now, we need him to take the next jump for this year. The more basketball he plays, the more confident he'll be. The more opportunity he gets, he's going to continue to grow from getting time on the floor."
There's still time in the pool and on the tennis court, too.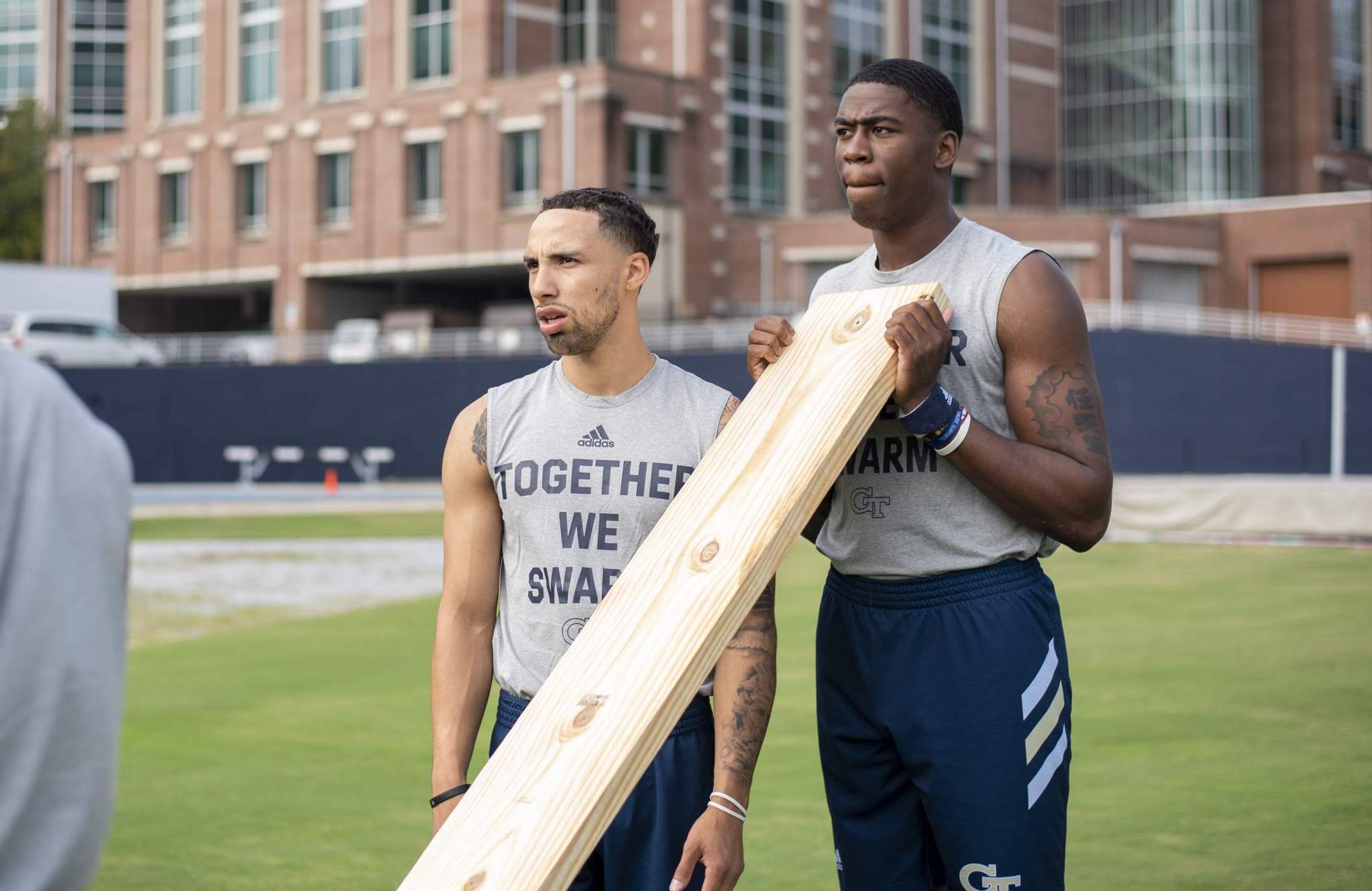 The difference in Wright's body was evident on first glance. He gained more than 20 pounds of weight and strength since his freshman year.
Wright badly wrenched an ankle early in the summer, and because of that did not play in Tech's summer games in Spain. He spent a lot of his rehab time swimming under the supervision of strength and conditioning coach Dr. Dan Taylor.
He also still plays some tennis – which he credits for helping the transition to basketball by quickening his footwork — with his girlfriend. Senior Kenya Jones leads Tech's women's team. They practice from time to time.
Who'd win if they flat out played?
"I'm not going to say because it's on the record," Wright said with a smile. "If I go out there and beat Kenya, she's going to be furious."
For the record, when he's not working on his business administration degree, the bulk of Wright's waking time continues to be spent on basketball, chiefly ballhandling and long-distance shooting.
Pastner is looking for even more, especially rebounding.
Wright averaged 3.6 points and 3.7 rebounds in 25 games as a freshman, including 10 starts. He added 13 blocks and 16 steals, but if he didn't dunk, he didn't often score. He shot 30.7 percent from the floor and made 2-of-31 3-pointers with a 54.3 percent mark from the free throw line.
As a sophomore, the numbers were 6.7, 3.7, 47 percent and 5-of-24 3-pointers. That includes the final five games, when he made 36-of-58 shots.
"He needs to rebound at a high level consistently. That will trigger into everything else," Pastner said. "That and blocked shots are his trigger to be able to be more consistent. He's really good around 15, 16 feet in. If he can make some open 3s here and there, that opens up other parts of his game.
"The most important thing is he's got to be big on the glass for us. He's capable of being a double-digit rebounder."
That's a serious ask by the head coach.
And if you keep asking, Wright gives a more complete answer on the magnitude of a season opener against an ACC opponent that will be played in his hometown. Players receive four tickets each, and he's hitting up his teammates to try and take care of business before the game begins with the goal of finishing once the ball is tipped.
"It's going to be like a night and day difference," he said. "We're playing somebody that's at our level. It definitely sets a different tone. Right now, I'm trying to get around 20 tickets."