By Matt Winkeljohn | The Good Word
The game will be in Russ Chandler Stadium on Wednesday, where Georgia Tech will play Kennesaw State, but the party will be a few hundred yards away, in a snug building freshly attached to the southwest corner of McCamish Pavilion.
That's where Georgia Tech's ACC Network Control Center, a $10 million project, will undergo a "soft open" as one of three new control rooms will produce the 5 p.m. baseball game. Video, audio and graphics created there will be fed to ESPN, which in turn will distribute the broadcast through ACC Network Extra, a streaming service available on the WatchESPN app.
Assistant athletics director for video and broadcast services Andy Blanton will be there with a mix of full-time staffers, free-lancers and student interns flipping switches, changing camera angles, triggering replay videos and pumping content to the Russ Chandler scoreboard and ribbon boards.
As one might imagine, Blanton's excited, and he's also a little jittery because there are so many more toys with which to play, er, work.
"Yeah, a little bit …" he said when asked if nervous. "It might not be our best broadcast we've ever done because we're still working out a lot of the technical things. But I do expect that from this point moving forward, it becomes a living, breathing thing."
The new control center, which has been in the works since shortly after the 2016 announcement that the ACC Network will go live – or linear — on Aug. 22, 2019, is a lot bigger than Georgia Tech's current control center. Once the channel shows up on your televisions, Tech will play football at Clemson in the first live event on the network.
That previous setup next to the press seating area in McCamish Pavilion, has two large monitors.
Each of the three control rooms in the new two-story, 6,400-square foot building has eight similarly-sized monitors, several fancy new-fangled control boards, and there are reams of new cameras and equipment.
About half the $10 million budget was dedicated to equipment, in fact, where about $4 million has gone to construction, and the rest to running fiber optic wiring underground from the control center to every athletic venue on campus. Much of that wiring was pulled through existing infrastructure, or conduit.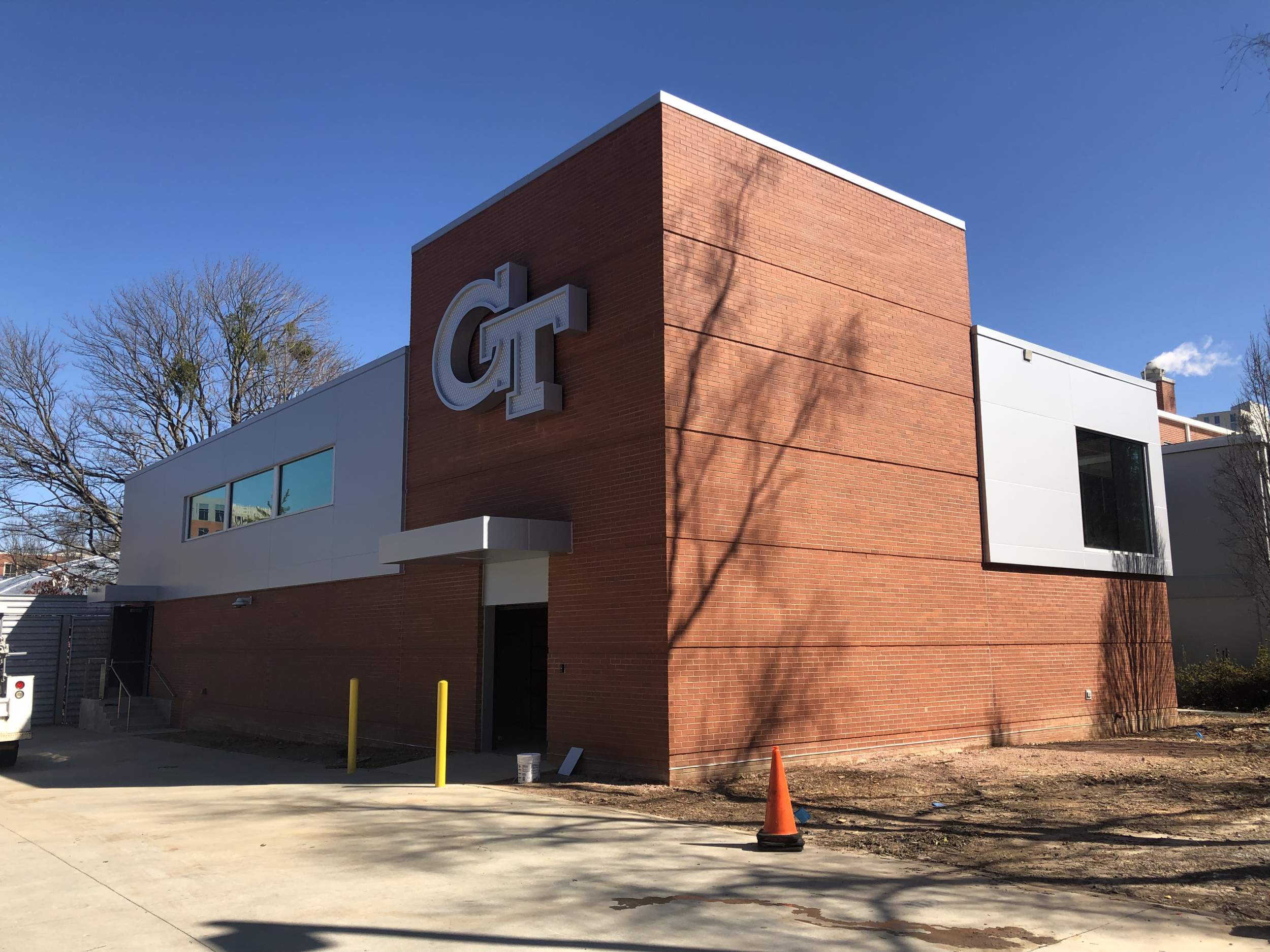 Georgia Tech's $10 million ACC Network control center is located adjacent to McCamish Pavilion.
The new digs are coming on-line for multiple reasons.
"The purpose is that video production has become a lot more necessary as we've added video boards at all of our venues," Blanton said. "We used to have video boards at football, basketball and baseball. Now we've put up new scoreboards in softball, volleyball, tennis, and we have the big board at Callaway Plaza.
"This serves those needs in our venues first and foremost, and then also [for] the ACC Network, we will also produce broadcasts that are with the ACC/ESPN Network branding to be pushed out to either the online app or the physical channel, the linear channel that begins in August."
In constructing the ACC Network, ESPN officials mandated that every school in the conference build an on-campus control center so they don't have to roll up productions trucks every time an event is tabbed for the linear channel. Expectations are that more than 1,000 ACC events per year are going to show up on the ACC Network and ACC Network Extra.
You might still see production trucks for football games, but for the most part everything else will be produced by Blanton and his staff. In many instances for non-linear broadcasts, Tech will also supply on-air talent, and already is doing that.
"ESPN has said all ACC schools have to have so many cameras, graphics channels, replay capabilities. In conjunction with that we still need to take care of our in-venue needs that we had before … " he said. "Now we have six full-time [staff members] in our department. Prior to this year, we only had two.
"Most of those folks are serving as point people for each individual sport, similar to the communications group … Those folks are responsible for their own productions, and we'll have freelancers. We'll staff in some camera men, some graphics operators, some replay folks and we're birthing our student program. We have about 20 student interns now."
The video and broadcast staffers have plenty more to do than point cameras, adjust light and sound settings and time everything up.
They work with the GTAA's communications staff to get back stories that might fold into broadcasts, work with the marketing department and Learfield/IMG College to ensure that they're representing Tech's sponsors on scoreboards, video ribbons and message boards, and more.
There are a lot of moving parts.
ACC Network Control Center
$10 million building is Georgia Tech athletics' newest state-of-the-art facility
Blanton pushed a lever on one of the control boards and explained that was how an operator might "open the iris" on a camera to let more light in if darkness was beginning to fall at a certain venue. If there's too much blue in the picture, turn down the blue button. "It's a lot like a video game," he said.
The new control center, built on the site formerly occupied by the Institute's facilities, construction and planning department that has re-located largely to a space on the third floor of the O'Keefe Building, will house more than monitors and switch boards.
Once construction is complete – and that looks like it might take another month or so – Blanton and his staff will move their offices there from the Edge Center. There also will be a small studio, and meeting spaces.
"And here's what we call our 'idea space.' The walls will be whiteboards you can write on, and we can sort of plan and develop our work week and that sort of thing," he said. "There is office space for full-time staff, and spaces for students and for ESPN folks to do their work."
The new building also has storage space for cameras and other equipment, although to a great degree Blanton's staff will less often be required to move equipment from venue to venue before events because there's now more equipment to spread around.
Moving gear is a chore. Each big camera, for example, breaks down into at least five large boxes. A lens fits in something considerably larger than a foot locker.
"If we have 22 cameras instead of four, we could do 10 cameras at a football game if we didn't have another event going on at the same time," he said. "Last weekend, we had baseball, softball and basketball all competing consecutively. We needed more spaces to be able to produce more things at any one time."
There will be more growing.
Once the video and broadcast staff is fully moved into the new building the current control space in McCamish Pavilion will be renovated, and transition from two to three monitors. Once that is done, the department will have gone from two monitors to 27 overall.
There may also be staff added once a new fiscal year begins in July, and student involvement figures to increase over time.
"Right now, we have 20 students who are serving as interns to us, and they come in for games and events," Blanton said. "We kind of split it half and half so we have freelancers who can mentor students, and ultimately we'll try to create this engine where the students graduate up the ladder and take ownership of more complex roles, and tutor new students coming in."
Tech now has many more control rooms and monitors because there is so much more equipment. Soon, every athletic event on campus will be on linear TV (on the ACC Network or another ESPN network), or available by online streaming via ACC Network Extra.
Blanton feels a little bit like a kid at Christmas, even if he is nervous.
"We have more graphics machines. This one is set for baseball and it stays set for baseball. We don't have to flip it for softball," Blanton said. "Prior to now we . . . couldn't do a softball game and a baseball game at the same time. Efficiency. We can plan better. It eliminates a lot of the day-to-day where we have to take all these things and move it from here over to there."