Click HERE to visit SPRING PRACTICE CENTRAL
By Jon Cooper | The Good Word
Coaches and players seeing eye-to-eye is always crucial, especially when the former is teaching the latter a new system.
Georgia Tech co-defensive coordinator/safeties coach Nathan Burton will not have that problem with his charges.
The 6-2 Burton, who played safety for the Jackets from 2001 through 2004, served as a graduate assistant coach at his alma mater from '05 through '08 and is back on The Flats as part of Coach Geoff Collins' staff, will actually find himself looking up to several of his DBs. He's okay with that somewhat situation.
"I like to coach guys that are as tall as I am. It's fun to have," said Burton, who has 14 seasons under his belt as a coach, including serving as DBs coach on Collins' staff at Temple last season. "If I was on the opposing team looking at [Georgia Tech's safeties], I'd be saying, 'Man, there are some big dudes out there.' They're violent and they're physical, they're fast. It's fun to watch. It's a good group."
VIDEO: Co-defensive coordinator/safeties coach Nathan Burton (post-practice - April 9)
Burton has to look up to some members of his group for their size, but he chooses to look up to all of them for how quickly they've absorbed the crash course he's put them through in picking up the defense the Owls ran last season in less than two weeks of spring practice.
"We've got 86 percent of our defense in," he said. "That doesn't happen at this point. We've got all our packages in. So, the volume, they're handling it and they're studying it and they're processing it faster and faster. As coaches, we want it to be, obviously, faster and cleaner and crisper. But they're getting the bulk of it.
"I was hoping they'd be the worst group, so I could be the best coach," he added, with a laugh. "But I'm thankful for the guys that I have. They're a smart young group and they're getting better. The best thing about them is they want to do well. They want to succeed and they also want to see their teammates succeed. Whether it's Juanyeh [Thomas] or Avery Showell or Gentry Bonds or Tariq [Carpenter], we've got some elite depth and we're going to continue to build that."
An important part of practice so far has been building the players' repertoire of techniques. That's something upon which Burton is insistent.
"I'm trying to, because when it all falls apart, you're going to rely on your training," he said. "That technique is going to be the first thing to go. That's going to determine whether you're six inches away from a play or two feet away from a play. Yes, I played at the ACC level, not because of my athleticism but because I had to figure out how my body worked. I had good coaches here that instructed me properly on how to play and I earned some playing time by the time I got out of here because of it."
Junior Tariq Carpenter (below), relates to Burton's teachings because he relates to Burton's story.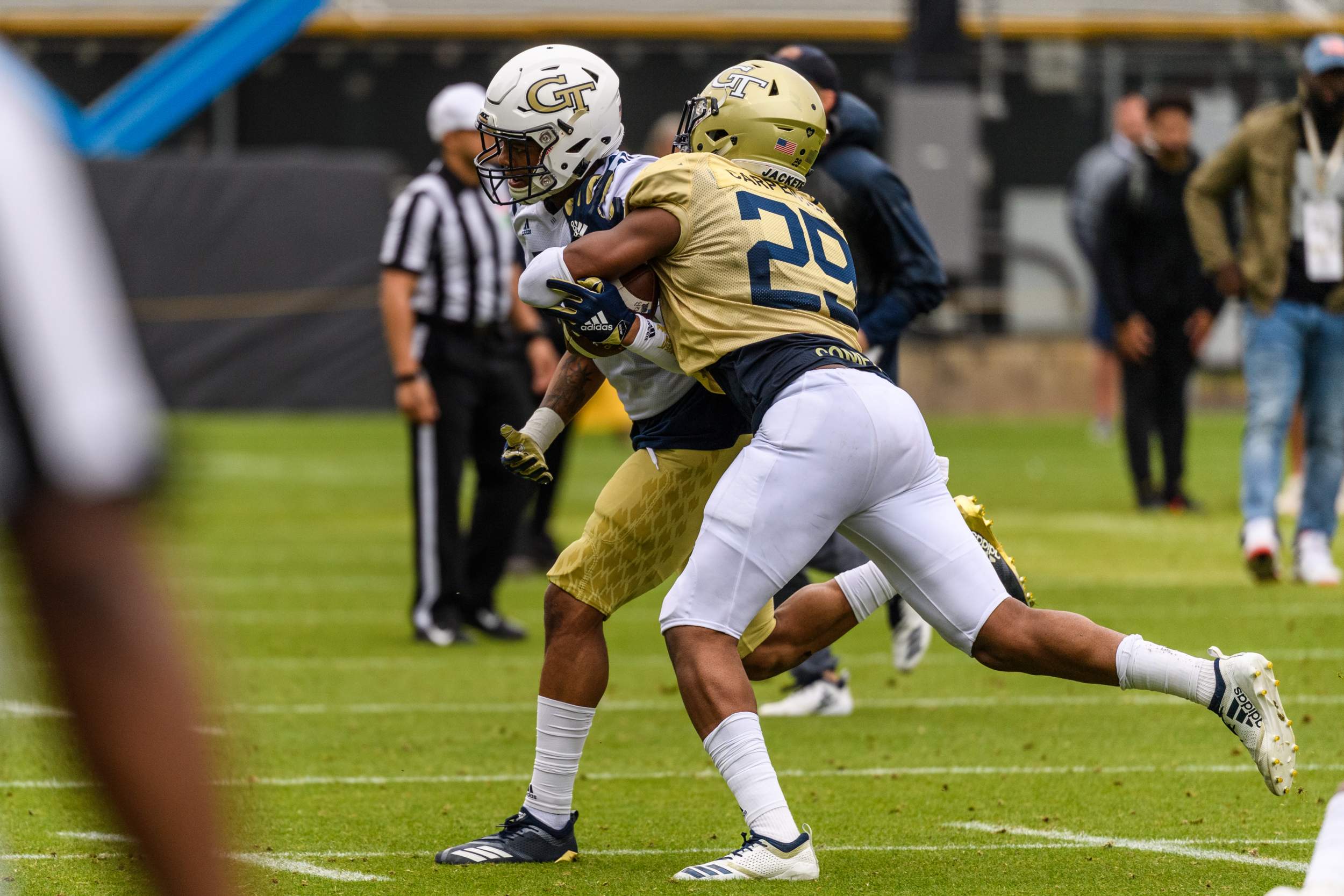 "He's a technique-guy because he played here," said the 6-2, 218-pound Carpenter, the team's leading returner in both tackles (55) and interceptions (2). "He said that he was a walk-on and the reason why he played was because he had good technique. He's all about that and he's all about effort."
The safeties have been all about learning, all about adapting and all about improving their techniques, so they can play anywhere in the defensive backfield.
"It gives them position flexibility," Burton said. "Whether they line up as a nickel or if we do sub packages where they're a dime, we can alter what we want to do defensively because of their skill set."
The ability to change on the fly has been fun for the unit, which has enjoyed flying around at practices at the faster pace demanded thus far.
"Tempo at practice … I was at practice last year, it wasn't as fast," said 6-3, 200-pound sophomore Juanyeh Thomas (below). "We moved a little bit but everything now is like 'We're moving. We're moving. We're moving.' Everywhere, we're moving."
"It's not just the transition of the defense. It's the transition of the offense because coming in, around this time we would be going against the triple option," said Carpenter. "As far as the transition with the defense, we are installing a lot more. We are on like our ninth install. Last year we just did two installs in the spring. So it's just so much more."
The so much more has included the popular morning practices and the exciting new atmosphere.
"New system, new coaches, new everything — it's really hyped-up and all the guys are really loving it," said 6-4, 205-pound sophomore Kaleb Oliver. "They love the energy, they love the passion we have to bring to every workout, practice, everything we do. They love the attacking feeling that we get."
Oliver added that the attacking mentality actually is one thing that has not changed in the transition.
"As a team, we're coming in with the same mentality. It's just a different scheme," he said. "We still have the attacking mentality as we've had in past years, we're just emphasizing it this year."
Another difference is that everybody is getting meaningful reps. Sharing reps and the "Above The Line" philosophy, as opposed to a depth chart, is contributing to the team-wide positive mindset.
"You come to college to play football. Standing on the sideline during a practice, you don't participate, you don't feel like you're part of the team as much," Burton said. "The way we practice, you feel like you're part of the team and you participate and you feel yourself getting better because you're getting reps. We've got guys, [Josh] Carlson, one of our corners, he's got a million reps this year. He's starting to dress different, he's got a little bit of swagger about him. His teammates know him and love him now. He's getting some reps out there. That doesn't happen at other places.
"If you build a depth chart, that changes due to injury. If we build 'Above The Line,' we know who's going to play for us in a game. That's why we do what we do," he added. "We want to have guys ready to play any time. Special teams first, then offense and defense. You're not 'Above The Line,' you can't play. Depth chart changes all the time. We don't want that to happen."
They want players to play and make plays. The defense has been designed accordingly.
"We're going to utilize the guys that are in the program," said Burton. "We want to be successful and give them a chance to be successful so whatever they do well, we'll be able to coach well."
The players are enjoying the coaches' flexibility and the opportunity to get reps at every spot, be it free safety, strong safety or nickel.
"Defensively, we're not running schemes to fit the offense. We're running schemes that fit our players. So we run things that our players will succeed at," said 6-2, 208-pound fifth-year senior Christian Campbell. "Team-wise, there's just more energy as a whole unit as they talk about the culture. It's the real thing. The culture's changed. Everyone notices it."
The safeties have noticed how easy it is to relate to Burton.
"I feel like he's a college student just like me," said Campbell. "He literally was in the same position I was in. He went to Georgia Tech, he played safety. So he knows what's going on. He can understand. He jokes with us. It's awesome."
Part of what makes it so easy for Burton to relate so well with his players is that he sees a little of himself in so many of them.
"I don't want to pick out anybody in particular because there are actually several guys," he said. "Guys like Avery Showell are working real hard, Kaleb Oliver is working really hard, even Juanyeh, just improving on his technique to allow him to play defense at an efficient high level. You can see it across the board. There's not a darkhorse, because we're all darkhorses here. Everybody's going to have a chance to shine."