By Jon Cooper | The Good Word
THE FLATS — It's been rainy, cold and dreary in Atlanta this week. It's the time when waterlogged student-athletes – and students, period – dream of that place in the sun, kind of a dream destination.
Head coach Alan Drosky and his women's cross country team actually ARE GOING to theirs this weekend: Madison, Wisconsin, where it's actually even colder.
For Drosky and his team, Madison is Shangri-La, especially the Thomas Zimmer Championship Course. That's where they'll participate in their NCAA Championships. It's Georgia Tech's first appearance since 2001.
"I'm proud of them, I'm happy for them," said Drosky. "We've had a tremendous season from the get-go, from, really, literally the first day of practice. I'm looking forward to seeing them line up in Madison, Wisconsin."
Getting back to the NCAAs for the first time in 17 years is a big deal, yet was a scenario Drosky pictured as far back as August 21, the first official practice of the semester. While every coach comes into every season optimistic, there are seasons that just have a special feel. Drosky's 26th as head coach on The Flats had that special feel.
"The first week of school we did a workout trying to just get a feel for what they did in the summertime, what kind of shape they were in," he recalled. "I remember thinking 'If this is the shape that they're in, then this could be a special year.' They kind of carried that forward the whole way, every time they lined up to compete. They just had a really solid year the whole way. So to see them get it done at the Regional meet, finish where we needed to in order to secure an at-large bid, was very exciting."
The top two finishers in each of the nine national Regionals held last weekend automatically qualify. The 13 at-large bids are based on how the third- and fourth-place finishers did during the season.
That worked to Georgia Tech's advantage. The Jackets raced against automatic qualifiers NC State, Dartmouth, Florida, Florida State, and Princeton, twice beating Dartmouth and topping Princeton. They also ran against fellow at-large qualifiers Michigan State, Notre Dame, Ole Miss, and Penn State. The wins over Dartmouth and Princeton gave Drosky a good idea that the Jackets would qualify, also made for some interesting scoreboard watching on the way home from regional.
"We're starting to look at results from the region meets that are on the East Coast," he said. "We knew the teams that we had beaten, so we know, 'We need Dartmouth to do well,' 'We need Princeton to do well,' 'We need Minnesota to get to the Nationals,' because those were quality teams that we had a win over. That's what gets you the at-large bid. So we're watching those results. Dartmouth gets second in their region and we had two wins over Dartmouth. So that was huge right there. We're looking at the results and Princeton gets in. They got second in their region. That was huge, again, because we had a win over Princeton. Generally, on a given year, two to three wins over teams that are at the national will generally get you into the national meet.
"We were on the bus and you could tell when the results came in and what the projections were," he added. "You could hear the noise level on the bus as they started getting excited about the opportunity to compete in Madison next weekend."
The official berth came Saturday. As nerve-wracking as the wait was, Drosky trusted the selection process.
"There is no committee. There is no subjective criteria," he said. "It is pretty much cut and dried, how you performed during the season. So there's never any, 'Well they picked this school because of this reason or that reason.' It's very transparent. You know exactly why the teams are selected and it's based off your season record."
The Jackets finished top-four in all but one of their five meets. They won in Athens at the Bulldog Invitational, finished second in the Coast-to-Coast Battle in Beantown in Boston, third at the Penn State Nationals, then, after a seventh at the ACCs in the return to Massachusetts – the team's lone hiccup – put together a tremendous team-effort to finish fourth in last Friday's NCAA South Regional in Tallahassee.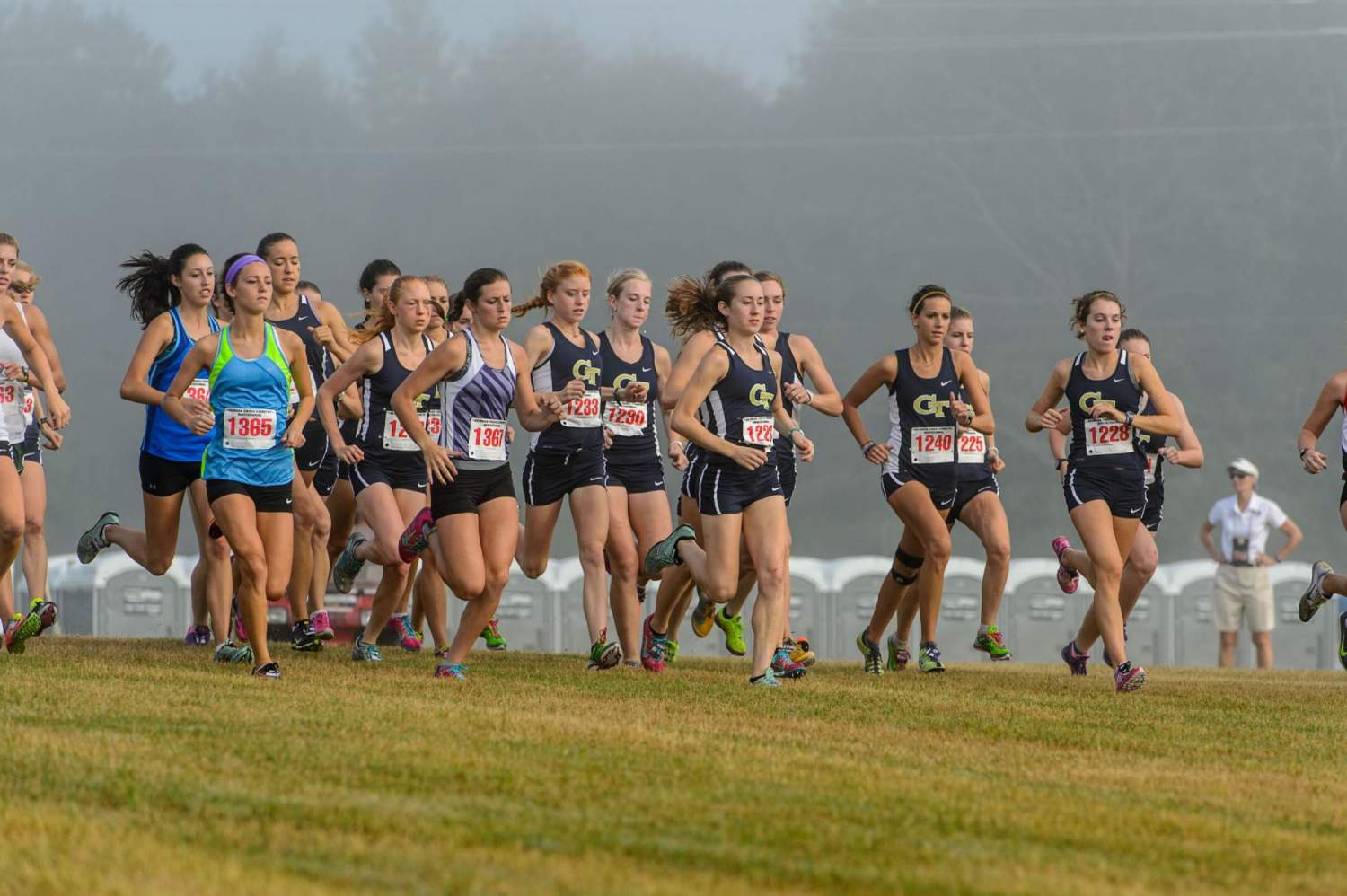 In their five meets, the Jackets competed against 93 teams, compiling an 81-12 record (an .871 win percentage). The 12 losses came to 10 schools, seven of which will be in the NCAAs.
"They truly earned their way to the National meet," Drosky said. "We said, 'Okay, let's be happy. Let's celebrate on Saturday but on Sunday, let's make sure we're getting refocused so we can go there and compete well.'"
The competitiveness and depth have been trademarks of this year's team. That was evident in Tallahassee.
The Jackets got all-region performances from senior Amy Ruiz, who finished 15th (21:03.4) and sophomore Hana Herndon, who ran 22nd (21:12.2), edging out a cluster of five runners that finished 5/10ths of a second apart. Sophomore Nicole Fegans (30th, 21:17.3), sophomore Liz Galarza (40th, 21:34.2) and senior Hailey Gollnick (43rd, 21:35.6) rounded out Tech's top five.
"Amy and Hana were outstanding, but really, the whole team, because every one of them at some point in the season, was in our top five at a meet," said Drosky. "Every one of those wins from all the different meets played a huge role in getting us to the National meet. So it's pretty neat that they all know that they played a role in getting us there."
That captain Mary Prouty wasn't in the top five for the first time all season (she was the sixth Jacket across, finishing 60th at 21:56.7) reinforced Drosky's point of emphasis all season regarding the team's depth.
"I guess I would have been a little concerned had you told me, 'Mary is going to end up sixth for you,'" he said with a laugh. "But I also know that our team is deep. That's one of our strengths.
"The top five has been very fluid this year," he added, referring to the five different 1-through-5 finishing combinations created by Tech's top seven. "They're ALL very talented and they race well. They're competitors. I knew some of them were coming on at the end of the season. Runners like Liz Galarza and Hailey Gollnick, who had been generally fifth or sixth for us through the season, really ran a much more aggressive race (in the Regional) and gave us a very solid four and five, even with Mary slipping a little bit."
While it's been a while since he's taken a team to Nationals, Drosky remembers 2001 and sees similarities with this year's team.
"It was a good team, not unlike this year's team," he said. "It was a team where you had a collection of kids who had some pretty good marks coming out of high school and some that were solid high school runners but just developed well and kind of just trusted the training, trusted the process, came together through the course of the season, and got it done.
"We were led by a young lady, Renee Metivier, who finished second at the National meet," he added. "I think we finished 26th that day. We did have our second runner that day twist her knee – she stepped in a hole on the course and she had had a couple of knee surgeries, so that kind of spooked her and she dropped out of the race. So we probably were on the way to finishing a little bit better than that."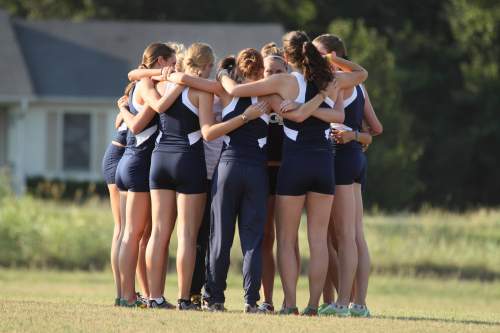 Drosky feels the 2018 edition can match and maybe even surpass 2001.
"I think that's the goal for this year, to go and compete to get in the top 25," he said. "We've kind of been ranked in that range. We still feel, as good as this season has been, that we really haven't run our best race yet. We've had some really good races, no doubt. But I don't know that we've had a day where everybody has had their best day. So that's kind of what the goal is for this Saturday."
They're right where they want to be, 30-something temps and all.
"We raced at the conference meet in Boston and it was cold," Drosky said. "It's uncomfortable from the standpoint of spectating and coaching and standing around in the cold but for the athletes, once we get to warming up and they start the race the colder temperatures – as long as they're not too extreme – are actually really nice for the runners. Obviously, hats and gloves probably will be necessary, especially the gloves, but the weather won't affect the outcome."
The same is true about learning the course, which they'll walk through Friday.
"It's a really good course," he said. "It was designed to host the Nationals, which means that you have a big, long straightaway for the start, about a half-mile. You've got a 10-meter wide course the whole way to handle the volume because there will be 255 women in the race and they're ALL good. So it's a very fair course. It's a good cross country course. It's not fast, it's not slow, it's just a good, solid cross country course. We'll be ready for it come race day."