This story originally appeared in the summer (May) edition of BUZZ magazine. To read the entire issue, CLICK HERE
By Adam Van Brimmer
Ask Noah King about his Carnegie Medal and he'll tell you about Kevin Little.
Little, age 10, was sleeping at his grandmother's house in October 2015 when the smell of smoke woke him up. He quickly realized the house was aflame, roused his grandmother and three other children from their beds and led them outside. He then returned to the home to rescue his two-year-old cousin.
Little never came back out. Firefighters found him in his cousin's bedroom, shielding the toddler with his body and a mattress he'd manage to pull over the top of them. Both Little and his cousin were unconscious and later died from smoke inhalation.
Little was awarded a Carnegie Medal, given to civilians who risk their lives saving or attempting to save others, by the Carnegie Hero Fund Commission last fall.
"You read about this 10-year-old boy who gave his life doing this selfless deed, and you don't feel worthy," King says. "To be counted among those heroes is very humbling, to say the least. The only people I like to hear call me a hero are my kids."
Yet a hero King is. Just like that little boy, the one-time Georgia Tech offensive lineman rushed headlong into a life-threatening situation. King successfully rescued an injured man from a burning pick-up truck, coming to the stranger's aid.
King maintains he just happened to be at the right place at the right time and only did what anyone else in his place would have done — hence his shunning of the "hero" moniker.
Plus, terror, not bravery, is the emotion he still feels when he thinks about the incident. He remembers coming upon the scene of the accident, stopping his car and getting out to investigate. But he also recalls the raw fear that prohibited him from being able to work his cellphone well enough to dial 911.
Yet he kept walking toward the burning vehicle anyway.
"I was like, `Why are you walking this way? The car is on fire. What if it explodes?'" he said. "As I got closer, I could hear somebody banging inside the cab and then I saw the driver trying to kick open the windshield. That kind of snapped me out of my daze and spurred me to action."
Both King and the motorist went into "survival mode." King leveraged his old blocking techniques and busted open the window with his forearm. The accident victim had suffered a broken leg  and King had to drag him to safety. The truck never exploded but the flames broke through the firewall and consumed the cab moments after the escape.
King's actions drew media attention, and he learned late last year he'd been nominated for the Carnegie Medal. He's a native and current resident of Panama City, Fla., and his local U.S. congressman, Neal Dunn, presented him his medal.
Dunn listened to King's protestations over being labeled a hero and offered his own appraisal.
Dunn's congressional district "is full of a whole bunch of heroes like him," Dunn said, "but he got a chance, he was tested and he passed with straight As."
PRIZED AWARDS
Whether King feels he deserve it or not, he will forever treasure his Carnegie Medal.
The first medals were awarded in 1904 to two coal miners who attempted to rescue peers caught in a mine explosion near Pittsburgh, Pa. Andrew Carnegie, the steel magnate, was so moved by their heroism, he established a $5 million trust fund to recognize "civilization's heroes" and to provide financial assistance for the recipients or, in the case of those who died in their efforts, their dependents, so that, in Carnegie's words, "heroes and those dependent upon them should be freed from pecuniary cares resulting from their heroism."
The Carnegie Hero Fund Commission recently awarded its 10,000th medal and has handed out $40 million in grants. The commission has reviewed nearly 90,000 nominations in its 114-year history.
"What an incredibly legacy for a man whose name is familiar to most anyway," King said of Carnegie. "Consider all the things he accomplished in his life, and now he's remembered for honoring the accomplishments of others."
King is living an extraordinarily memorable life himself — a very human one, full of triumphs and hardships, with each experience contributing to the next. When he talks about wanting to be a hero to his children, he does so secure in the knowledge that he is what he is today — not a Carnegie Medal winner, but a successful business professional and family man — is because of the influence of several personal heroes.
Those heroes include his parents, his wife and his former Georgia Tech coaches and teammates.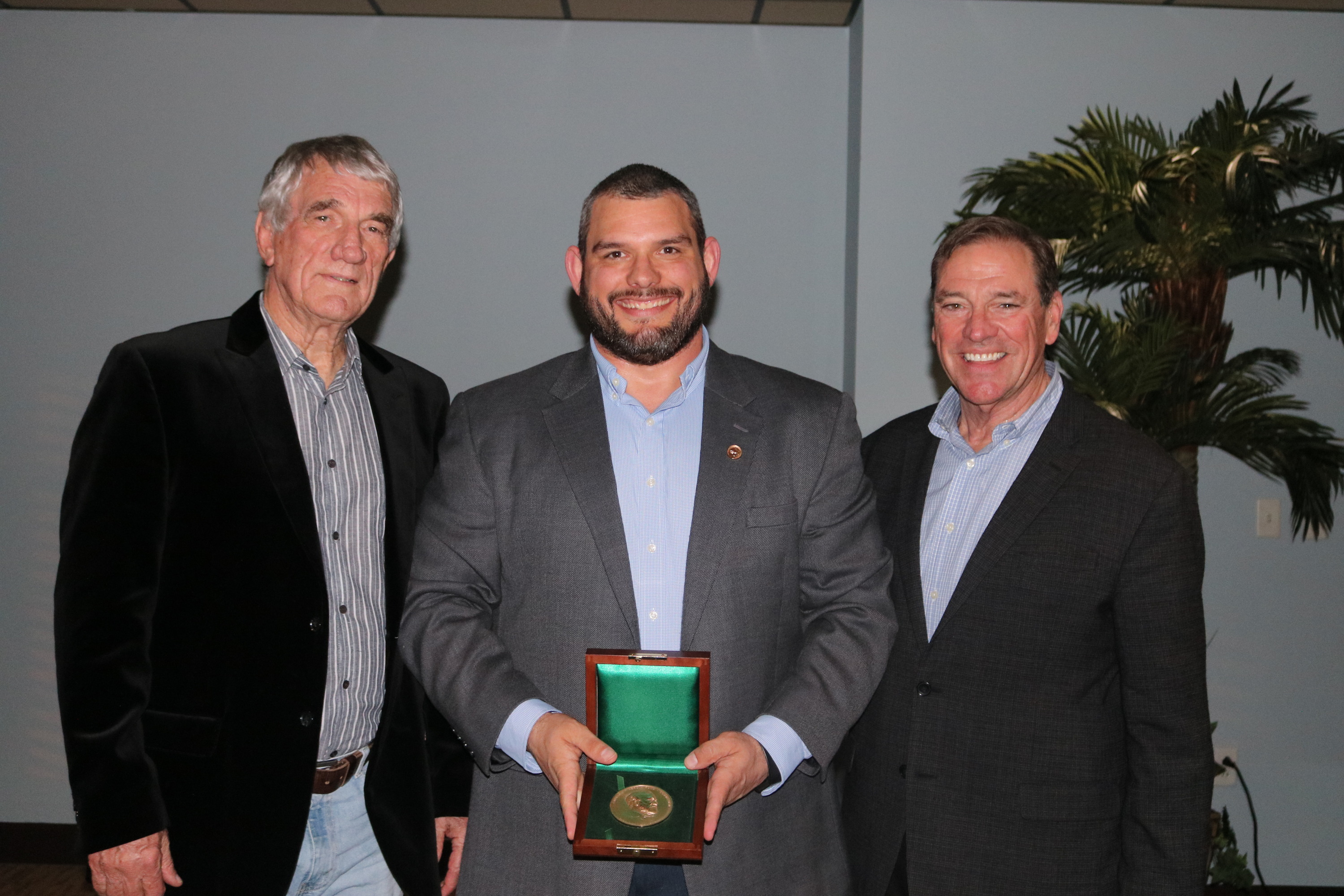 SUCCEEDING AT LIFE
King makes his living as a financial adviser, yet he's not one of those classic Tech-star-student-makes-it-big stories. In fact, he doesn't hold a Georgia Tech degree, a regret that "pains me every day," he said.
King's Tech tenure was marked by emotional distress. His mother died of cancer two days before the Yellow Jackets' 1997 season opener, when King was a sophomore. He struggled through that year and then thrived as a junior and senior, starting in front of star quarterback Joe Hamilton, winning an Atlantic Coast Conference championship and playing in two Gator Bowl games.
"That was great, but once football was done, I didn't have much in the way of drive," King said. "I left school and just bounced around for years. My reaction to everything in life was to say `whatever' and I never made much headway. Until I met Amy. The majority of my success is due to her."
The woman who would become his wife gave him direction. She's given him four children and reason to drop the "whatever" attitude. He joined his father's financial advising firm and finished his bachelor's degree online through Florida State. He also earned his Certified Professional Financial Advisor designation as well.
With each blessing has come a new challenge for King. Two years ago, doctors discovered a golf ball-size tumor on his kidney. Cancer was haunting the King family again. A surgeon removed the tumor in August 2016 and King faced 10 hard weeks of recovery. The ordeal left him sore and tired.
Ten weeks to the day after his surgery he spoke at an event as a cancer survivor. Driving home afterwards, he came across that burning pick-up truck along the side of the road.
"My getting cancer, being a survivor, speaking at that event, driving home on that road at that exact time when I just had recovered to the point where I could do what I did — weird huh?" he said. "I kind of feel like I've hit my stride in life just when God wanted me to. And I couldn't be more thankful."
Spoken like a true hero.