The Good Word | Matt Winkeljohn
Alison Walker went for a swim the other day, and after hitting the water with friends in the Nevada's Lake Tahoe, she and several former Georgia Tech swimming teammates, made a new friend in athletics director Todd Stansbury.
It was so good to see Yellow Jackets Elizabeth Stowe, Jing Li, Caroline Johnson, Liz Foster, Amanda Gannon and Ryann Kopacka that Walker barely cared that they finished fourth in their age division in the Trans Tahoe Relay on July 21 and 50th overall out of 202 men's, women's and coed teams with a time of 4:22.46.
"It was the best component. It was nice to see everyone. They're your family, and some of them I've stayed in touch with well, some less so," Walker said. "It's funny, no matter how long you've been away from each other, you get to know each other all over again."
The Trans Tahoe Relay looks like a great place to reunite with college teammates.
It's an interesting event, with teams of six swimmers chasing lead boats, all to raise money to caretake Lake Tahoe and its water quality, shorelines and more.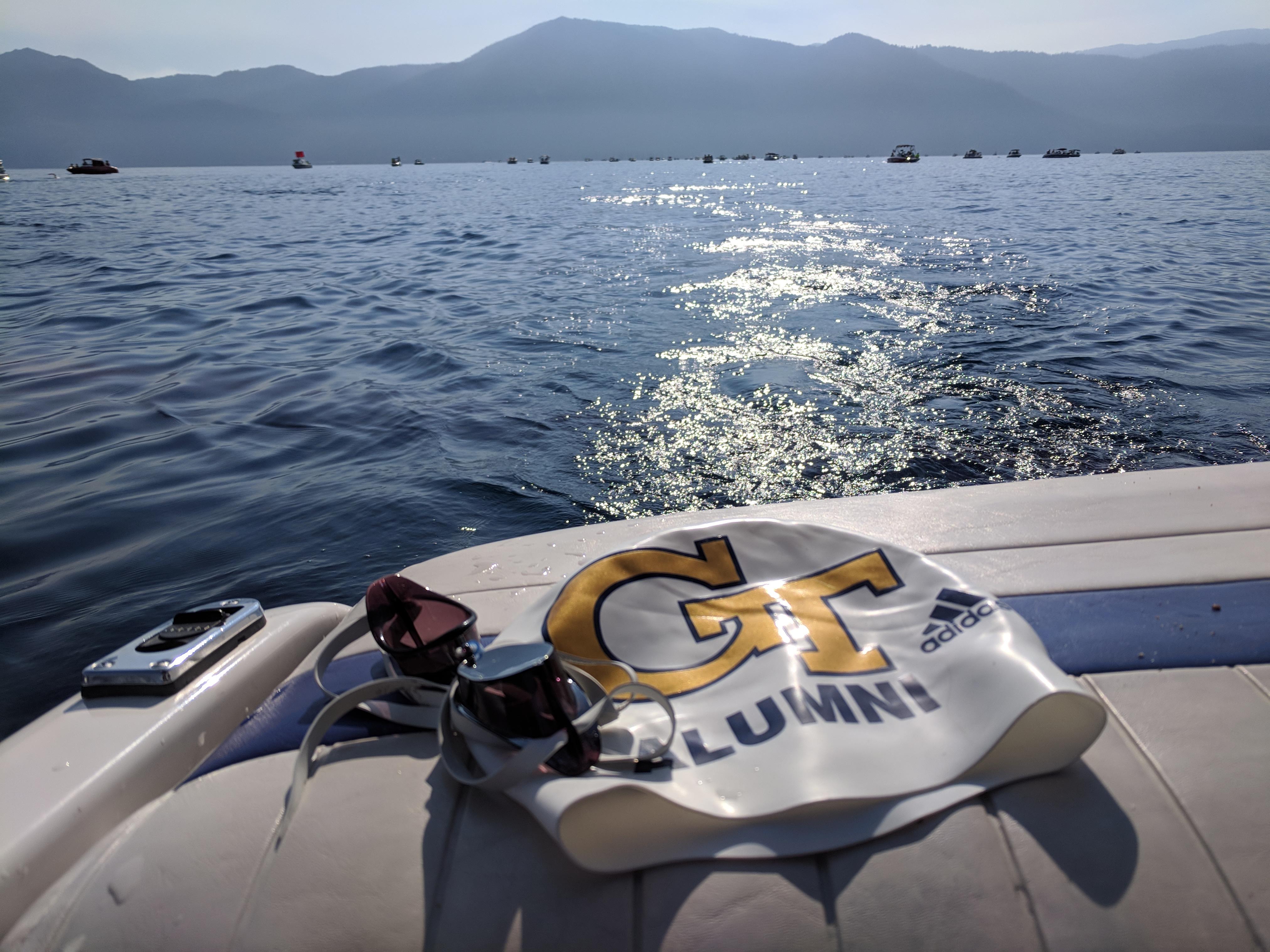 Given the length of the race, it might also look intimidating, especially for someone like Walker, who was a sprinter for the Yellow Jackets in the mid-2000s.
She was fine, though, as each swimmer initially stroked for 30 minutes per leg and then alternated 10-minute segments to the finish.
It didn't hurt that the Tech team, which competed under the smoothly-crafted moniker "GT s'Women", included two of the greatest distance swimmers in school history.
Stowe still holds program records in both the 1,650-yard freestyle (16:19.75 in 2008) and the 1,000 (9:55.75 in '08). Li still holds the No. 7 spots in the 1,650 (16:57.90 in '08) and 1,000 (10:13.74 in '08).
Li led off the event, and Stowe finished.
"It's really just amazing, because you're swimming in this massive lake, just blue surrounded by mountains," Li said.
Not all competitive swimmers are familiar with open-water swimming, and this event — which has been going on for more than 40 years — is different than others.
There were few buoys marking the very long course, yet the support boats were given compass settings, so the swimmers chased the boats.
That didn't make things perfectly easy.
As Li and 201 other swimmers ran into the water to start, the boats had to pick out their swimmers or vice-versa. Where most open-water events are lined by buoys, that isn't the case in Lake Tahoe.
"I guess what most people get nervous about is having all the boats around. There's hundreds of boats waiting," Walker said. "We had a bunch of Georgia Tech flags . . . On the boat, we're nervous because we want to find [Li]."
They found her, or Li found them, and off they went.
"There's no line at the bottom of the pool so it's just kind of you and the water," Stowe said. "In typical open water you have buoys, but this, they only had a buoy at the beginning and the end. I just sighted the boats; you look up every couple strokes.
"I used to do some open-water swimming when I was competing. This was more fun because you get to hang out in the boat between your time frames. There were so many people it was more spread out, and it's prettier than any race I've never been in."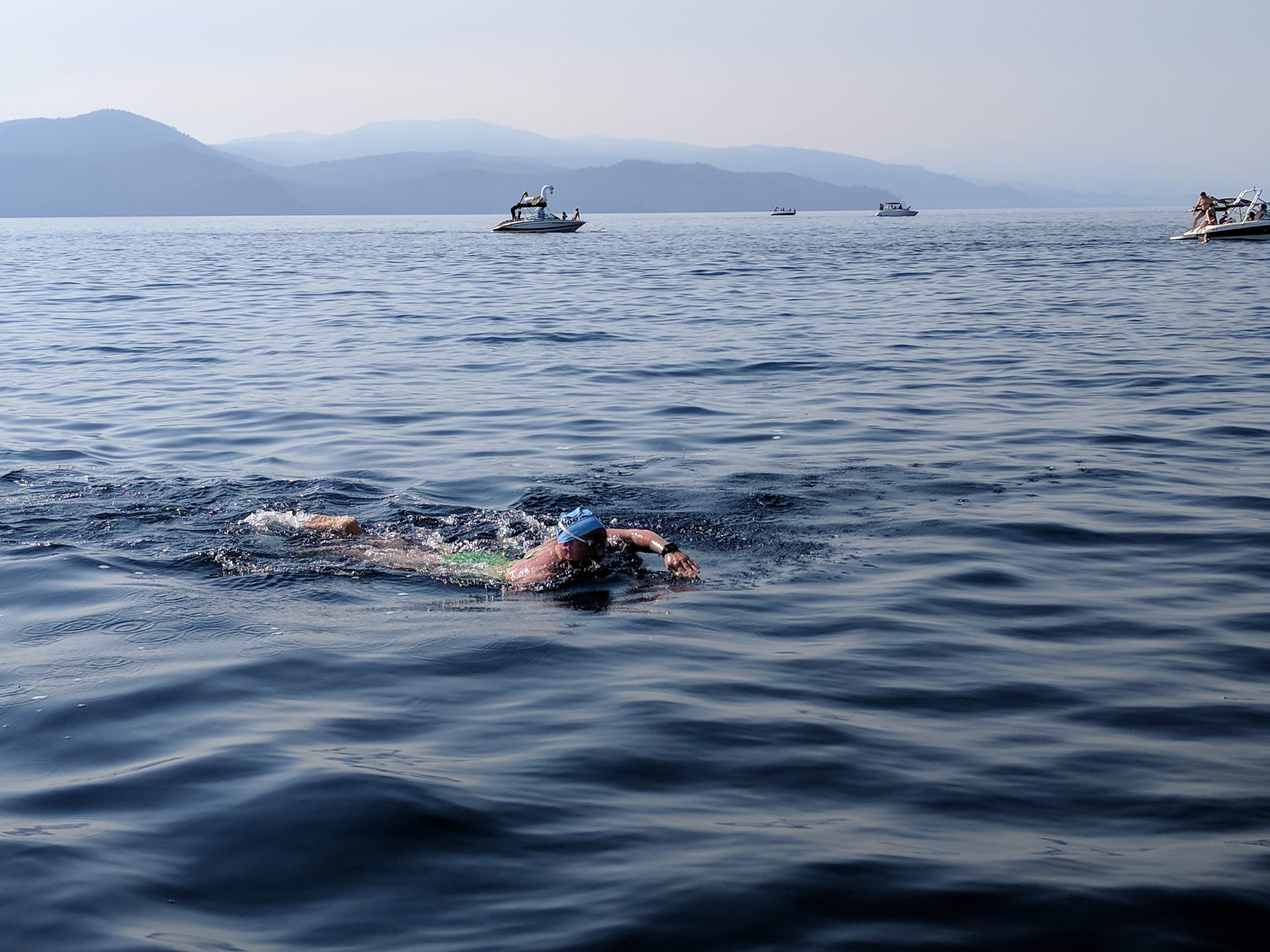 The former Jackets traveled from near and far for the event.
Walker and Li live near San Francisco, for example, where they work in digital marketing and innovative strategy, respectively. Walker is with Premier Nutrition, and Li works for Accenture Digital.
Stowe made the trip with her boyfriend from Atlanta, where she is a merchandise planner with Carter's/Osh Kosh in Buckhead.
"It was a great excuse to go to Lake Tahoe," she said. "We have alumni meets, but not everybody can make them. I make them since I'm in Atlanta, and Caroline is, too. I last saw Amanda two years ago, Jing at a wedding a couple months ago, Alison two years ago and Liz probably two years ago. It was nice to see everybody."
Later on Saturday night, all of the former Georgia Tech student-athletes gathered (Kopacka was present without swimming) at the nearby home of Lynne Brantley and Doug Tuttle. Brantley's father, former Georgia Tech diver Haskew Brantley, is in Tech's athletic Hall of Fame.
There, they met for the first time Stansbury.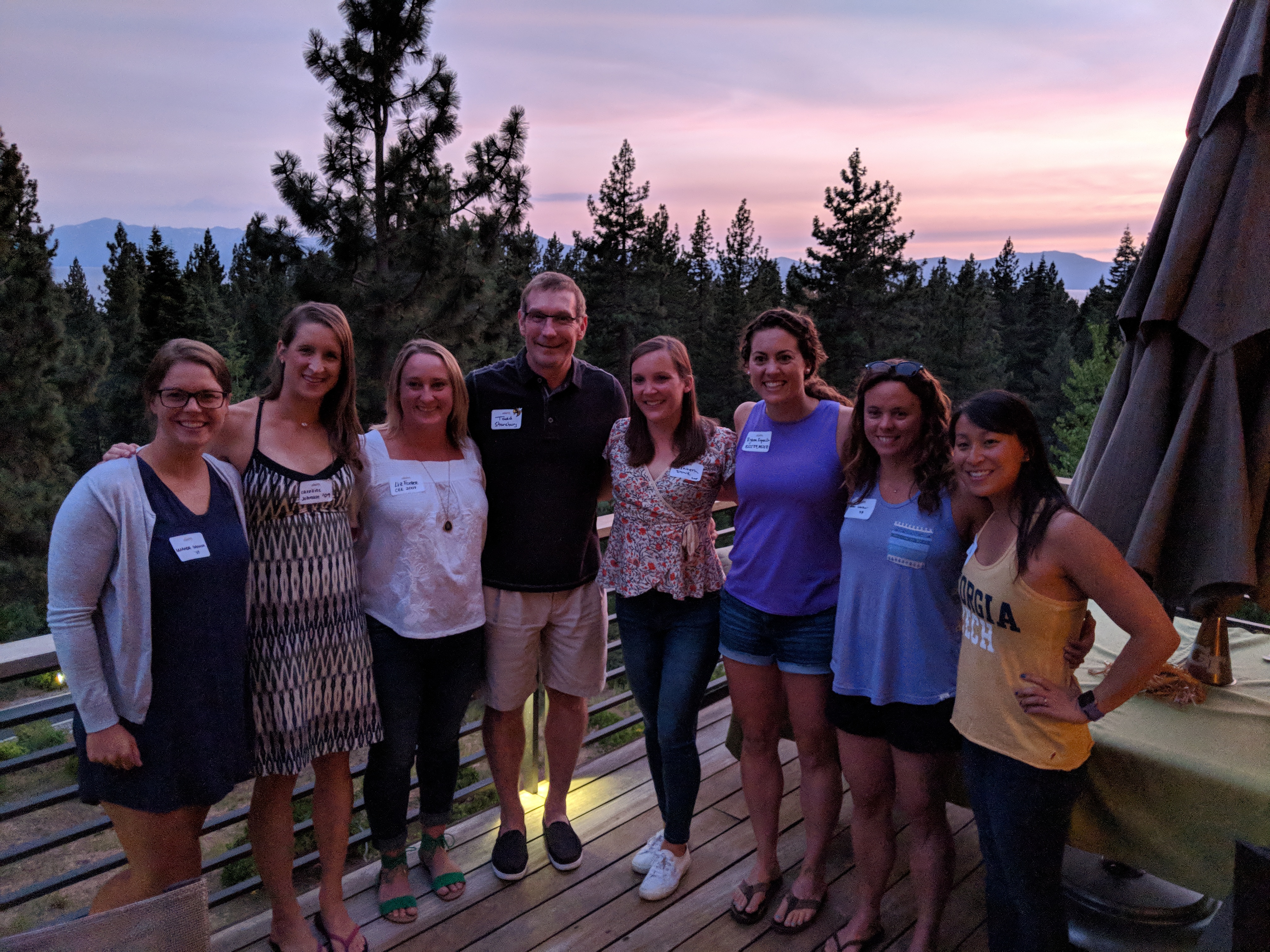 He was invited to the event by Mindy Hyde of the Alexander-Tharpe Foundation after Hyde was notified that a team of former Georgia Tech student-athletes would participate.
"He was incredibly warm and welcoming considering that we hadn't met him before," Walker said. "He also shared his vision for the athletic department, and how he wants to use technology to benefit the athletic program . . .
"He shared some of his vision about building the brand around what student-athletes are doing five or 10 years after school, and I think that's such a good path to take."
Li took a lead role in organizing the gathering, and she also left impressed by Stansbury.
"Todd shared some of his vision, and how he wants to re-brand for the future, talking about why Georgia Tech is unique, and Georgia Tech has no direct comparison," she recalled. "Academics see us on par on with MIT, but Georgia Tech is really unique in that we have Division I athletics and great engineering.
"There are so many universities across the country that wouldn't send their athletics director across the country to an alumni event. He knows what we went through."