By Matt Winkeljohn | The Good Word
Georgia Tech is about to turn a page, and even before the Yellow Jackets close the non-conference season Wednesday night against USC Upstate, at least one player already has acted on a New Year's resolution of sorts.
Abdoulaye Gueye began changing his ways before the calendar turned, and there's a Dream of sorts behind the move, not to mention a few pep talks from the boss that may have convinced him to stop fiddling around.
If you saw the fifth-year senior center from Senegal last Friday, you knew something was different when he came off the bench. Having lost his starting job to James Banks III, he was plodding while playing a total of 35 minutes in five prior games with four points and eight rebounds.
So, when he tied a career high with 16 points, pulled in a game-high eight rebounds, added three assists and two blocks in an 87-57 blowout of Kennesaw State in McCamish Pavilion, it was a good thing, maybe even a form-finding experience.
Head coach Josh Pastner kept telling him that he was trying too hard to play like one of his idols, Hakeem "The Dream" Olajuwon, and that he needed to streamline his game.
Gueye did, making all seven shots on dunks or one-fake, up-and-under moves in the paint.
"He might be right," A.D. said of Pastner's suggestions. "Sometimes, I fake a lot … but to me I've been working on, if you give me this, I'm going to take it. I'm good around the rim, and sometimes you've got to read the double-team."
When it was over, sophomore point guard Jose Alvarado said, "It's not surprising to any of us. We knew he could do this … that's everyday A.D. to us."
But it wasn't every-game Gueye, which is why he fell out of the starting lineup after six games. It'd be nice to change that. The Jackets are going to need all depth when the ACC slate begins Saturday evening against Wake Forest, and the return of A.D. may be meaningful.
"I thought A.D. gave us good minutes around the hoop, and we need him to be effective for us," Pastner said. "When he's backing James up and he goes in … unfortunately, he's been in a little bit of a slump so hopefully this game can kind of get him triggered, get his mojo back going."
Much went well for the Jackets (7-5) as they smoked the Owls (3-11).
There were the season-high 29 assists on 35 baskets, the highest dime number since Pastner was hired in 2016, and Tech made 5-of-11 3-point shots in the first half on the way to a 49-23 lead. That loosed up the Kennesaw State defense inside.
The No. 1 takeaway, though, was Gueye going off.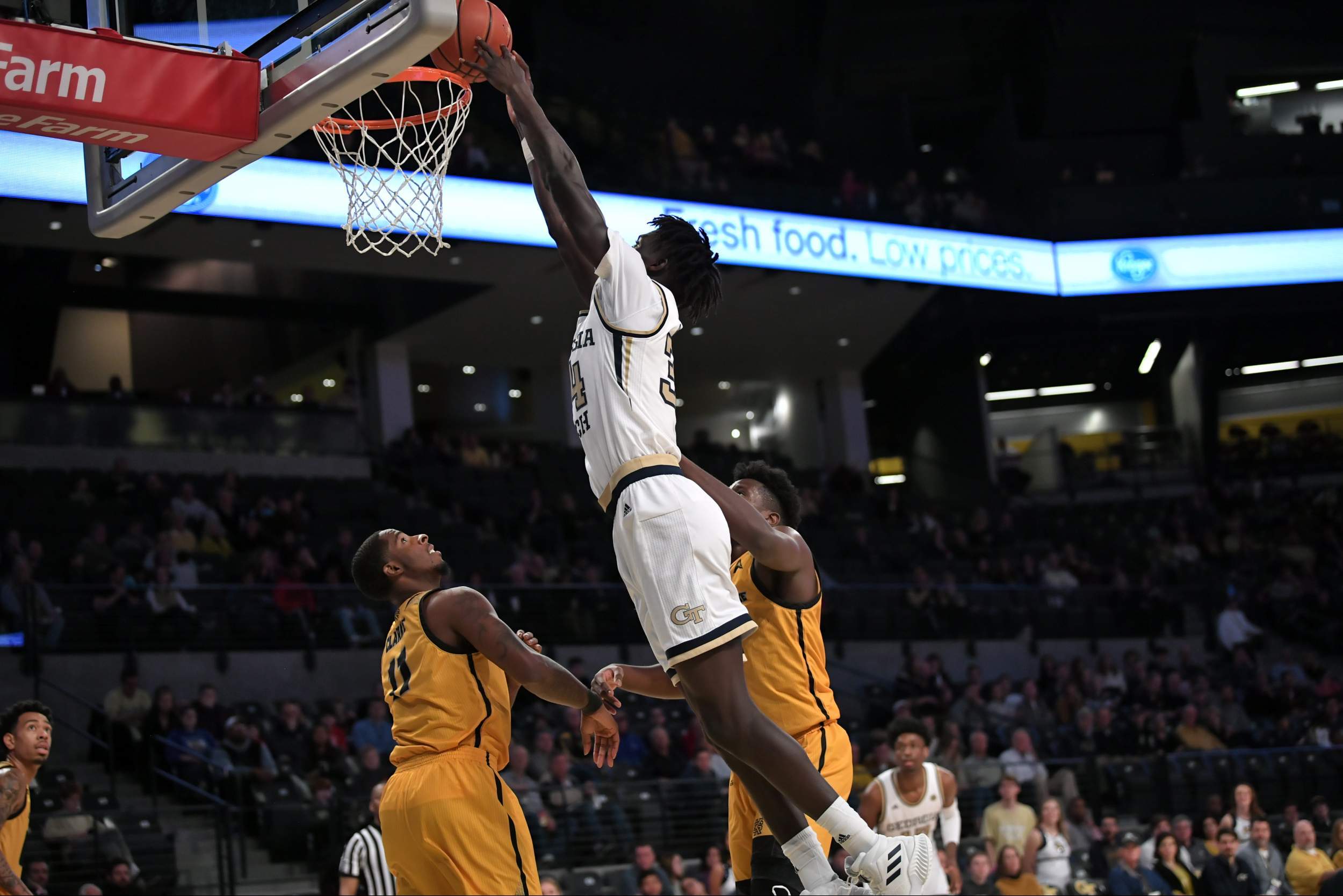 Gueye made all seven of his shot attempts against Kennesaw State on dunks or one-fake, up-and-under moves in the paint.
The lean, 6-foot-9, 217-pound business administration major made 2-of-3 free throws, which was good, yet more than anything he played with force and decision.
"A.D. can score around the block, but he was trying to be too much [like] one of my favorite players in the history of the game, Hakeem Olajuwon, you know with all the shakes," said Pastner, who grew up outside of Houston, where "The Dream" played 17 of 18 NBA seasons in his Hall of Fame NBA career.
"I kept telling A.D., 'You're not Hakeem. Hakeem is one of the 50 greatest of all time. You've got a beautiful jump hook. Shoot the jump hook, and if the jump hook is guarded, use your up-and-under. You're actually faking yourself out.' He's got to keep it simple. If he has three, four, five fakes, that's just too much."
Gueye appears to have taken note.
And yet he's not going to let go of Olajuwon, the 7-foot Nigerian who averaged 21.9 points, 11.2 rebounds and 3.1 blocked shots per game in 18 NBA seasons.
"Basically, every basketball player has got their idol and mine is Hakeem Olajuwon. I'm trying to play like him, not like him, but use his tools to develop my game," Gueye explained. "Hakeem, growing up – I'm from Africa – so I'm watching his videos and how he does up-and-under, how he reads, how he shoots hook shots. He made me get better."
Pastner may be in learning mode as well.
He suggested after Friday's game that in the Jackets' previous contest, an 11-point loss to Georgia in which Alvarado made just 3-of-20 shots, that he probably should have benched his point guard so that he might have had a chance to re-gather his wits and stop gunning.
Against Kennesaw State, as Banks scuffled and Gueye rolled, he kept giving the senior playing time.
"I thought he was playing better in practice and I just felt James, when he gets a little tired, we've got to yank him out and get A.D. in there, and A.D. was really good today. That's the A.D. that we know that can score around the hoop.
"When he tries to rush it, or over-think it, make it more complicated than it needs to be he's just not as effective."