#GTWhiteout in Primetime: Georgia Tech vs. Miami – Saturday at 7 p.m.
By Matt Winkeljohn | The Last Word
It wasn't exactly by design that Georgia Tech picked off three more passes Saturday at North Carolina, where interceptions were critical as the Yellow Jackets won their third-straight ACC road game. Yet, it was generally planned.
When head coach Paul Johnson hired defensive coordinator Nate Woody from Appalachian State in the offseason, and Woody set about the business of installing a new 3-4 front, the primary goal was straight forward and at the same time complex: create more chaos.
The Jackets (5-4, 3-3 ACC) went searching for more disruptive plays, like sacks, tackles for lost yardage and takeaways.
They're finding those with 20 takeaways in nine games, doubling the 10 they had last season.
Tech already has 12 interceptions vs. six last season, and eight fumbles recovered vs. four.
So they've doubled up without always doubling.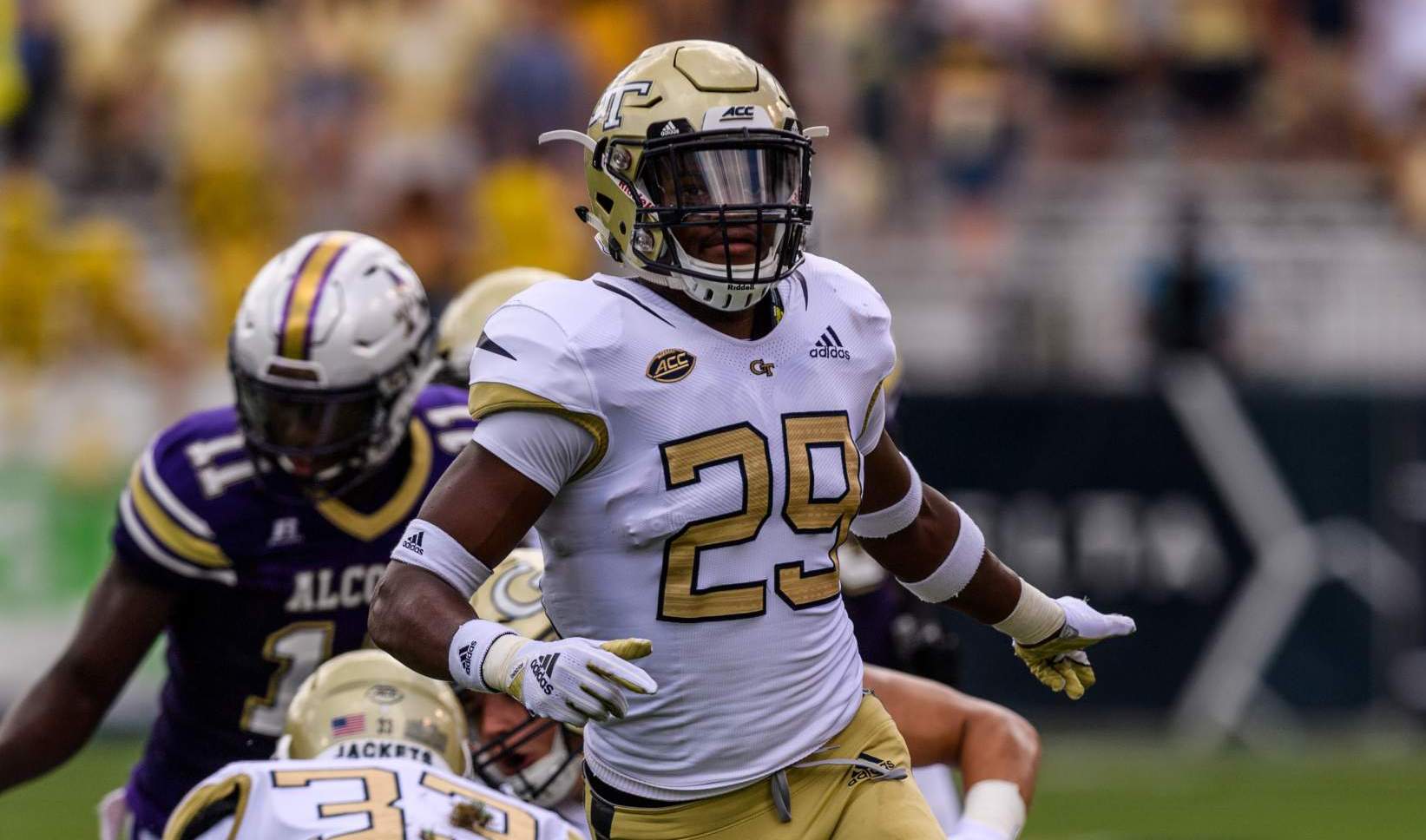 Tariq Carpenter had one of Georgia Tech's three interceptions at North Carolina and is tied for the team lead with three this season.
When defensive end Anree Saint-Amour sank out of a pass rush late in the game, and pulled in a pass by UNC quarterback Nathan Elliott to set up a game-clinching field goal by Wesley Wells, it wasn't exactly a called play. It was built-in concept that helped the Jackets win for the fourth time in five games.
"I felt like I saw the running back flare out and I just kind of dropped back with it and made a play," he said of his second interception this season, which is also the second of the senior's Georgia Tech career. "The call that we had with it allows me to make that decision."
The Jackets' offense went on to score all three times in Chapel Hill after pickoffs by cornerback Tre Swilling, safety Tariq Carpenter and Saint-Amour.
The fourth-quarter interceptions by Carpenter and Saint-Amour helped the Jackets break a 28-28 tie and go on to beat North Carolina 38-28. Swilling's first-quarter pick helped Tech take its first lead.
Most, maybe all, would say that Saint-Amour's was the biggest.
The Jackets led 28-10 at one point, but turnovers potholed their path. Fumbles lost by B-backs Jerry Howard and Jordan Mason set up 10 North Carolina points, the latter coming during an 18-0 run that saw the Tar Heels tie the game at 28-28 early in the fourth quarter.
Momentum was wearing powder blue and white.
"I think everybody felt it. Everybody felt it a little bit slipping away, but one thing Coach Woody always emphasizes every week is there's always going to be a change of momentum," Saint-Amour said. "As a defense and as a team, it's always our job to try to get that back. That change came in the third quarter and we got it back in the fourth."
Carpenter's fourth-quarter third-and-10 pick – his second of the season to tie safety Malik Rivera and, eventually, Saint-Amour for team honors — and a 6-yard return to the North Carolina 41 put Tech in position to re-take the lead.
"To me it looked great. The funny thing is, in practice, we had the same exact route concept . . . and he didn't get his hand on it. We had the same call, the same formation in practice and the next time it came back, he was able to make the play," Swilling said. "So, I think it was awesome. It definitely shows how hard work in practice shows up the game."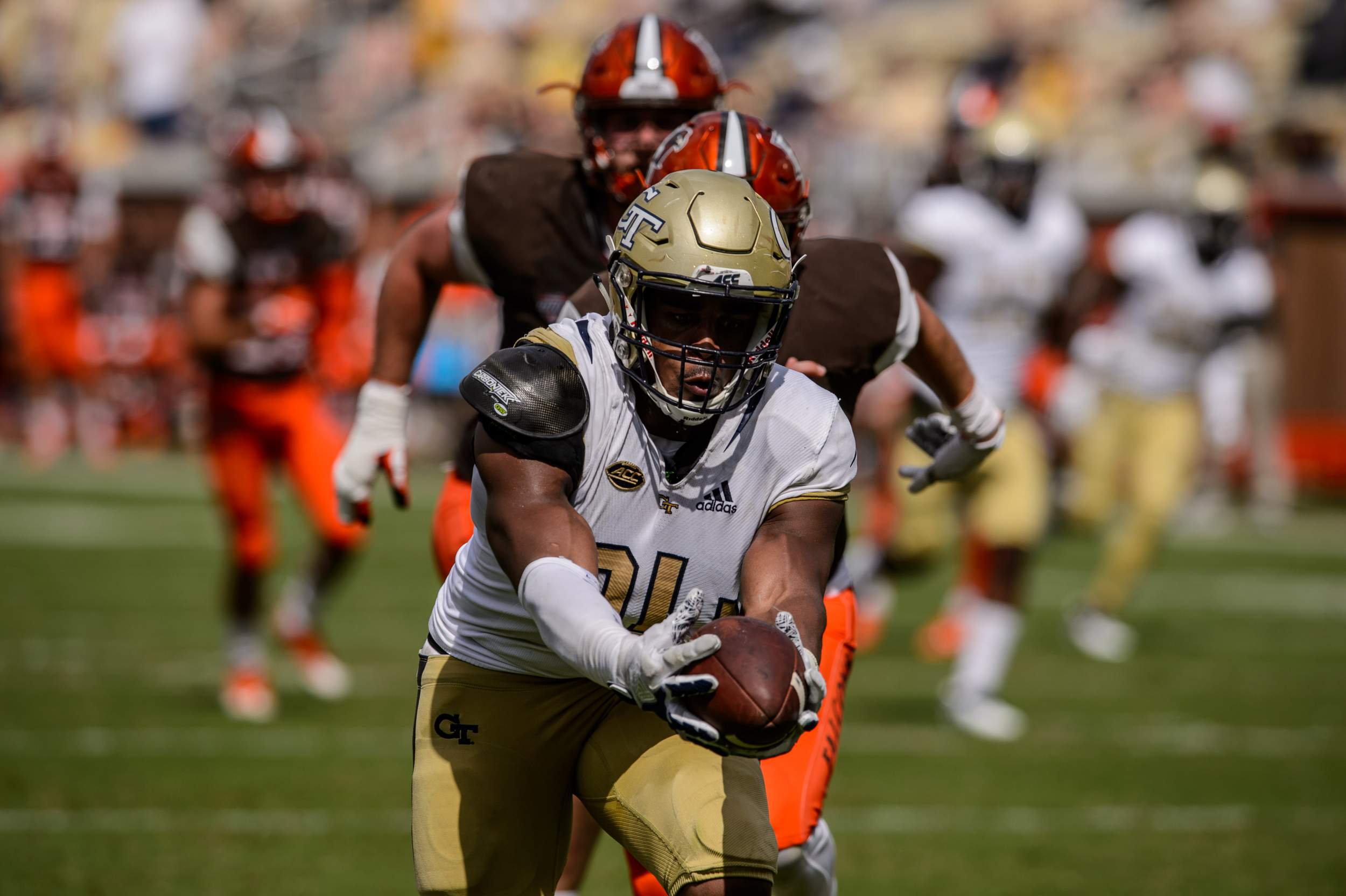 Anree Saint-Amour's pivotal interception at UNC was his second of the season. He had a pick-six versus Bowling Green on Sept. 29.
It took nine plays, and a 3-yard run by A-back Clinton Lynch on fourth-and-1 at the UNC 20 to keep alive a drive that quarterback Tobias Oliver finished off with a 1-yard scoring run. That made it 35-28 with 3:00 left in the game.
Swilling's one-handed interception in the first quarter on a long throw by Elliott triggered a 15-play drive – the first series of the game for Oliver – where he scored on second-and-goal from the 2. Tech led 14-7 early in the second quarter.
"That was amazing, really," Saint-Amour said. "I saw the ball get up there and I thought, 'Oh, Tre's got to make a play.' Tre, he's a hard-worker. This offseason, he was working hard. He's always pushing me. He's always telling me, 'You've got to make plays. You've got to make sacks. [I'll] take care of us in the secondary.' "
Tech has converted its 20 takeaways into 96 points, including 17 on Saturday compared to North Carolina's 10. That's good.
Asked after the game which was his favorite Tech interception, the head coach did not hesitate. "The last one. Anree," Johnson said.
Swilling wasn't arguing.
"I think his interception was definitely better. It was well-needed. He made a play when the team needed him," said the redshirt freshman. "As a senior and a leader, as we trust him to be, he made the play."
Saint-Amour stretched the play with a 16-yard return to the North Carolina 19-yard line and, six plays after that, Walls hit a 22-yard field goal with 46 seconds remaining in the game.
The Jackets' thefts helped lock up everything, as per planning.
"In practice, we always emphasize takeaways. Thursday we're always trying to get picks, working on ball skills. Just practicing every day, every week and getting better at it," Saint-Amour said. "We know if we want to be a top defense, if we want to be a good defense and we want to win games, we have to win the turnover battle. That's what we try and do."