By Matt Winkeljohn | The Good Word
Not long after Georgia Tech beat Miami on Saturday, tribute was paid to the passing game.
How rare is that?
More often than not, the Yellow Jackets throw only slightly more often than a citizen might sign up for extra taxes. They passed a total of three times in preceding games while rushing for a combined 926 yards in wins at Virginia Tech and North Carolina.
Yet they mightn't have beaten the Hurricanes 27-21 at home if not for a handful of balls that went through the chilly night air. The third and final completion, on the fourth and final pass, was just as glorious as the setting in Bobby Dodd Stadium.
Those 22 yards gained by quarterback TaQuon Marshall to wide receiver Jalen Camp on third-and-6 (below) kept alive a drive the Jackets used to tick the final 6:43 off the game lock, and fabulously flipped a horrible, terrible, no good, rotten script.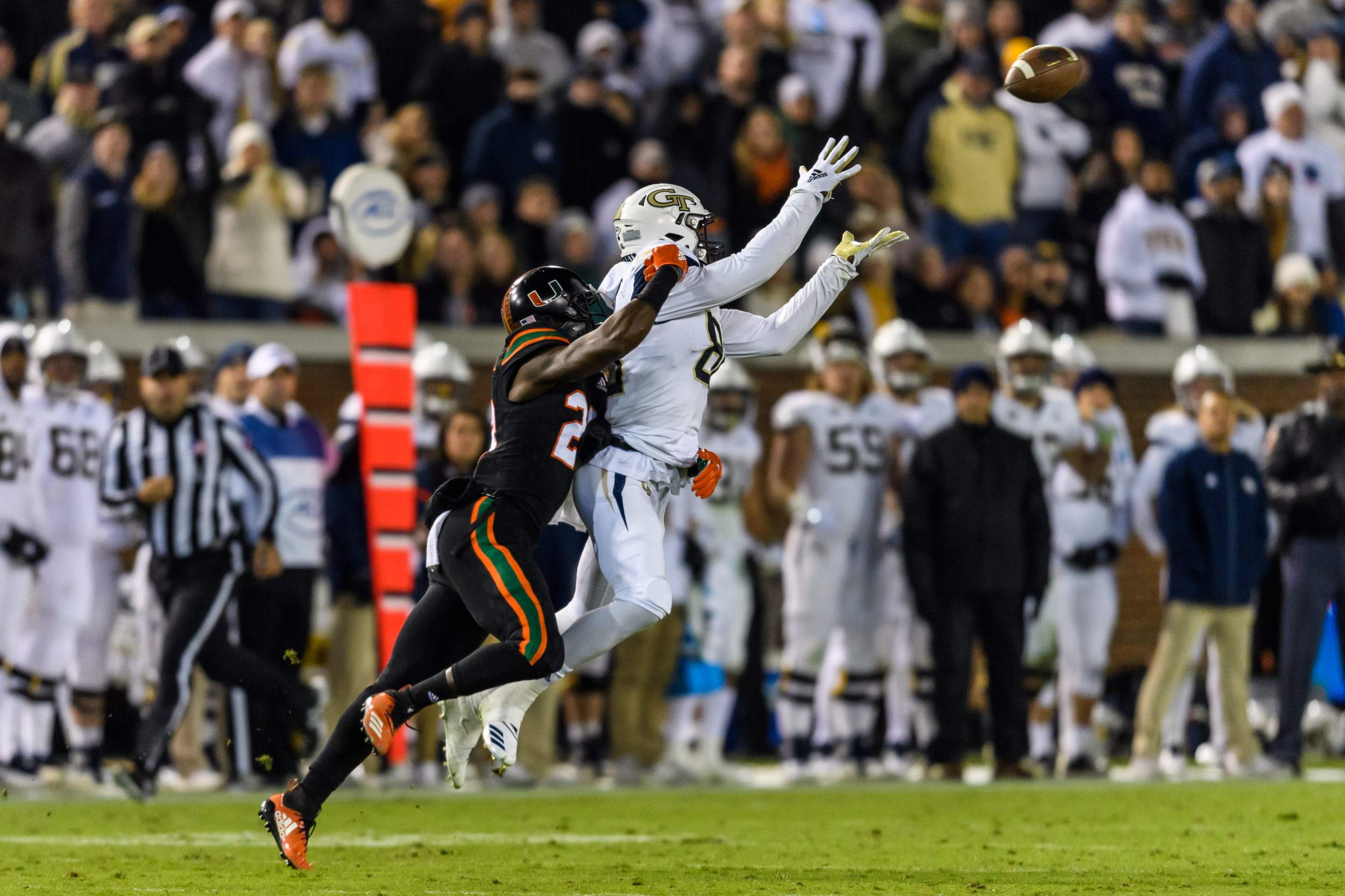 Tech could've put Miami away last year in the rain of south Florida when Marshall threw to Brad Stewart on third down late in the game, but the ball went through the wide receiver's hands, the Hurricanes took over, and then drove to kick the game-winning field goal with four seconds to go.
The Jackets had an 11-point lead there with about five minutes left in the third quarter. They fell 25-24 thanks in part to a miraculous fourth-down conversion where a Miami pass bounced off a Tech defender and fell into the hands of a 'Cane who lay on the muddy field.
"I haven't beat them yet, so that was awesome," wide receiver Brad Stewart said after the game. "That nail-biter where they won on that fluke play, and um, gosh, it's hard to describe feelings sometimes. It's just a blessing."
Marshall described it bit differently, yet he agreed.
"It's kind of crazy because we were in the same situation last year to ice the game . . ." he said. "It was a little nerve-wracking to go into the play because we needed something to go our way."
The play was third-and-6 at the Georgia Tech 35-yard line.
Miami had moments earlier driven 95 yards over 15 plays to pull close and for many reasons, including the fact that the Jackets have dropped many close decisions to the Hurricanes over the years, it was nerve-wracking.
Plus, Camp didn't get off the line of scrimmage cleanly to the right side.
The ball went his way, though, based on a vibe forged out of work done on the passing game. Marshall had a feeling as Camp worked back into his route straight down the seam against Miami senior cornerback Michael Jackson.
"I saw him not get a clean release, but then I saw him look inside and look at me and I think we were on the same page at that point," the quarterback said. "I just knew that I could put the ball in the air a little bit in the middle and he could kind of go up and get it."
Sure enough, the ball went slightly inside and Camp muscled his way to catch it as the quarterback was smashed by Hurricanes.
"I just knew when I got up off the ground everybody was cheering so figured he had caught the ball and got the first down," Marshall said. "To me, he made the biggest play of the night because if he doesn't make that play, then we've got to punt and they get the ball back with momentum."
There were other big plays in the passing game, to be sure.
To great degree, Georgia Tech (6-4, 4-3 ACC) played by its book in running the ball 53 times for 231 yards against Miami (5-5, 2-4), but there can be no discount of the other seven percent of their offensive plays.
Marshall let it fly four times, all on third downs, and three found the hands of teammates. The first completion, for 20 yards to Camp, kept alive a drive that enabled the Jackets to tie Miami at 7-7 on Marshall's 28-yard scamper in the first quarter.
The second, for 31 yards and a touchdown to Stewart (below), proved to be the game's winning score, as Tech was staked to a 27-14 lead in the third quarter.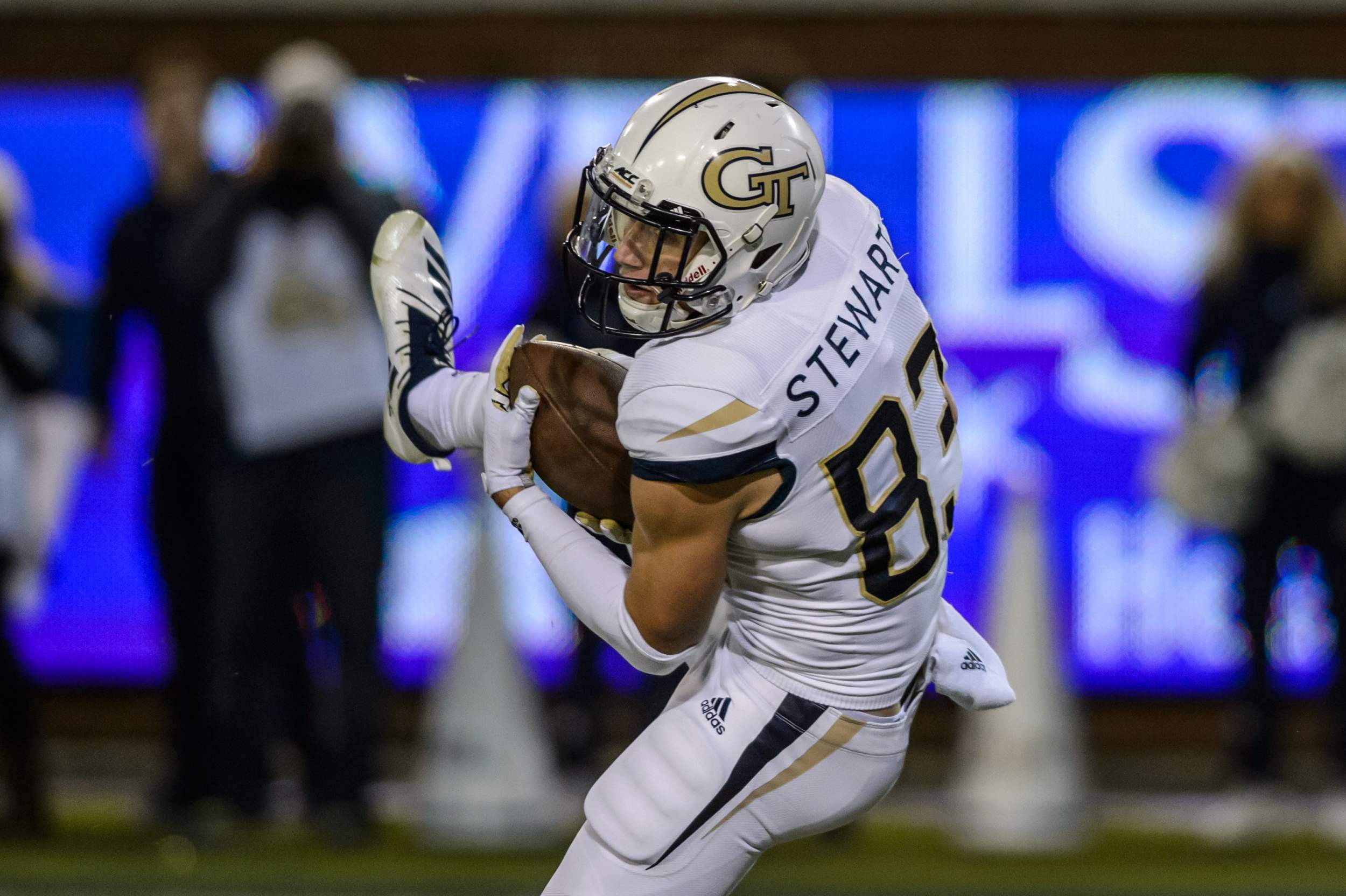 Marshall almost took off and ran on that one only to connect instead with Stewart, who whipped his defender on the left.
"I saw a lot of grass, but I could throw it to him a lot faster than I could run it," the quarterback said. "I just tried to put the ball in the air and give him a chance and both those guys made plays."
And they make plays beyond the passing game.
Stewart's block on the outside was critical when Marshall swept 28 yards for the score that tied the game 7-7.
"It's his senior year, I'm sure he'd like to be catching more balls, but it's kind of whatever he can do to help the team win," said head coach Paul Johnson. "I'd like to have a whole team of Brad Stewarts because he certainly puts the team first."
Stewart's cool with his deal.
"It's funny how you rep and rep and rep in practice, and the past couple weeks we haven't really had the opportunity to throw the ball that much, so you just got to stay with that confidence we have as a receiver corps," he said. "[Wide receivers] coach Buzz [Preston] always tells us that we've got to make the big plays. We don't get them very often, but when we do, they're crucial . . .
"Honestly, I get really excited if I'm making a crucial block and that one where TaQuon scored, I was sealing the guy and I was a little more fired up about that than the touchdown."
And Marshall, the co-captain, made sure to point out that Tech's wide receivers do more for their teammates than block, block, block and catch an occasional pass.
When the Jackets huddled for that final drive, the one that would end the Miami curse, "I think the main vocal person was Brad, and I think he was doing that all night just letting people know what the situations were, and I think he did a great job at it."