By Jon Cooper | The Good Word
There's something rewarding about seeing a team come together, watching all five positions on the floor — be it starters or those spelling them coming off the bench — blend into one cohesive unit.
As Georgia Tech prepares to begin the 2018-19 season Friday night, against Lamar at McCamish Pavilion (tip-off for this first meeting between the schools is set for 7:30 p.m.), the team is undoubtedly together — maybe a little more than even Coach Josh Pastner would like.
"We don't have a lot of separation, meaning we've got a lot of guys kind of bunched up," said Pastner, who begins his third season as Yellow Jackets head coach with a 34-35 record, 14-22 in ACC play. "Through time, hopefully there is some separation. If not we'll just have to play a few more guys than I initially thought.
"But I do like our team, where they are," Pastner added. "I know they're going to compete, they're going to play hard. We're going to put a good product on the floor. I do know that we'll play the right way."
They'll also play with a more diverse attack and faster than last year.
"Part of that was with Ben (Lammers). It was intentional. We had to wait for Ben," Pastner said. "We played through him. So part of that pace of play was based on Ben. We don't have Ben. There's a lot we're going to miss not having Ben, but we will be able to play a faster pace. There's no question and I want to play a faster pace. That doesn't mean that I want us to take bad shots or just jack up a shot on the first side, either. I still want us to be second-, third-, fourth side. But we'll have better pace. We'll be able to flow right into it."
The buzzword offensively is "positionless."
"I love it," said explosive freshman guard Michael Devoe, who did not play in Tech's exhibition win over Florida Tech while working to regain conditioning following an injury to his right big toe that cost him six weeks of practice. "There's a lot of movement and a lot of cutting. Coach Pastner emphasizes that a lot. I think I can do really well with that."
"Coach says all the time, 'the go-to man is the open man,'" added sophomore forward Evan Cole. "The way the offense is set up, it's really positionless. So if I get on the top or the point guard gets to the top and runs point, it gives us opportunities to get cuts and layups. It really depends on who's hot that night."
One guy expected to be hot or be best able to find who is, is sophomore point guard Jose Alvarado. Last season, Alvarado was a rock — he led all D-I freshmen in minutes per game (35.0), with 12.1 points, 3.7 rebounds and 3.1 assists, until he was lost for the year with a dislocated elbow following a frightful fall in the first half against Duke on March 11. He is back, healthy and on a mission, making those around him better and more dangerous.
That was obvious during the preseason.
"When Jose was in we were good. Without Jose we were stagnant. We struggled," Pastner, said of the team's preseason scrimmages and exhibitions. Everyone played better when they were with Jose. Our thing is we have to be better if Jose is not there. With somebody else we still have to flow well. That's something we have to do better. Jose's going to have a good year."
Once Devoe is healthy, he will help Alvarado.
"Mike and Jose are going to play together a lot," Pastner said. "They're going to be really good this year, but when you're talking when Mike's a sophomore and Jose's a junior, and Mike's a junior and Jose's a senior, those guys in the backcourt will be as good as there is in the ACC."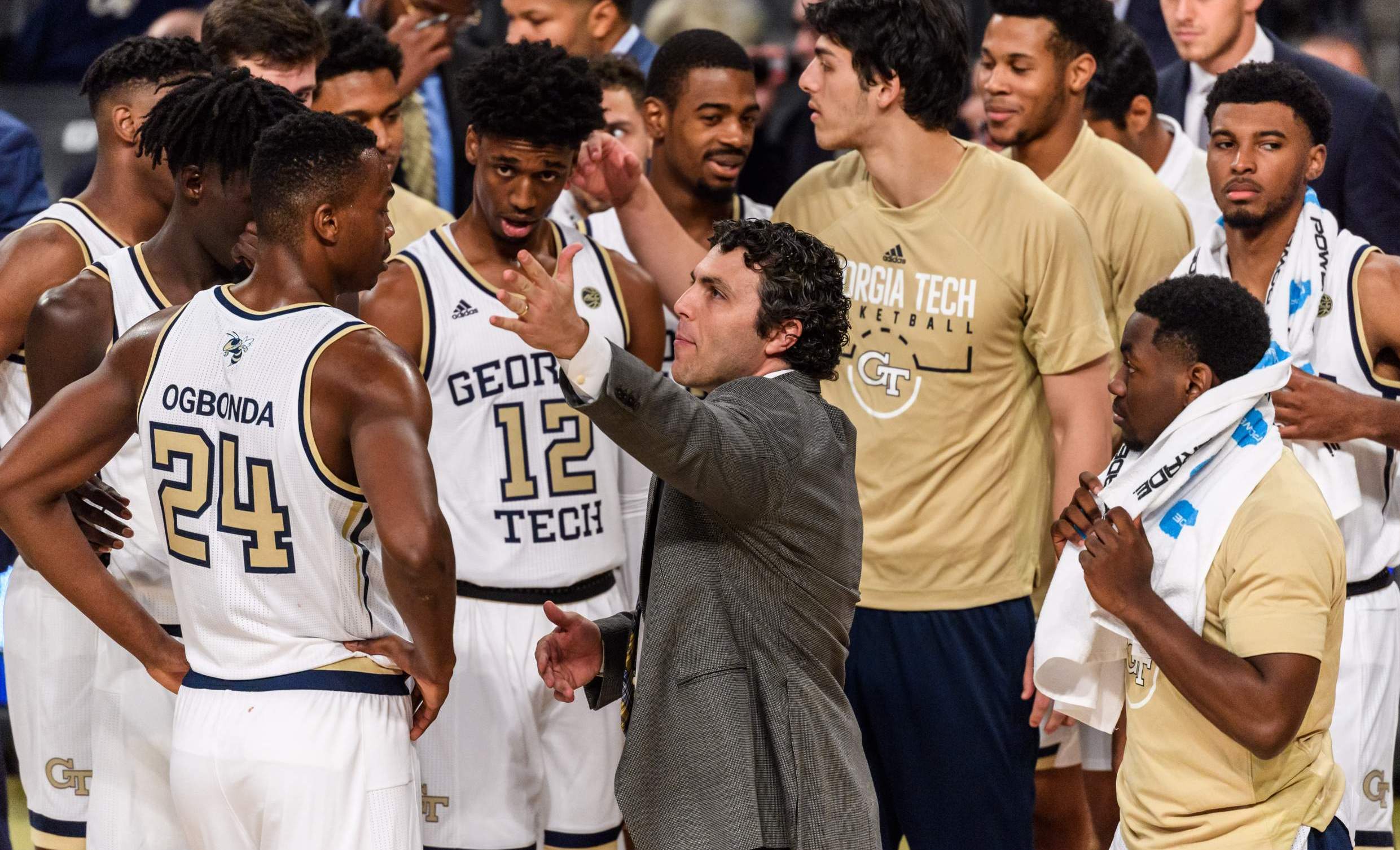 "A.D.'s foul issue is a major concern because we are very, very thin up front. Right now, it's him and [redshirt junior Sylvester Ogbonda]. So we're not real deep in that spot."
Who will step up until then is an issue, but there are plenty of candidates.
Among them are Curtis Haywood II, who was superb as a freshman until a stress reaction in his right leg cost him the season's final 11 games. Redshirt junior Shembari Phillips, who transferred from Tennessee, is eligible, and redshirt senior Brandon Alston can fill it up and has been a more confident shooter during preseason.
"They're going to help us this year," said Pastner. "Shembari is a little ahead of Curt in terms of the amount of minutes he's ready to play right away, but they're both key guys for us. Curt has just got to keep getting game experience and keep playing, and Shembari has had game experience. Curt is more coming back from an injury. So that's where Shembari is probably a little more ahead, just on the experience factor. Because he was practicing all year last year, as where Curt was, obviously, out with the shin.
"Brandon's been playing well," he added. "He's shooting the ball at a high clip right now. When he's open, he needs to shoot it."
Up front, the Jackets will look to sophomores Cole and Moses Wright, both of whom got major experience late in the year.
"Evan is going to continue to get better," said Pastner. "Guys like him and Moses continue to get better just through game experience and time. We need them both to drag us moving forward. I think they're still both right there. We need to get things out of them, especially with their size, and they are sophomores and they did start at the end of the season. We need to get production out of them."
Defensively, the Jackets will miss Ben Lammers' shot-blocking, but will still make opponents work, just a little differently.
"We are going to have to be a little different because Ben saved us a lot of times," Pastner said. "You could funnel things differently. We don't have that without Ben. We have a different philosophy on that this year. I don't know what kind of shot-blocking team we are going to be. We're not going to be like we have been the past two years. We have some different philosophies and strategy on how we want to play defensively.
"(Against Florida Tech) we forced a lot of turnovers. I think we had 10 kills that game, which is three stops in a row," he added. "I'm well aware that it's not the ACC, and I get that. But we held them to 19 percent from three, 25 percent from the field. We forced 26 turnovers had 10 three-stops in a row. We won the 50-50 ball battle. All those things are great for us defensively, regardless of the opponent."
Redshirt senior Abdoulaye Gueye will play a major role, providing he can stay on the floor.
"A.D.'s foul issue is a major concern because we are very, very thin up front." said Pastner. "Right now, it's him and [redshirt junior Sylvester Ogbonda]. So we're not real deep in that spot."
As the team looks to pull together, it does so on a rather unforgiving schedule, starting with Lamar, which won 19 games each of the past two seasons. Tennessee went 26-9 and tied Auburn at the top of the SEC last year, and Arkansas was a 23-game winner in the SEC. There are plenty of other challengers.
"I was thinking Josh (Okogie) was going to be here when we scheduled the Tennessee game," Pastner admitted. "I probably wouldn't have scheduled the second game of the season. Obviously, Northwestern, is what it is because that was part of the Big Ten Challenge. We scheduled St. John's playing in Miami. We put Arkansas on our schedule later with the theory of trying to get back a home game the following year because in the non-conference, the strength of non-conference home games. Georgia, it is what it is."
It is a tough slate but the players aren't about to back down. They're ready to step up.
"I look forward to that. I want to play the best," said Devoe. "To be the best you have to play the best, so I want to go out there and beat those type of teams. They're the top teams in the country."
That means coming together quickly.
"We have to go out and play," Pastner said. "We have no choice. They're going to have to be better. We're going to have to be ready to go. We have a tough schedule.
"The guys are going to play hard, they're going to compete, they're going to dive on the floor, they're going to get after 50/50 balls, they're going to play hard," he added. "We're going to grow with these guys. We're going to grow, we're going to get better. I've said it from the beginning. The best way for Georgia Tech, at this moment to win in this league, or to move the needle and get to where I and we and all of Yellow Jacket nation wants to be, is we have to get old and stay old. That's going to happen, obviously, in another year or two. That's why this is a great year for our guys, because they're going to get great opportunity to really progress and improve on the floor."
With a pair of 2018 post-season teams on tap right out of the gate, the Yellow Jackets will find out how much very quickly.