By Jon Cooper  |  The Good Word
Life can change on a dime. Learning to manage those changes is critical.
Redshirt junior Lucas Johnson has, as he was back healthy and thriving at quarterback for Georgia Tech during spring practice after sitting out all of 2018 with an injury.
Since mid-May, Johnson also has been learning how to handle those dimes, as well as other types of currency, thanks to a summer internship at The Piedmont Group, LLC.
"I was looking for internships and the financial advisory route really interested me," said Johnson, a Literature, Media and Communication major, who has worked with the financial management firm since mid-May. "A lot of people don't really have that knowledge of what to do with their money. It enticed me to try and get in it and understand what goes on behind the scenes."
The concept of distribution is not new for Johnson. His work at Piedmont Group is just a different kind of distribution and one that's he sees as being beneficial for himself as much as for the firm and its clients.
"I've learned a lot about wealth management and budgeting," he said. "I really didn't have a budget before I worked there. I would get money, and I wouldn't really pay attention to it. But, sitting in on meetings, I listen to older couples and how much managing your money needs to happen, because if you don't pay attention to it, you could look up one day and you don't have enough money to retire or just do the things you want to do. So that has helped me out a lot with managing and spending my money."
It's also confirmed the reach of Georgia Tech and its alumni base, as former Yellow Jackets B-Back Synjyn Days, a 2014 graduate and now a financial planner at The Piedmont Group, helped Johnson get into and find his way around the firm. Johnson recalled meeting Days when he first arrived on campus. They hit it off immediately, frequently talked after games and practices where Days has been a constant visitor, and stayed connected via social media. When it was time to seek an internship, Johnson reached out to Days, inquiring about the nuts and bolts of his job. Days responded in the matter any Georgia Tech alum would.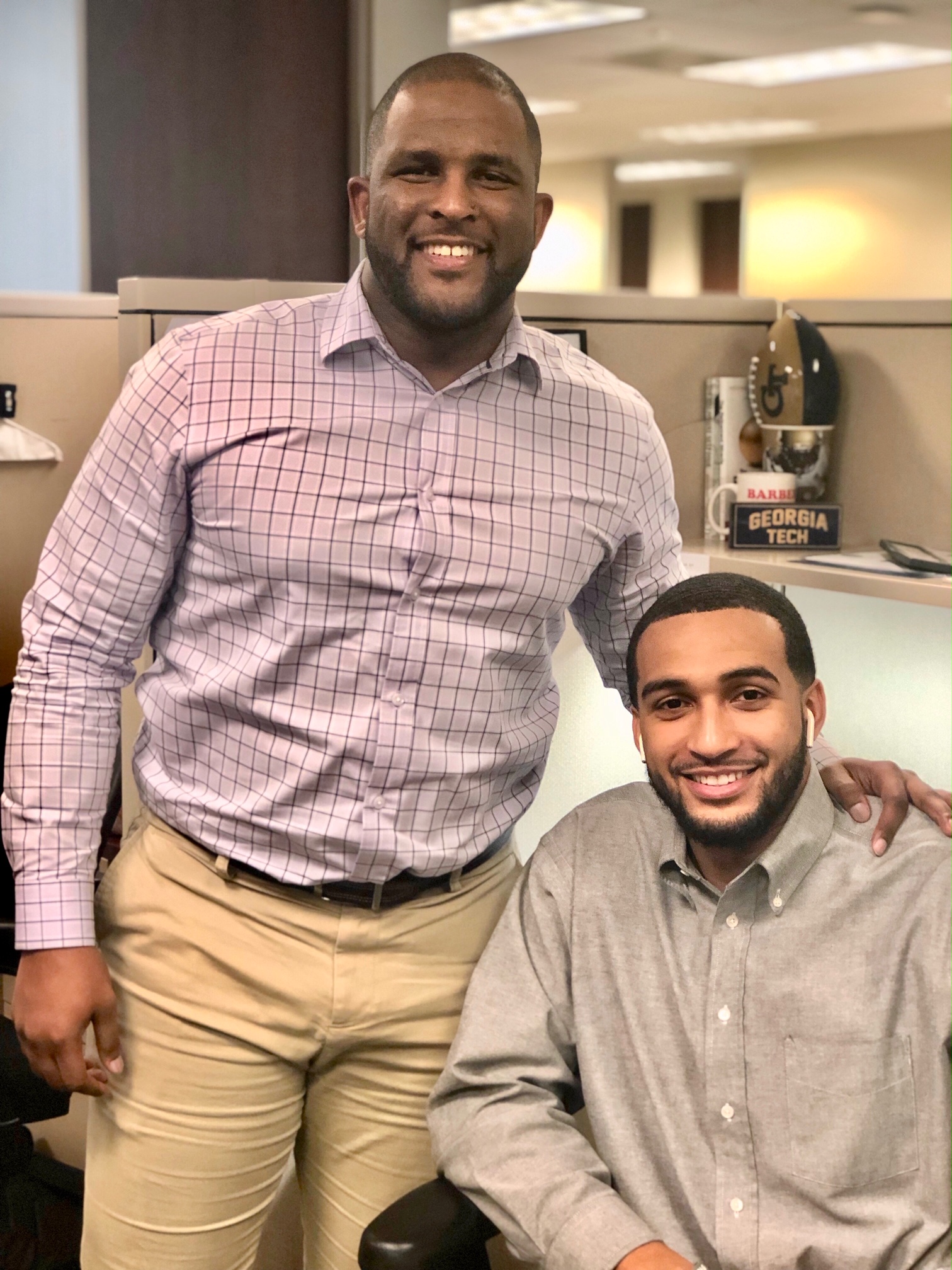 The friendship between Days and Johnson (pictured above) has now blossomed into a mentor-pupil relationship.
"Georgia Tech has great alumni, and they're always looking to help us out," said Johnson. "Synjyn's been teaching me a lot along with (Managing Director, Partner, Georgia) Joe Schreck (managing director, partner, Georgia). Synjyn's kind of taken me under his wing and is showing me the ins and outs of the business, taken me in on meetings. It's really cool to see what goes on behind those doors.
"This year we've gotten a lot closer since I've been working there," he added. "He always has a smile. He's a really good dude and he's really good at what he does."
There's been a lot to learn for Johnson, who has begun his days at 5:30 a.m., with morning workouts. The internship has seen him take on tasks from Schreck or director of new business Alice Fenner, another of his supervisors, involving social media, or reaching out trying to recruit on the firm's behalf, as well as sitting in on Days' meetings when time allows.
Johnson has enjoyed being part of Georgia Tech's Fifth Street Bridge Program, director of athletics Todd Stansbury's bold initiative to connect more than 100 Yellow Jackets student-athletes with local businesses.
"That's a big reason why I came to Georgia Tech," he said. "Atlanta is such a big network of all these corporations and headquarters. Once you graduate you're really right in the middle of everything. So it's not hard to find a job because everybody's always looking for the next generation to come in.
"I've learned it's not about what you know but about who you know," he added. "You come in, if you're from Georgia Tech, they know how hard you work and what you've got to go through, especially being a student-athlete. So they know you've got time-management skills, and they know you know how to compete. Being a financial advisor is a lot of competition, getting clients and stuff. So it kind of fits. You have to be really versatile."
Thanks to Days and his days at The Piedmont Group, Johnson not only knows the importance of a diversified financial portfolio but also a diversified life skill-set.
"It was important because you always have to have a 'Plan B' if football doesn't pan out, so I wanted to build up my resume," he said. "It was important to see what I like and what I don't like so I know what I want to do if I graduate and football doesn't pan out. I have some connections and something to fall back on.
"It opens up a lot of doors when you're making friends that are high-ups in businesses," he added. "So I see this as opening up a lot of doors, and I could very well see myself being a financial advisor in the future. I honestly didn't know what I wanted to do outside of football. I kind of have a better gauge of what I want to do after college. It's satisfying just knowing that I'm moving in the right direction for the rest of my life."