THE FLATS — There's a unique versatility required in swimming the individual medley. It's basically being a jack-of-all-trades and a master of ALL.
Since arriving at Georgia Tech last fall, Caio Pumputis has been just that.
As a freshman, he swam the 100-, 200-, and 400-yard IM, recording the fourth-fastest time in school history in the 400 (3:50.36), the second-fastest time in the 200 (1:45.46), an event in which he represented the Yellow Jackets at NCAAs, and swam the nation's fastest time in the 100, going 48.86 on Jan. 27, against Emory, on his way to earning All-ACC honors.
But having the best time in North America simply was not enough. So over the summer, he went one better, setting the South America record for the 100 IM short course, recording a 51.83 in his preliminary heat at the 2018 Jose Finkel Trophy — Brazil's Short Course National Championships — held Aug. 25-28, in Sao Paulo.
"I would say that was my best meet ever," said the Sao Paulo, Brazil, native. "I haven't swam that fast in all my events. The first day I did the 100 breast and that was pretty good. The 100 breast is not my best event, so I was surprised. I think I was more confident after it and I could swim fast in all my events and relaxed.
"I was looking at the time and I knew that I could beat it, but at the same time I was not that confident at all," he added. "I think a month before the meet I swam 52:08 so I dropped one second in the month and got the South American record. I'm pretty happy with this record because it was for my friend Henrique Rodrigues. He encouraged me to keep swimming. He used to practice with me. I'm a big fan of his. He went to two Olympics. I think that's the goal of any athlete."
Pumputis, who also set the South American record for the 200 IM (1:52.26) and swam the fastest time in the world in the 200 breaststroke, (2:03.27), has more pressing goals, namely the 2018 World Short Course Championships, scheduled for Hangzhou, China, Dec. 11-16, for which he qualified at the Jose Finkel Trophy.
"I know it's different when you swim national championships and world championships. I have to swim fast and touch the wall first," he said, breaking into a big smile. "I've never been to China. This will be my first time. I know it's a different culture than here and in Brazil. So it's going to be a good experience."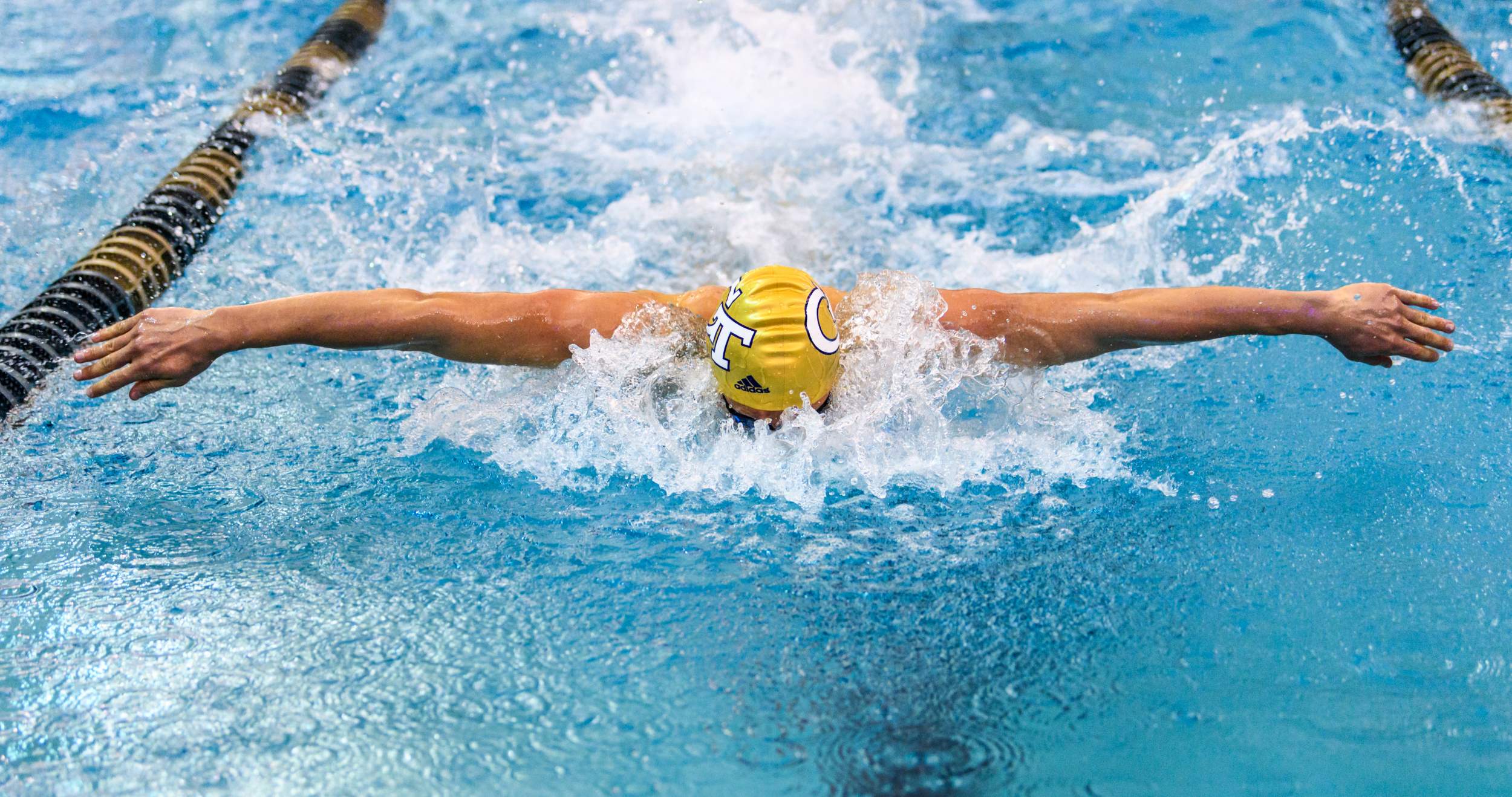 The fall will present an opportunity to work toward that and contribute to Georgia Tech's fall season.
Caio showed the impact he could make last year. He had 24 top-five individual finishes, 17 times finishing first while doing the 200 free, where he swam the team's fastest time (1:34.90, fourth in school history), 100- and 200 breast (his 53:53 in the 100 was second on the team and fourth in school history, while his 1:53.45 in the 200 was a team-best, and third overall in the ACC) and was the second leg of Tech's record-setting 800 freestyle relay (6:22.44).
Pumputis also had top-10 times in the 200 fly (1:49.12, fifth on the team), 100 back (51.07, sixth), 500 free (4:37.87, eighth), and 50 free (20.85, ninth), and 100 free (45.23, ninth) and was the third leg of the Jackets two fastest 200 Free relays (1:19.31 and 1:19.70), top two 400s (2:54.83 and 2:54.96) and the best 400 medley relay (3:10.20).
Away from the pool, the business administration major earned all-academic team honors and a place on the ACC Academic Honor Roll. It was quite a statement from someone who began the year barely able to say or understand one.
"I didn't know English at all when I got here. I'm improving a lot," he said. "It's easier to understand the classes, and easier also communicating.
"I'm more comfortable here this year," he added. "Now I know where everything is, who I should talk with when I'm in trouble in some classes or when I'm going to talk with my coaches about swimming stuff. I think it's going to be good this year."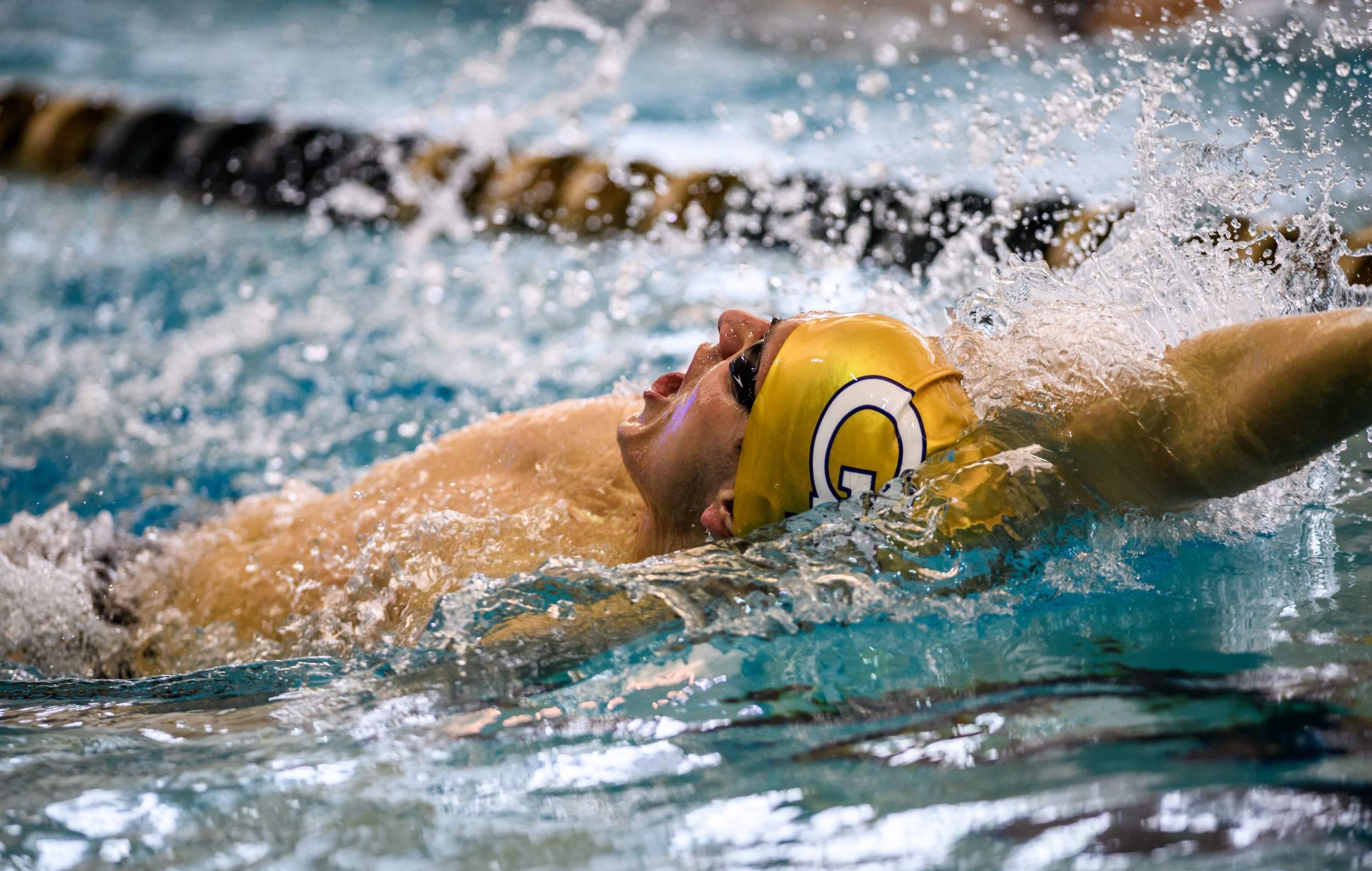 This year begins Friday and Saturday, when the team takes to the pool at the McAuley Aquatic Center in the annual White vs. Gold Intrasquad Meet — Friday the meet begins at 2 p.m., Saturday is a 7:30 a.m. start. That'll be followed the following week by the season-opening tri-meet between host Florida State and Pittsburgh.
"We've been practicing hard for three weeks," he said. "This Friday and Saturday, the intersquad meet, is going to be good. It's going to be a good start, for sure. We're working hard for this year. We're thinking big."
Caio is thinking especially big and fast.
"I was happy with last year but I think I can swim way faster than I did," he said. "I want to be competitive in ACCs and then in NCAAs. I went to NCAAs but I didn't make any finals. So this year I want to make finals and be competitive there. 200 breast was my only [NCAA A qualifying] final. This year I want to make the A final in four events — 100 breast, 200 breast, 200 free and 200 IM. Try to be competitive in all of them."
Then there's the trip to China and the Short Course World Championships, which he'll attend with his Brazilian teammates. It's a big event, but may actually be something of a relief, as it'll take place after he's finished finals here at Georgia Tech. The meet takes place during Finals Week but, of course, he's got it covered.
"I'll take finals before," he said. "I've already talked with my professors and they said it's fine. So everything's good."