By Jon Cooper | The Good Word
No one connected with Georgia Tech men's basketball was happy with the way the 2017-18 season played out. Just thinking about it — even with the seemingly non-stop injuries — is enough to make them angry.
The Yellow Jackets coaching staff is hoping to tap into that anger and get them mad, especially on the defensive end of the floor.
Assistant coach Julian Swartz is managing that anger, coming up with a checklist for Jackets defense, summed up with the acronym M.A.D. — Motor, Aggressive, Discipline.
"First and foremost you need a vision. You need to have some sort of plan that is going to answer the question, 'Who are we?' with 'This is who we are,'" said Swartz, who joined the Yellow Jackets' staff in May, 2016 and was promoted to his current position in September. "For the defense, our DNA, our core values, we use the acronym M.A.D."
It's a three-pronged attack that requires total commitment.
"Motor is defined by energy and effort. That's gotta be first and foremost," he said. "If we're not playing with just a tremendous motor and just playing so hard. That's a non-talent thing. That's just character.
"'A' stands for 'Aggressive.' We define aggressive by pressure, being able to guard your guy, individually, what we call 'Guarding your yard,' or 'Guarding your man,'" he continued. "A tough, physical man-to-man, just being able to pressure. The second thing is physicality. We have to be able to impose our will this year, play with a physicality.
"Then the 'D' is discipline. We define discipline by intelligence, and then technique. Doing your job, sticking to your defensive principles, whether it's man or zone. Intelligence is huge — not committing any stupid fouls and just knowing your assignments."
Once this individual criteria is met, there is the team aspect. Swartz has broken down into four main areas, coinciding with a baseball diamond. Ideally, the Yellow Jackets' defense will be looking to circle the bases on every defensive possession.
"If we can get to first base by setting our defense, I think we're going to be better this year at second base, with our on-ball defense, our ability to guard," Swartz said. "Third base is really being good as a team with the off-ball, then we have to finish the play. To hit a home run, you finish the play with a defensive rebound or 'Winning play.' We have to be better at finishing the play, giving up, at most, one contested shot. Then we have to be able to defensive rebound."
The Jackets struggled finishing in 2017-18. They were last in the ACC in defensive rebounding (23.4 per game), and were 12th in total rebounding (33.9 rpg) and rebounding margin (plus-.1, grabbing two more rebounds total than opponents).
"Rebounding will be a direct product of basically the first part of the shot clock, your defense," said Swartz. "To me, the rebound is the end result. So our rebounding will be better if we're playing more physical and challenging shots, and we're making teams have to work. So the tougher shot we make a team shoot will probably help us be in better position. Rebounding is the Three T's. It's toughness, it's tenacity and it's technique. We've got to gang-rebound, we've got to have great guard rebounders, and more so than anything, like defense, rebounding is heart and character."
So is getting "winning plays," which Swartz defines as 50-50 balls, deflections and taking charges, the hustle plays. As with rebounding, the Jackets will count on a team approach to make these "winning plays."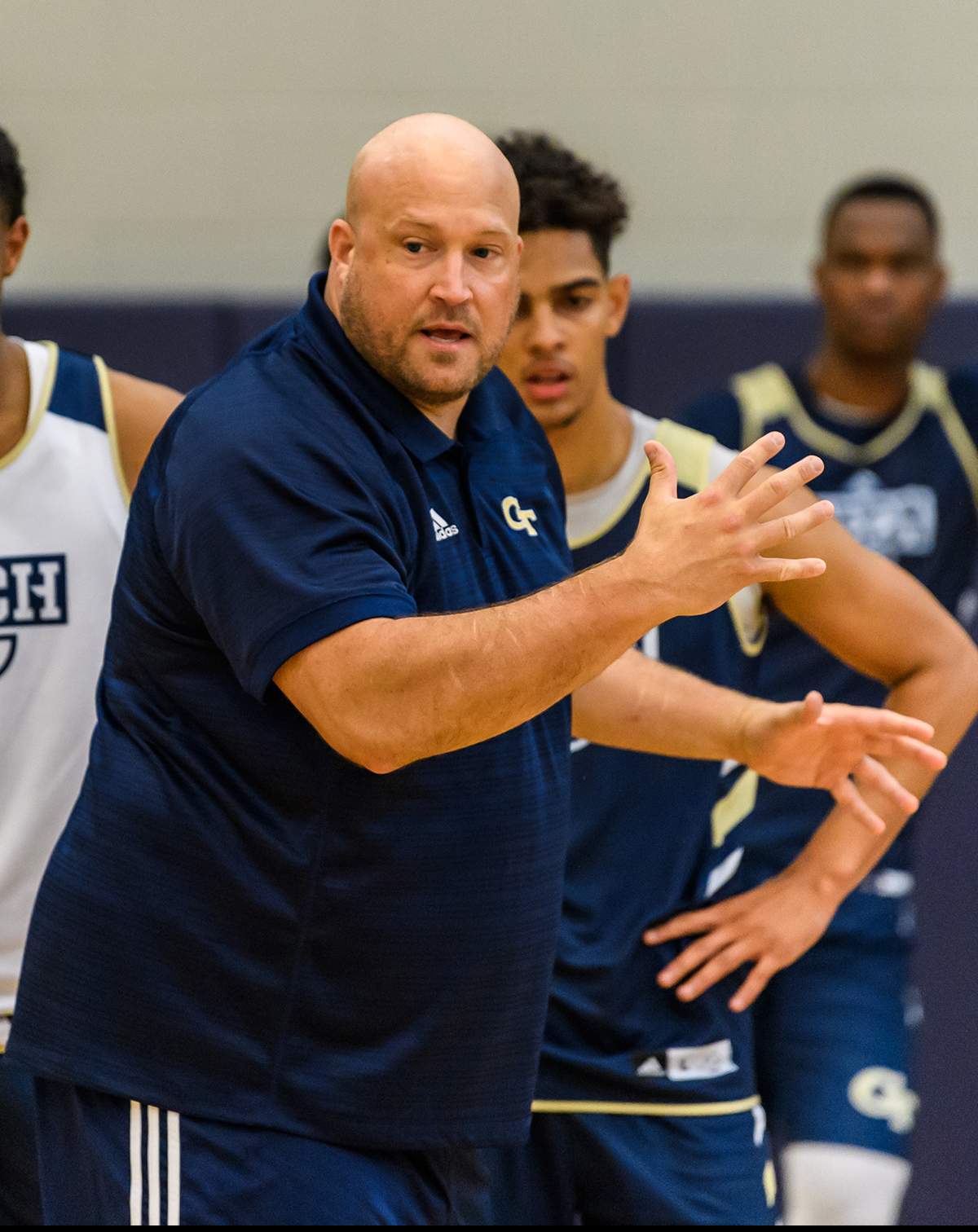 "That's a big stat," said Swartz. "It has to be by committee. We don't have a shot-blocker, necessarily, like Ben (Lammers) and, obviously, Josh Okogie saved a lot of shots. But here's where we can be better. The blocked shot a lot of times was the end result, we should be much better hopefully this year with not allowing it to get to that point, with building a better wall. That starts with setting your defense and getting back. If we can do a better job of guarding the ball and our positioning with our help-defense in building a wall, hopefully we won't have to rely as much as we had to on Ben and so forth."
Last season Tech was among the ACC's best in blocked shots (5.3 pg, third), steals (6.9 pg, fifth), and scoring defense (67.9 ppg, tied for fourth). The lost production of Ben Lammers (2.4 bpg, third in the ACC, and 1.2 spg, third on the team) and Josh Okogie (1.75, spg, second in the conference) takes a big bite out of those categories, but sophomore point guard and team steals leader Jose Alvarado (1.72 spg, fourth in the conference — his 43 were actually one more than Okogie) returns.
With only three freshmen on the roster and seven returning sophomores, almost all of whom saw action last year, including Alvarado and front-liners Moses Wright, Curtis Haywood II, and Evan Cole, all of whom got starts and quality court time, there is experience with the system and Pastner's expectations.
"Last year, the unfortunate part was we went through more injuries than one could imagine in a season," Swartz said. "But I think the silver lining was those guys were able to get valuable opportunities and minutes and experience, and I think you'll see a tremendous jump."
"The cornerstone of our program is player development," he added. "You can see those three guys, in particular, their games have really gone to the next level. Now it's going to have to carry over into games, but I'm just really, really excited about those guys and everybody. We may not have a so-called superstar like a Josh Okogie, but I think we have some really good players."
The Jackets hope to be really good and back up to the top in conference and national rankings in defense, a place they held two years ago, when they were sixth in the nation in adjusted defense according to KenPom.com (91.0 points per 100 possessions), and led the conference in field goal percentage (.398), were second in defensive rebounding (26.3 pg) and fourth in ACC in scoring defense (66.8 ppg).
They know and believe they have the kind of players they want.
"From a defensive standpoint, you have to evaluate their character because defense is character, it's heart, it's toughness. So that's one, is their character," Swartz said. "Along with that, you see there's a lot of kids that you can see they have a defensive mindset. They're not worried about going and scoring as many points and being selfish. They actually inspire others, but they're committed. I think the third thing would be kind of things like length. They have the ability to challenge shots, close out, use their wingspan, block shots, deflections, those things. I try to really evaluate lateral quickness, so lateral quickness, the physical length, second jump, then also kids that, usually you see a correlation between kids that are high-character and also have a high IQ, have an intelligence. So those are some areas that we look at.
Swartz believes the pieces are in place. Now it comes down to the mantra Pastner has preached from Day One, "Energy and Effort."
"I think No. 1 is really establishing a competitive culture. All the guys have to be playing with a tremendous – coach uses the word – 'Motor.' That takes zero talent. So that's the No. 1 goal," he said. "Then the second goal is really implementing your system, your style. The overall identity here with our program is to be different, to be unique. I think we've shown that in the first two years on both sides of the ball. Defensively, as we've shown, the ability to mix defenses and then play both kind of good, hard-nosed man-to-man, some match-up zone and so forth. So I think what's cool is numerous times on the road, either I've been told or coach Pastner from other ACC coaches that we're definitely the hardest team to scout and prepare for because we are different and unique.
"We have to know, for us to be really good this year — and coach has said it a million times — we have got to be great defensively," said Swartz. "I think our overall goal, ultimately, would be to try to get back in the top 10 in the country in defense. Guys are really getting better. It's been great to see."