Gameday Central | Digital Bowl Guide | Game Preview | Quick Lane Bowl Uniform Unveil | Day 1 Recap (Saturday, Dec. 22) | Day 2 Recap (Sunday, Dec. 23)
By Jon Cooper | The Good Word
When Georgia Tech takes on Minnesota on Wednesday night in the Quick Lane Bowl, they'll be playing for head coach Paul Johnson, who is coaching in his final game with the Yellow Jackets. To come out with a win for Johnson, the defense will need to play like Paul Bunyan.
That's ironic, considering Minnesota owns the Paul Bunyan Axe, which it earned for the first time in 15 years by wiping out rival Wisconsin, 37-15, in its season finale.
The Yellow Jackets defensive line could probably use that axe and Babe the Blue Ox (the Jackets will be donning blue adidas jerseys and pants in the game …) when they take on Minnesota's Sequoia-like offensive line. It's a humongous unit — averaging 6-5, 291 pounds across — that the Jackets will need to cut down in order to have a chance of getting at what's behind it, which is a slew of young position players, highlighted by talented freshman quarterbacks (Tanner Morgan and Zack Annexstad) and redshirt and tailbacks (Mohamed Ibrahim and Bryce Williams), not to mention a very good three-receiver set that features first-team all-Big Ten selection Tyler Johnson.
It's hardly an impossible task, as the Golden Gophers ranked eighth in the Big Ten in scoring (28.5 ppg) and rushing yards (163.4 ypg), ninth in passing yards (215.2 ypg) and 10th in total yards (378.6 ypg). But the unit also has shown explosiveness in the second half of the season, scoring at least 37 points three times in its last five games, including the rout of the Badgers.
"They're a team that finished the back part of the season very well, kind of like we did. Just destroyed Wisconsin in the last game," said Johnson. "They've got some good skill guys, good receivers. They've got a really good short passing game. They throw a lot of high-percentage stuff underneath. The big key will be to try to slow down their run game because you can't let them do both."
Stopping either begins with winning up front. That's no small feat, as the Jackets' defensive linemen, who average 6-3, 283, spot the Gophers' offensive linemen two inches and eight pounds per man. The biggest of those is 6-9, 400 pound Daniel Faalele, a true freshman from Melbourne, Australia, who didn't start until the sixth game of the season yet still earned honorable-mention all-Big Ten recognition.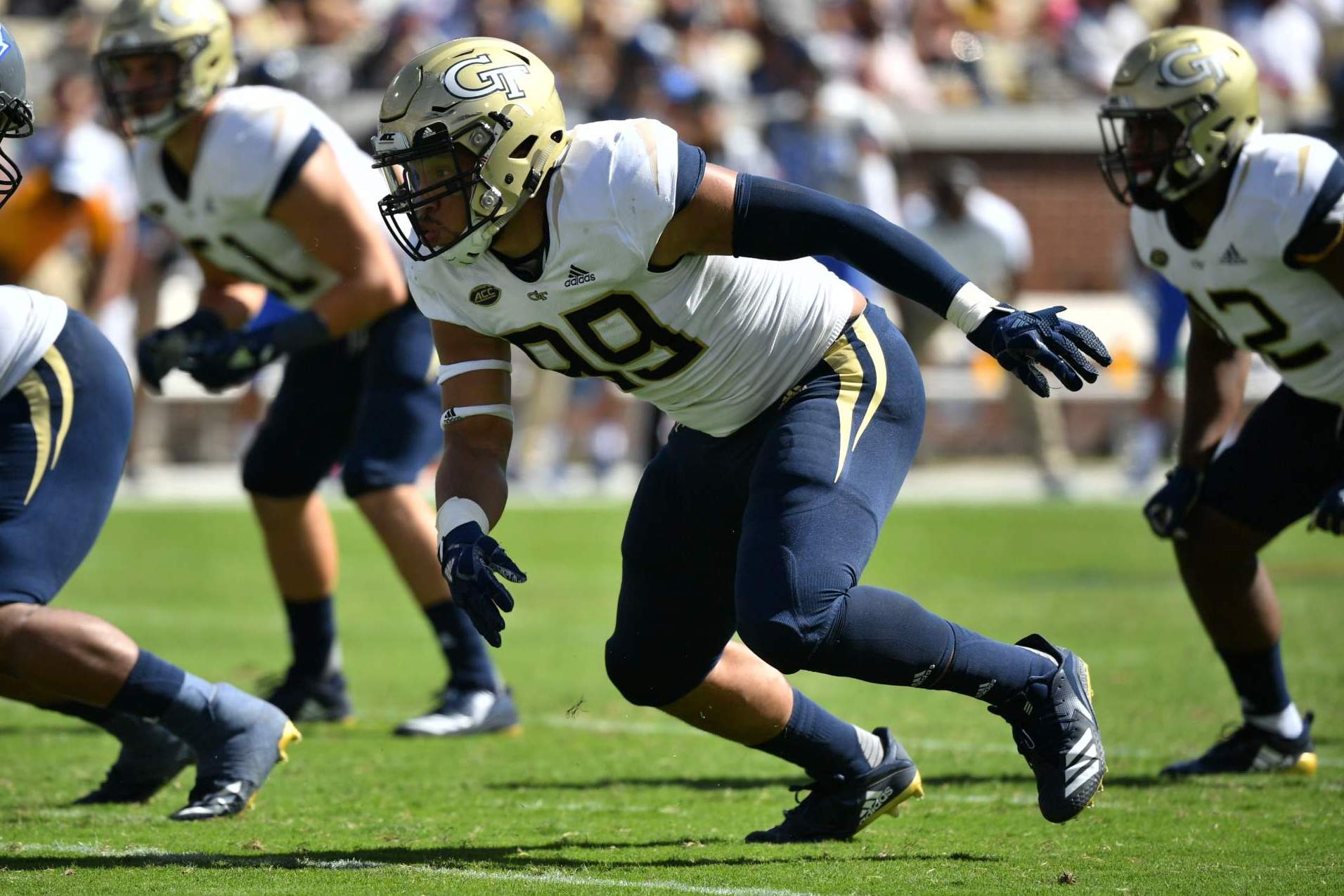 "They are quite large," said redshirt defensive end Desmond Branch (above). "[Faalele] can move quite well for his size. I was very surprised. But they're all big leaners. They're a typical Big Ten team. They're going to run the mess out of the ball and they have some good wide receivers. They're a very solid team. Very solid and young."
Branch will try to use his own experience and quickness in going mano-a-mano with Faalele, who he spots six inches and 130 pounds. One experience upon which Branch can count is the Oct. 5 game at Louisville, when he faced 6-7, 359-pound tackle Mekhi Becton.
"I thought the Louisville tackle was big. But this guy is quite large," he said, with a laugh — a laugh that got bigger when he added that 6-0, 250-pound Cheyenne Hunt played the role of Faalele on Georgia Tech's scout team.
Faalele didn't start until the sixth game of the season at Ohio State yet still earned All-Big Ten Honorable Mention. The rest of the unit also is big and menacing and were recognized by either Big Ten coaches or media, with left tackle Donnell Greene, left guard Conner Olson, center Jared Weyler, and right guard Blaise Andries, being named All-Big Ten. They're mostly young, as in addition to true freshman Faalele, Andries is a redshirt freshman, and Olson is a redshirt sophomore, while Green and Weyler are redshirt seniors.
There's plenty of size in addition to the Aussie right tackle, with LT Donnell Greene (6-7, 320), LG Conner Olson (6-5 300), C Jared Weyler (6-4, 300) and RG Blaise Andries (6-5, 315).
The Jackets counter with Kyle Cerge-Henderson, the biggest of the first wave up front who stands 6-1, 298. Even backup nose tackle Brandon Adams, nicknamed "Big B," is kind of in the shade and he's 6-2, 325!
But what the Yellow Jackets might lack in size, they make up for in experience, as Branch, Anree Saint-Amour and Cerge-Henderson have combined to play in 116 collegiate games with 64 starts. They are intent on fearlessly attacking and pursuing the ball, as per defensive coordinator Nate Woody's system.
"I know they like to do a lot of RPO (run-pass option). They've got the big 400-pounder. I know they're going to try to pound it," said 6-2, 203 freshman linebacker Charlie Thomas.
"They feel like they're bigger and stronger," he continued, stressing that he and the unit are up for the challenge. "Where I come from, it's all about competition. It's not how big you are or how small you are."
"They're a pretty unique team," added senior linebacker and co-captain Brant Mitchell. "They've got some big guys up there. They're going to run a lot of RPOs at us. They're a good-looking team, they have good athletes."
Perhaps a bigger challenge for the defense will be to avoid not seeing the forest for the trees. Once they get past the front wall, the Golden Gophers feature talented specialists, albeit young ones.
Leading the way are a pair of freshmen at quarterback in Morgan and Annexstad. Morgan didn't make his first start until Oct. 29, after an injury knocked Annexstad out of the lineup, but brings a 143.6 passer rating and 58.9 percent completion percentage into the game. He's also regarded as a little more mobile than Annexstad, a solid passer who has completed 51.9 percent of his passes and thrown for nine touchdowns as a rookie.
The signal-callers' favorite target is junior Tyler Johnson. With a 74 catches for 1,112 yards and 10 TD — all team-highs — the 6-2, 200-pounder became the first Minnesota wide receiver to be named first-team all-Big Ten since 2009.
Despite Johnson's gaudy numbers, the Gophers can spread the ball around. Minnesota mainly utilizes the short pass but can turn short throws into big gains, as seven different players have turned at least one catch for 20 or more yards.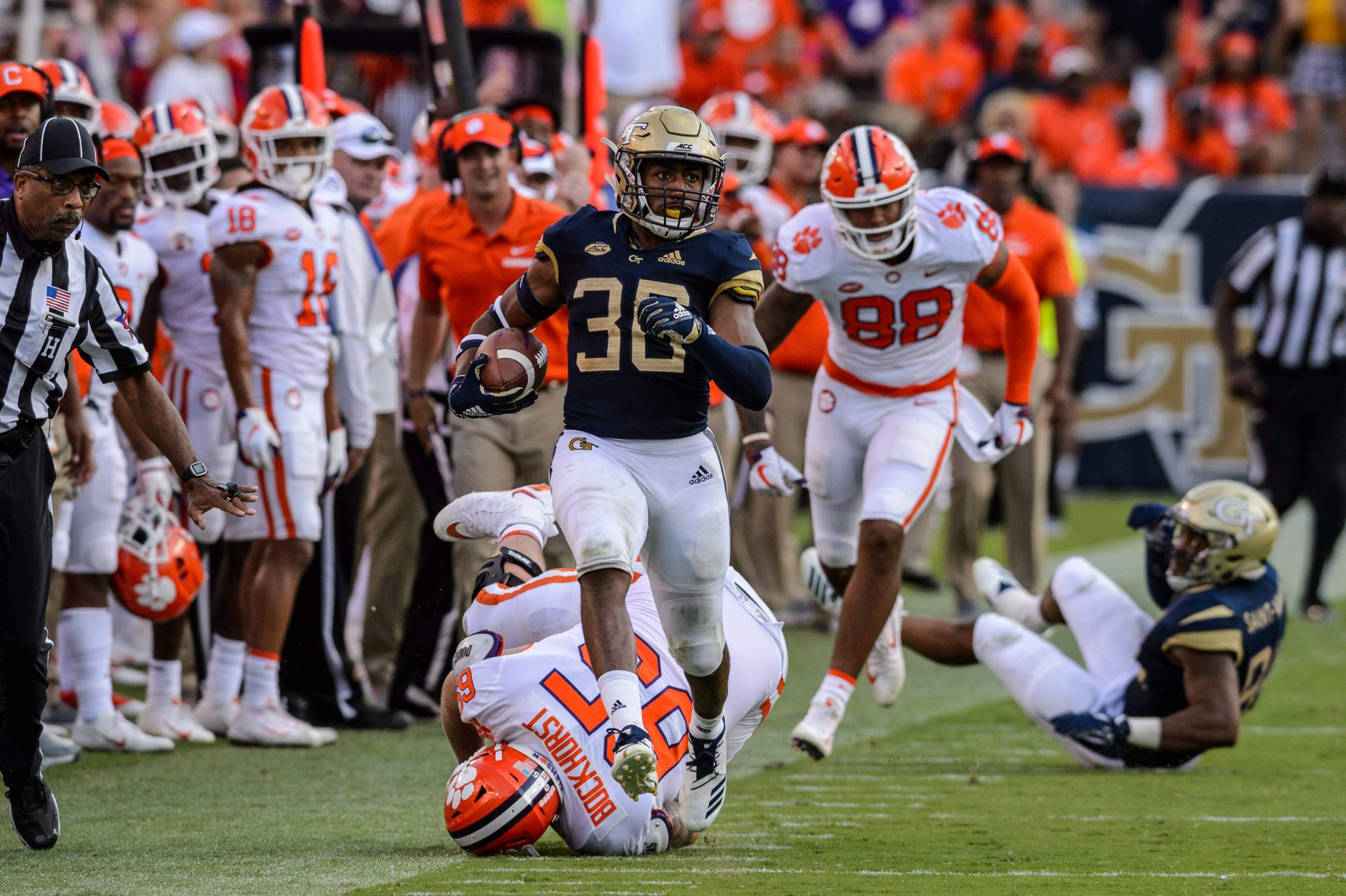 "[They run] a lot of RPO and they love to target [Johnson]," said free safety Malik Rivera (above), Georgia Tech's leading tackler (61 tackles). "They'll line him up in many different spots, they'll isolate him in a lot of ways. That's someone they really try to get the ball to on a lot of plays.
"On top of that, [Rashad Bateman] is doing really well. He'll drop balls sometimes but he'll make some incredible catches sometimes as well," he added. "Additionally, [Demetrius Douglas] and [Chris Autman-Bell] make plays. They might not have a lot of receptions on the stat sheet but they still do make a lot of plays. We have to really be keyed in on all of them. It's just focusing on doing your job really, more than anything. Just key in on down and distance and personnel and little situations."
The Golden Gophers can run the ball too, with the weapon of choice usually Ibrahim, yet another honorable-mention all-Big Ten honoree.
The Jackets will try to use their quickness, experience and relentless pursuit to force Morgan into mistakes. Georgia Tech is one of eight teams in the country that has forced a turnover in every game this season, while Minnesota has turned the ball over at a rate of more than two per game (25 giveaways in 12 contests).
Tech would like to improve on getting off the field, as opponents have converted on 49.6 percent of their third downs this season. Minnesota converted at a 37.8-percent clip.
Pressure and getting deflections could key both.
"They're going to try to take the defensive line out of the game so the only way to counteract that is to try to get hands on the ball because the quarterback isn't the tallest quarterback," said Branch. "So hopefully we get a couple of batted balls.
"Hopefully Anree can get another touchdown … hopefully I could get this touchdown! He could bat the ball and get me the touchdown," he added, with a laugh. "But hopefully just try to get some hands on the ball from the low trajectory and try to get some stress off the secondary. Let's see if you can't get back there try to get hands up and see if you can get a tipped ball."
Cornerback Tre Swilling, one of Tech's eight first-time starters on defense this season, believes the Jackets just have to let the play come to them and adjust accordingly.
"It just kind of depends on the gameplan. If it's more of a deep-ball team or if they're a shorter-, kind of intermediate-throwing type of team," said Swilling. "You kind of have to balance it out off of what the quarterback is going to give you. If he can go out there and make all the throws or if they run a lot of deep-concept or short-concept routes."