By Matt Winkeljohn | The Good Word
It may have surprised some when Kristian Sjolund started last Saturday against Florida State, but really it was a simple merger of motive and bad aim that led to opportunity.
There are surprises, though, to Georgia Tech's lean wing man, who's more than you see.
He's not built to bang and gets bumped off spots, yet he's one of Tech's most emphatic dunkers. He went right at the Seminoles in the second half, in fact, and although he was fouled, it was quite the sudden move. He made both free throws, befitting his most obvious skills.
Sjolund also is quite a yacker, too, particularly for a freshman.
"He talks too much," said junior center James Banks III. "But he says the right things."
It's mostly pep talk, and the 6-foot-8, 191-pound thin man will talk himself up as well. He believes in his skills, which dovetails this motive business.
Head coach Josh Pastner said before the season that he would give Sjolund the option to redshirt, and that came as no shock. He was recruited chiefly by mid-majors as the third or fourth option for his prep squad, although it's notable that Tompkins High in Katy was runner-up in Texas last year with a roster that sent three others to college scholarships.
He would be a project, the kind of player that Pastner has said will be important for Tech's program in his vision to "get old and stay old" with a heavy emphasis on development.
Sjolund had wind behind him as he came highly recommended by Stephon Leary, his AAU coach and an acquaintance of Pastner from his hometown of Houston.
But beyond narrow build, Sjolund struggled to pick up the Jackets' defensive schemes.
Still, he said no to redshirting.
"I want to have the experience. It doesn't matter if it's one minute or 30 minutes, just go for it," the freshman said recently. "It's probably too early, but I don't think I have any regrets, because I think the overall experience has been good."
So, no redshirt, and he barely played for quite a spell, scoring nine points while appearing in 13 of Tech's first 23 games. During this period, Sjolund has done extra strength and conditioning work outside of Tech's team sessions and practice almost on a daily basis, and it had added 10 pounds to his frame and two inches to his vertical leap.
Then, a couple weeks ago as the Jackets were finding scoring the ball like trying to sneak past the IRS, Pastner tabbed Sjolund off the bench because he can shoot it.
Bad aim had created opportunity.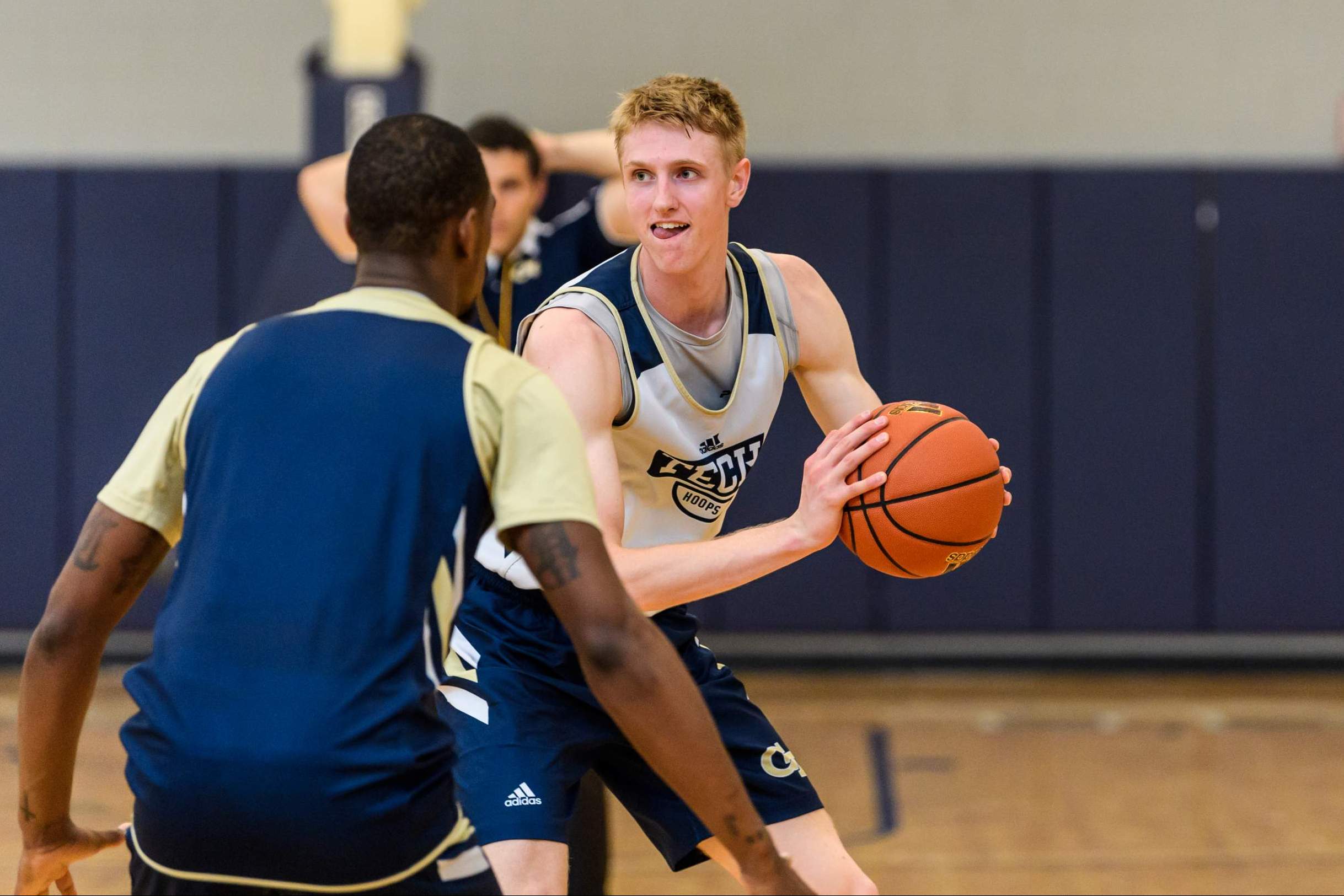 Through extra work outside of practice and team strength and conditioning sessions, Sjolund has added 10 pounds to his 6-7 frame and two inches to his vertical leap.
He scored eight points off the bench at Notre Dame. Sure, he had some ball-control issues at the top of the key, but he sank a couple 3-pointers, too, and in just nine minutes.
"He's been shooting really well in practice, and he's improving," Pastner said a couple days later. "He should have shot some of those shots instead of passing it, but he's going to be a really good basketball player for us. His offense is ahead of his defense."
Sjolund was further ahead in the next game, when he scored 11 points with six rebounds – both career highs – in 26 minutes at Virginia Tech. His bottom line included three more 3-pointers, so, given Tech's offensive scuffles, he moved into the lineup against the Seminoles.
That brought 11 more points, on 3-of-7 shooting from beyond the 3-point arc, plus five more rebounds, and it seems much easier to wonder not only about potential and what he might be if he gets old in this system, but whether he can help the Jackets snap a seven-game losing streak Wednesday when they play Pitt.
After just three games of meaningful play time in ACC games, Sjolund's 45 percent mark from beyond the 3-point line in conference games trails only Michael Devoe's 45.8 number.
"I thought Kristian gave us some good minutes, and hit some good 3s," the coach said after the FSU game. "Just trying to find the best way to give us the best chance to win. We're tinkering, we're trying to find ways, and our guys are competing at the highest level in practice. We just are having a real tough time scoring the basketball."
As Pastner laments some of the Jackets recently looking to be gun shy with their shots, likely because they've missed so many, that doesn't seem to be an issue for Sjolund.
He's been letting it fly.
"I always stay ready for the game, any opportunities, just stay focused no matter what," Sjolund said. "If I miss shots, me and coach agree, just keep shooting. The more aggressive we are, the better we can be."