GAMEDAY CENTRAL – Georgia Tech at Louisville (Friday at 7 p.m.)
By Matt Winkeljohn | The Good Word
It may have become popular to obsess on the fact that it has been awhile since Georgia Tech has won a football game away from home, but the Yellow Jackets aren't bothering themselves with that chatter.
They're locked in on chalking up their first ACC win on Friday, and it just so happens that game will be at Louisville.
The Cardinals (2-3, 0-2 ACC) have struggled on both sides of the ball, and the Jackets (2-3, 0-2) are more concerned about extending that streak than snapping their run of six-consecutive road losses and seven-straight losses away from home, including last year's season-opener versus Tennessee in Mercedes-Benz Stadium.
"You've just got to go play," said head coach Paul Johnson. "It's like I've said, it's hard to win [ACC] games in general and it's hard to go win games on the road. We don't talk about that.
"I tell our team and, as coaches, we try to – I try to do it but sometimes it's hard – you just have to turn off all the noise. It's all it is – a distraction. Don't worry about stuff you can't control."
Georgia Tech put together its most complete performance last Saturday with a 63-17 win over Bowling Green, in which the Jackets ran 51 fewer plays than the Falcons yet dominated in nearly every category. They did not turn the ball over, took it away three times, committed just three penalties and were not flagged a single time on offense.
In meeting Louisville for the first time ever, Tech will present the Cardinals with an offensive look that few if any Louisville defenders have played against, although defensive coordinator Brian VanGorder has worked against Tech and similar versions of the offense run by other teams like Army and Navy.
The Cardinals have had problems against all offenses this season, ranking 75th nationally in total defense (385.8 yards per game) and 83rd against the run (168.8).
Johnson's not so sure that his team's offensive scheme will give the Jackets a distinct advantage because it will be new to Louisville defenders, but he kind of, sort of can see how it might – although he also reminds that Van Gorder is fairly familar with the offense.
"Possibly . . . " the coach said. "It comes down to playing the game. All that stuff [about spread option vs. new teams] is blown way out of proportion, I think. Now, if you play a team that's not used to coming off the ball and they're used to catching and some of that? Yeah, it can be an advantage sometimes maybe."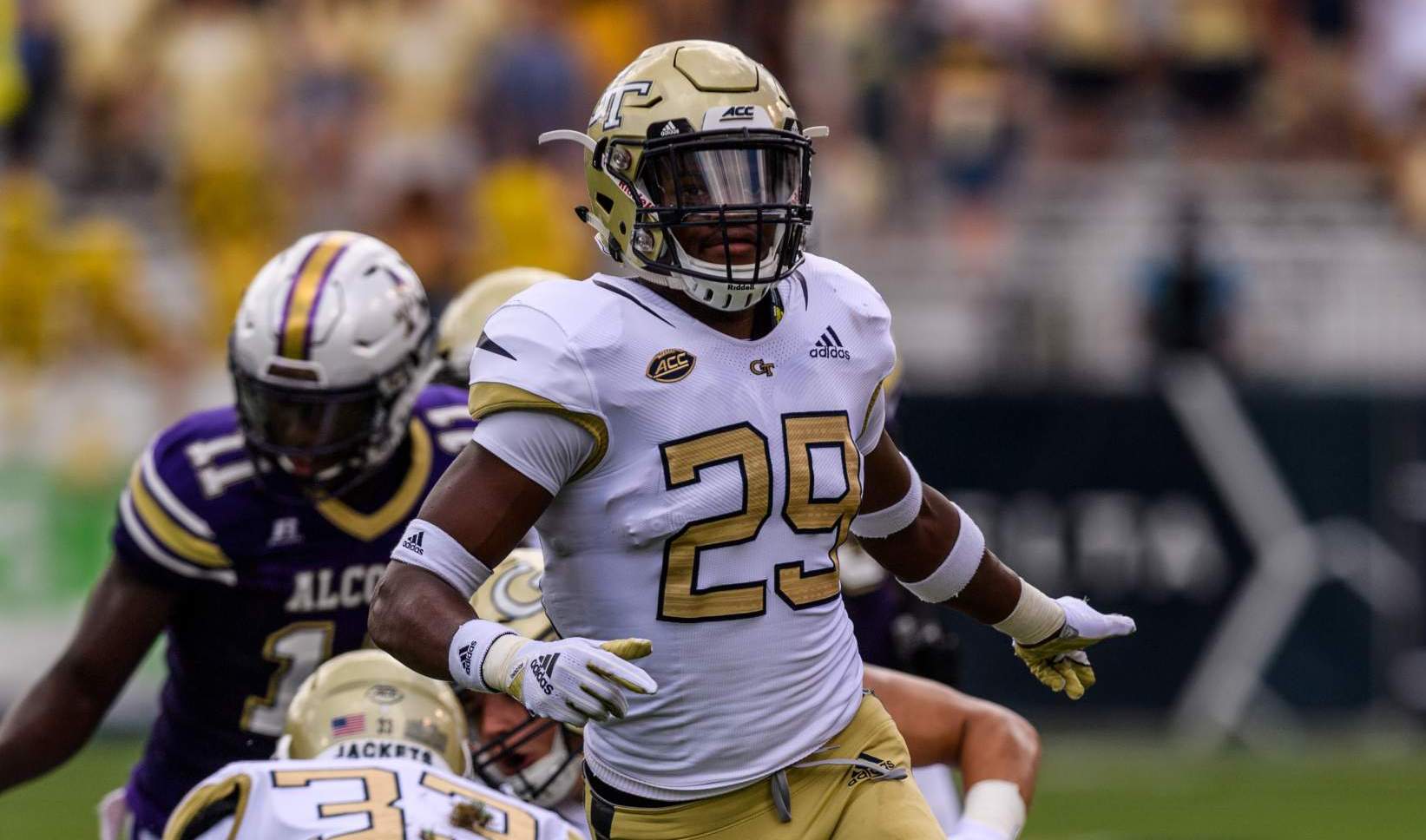 Tariq Carpenter (29) and the Yellow Jackets' defense face a talented but inexperienced offense on Friday night in Louisville
Louisville has been hit hard by player losses, particularly that of 2016 Heisman Trophy winner Lamar Jackson, the quarterback who was drafted last spring in the first round by the NFL's Baltimore Ravens.
Quarterbacks Malik Cunningham, a redshirt freshman, and sophomore Jawon Pass have had modest success in the passing game. Pass tends to be a more traditional pocket passer while Cunningham is a dual threat.
The Louisville running game, however, has been utterly bogged down, with Cunningham's 209 rushing yards and a touchdown leading the way.
Louisville head coach Bobby Petrino has forged a deserved reputation as a forward-thinking offensive mind, but with two inexperienced signal-callers, his unit currently ranks 112th nationally in rushing (120.0), 120th in total offense (311.6) and 121st in points scored per game (18.4).
"I think they'd like to run the ball more if they could be more successful with it," Johnson said. "They're probably not satisfied with their running game right now."
Tech moved toward greater satisfaction with the big win over Bowling Green, and will hopefully build off that to stretch their winning streak and snap that road deal.
"You've just got to be able to get ready and go play. The field's 100 yards long, the same width, the same everything [home or away]. You've just got to go play . . . " he said. "Nobody is going to come up with some magical scheme that nobody has seen or whatever. It usually comes down to execution and blocking and that kind of thing.
"I don't care whether you throw it or you run it. You have to do what you do and be good at it, and know how to fix it."