THE LAST WORD BEFORE GAME 12 AT NO. 5 GEORGIA (Saturday at noon)
By Matt Winkeljohn | The Good Word
An odd question came the other day, when Georgia Tech head coach Paul Johnson was asked if he thought it possible that his players may draw extra incentive before Saturday's game at No. 5 Georgia because of what's on the line for the Bulldogs beyond the usual.
He practically snickered, but it was a serious query.
There are more than state bragging rights at stake for Georgia (10-1). The Bulldogs are just outside the four-team College Football Playoff window with a chance to punch a return ticket should they win over No. 1 Alabama in next week's SEC Championship Game.
Unless, that is, the Yellow Jackets (7-4) win for a third consecutive time in Sanford Stadium and push the Bulldogs right out of the CFP yard.
Wouldn't that be fun?
Poppycock, the coach said. The Jackets don't need no stinking extra motivation.
"I don't think there's any extra incentive to draw in this game . . . It's a big game. Both teams will be excited. I don't think anybody's going to have to fire anybody up on either side, right?" Johnson suggested. "If they do, you shouldn't be playing.
"If you go up there and come out flat, you're going to get your head knocked off, so, better be ready to go."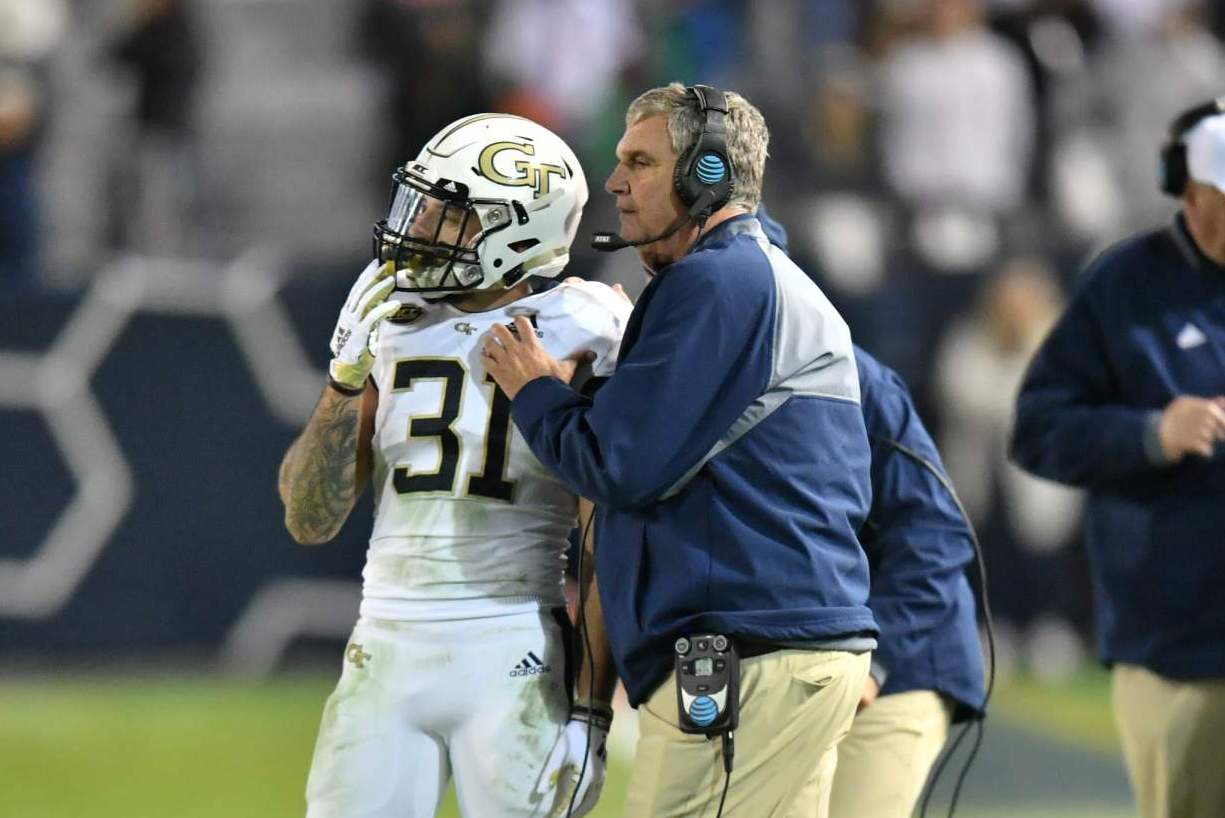 Paul Johnson is in search of his fourth win in Athens in six tries as Georgia Tech's head coach.
Before engaging players on the matter, let's consider the thoughts of Tech uber fan Joe Anderson, who will attend his 74th consecutive Georgia Tech-Georgia game.
He didn't play football past his time at Statesboro High, although he was a Tech letterman in track and field on his way to graduating in 1950 with a degree in industrial management.
Anderson, 90, has been to every one of these games since his freshman fall of '45, however, and he has a handle on special passion.
"You never know about young people, and it's hard to know what motivates them, but . . . if I was a player, nothing would please me more than to knock Georgia out of the Final Four," he said.
Perhaps this special motivation is more important to fans than players. Few Jackets this week really hinted that they're dwelling on Georgia's playoff hopes in all of this, although senior quarterback TaQuon Marshall admitted to being aware of the big picture.
"I think that's one of the things you can keep in the back of your mind, but I don't think that's the first thing that comes up when going into the game," he said. "I think you're going to give a lot more than maybe you have in a couple games during the season, just because, one, this is the last regular-season game and then how much bragging rights you get if you win."
For one afternoon, the Yellow Jackets and Bulldogs will chase the same thing – a win in Sanford Stadium – and while their teams are markedly different in several ways, they share one trait.
They want to run the ball.
Tech is No. 1 in the nation in rushing, averaging 353.7 yards per game on the ground, and Georgia is No. 10 at 257.5 yards per game.
There are few similarities in the way these teams run the ball, though, let alone the people doing most of the blocking.
The Jackets run the option much more often than most teams, of course, and quarterbacks Marshall and Tobias Oliver are the team's leading rushers with 857 yards/11 touchdowns and 808 yards/12 TDs, respectively. Sophomore B-back Jerry Howard (522 yds./5 TDs) is ascending.
The Bulldogs run more traditionally, and favor running backs D'Andre Swift (857 yards, eight touchdowns) and Elijah Holyfield (817 yards, six touchdowns) behind an absolutely massive offensive line that from left to right goes 320 pounds, 335 pounds, 308 pounds, 330 pounds and 340 pounds. The backups at each position go 318, 335, 330, 318 and 305.
Tech's starting offensive line averages 283 pounds.
Georgia Tech knows the Bulldogs are going to run the ball plenty.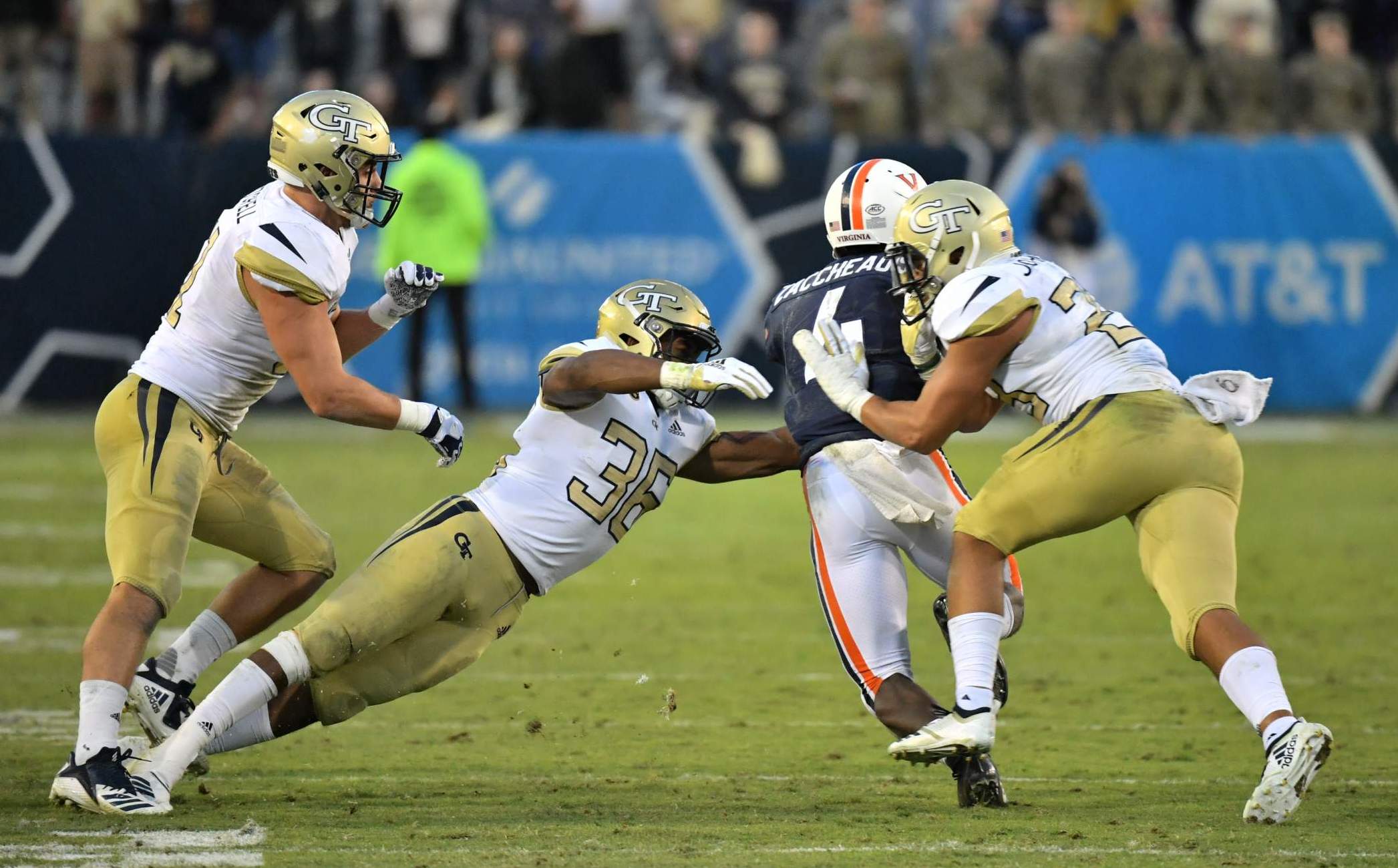 Georgia Tech defenders Brant Mitchell (left), Malik Rivera (center) and Jalen Johnson (right) are tasked with slowing down a Georgia offense that has two dynamic running backs and a pair of first-rate quarterbacks.
"I like being in the box, so there's going to be a lot of that," said strong safety Tariq Carpenter.
The trick is Georgia throws the ball effectively as well.
Sophomore quarterback Jake Fromm – who squared off regularly in high school against Oliver – has completed 68.2 percent of his passes to challenge his school's record for a season.
Freshman Justin Fields has thrown far less often, yet completed 71.4 percent. He's a much bigger run threat, and was widely considered the No. 1 recruit in the nation last year.
"The other kid's a really good player, too," Johnson said of Fields, who graduated from Harrison High in Cobb County. "I can see why they have a quarterback controversy."
Johnson said, "They do some different things with the quarterbacks with one that they don't necessarily do with the other, but you get ready for the system . . . I think he can run whatever he wants, but they don't run the same offense with each player. Maybe they can, but they don't."
Whoever runs what, the Jackets are looking to win their third-consecutive game at Georgia for just the second time in program history. Georgia Tech won in Athens in 1950, '52, '54 and '56 when Bobby Dodd's teams beat the Bulldogs eight-straight times overall.
Anderson was there for all of them, but his favorite Tech-Georgia game came on his last visit to Sanford Stadium.
"Me and my son (Stan) went to the last two over in Athens and you can imagine how much fun we had," said Anderson, who will attend with one of his nine grandchildren, Luke Downs. "I guess maybe the year before last when we beat them in the last seconds with [Qua] Searcy diving in the end zone. That's got to be the best, but that's a hard call."
Georgia Tech's players may or may not be aware of all historical details.
They know well who they're playing, and that's incentive aplenty.
"It's a big thing . . . the level of focus is more amplified this week. We've got to treat it like every other week, but it means more," said senior defensive end Anree Saint-Amour. "It felt great being able to win at their place."
Senior inside linebacker Brant Mitchell grew up in Knoxville, Tenn., but he knows well that this is not just another college football game.
"It's huge. They stress it to you right when you walk on campus. It's even in the fight song," he said. "This rivalry, it's something special. It goes back a long time. I know some guys over there. It's all good off the field, but when you strap on the pads, it just becomes a little different.
"You're playing for the people who have played before you and laid the foundation for the rivalry and made it what it is today."